Christmas is here! Time to put on your artist aprons and hats, and fetch your recipe books and paintbrushes. There's no better motivation than the festive season and the end of the year to get creative. There's no better time than now to put behind the many mistakes of the year focus on all the good things ahead. If you're feeling low and not truly in the festive mood, then, you can do some Christmas shopping. Or you can go and build a Christmas crib. It puts the artistic bit of your mind to use and lets you play around with the idea of what your Christmas crib should be.
What are Christmas Cribs and how to make them?
Christmas cribs, as the name suggests, are primarily seen during the Christmas season. They are, in simple terms, a representation of the birth of Jesus, which Christmas is all about. A Christmas crib is also known as a nativity scene or a manger scene. Christmas cribs often feature human figurines surrounding a newborn Jesus. The crib is often situated within a barn or a manger to include the farm animals in the scene.
When it comes to building the Christmas crib, you can either build it with wood or clay. Straw is another popular option to use, especially if you want to depict a barn background. Tiny human or animal figurines can be moulded using clay or straw, with their small archaic clothing.
The best thing about Christmas cribs is that it is appealing to all age groups. The elderlies understand the historical significance of the ritual. The middle-aged see how they can be saving a lot of money by using these for decorations. And the youth simply relish the opportunity to do something artistic. If you want your Christmas crib to be different, to garner praise from your loved ones and likes on Instagram, then, try one of these unique Christmas crib designs.
The best Christmas Crib Ideas that are fun and easy to make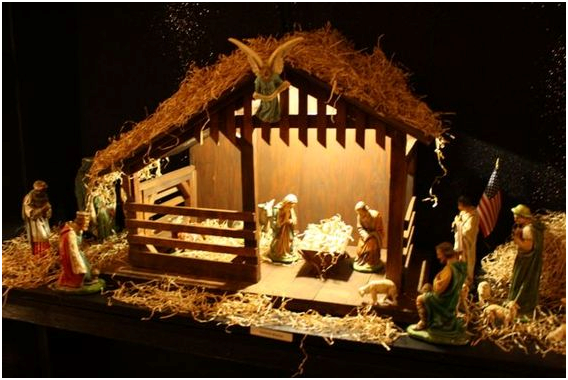 If you're looking for a simple crib design, this is the one. The scene depicts a straw-built hut in which Jesus lays in a crib, surrounded by his mother, Mary and his father, Joseph. The hut is illuminated, to highlight the purity and significance of the moment. A flag of your choice in the corner gives you space to convey a separate message.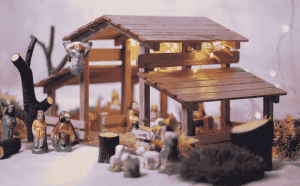 Make your Christmas merrier by adding the perfect crib this year. This wooden-model house should be on your list of must-buy Christmas cribs due to its simple yet classy look. It consists of snow-white cloth, tree branches, artificial flower buds, grass, serial lights, and much more, including 18 pieces of figurines.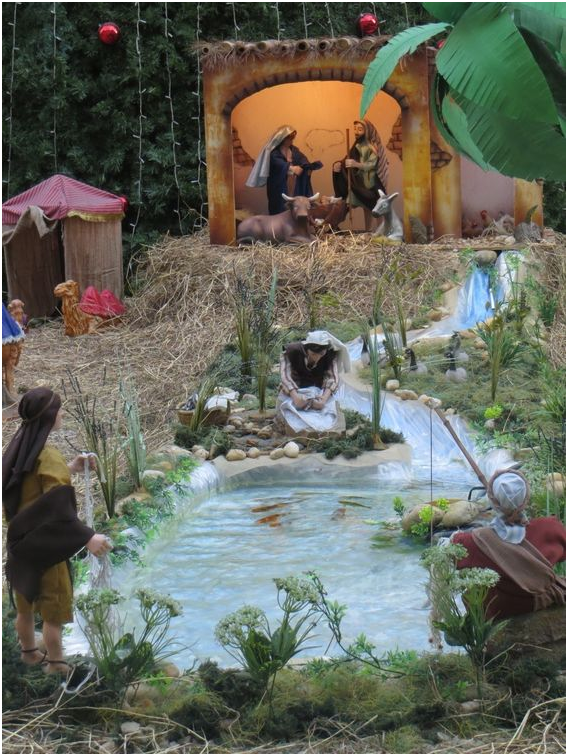 This Christmas crib design is much more expansive and descriptive and might require a practiced hand to make. There are human figurines here and there, seemingly going about their chores. There's a brook running down a valley, in which small fish are swimming. But the main structure which hosts the newborn Jesus is relatively simple- just a small cubical room overlooking the valley. There are shrubs and grass around that are easy to make. All-in-all, this scene is easier to build than it appears at the first glance.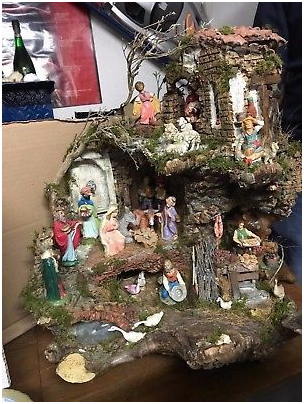 A native scene with multiple floors where each floor can function as an individual scene. There's a small pond at the base with swans moving around it. The scene is filled with figurines performing basic tasks and chicken and sheep moving about. There's an oven in one corner where buns are apparently being baked.
The brick structure can probably be made using Styrofoam, giving it the brick colour on the outside. There is nothing truly majestic about this Christmas crib but it rather conveys the simplicity of the archaic life beautifully.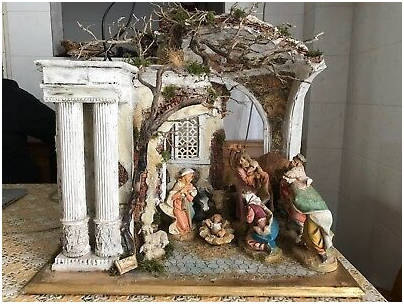 This Christmas crib is a bit of a unique design. You have got the pillars of some Roman palace on one side, and a broken half-dome at the back. And with a dead, leafless tree in the middle, the Christmas crib looks to be situated in some kind of ruin. Clay people have gathered on observe the newborn Jesus, who is in a cradle of sorts.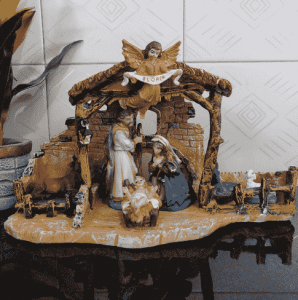 This wooden Christmas crib, which has a theme resembling a hut in a village, is by far the easiest and most straightforward of all. This crib, which is ideal to place anywhere, is available for purchase online or can be made at home. His father and mother, Joseph and Mary, are two of the other people who are in the crib with him.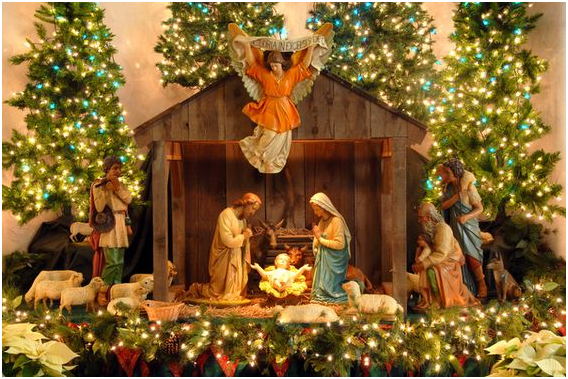 The native scene that we're looking at here is focused on Jesus, evident by the illuminant light over the child. The rest of the design is fairly plain, with decorated shrubs and trees enveloping the hut with the crib. There are a few onlookers around with a herd of sheep. There's also a symbolic figurine hung over the hut. The best part of this crib is the child opening his arms out, to embrace all that is around him.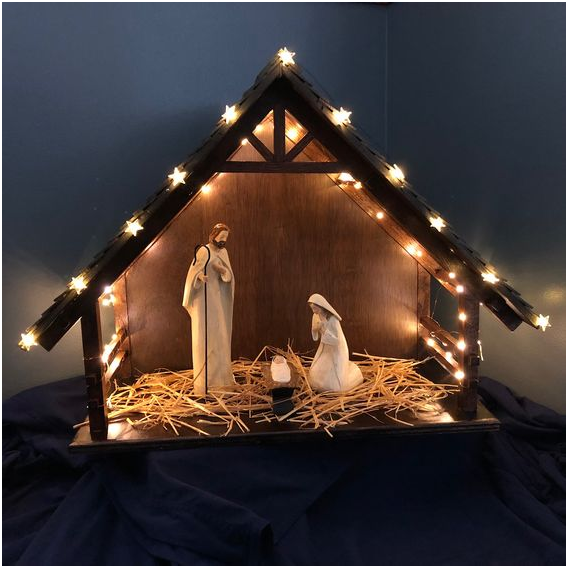 This is the simplest of all the Christmas cribs here. All you need for this design are a few star-shaped lights, a small hut made of wood, two figurines, and some straw. Jesus, here, is laid on a simple wooden bench. The two figurines around the child can be assumed to be Joseph and Mary, his parents. This crib is simple, indeed, but also so intricately beautiful that you would be amazed by the easy work you did building it.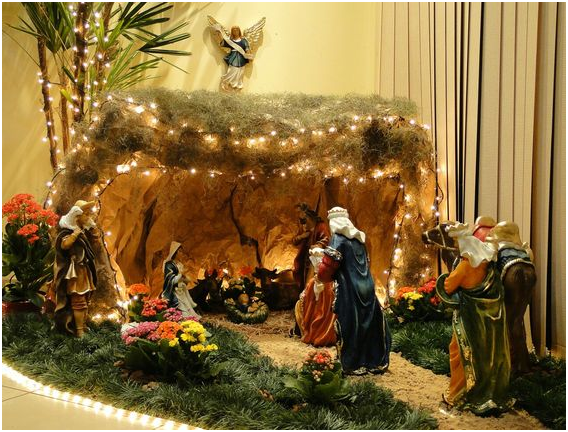 If you're not in favour of huts, then, you can always have your native scene based in a cave of sorts, much like this one. Here, you can see a cave open from one side, brightened by a fire somewhere. There are people standing around, all looking at baby Jesus, who is sleeping peacefully in his cradle. The outside of the cave is enshrined with lightings and flowers of varying colours.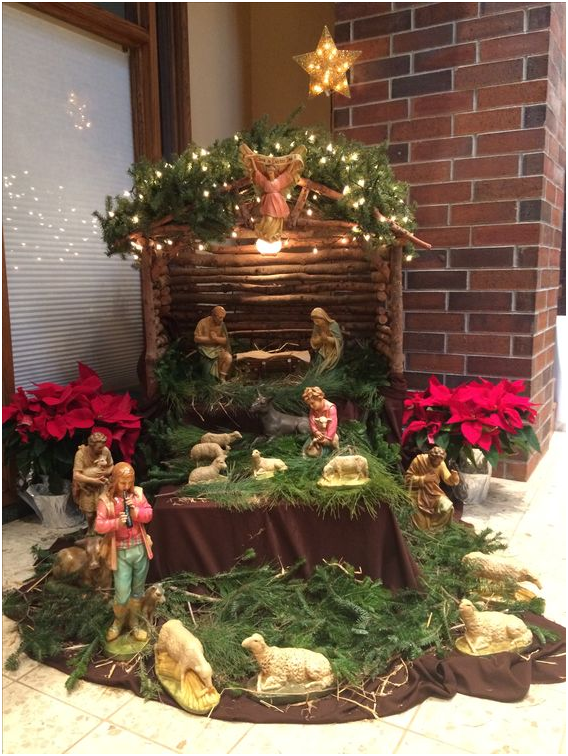 This is the most organized Christmas crib I have come upon. The sheep are all placed at fair distances, there are human figurines in all corners of the crib. There's a cubical hut made of fine wood in the middle, which houses baby Jesus. The inside of the hut is illuminated by a lamp while the outside has lightings all over the roof. On top of everything, there floats a relatively bigger Christmas star. And in that way, this nativity scene perfectly rounds up the Christmas spirit.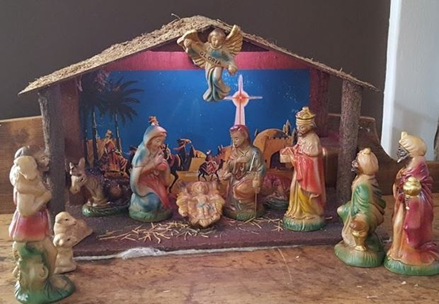 We all know that the festival is incomplete without a Christmas crib and Christmas tree. We can see Christmas trees all decked up from top to toe with glittering ornaments and lights everywhere. The Christmas crib also grabs people's attention as it is filled with Jesus, Mary, Joseph, the sheep, shepherds, stars, and more. The things required to make the Christmas crib are cardboard boxes, sticks, glue, paper cutters, colored paper, hay, and straw. Overall, they give the best look during the Christmas season.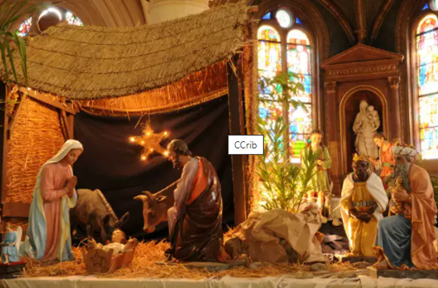 "How to make a Christmas crib at home?" is the most searched query during the Christmas festival season. Don't know where to start? We are here to assist you in the best possible way and cherish the wonderful moments with your friends and family members.
Make LED lights part of decoration to look elegant and stunning at home. You can even use the Christmas crib with sand, plants to bring a festive mood. To get started, take a cardboard box and draw to resemble wood grains and planks. If you have a printed pattern box, cover it with brown paper. Use hay, straws, and sticks to make it look worth watching.
Final Thoughts
So, these are a few Christmas crib designs that you can refer to. Your creativity is your biggest force going into this task. So, feel free to think out of these designs and come up with your Christmas crib. The thing with Christmas cribs is that you can't really go wrong with them. All Christmas cribs are wonderful in their own way and have something of the Christmas spirit in them. Above all else, your Christmas crib should represent what Christmas means to you and your loved ones.
<div class='toc'><ul><li><a href=#What-are-Christmas-Cribs-and-how-to-make-them?><b>What are Christmas Cribs and how to make them?</b></li><p> <a href=#The-best-Christmas-Crib-Ideas-that-are-fun-and-easy-to-make>The best Christmas Crib Ideas that are fun and easy to make</p><li><a href=#Final-Thoughts><b>Final Thoughts</b></li></ul></div>