This year plan for a vacation not in the summer but wait till it end. Monsoon in India is one of the best seasons to go on a holiday, provided you are an ardent nature lover. This monsoon, whisk away to any of the 10 breathtaking waterfalls in India and bring home your life's some of the most cherished memories. Plan any valley right from Meghalaya in the east and Goa in the west to Uttaranchal in the north and Kerala in the south. Monsoon is at its best in any of those waterfall regions. Enjoy a perfect monsoon evening tea and pakora, whilst admiring the beauty of the nature.
Travel to the most awe-inspiring places without spending a fortune. Don't forget to make use of the best travel deals available.
The poetry of the earth is never dead ~ John Keats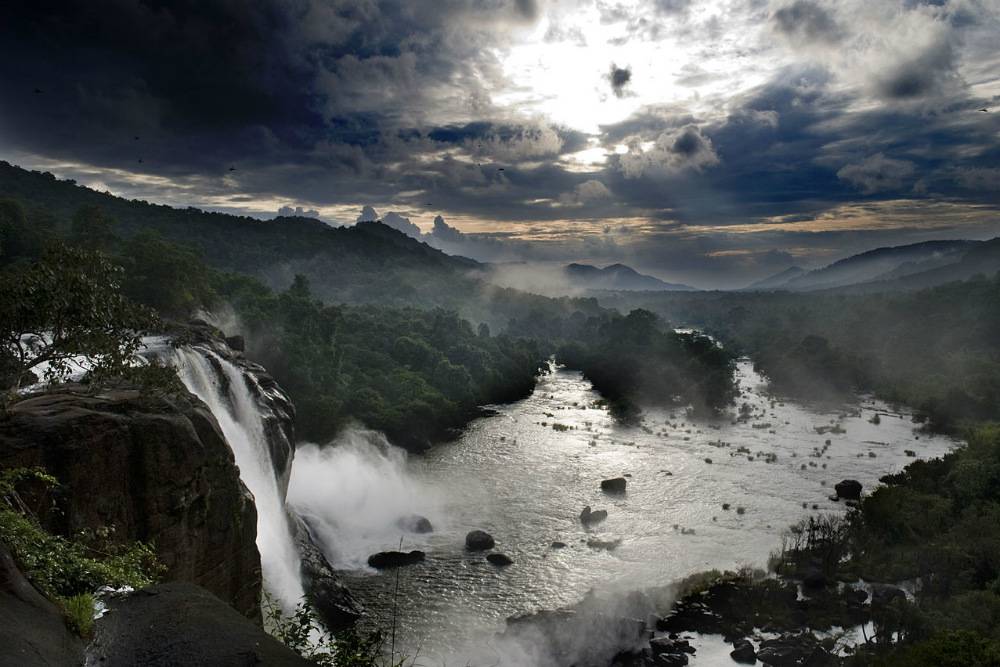 India experiences monsoon usually between July and October, and this is the time when nature is at its best in India. Plan a vacation and get ready to witness the most breathtaking panorama of nature. There are so many tourist places in India which are specially crafted to be visited in the rainy season. So apart from indulging in your pakoda and chai you can also go for trekking and nature walks.
It's not easy to put together a list of top 10 waterfalls in India, as it's completely subjective and limited to every individual's experience with the mystic waterfalls. Heck, even me and my partner couldn't agree on our own favorites. Nonetheless, based on the most frequently visited waterfalls in India, we've finally come up with our own list of the favorites that we've personally explored as well. They say a picture speaks a thousand words. But even a thousand pictures fall short of what hit us when we first laid our eyes on these waterfalls. Do have a read!
Have a Look at 10 breathtaking waterfalls in India
1. Shivanasamudra Falls, Karnataka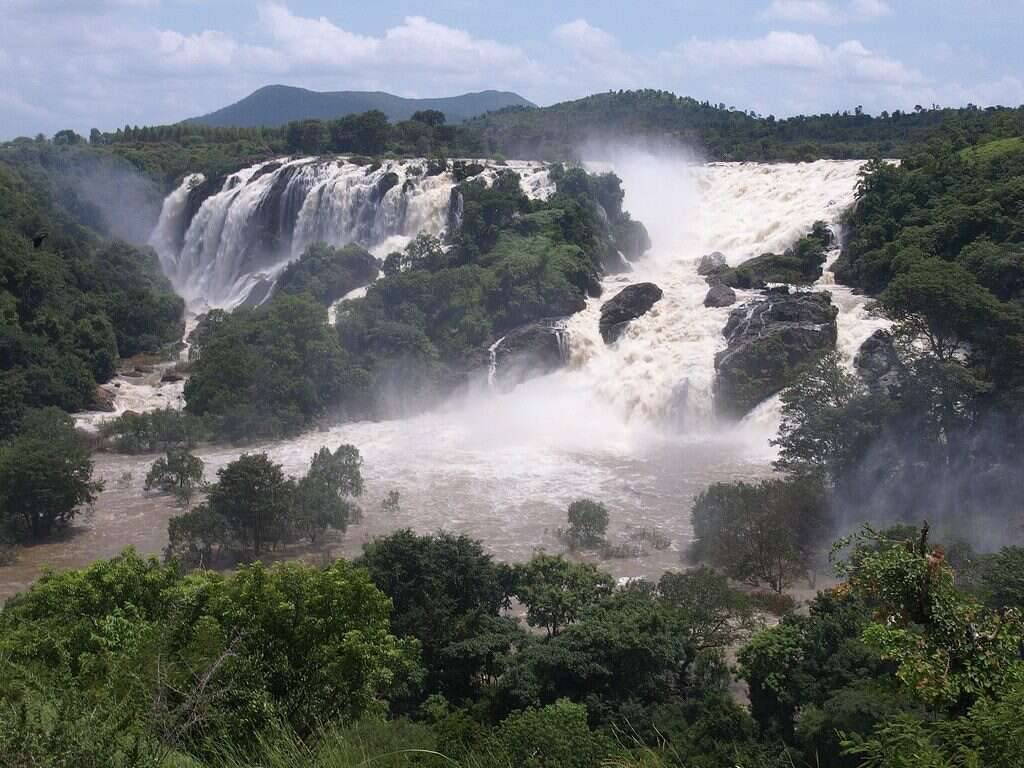 At a distance of 130 km from Bangalore and 81 km from Mysore, Shivanasamudra is among the 10 most breathtaking waterfalls in India. Situated on River Kaveri, Shivanasamudra is one of the most frequently visited tourist places in Karnataka. Tourists and local people alike from Mysore and surrounding regions throng this place most in the July to witness the beauty of Shivanasamudra Falls, following copious discharge from the Krishnaraja Sagar and Kabini reservoirs.
Shivanasamudra refers to the twin falls of Gaganachukki in Malavalli Taluk of Mandya district and Bharachukki in Kollegal taluk of Chamarajanagar district which are separated by a few kilometers. Gushing down the rocky plateaus, these waterfalls are flanked by great degree of flora and fauna, courtesy the hill forests of Cauvery Wildlife Sanctuary. There are a number of ancient temples including Shivanasamuram and Somanathpur Temple located around the region. The place is a paradise for nature lovers and is a perfect canvas for artists, poets, writers and painters.If photography is your hobby/passion then Shivanasamudra Falls are a must visit.
How to reach:
Nearest Airport: Bangalore
Nearest Railway Station: Maddur
Road: Buses/taxis ply regularly from Mysore. You can click here to get great deals on bus bookings.
Best time to visit: From June to October when the monsoon prevails.
Fun Fact: According to a famous myth, the Shivanasamudra falls belong to Lord Shiva. This is why bathing in the falls is considered to be auspicious by the locals.
2. Dudhsagar Falls, Goa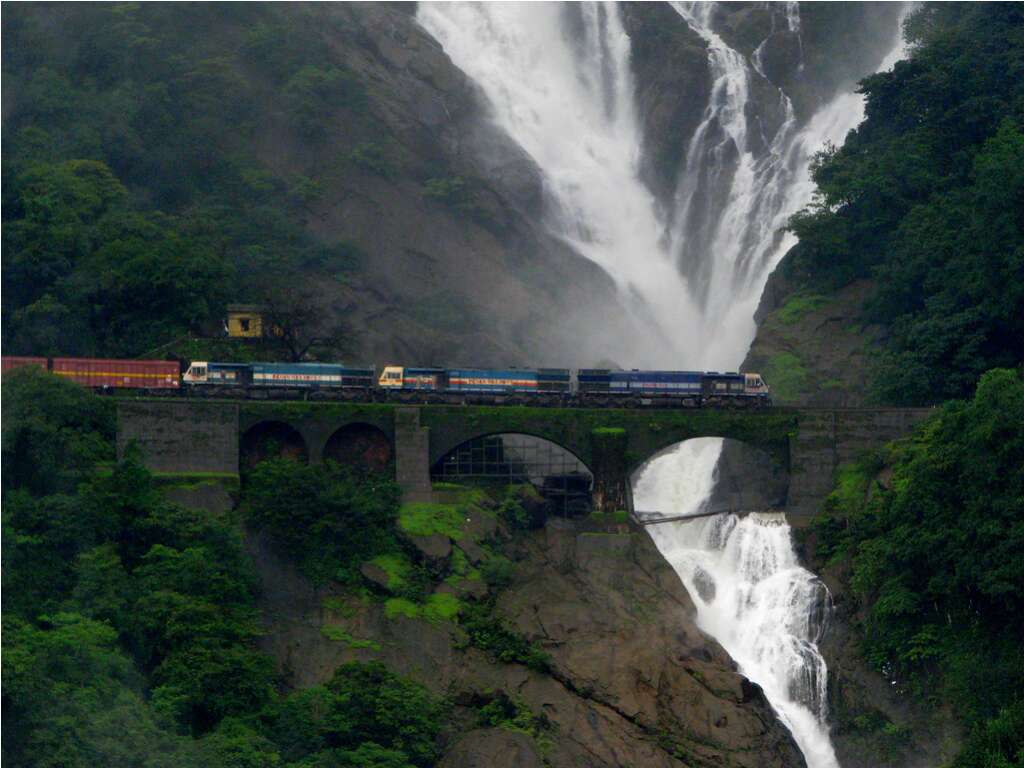 Here is another most beautiful of the water falls in India. Dudhsagar falls shot to fame after being pictured in the Shahrukh Khan & Deepika Padukone starrer blockbuster, Chennai Express. The magnificent outpouring of white water, spouting over the elevated, nearly vertical face of the mountain from a spectacular height of 1017 feet, is both breathtaking and awe inspiring. The majestic beauty of these falls make us realize that there are many forces in nature much more powerful that the human mind and body.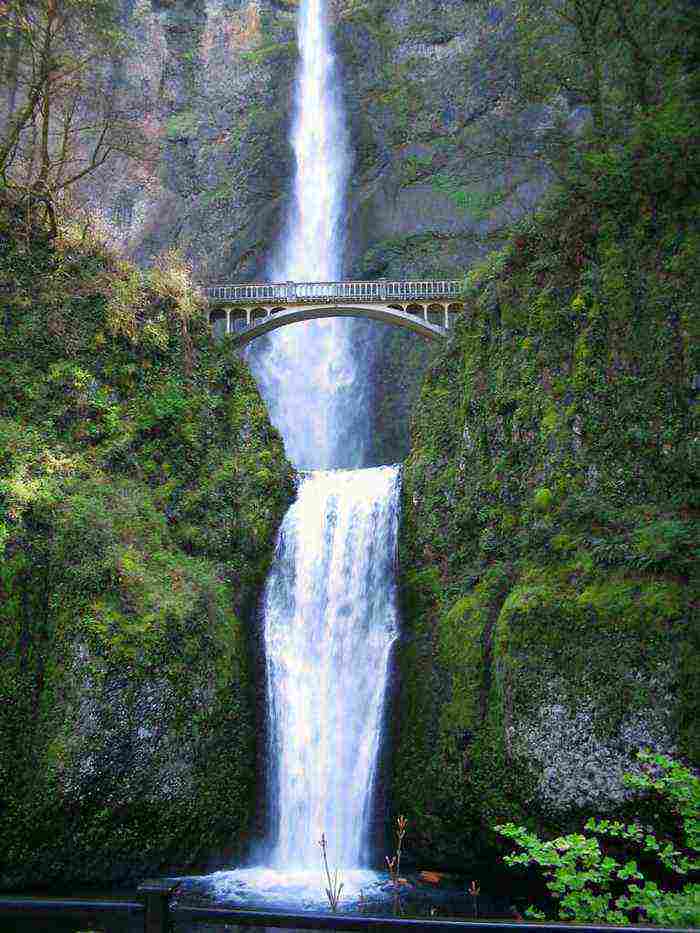 The name 'Dudhsagar' literally translates to 'sea of milk'. The waterfall gives us an allusion of the white spray and foam that the great waterfall creates, as it gushes into the waters of the lake. The falls are at their zenith during the monsoon season, although they are a popular attraction all year round. Tucked away in the crescent shaped valley, the waterfalls are carpeted with lush green flora,thus becoming a perfect getaway for honeymoon couples.
How to reach:
Road: 60 kms from Panaji via roadways, 46 kms from Madgaon and 60 kms north of Belgaum.
Best time to visit: From November to February during summers or June to September during monsoons.
Fun Fact: Legend says that a princess, the daughter of the King of the Ghats, used to bathe in the lake near the falls. One day, a prince stopped by the lake on hearing the chatter of women. This is when the princess' maidens poured a jug of milk to form a curtain for the princess. This cascade of milk came to be known as the Dudhsagar Falls.
3. Athirapally Waterfalls, Kerala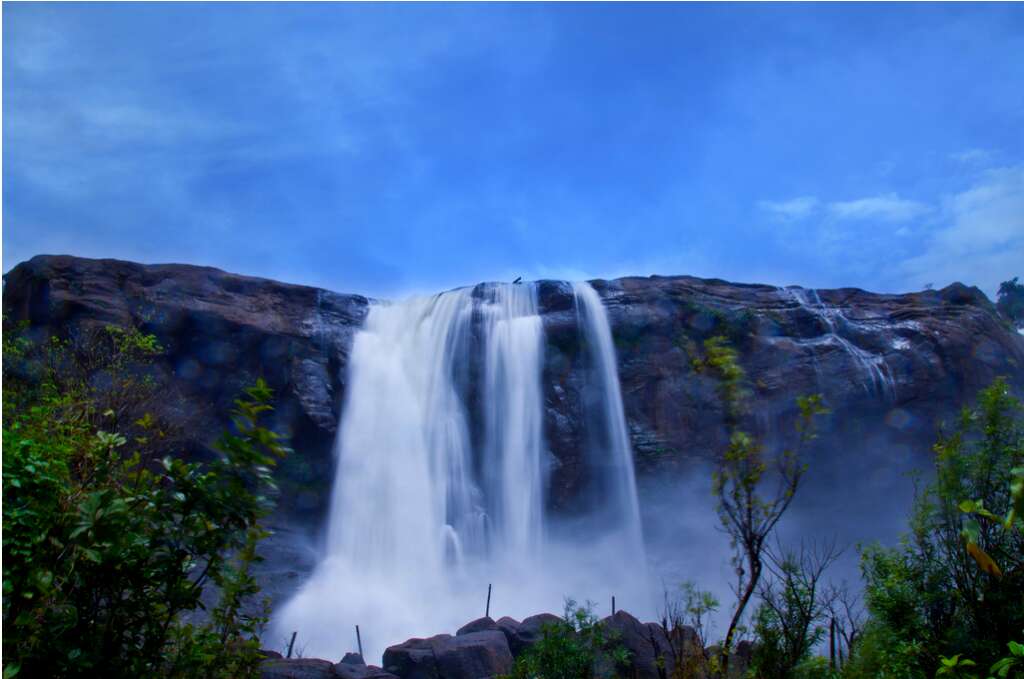 At a distance of 73 km from Kochi and 100 km from Munnar, we have placed Athirapally Waterfalls at the third in the list of 10 most breathtaking mystical waterfalls in India. These are among the most famous tourist places in Kerala & one of the popular weekend getaways from Kochi, Coimbatore & Munnar. The destination houses Kerala's largest waterfall which is so beautifully intertwined in Sholayar ranges with lush green forest cover and sizzling silver cascades. Located between Cochin and river Nila(Bharathapuzha), Athirapally is a treat for the eyes during the monsoon. Swollen Chalakkudy river, Charpa, Vazhachal and Athirapally are ideal places where the monsoon is to be enjoyed.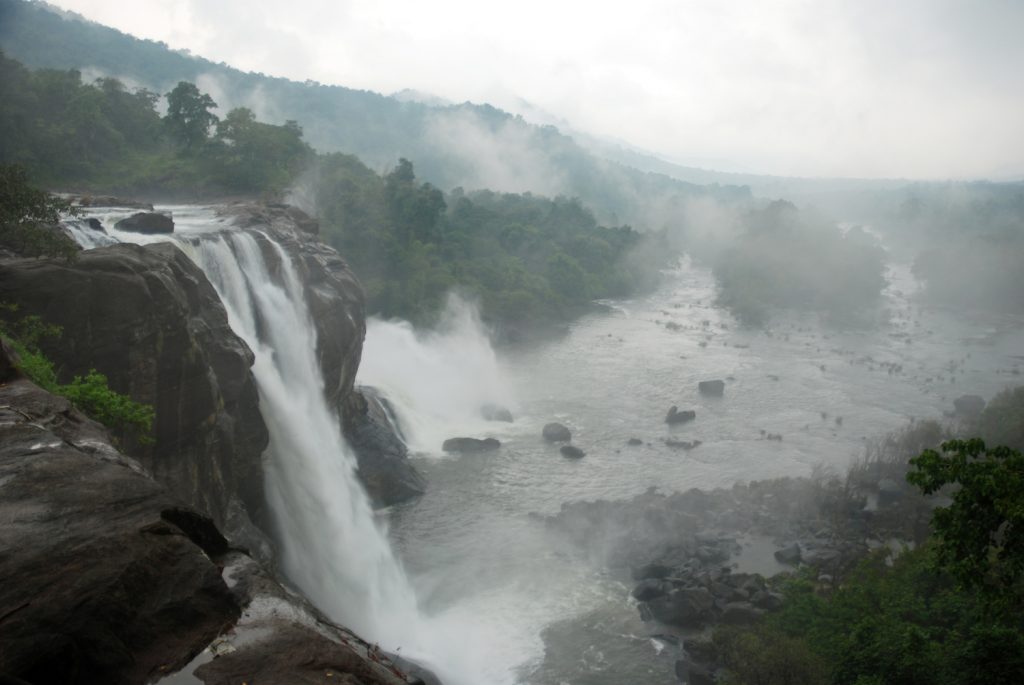 Athirapally falls never dries out and can be visited anytime during the year. Though the waterfall appears in its full glory during monsoons, heavy rains can cause great inconvenience. So, the best time to visit is from September to January. It usually takes 2-3 hours to explore Athirappally falls, which is among the 10 breathtaking waterfalls in India to explore before we die.
How to reach:
Nearest Airport: Kochi International Airport.
Nearest Railway Station: 30 kms from the Chalakudi Railway Station
Chalakudy (32 km) is the nearest junction to Athirapally and it is connected by bus with Thrissur (55 km), Kochi (73 km) and Palakkad (110 km). One can take public/private vehicle from Chalakudy to reach Athirapally.
Best time to visit: June to September, i.e. the monsoons.
Fun Fact: Fondly called 'The Niagara of India', Athirapally Falls has been a shooting spot for some of the most famous Bollywood movies. Movies like Guru, Dil Se, Khushi, and Yaariyan have scenes from here. South Indian movies like Punnagai Mannan, Paiyaa, and Happy have also featured these beautiful falls.
4. Jog Falls, Karnataka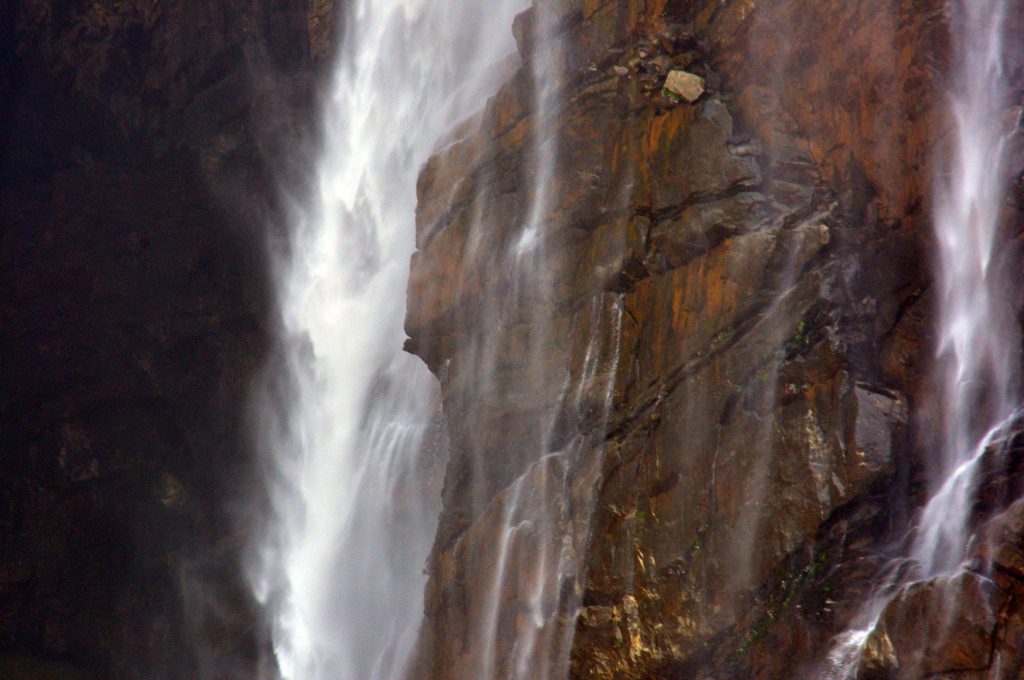 The second-highest plunge waterfall of India, these magnificent falls are a major tourist attraction in Karnataka, and a perfect weekend destination for nature lovers, who want to take a break from the daily routine. Situated on the border of Shimoga and Uttara Kannada districts of Karnataka, Jog waterfalls is the highest waterfall in the state, the magnificent view of which creates a truly memorable experience.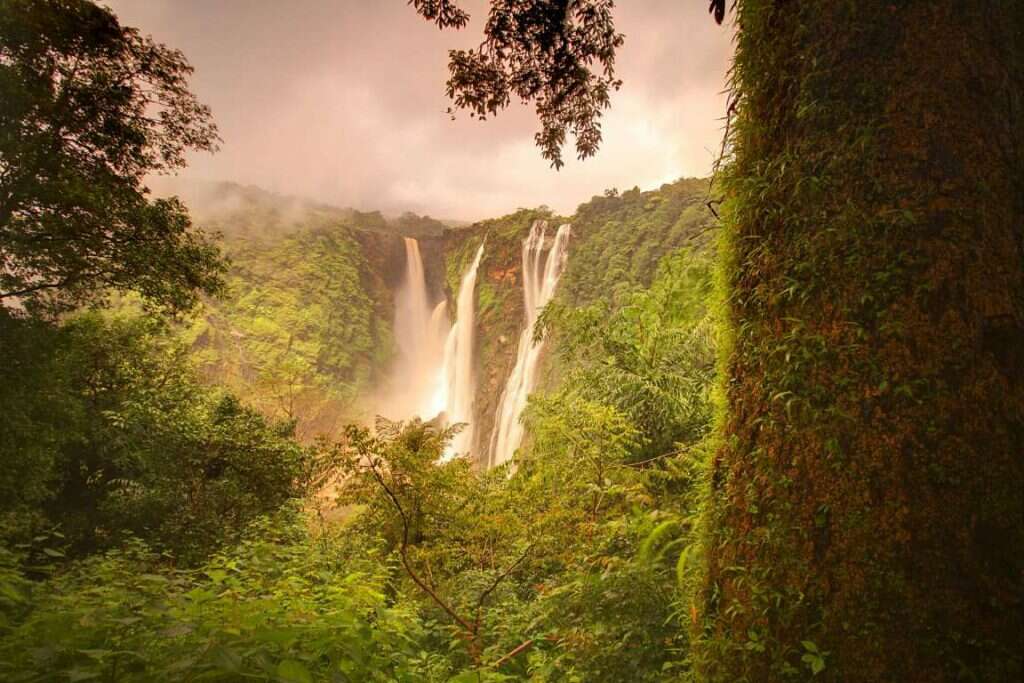 Also known as Gerosappa Falls or the Joga Falls, they drop from a height of 850 feet in a single fall and are often mistaken to be India's highest waterfall. However, due to the construction of Linganamakki Dam, the flow in the falls is hugely restricted before monsoons. During monsoons, the Jog falls are at their majestic best, thereby creating a spectacular sight with rainbows every now and then. One can take a adventurous walk at the bottom of the gorge if the gates of the Linganmakki dam are closed.
How to reach:
Nearest Airport: Mangalore
Nearest Railway Station: Shimoga
By Road: State-run buses do ply regularly from Mangalore, Bengaluru, Shimoga to Jog Falls.
Best time to visit: August-December is considered the season of best flow and the best time to visit.
Fun Fact: Four falls together form the Jog Falls. These are Raja (the highest waterfall of the four), Roarer (the fall that makes most noise), Rani (the one that slithers and falls gracefully), and Rocket (the fall that dives like a jet).
5. Bhagsu Waterfalls, Himachal Pradesh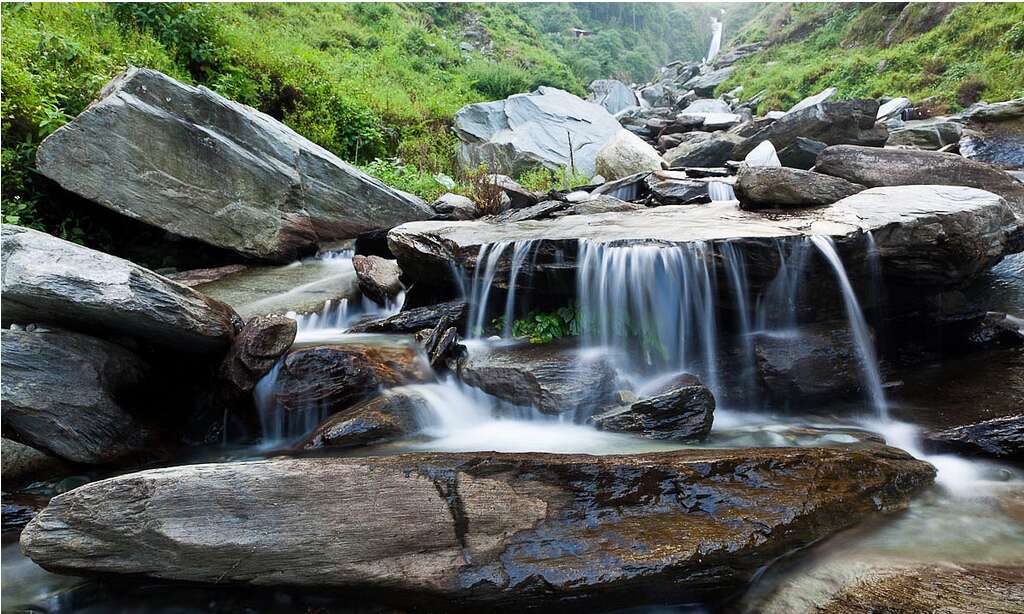 Located at a height of 6,960 feet, Bhagsu waterfall is tucked in the holy village of Bhagsunag and is another 10 breathtaking waterfalls in India. The main reason why this is one of the most frequently visited tourist spots in the region because of the Shiva temple and the 30-feet waterfall. The waterfall is only 1 km away from the temple and you can only walk down to reach the spot. The best way to reach this village is to board a bus from Delhi to McLeod Ganj which is an extensive journey of 12 hours. The village is only 2 kms away from McLeod Ganj and and taxis are easily available to reach Bhagsunag.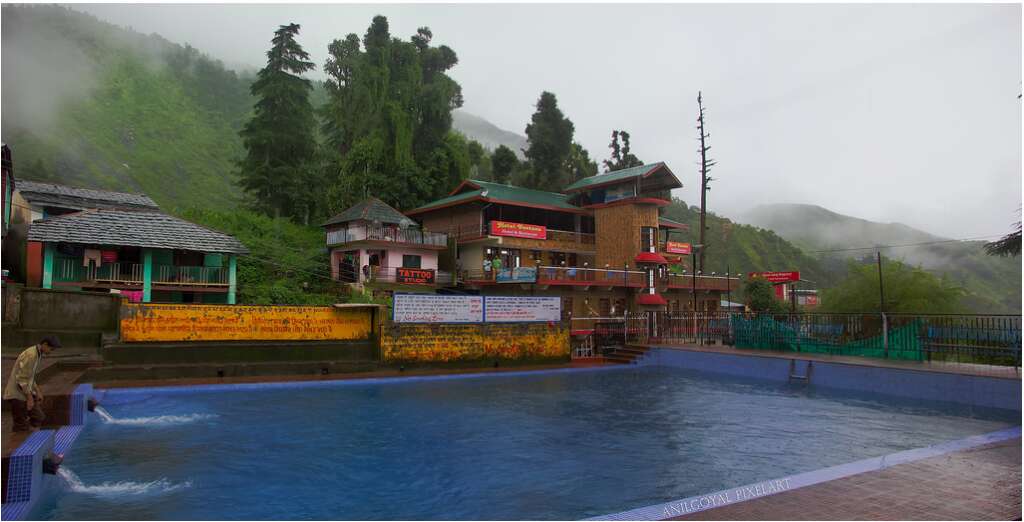 How to reach:
Nearest Airport: Dharamsala
Nearest Railway Station: Pathankot
By road: Bus is available from Delhi to McLeod Ganj
Best time to visit: The best season to visit Bhagsu is the winters and the onset of summers i.e. between March and June and September and December.
Fun Fact: As per Indian mythology, the place Bhagsu Nag was named after a battle between the snake god and King Bhagsu. The cause for the battle was that King Bhagsu had stolen water from the sacred NagDal Lake. He was eventually defeated and forgiven, but the name stuck.
6. Sentinel Rock Waterfalls, Kerala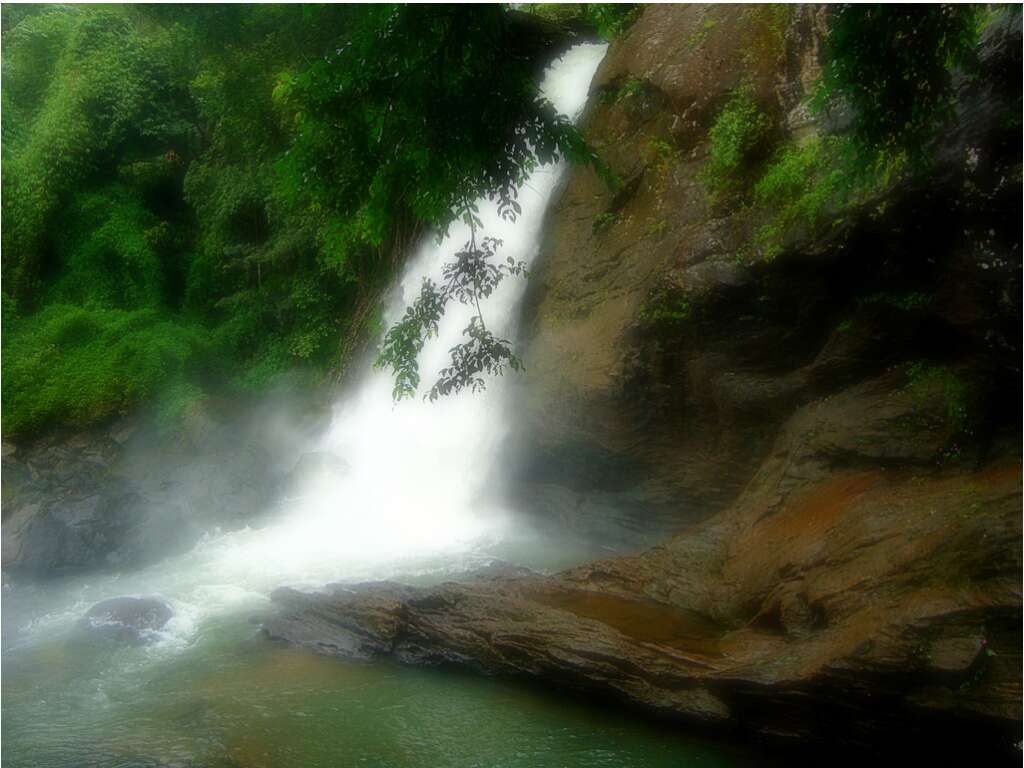 Sentinel Rock Waterfalls is located in Wayanad district of Kerala and we couldn't afford to miss but include in the list of 10 breathtaking mystical waterfalls in India. Locally known as Soochipara (needle rock) waterfalls, Sentinel Rock fall is flanked by a pool at the base and is ideal for a quick dip. One of the most attractive falls in the district, the water hits the sharp spikes of granite at the base and hence the name, Sentinel Rock waterfalls. The waterfalls is located on Kozhikode – Vythiri – Gudallur Highway about 25 km from Kalpetta in Wayanad.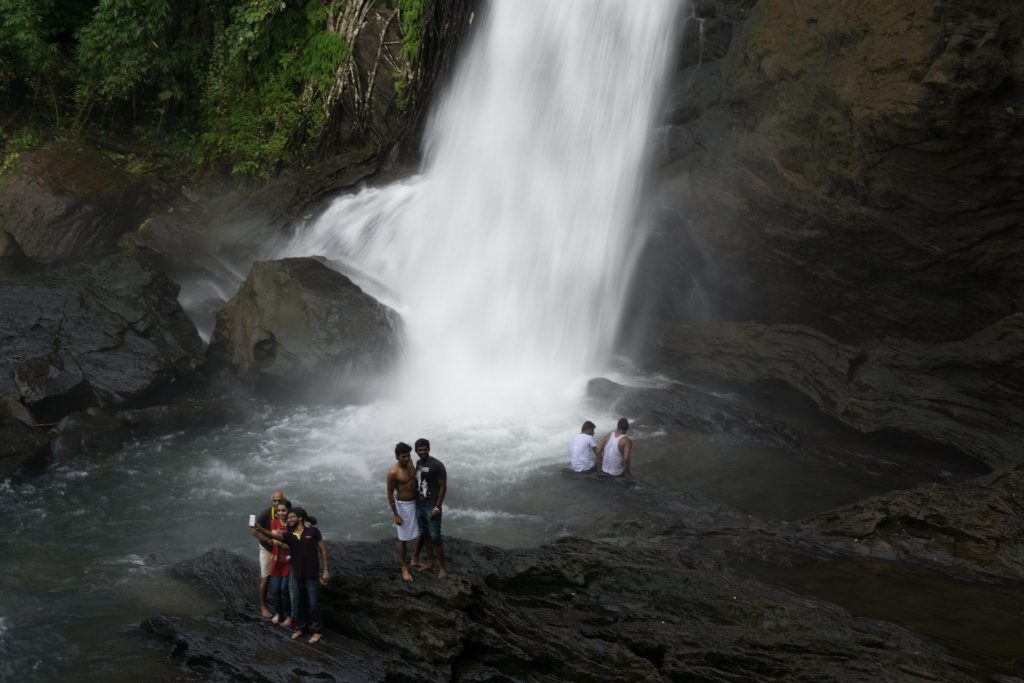 The name Soochipara has been derived from the words 'soochi' and 'para' means 'rock' and 'needle'. The name given is apt as you can see needle shaped rock here. You have to walk around 2 km to reach the waterfall, where vehicles can't move further. You have to pay a nominal fee for entrance and camera. From the entrance you need to descend down to reach the falls.
How to reach:
Nearest railway station: Kozhikode, about 71 km from Kalpetta
Best time to visit: During the summers, i.e. June to September
7. Elephant Falls, Shillong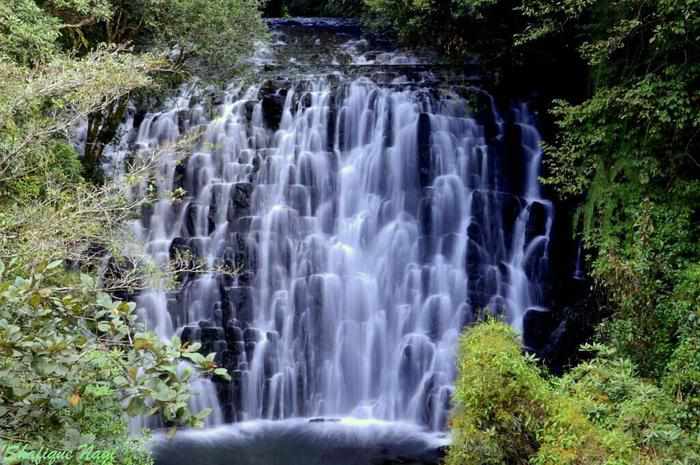 Near Shillong's highest Peak, you can find a small road deviating to the edge of the mountain. Out of nowhere, a beautiful stream rises from the higher plateau and gushes downstream through rocks thus forming the Elephant Falls. These falls are just 12 km from Shillong and few minutes drive from Shillong Peak. While the local Khasi people refer this fall as Ka Kshaid Lai Pateng Khohsiew (or "Three Steps Waterfalls"), the British named it as Elephant Waterfalls. They named it so because there used to be a rock resembling an elephant near the left side of the main falls. However, that rock was destroyed in an earthquake back in 1897.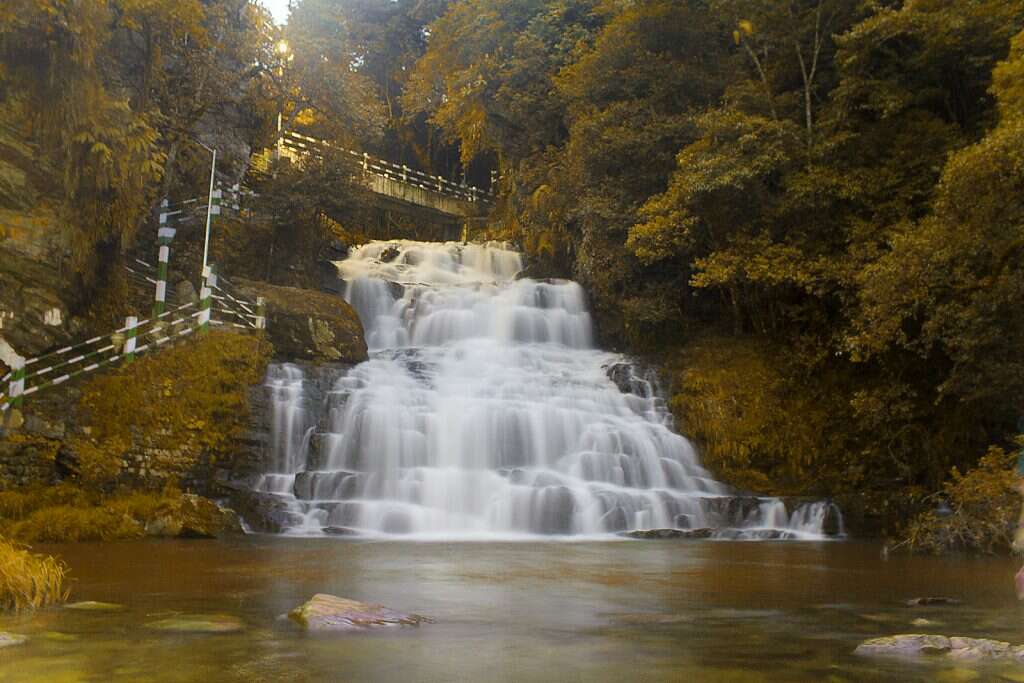 How to reach:
Road: 12 kms from Shillong and a few minutes' drive from the Shillong Peak.
Best time to visit: Between November to February
8. Nuranang Falls, Tawang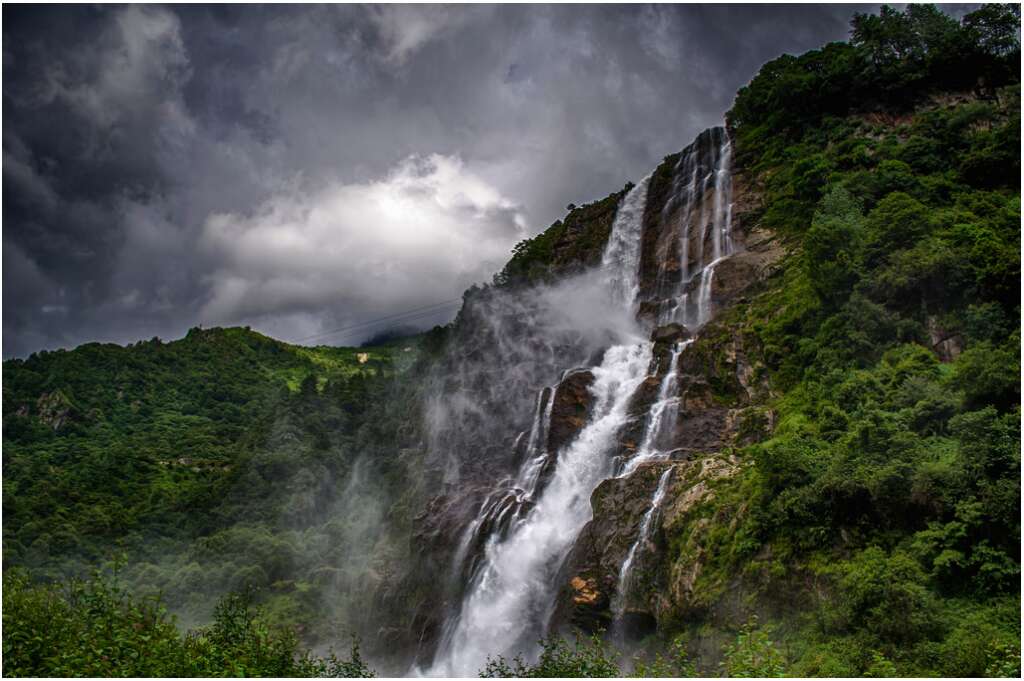 Also known as Jang falls or Bong Bong Falls, Nuranang waterfalls are situated around 40 km from Tawang town. These waterfalls shot to fame after the shooting of one of the songs Tanhai Tanhai of Shahrukh Khan and Madhurai Dixit starrer Bollywood movie Koyla was done here in 1997. Nuranang Falls are placed at an elevation of around 6000 feet and are among the most stunning waterfalls in Arunachal Pradesh state. River Nuranang originates from the northern slope of Sela pass and form Nuranag waterfalls before it meets River Tawang. We couldn't afford to miss but include in our list of 10 breathtaking waterfalls in India.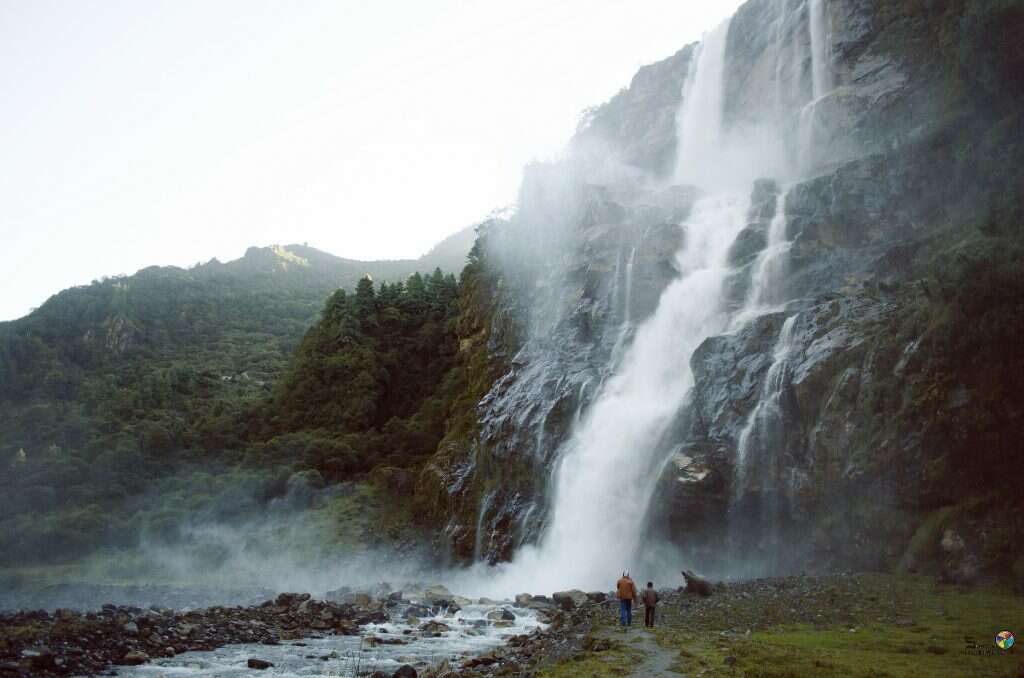 While on your way to Tawang, do halt at these waterfalls to admire their beauty and have a picturesque photo session with your loved ones. Legend goes as this – this milky white waterfall has been named after Nura, a Monpa tribal girl who probably helped an Indian soldier by supplying arms and also gave shelter to him at the time of Indo-China war.
How to reach:
Road: 5-6 kms from Jang village and 20-30 kms before entering Tawang.
Best time to visit: Rainy season is the best time to visit.
Fun Fact: According to a popular myth, the falls are named after local Monpa girl named Nura who helped a soldier, Rifleman Jaswant Singh Rawat (Maha Vir Chakra) in the 1962 Sino-Indian War and was later captured by the Chinese forces.
9. Nohkalikai Falls, Cherrapunji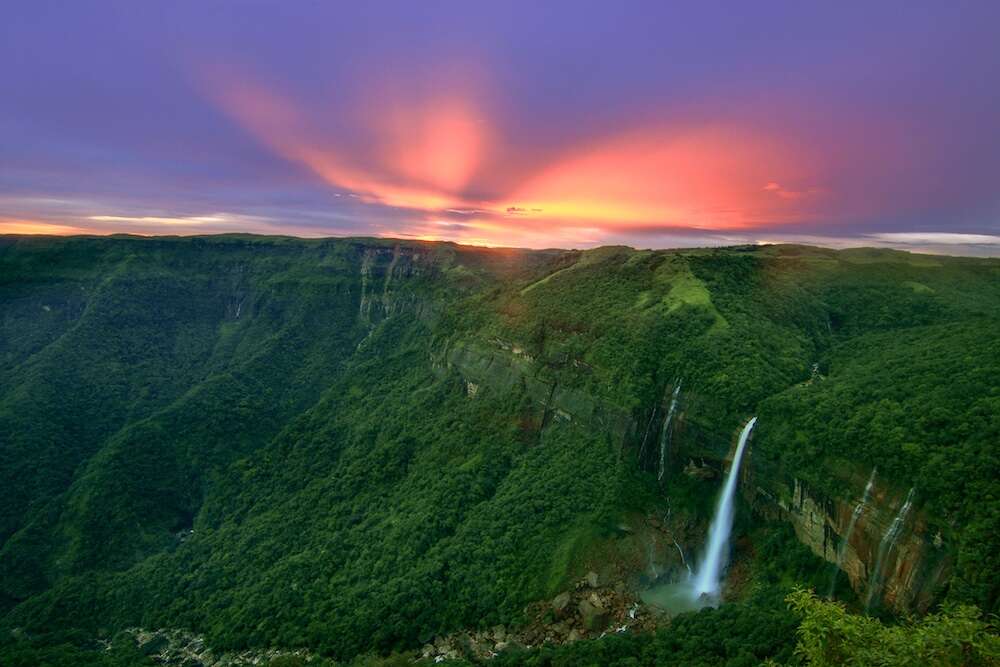 Nohkalikai Waterfalls is only 5 km from Cherrapunjee and is the fourth highest waterfall in the world. Falling from a height of 1,100 ft, this fall is a great attraction for tourists in Cherrapunjee. Tourists have to drive through the high rising tableland that leads to the cliff and then hike a short distance to a viewpoint from where they can witness the enchanting sight of the beautiful Nohkalikai waterfall plunging down into an ultramarine pool many hundred feet below.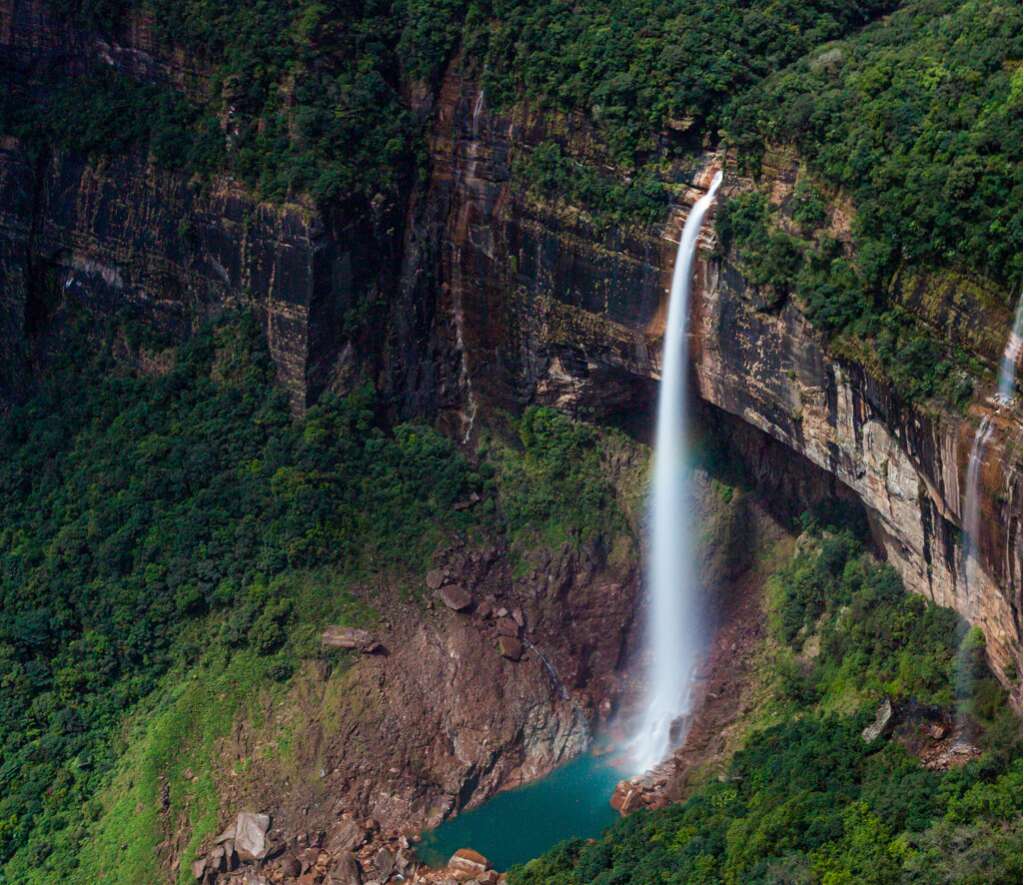 The ideal time to visit Nohkalikai is during the monsoon season, when the falls look spectacular. A viewing gallery allows the visitor to savor the beauty of the place. There are stairs, which take tourist down to various other viewing points.
A tragic incident is associated with this fall. Noh Ka Likai means "the leap of Likai". As per the legend, a young woman named Ka Likai, who had a daughter from her earlier marriage remarried. Her second husband loathed his step daughter as he was not in favor of girl staying with them. Out of jealousy, he slaughtered the girl When Ka Likai was away working, and cooked her flesh. After returning home from work, Likai was surprised that her husband had prepared dinner. She ate the meal without suspecting the gory act her husband had conducted. However, she later discovered her daughter's fingers in the betel nut basket. Distraught with grief and remorse, she rushed to the nearby cliffs and threw herself down from the waterfalls. The fall has ever since been known as Nohlakikai.
How to reach:
Airways: 128 kms from Guwahati airport
Roadways: Take NH-40 that connects Guwahati with Shillong and NH-44 that connects Shillong with Silchar
Best time to visit: November to February
10. Bhimlat Falls, Rajasthan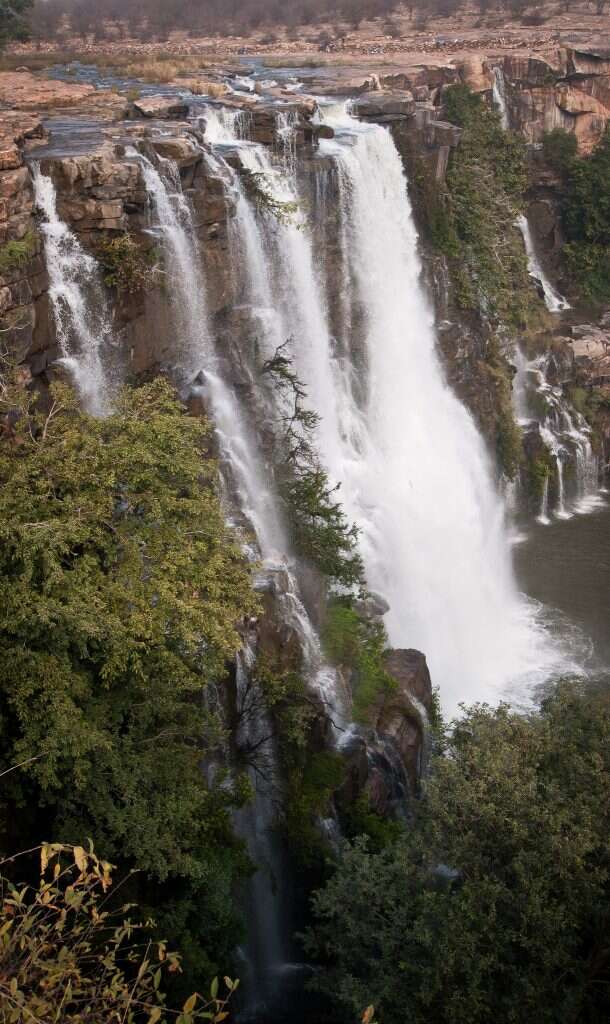 Most of the people relate Rajasthan to sand-clad desert area, which is far away from greenery. However, this beautiful waterfall ranked at 10th in our list of 10 breathtaking waterfalls in India will clear their misconception. Bhimlat falls surely break the stereotypical image of Rajasthan. Based in Bundi, Bhimlat exhilarates the best of its charm during monsoons. The 60 meters high waterfall makes for a great scenic relief in the horrid summers of Rajasthan. If you're planning an outing to the state, don't miss out on this natural wonder.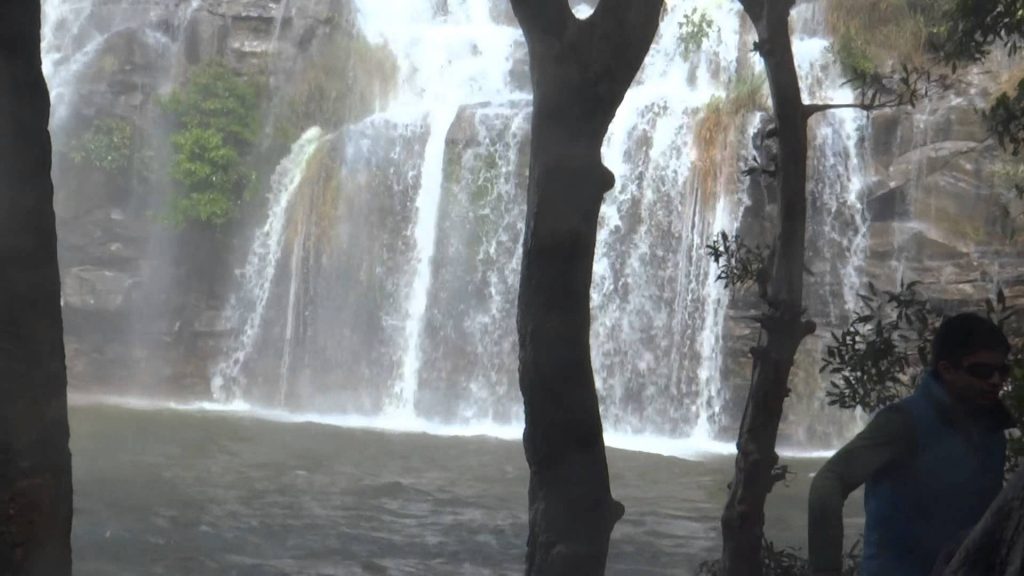 How to reach:
Road: 35 kms from Chittor Road
Air: Nearest Airport is in Kota
Best time to visit: June to October, when monsoon prevails.
Fun Fact: Legend says that these falls were created by Bheem to quench the Pandava's thirst during their exile.
If Niagara Falls boast the Western scenic beauties, our Indian waterfalls equally flaunt the majestic beauty of Mother Nature. If you have already visited or planning to explore any of these 10 breathtaking waterfalls in India, do let us know.
Happy reading!!