Christmas is just 12 days away. The raisins have been soaked in rum, the stocking is getting ready to be hung, and your child must be planning a trip home. Christmas holidays are all about returning home, spending time with family and doing things that you like the best. When it comes to doing your best things, traveling is always on the list. This Christmas you can enjoy a long weekend as it is on a Friday. Avail the best price on travel tickets using Christmas offers and roam around the beautiful winter wonderland without shelling out big bucks!
Now, a word of caution- this Christmas might not be as easy as the last one. Covid has taken over the world and travelling to most places is very difficult. If you're thinking about an easy Christmas vacation somewhere, think again. Almost anywhere you choose to go, you will have to avail an e-pass from the respective state authorities. And yet, if you believe you can make the Christmas holiday trip happen, then, we have a Christmas travel guide prepped for you.
And if you need some help with your travel bookings, here's a list of travel websites with unbelievable Christmas and New Year offers.
Top 5 Christmas Holiday Destinations – Travel Guide
1. Goa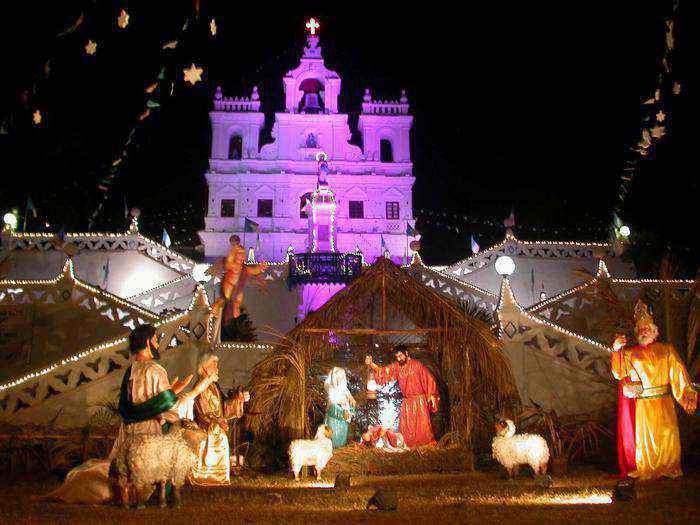 Goa is well known for its Christmas celebration. With a high percentage of the Roman Catholic population, this place is the home for many Christians. However, the celebration does not restrict to Christians only. During Christmas, the churches are lit up, trees are decorated, you can hear the Christmas carol, and the midnight mass marks the Christmas festival in Goa. You must visit Goa during the Christmas holidays to see the cribs and decorations across Goa. There are beach parties which you cannot miss! Just after Christmas, you have the Sunburn Festival and Supersonic festival, which is worth a mention!
And a plus point with going to Goa, there are close to no Covid restrictions. So, you can travel freely in the Party Capital of India.
Area: 3,702 Sq.Km
Population: 15.9 Lakhs
Notable Places: Colva Beach, Baga Beach, St. Francis Xavier Church, and Dudhsagar Falls
2. Pondicherry
Christmas is often described as heaven on Earth. If you want to witness a real heavenly Christmas this year, then you should be at Pondicherry. This place has a lot of French influence as it was a French colony settlement till 1954. Similar to Goa, Pondicherry has an adequate population of Roman Catholics.
You can feel the exuberance in the air of Pondicherry during the December festive time. The church service on 25th December in Basilica of the Sacred Heart of Jesus, Eglise de Notre Dame des Anges (The Church of Our Lady of Angels), The Cathedral of Our Lady of the Immaculate Conception, Church of the Assumption, The Church of Our Lady of Lourdes, and Church of Our Lady of Good Health are a treat to yourself.
Area: 19.54 Sq.Km
Population: 8.56 Lakhs
Notable Places: Paradise Beach, Aurobindo Ashram, Auroville, and Arikamedu
3. Kerala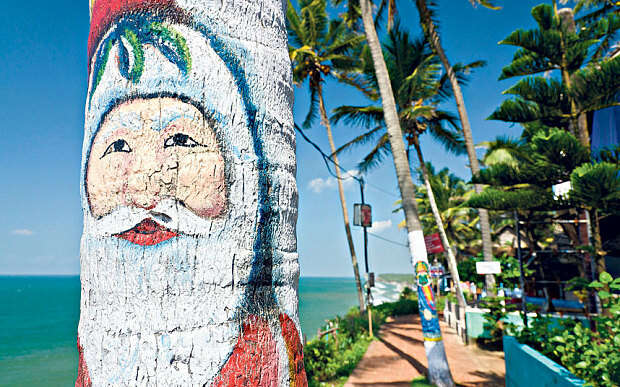 Yes, Christmas at God's Own Country is worth a visit. Even if there are stringent travel restrictions in place. If you are planning your Christmas holidays, then you must consider Kerala. Amid nature, the Christmas decoration along the streets make Kerala more beautiful. The churches are well decorated and remain open almost all night. You can avail discounts at restaurants to add more color to your Christmas celebration. What more can you ask for if you get to spend your Christmas at the backwaters?
Area: 38,863 Sq.Km
Population: 3.58 Crores
Notable Places: Alleppey, Wayanad, Cochin, Munnar, and Kozhikode
4. Shillong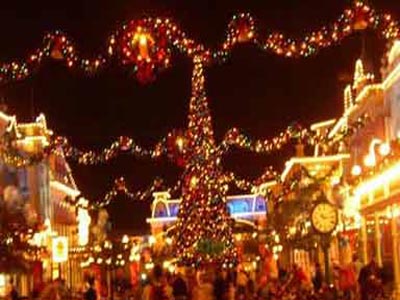 If you are looking for a peaceful yet elegant Christmas, then you must be at Shillong. Not many people visit Shillong during winter due to the cold, but Christmas is serene and beautiful. This festival is celebrated with too much zeal at Shillong. The houses and streets are decorated with shimmering lights. There are local dishes been cooked in every house, and they sing Christmas carols.
Shillong is one of the few places in India to have a comfortable and peaceful Christmas. Passengers arriving here have to undergo no quarantine whatsoever.
Area: 64.36 Sq.Km
Population: 4.72 Lakhs
Notable Places: Umiam Lake, Elephant Falls, Mawphlang Sacred Forest, and Don Bosco Center
5. Kolkata
There is no one in Kolkata who does not visit Park Street during Christmas. This area is the residential area of Christians living in Kolkata, and they put in all their effort to make this area pretty and beautiful during Christmas. The streets are well lighted, and hawkers sell Christmas caps on the street. The confectioneries sell Plum cake only during Christmas in Kolkata. St. Paul's Cathedral Church opens the doors for all during the festival time. Pay a visit to Flurys and do not miss their English Breakfast.
If you travel to Kolkata, you will only be quarantined at home.
Area: 206.1 Sq.Km
Population: 1.49 Crores
Notable Places: Victoria Memorial, William Fort, Howrah Bridge, and Science City
6. Shimla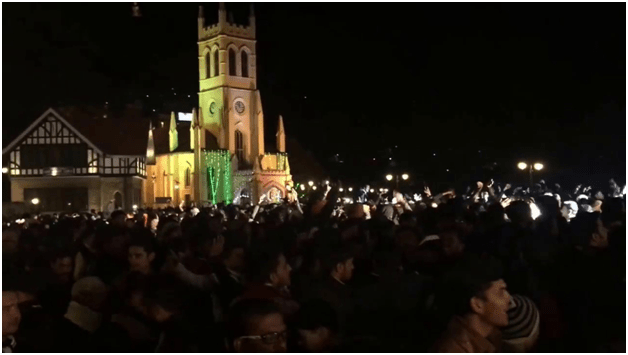 Christmas and Snow is an age-old combination. There's nothing like going to Church on a snowy Christmas morning, or building snowmen in the yard. As of now, Shimla and most other places in Himachal Pradesh are dancing in the winter snowfall. That is why, Shimla is the one place in India where you get Christmas in its truest form.
Come to Shimla this Christmas, leaving behind your Covid concerns. Go to the Christ Church and experience the merriest of Christmas Eves. Take a stroll in the bustled Mall Road, buy a few Christmassy gifts for your friends and family. And wake up to the peaceful view of a snow-dipped Shimla next morning.
Area: 35.24 Sq.Km
Population: 8.64 Lakhs
Notable Places: Jakhoo Hill, The Ridge, Kufri, Christ Church, and Green Valley
Last Minute Christmas Packing With These Pro Hacks!
Christmas is the season of giving when joy is in the air and everything around you is colorful. But it can also be trying especially when you're traveling. Covid has taken over the world, people haven't been out of their houses for months. Travel during the Christmas season is hectic because of the soaring ticket prices, unavailability of flights and difficulty in packing. The reason is quite obvious – You are traveling with gifts for your loved ones and that cramps up your luggage space. And travelling in the present circumstances, you have to keep in mind a million things other than the travelling permissions. But fret not, we're here to help you with last minute Christmas packing hacks that will ensure you have a great flight and a fun Christmas.
The worst thing about packing is that you either have leftover space or you have no space at all. When you are attending weddings and other such special occasions, your heavy wedding outfits tend to take a bag of their own. Depending on the way you pack, even a ten days trip-worth of clothes and accessories can be packed in a single suitcase.
Packing becomes even more important if you're travelling by air. Airlines put baggage weight limits on every ticket and it's a pain when your luggage goes over those limits. When you go over those limits, you sometimes end up paying more than you did for the airline ticket itself.
You can also win travel tickets by participating in Christmas Carnival 2022 by GrabOn. So head over and start playing. You never know which tour you can have this year for free!
So, let's jump right into the last minute Christmas packing tips:
1. Create a checklist

The first step in getting things sorted and managing your packing is creating a checklist of all the things that you need and require. Cross off the list of items as you go over. Now, most people think that it actually increases the workload but it's actually the other way around.
2. Estimate the size of your itinerary
The easiest way to do this is by laying all your travel related stuff on the floor and then see for yourself as to how much space it'll occupy. This basic gauging is very important as it will help you in the next process, below.
3. Eliminate unnecessary objects
Just like your cupboards, you end up not using about 1/3rd of your luggage suitcase. So, you can eliminate that 30% by laying it down on the floor and estimating the size of your itinerary.
4. Save as much space as possible

The trick to last-minute Christmas packing is knowing how to save space. I get it that you have a lot of things to be packed but there are a few things that you could do like roll-up your socks or underwear and stuff them inside your shoes to save the space occupied by these items.
But that's just one thing that you can do. There are many more tips to follow to save space while packing.
Roll your denims instead of folding them. This way, place them vertically and place many denims around it.
You can do the same with tshirts. T-shirt folds are smaller than the denim folds and take less space.
5. Place footwear properly
Footwear takes up a lot of space and becomes a nuisance at times when you need to pack quickly. Always place footwear at the bottom and place them head to toe.
6. Manage gaps in the luggage
Another very useful hack that can save you time and effort is managing the gaps in your luggage. Fill up the gaps by placing soft clothing such as T-shirts and jerseys in between footwear and other tough items. Roll up your shorts and innerwear to create more space and buddle them in the gaps.
7. Appropriately store formal and business clothes

The best way to store formal clothes and business suits, as well as trousers and skirts, is by interlinking them i.e. placing them on top of each other and then folding them. This will save you space and will prevent wrinkle formation in your clothes.
8. Place fragile objects & toiletries properly
When you're in a hurry especially when during last minute Christmas packing, you often stuff toiletries and fragile objects like Camera wherever possible and that not only causes, takes up more space but also causes harm to your devices. Instead, spread a plastic cover or a dry cleaning bag and put toiletries, books, and camera on top of it and remember to place it in the middle for maximum protection.
9. Avoid space crunch and wrinkled shirts

Now, place your folded & ironed shirts on top to make space for everything and to avoid creases and wrinkles.
10. Don't roll up belts!
This is one tip that no one might've told you up until this moment. Never roll up your belts, that is just a waste of space. Instead, place them around the suitcase or luggage lining at the very end of your packing process.
11. Cabin Luggage
When you travel by air, other than the luggage you hand in at the check-in counter, airlines usually allow you to carry an extra bag with yourself. This baggage is referred to as cabin luggage.
Manage your electronics all at one place
Chargers, power banks, and additional phones can all make a mess when just thrown into your bag. But you can avoid this by organising them appropriately. What you can do is take one of your old phones' box and use it for keeping all the electronics inside of. This box can occupy a place anywhere and won't bother the rest ]of the items in the bag. So that's a bye bye to clumsy chargers and wires.
So, if you're suspecting that your check-in baggage is going over the weight limit, you can put the heavy things like laptops, tablets, etc. in a separate backpack. Compartmentalize as much as you can. Though, be mindful of what the airlines allows to carry in check-in and cabin baggages.
Bonus:

Pack gifts that are small in size when traveling for comfortable flight and to keep in line with the regulations.
Were these last minute Christmas packing tips useful?
So, these are a few tips from our side to make your Christmas holiday packing smoother.Do let us know in the comments below. While packing, DO NOT forget to keep face masks and hand-sanitizers. Follow Covid guidelines for the place you're travelling to. Travel safe and travel, only if healthy. And if you have no trip planned, how about a holiday-movie binge with some Gingerbread cookies? Till then, have a great packing and happy holidays from Team GrabOn :)
Final Thoughts
So, these are a few places in India where you can experience the Christmas fervor at its best. As you know, Covid-19 has made this year tough on everyone. But Christmas has come to uplift us and fill us with hope for a better 2022. Christmas holidays are on and people can get their travel bags out. Don't worry about your Christmas packing, just refer to the packing hacks that we have compiled for you.
Wherever you go, whatever you do, under all circumstances, KEEP YOUR MASKS ON. Always, carry hand-sanitizers with you.
Also, if you'd like any other places to be added to this Christmas travel guide, mention them in the comments below. Travel safe and have a very merry Christmas!