The idea of carpooling is pretty simple – to reduce the horrendous traffic especially in metropolitans like Delhi, Bengaluru, and Hyderabad. A lot has already been written and said about carpool apps in India in the past 2-3 years. With the ever-increasing traffic, cab service companies like Uber and Carma in the US came up with this idea of carpooling as a super accessible and economical venture. This peer-to-peer business model has already become a massive hit in western countries. While the same initiative was taken in India as well, there is still a long way to go for carpool apps in India to become as popular as in the US.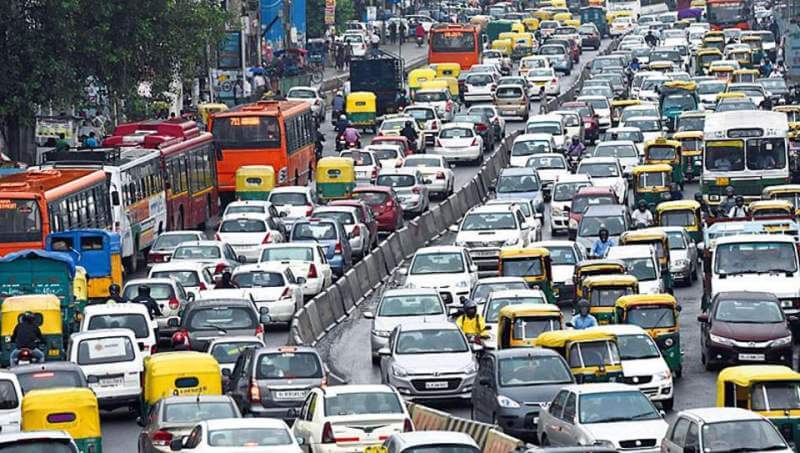 Talking about one of the developed cities in India – Bengaluru. The traffic scene in this city is too bad. The rapid increase in vehicles in Bengaluru has caused an enormous parking spot crunch. Multi-level car parking construction in major IT parks, shopping malls, and other public places hasn't addressed the parking issues of the city. Randomly parked vehicles along the roadside are leading to more traffic issues. The situation in residential areas isn't any better either. A recent study stated that 90 percent of Bengaluru households do not have parking space and are forced to park their vehicles on the road or footpaths. Such a situation calls for a carpooling service, as it seems to be the only viable option to avoid such a rapidly growing issue.
To help you avoid driving in traffic and reach your destination in time, we have curated the best carpool apps in the below list.
Carpooling is also cheap. Travelling, on the whole, has become affordable today. Thanks to hundreds of discount and coupons that travel services offer. For example, there are infinite coupon codes at MakeMyTrip that offer discounts on domestic as well as international travel. You can save a fortune with easy-to-use coupons. And while travelling intercity, Carpool apps like Uber, Ola or more will surely give you a good deal. So keep on reading to know which other carpool apps you can use to travel intercity.
Have a look at Top 10 Carpool Apps in India for 2019
1. BlaBlaCar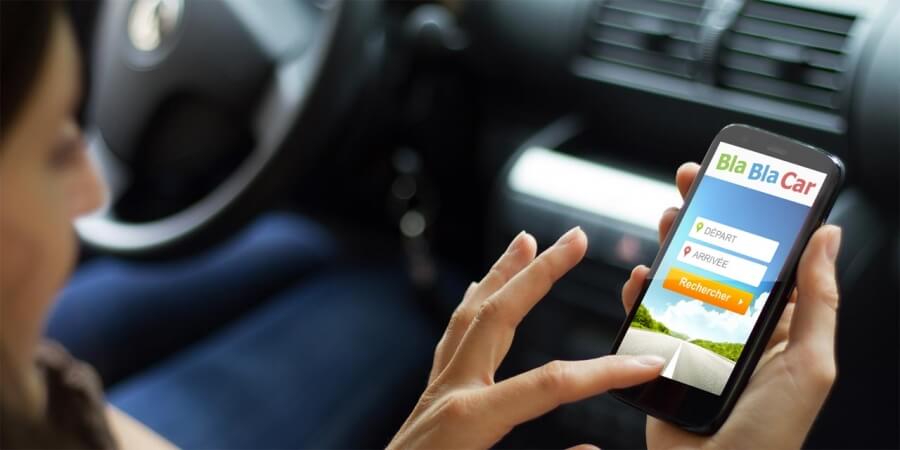 BlaBlaCar is one of the popular carpool apps in India that was started in 2013. It was developed taking the festival season into consideration when trains and buses are already packed and rates cab services soaring high due to increase in demand. This carpooling service is developed to share fuel costs with other aspiring travelers and lessen the congestion on the whole. This carpooling app is both economically and ecologically friendly and makes it easier for commuters to find a ride with an experienced and trusted driver. Users can link their social media profile with their BlaBlaCar profile and are also allowed to anonymously rate their experience with the driver with a special focus on driving skill and safety. The only glitch is the payment option only cash, and you must have exact change with you in case the driver doesn't have any. The app, which is available for both Android and iOS, and is active in cities including Mumbai, Kolkata, Delhi, and Chennai.
2. SRide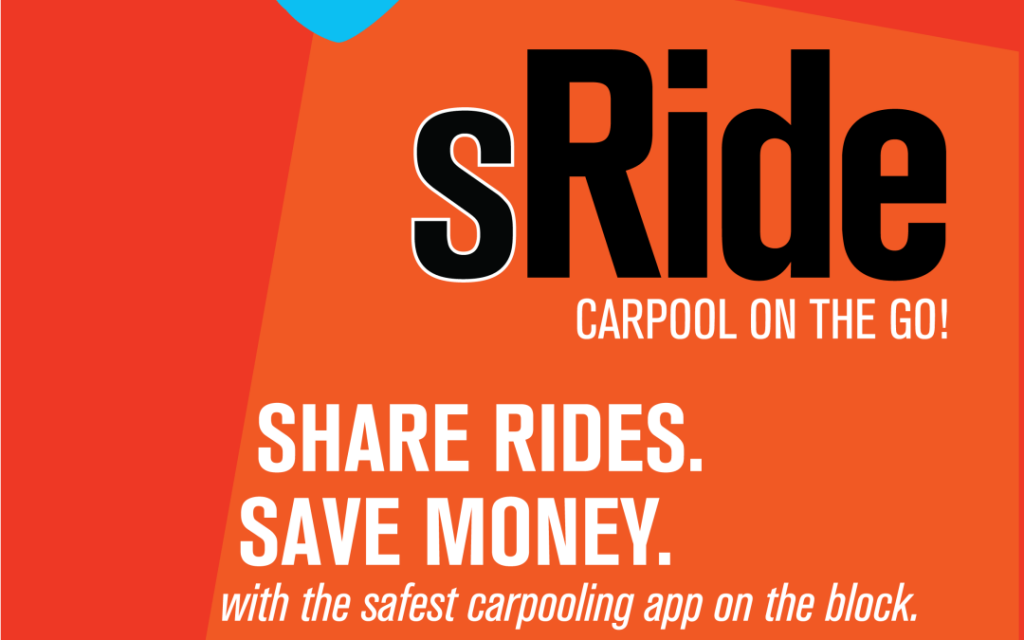 SRide is another growing carpooling app in India which claims safety for its riders. A background check of each SRide driver is done to ensure you get the best service possible, and driver ratings are tracked closely. Every rider must submit a review of their driver to create a conversation in the SRide community to provide feedback for others. SRide was also developed in 2014 and is aimed at providing commuters with a cost-saving means of transport while helping reduce pollution. SRide claims that over 11 billion gallons of fuel could be saved per year if commuters opted for carpool apps in India on a regular basis. The SRide app is available for both Android and iOS and features online payment options through PayTM unlike BlaBla Car.
And, so the founder of SRide, Lakshna Jha rightly said,
Some of the companies spend up to $3-4 million per year on employee transportation. By introducing carpooling, there is an alternative mode of transportation which helps to reduce cost. It also helps to form a stronger community among employees.
3. UberPool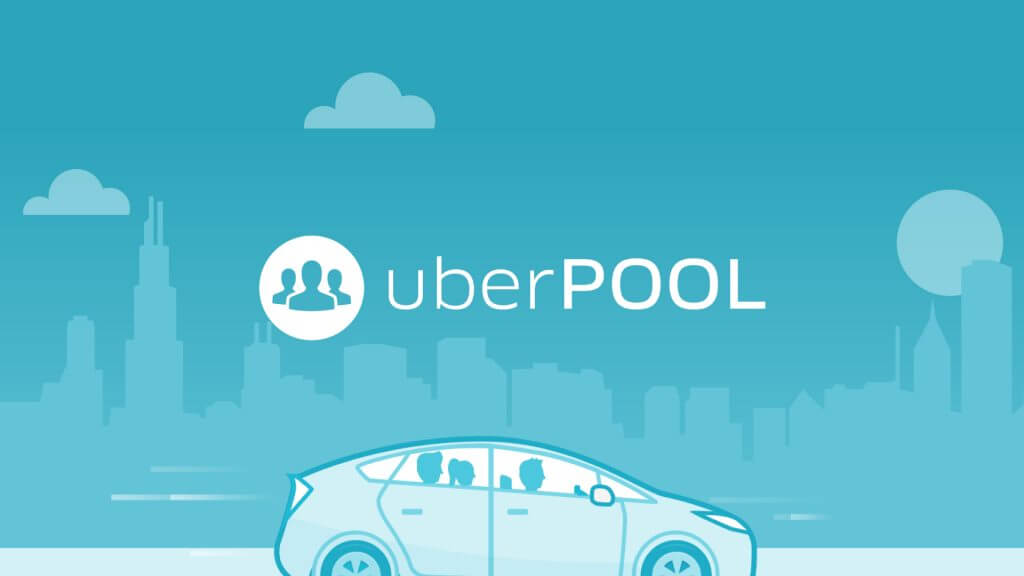 After a successful launch in Delhi and Bangalore, UberPOOL has extended its services to other cities including Mumbai, Kolkata, Hyderabad and Bhubaneswar. Launched in the year 2009, this American company is the largest ride-hailing and car-pooling company today. UberPOOL enables you to share your ride with passengers with similar pickup and destination points. While booking a cab, you'll now get three options – UberGo, UberPool, and UberMotor. The one ride that charges you around Rs. 122 if you book it independently, the same distance will cost you only Rs. 49 if you select UberPool. You might get matched with other passengers heading in the same direction. Even if no other passengers take the ride, this will be your cost. You can click here to book your Uber cab at special discounted rates.
4. Ola Share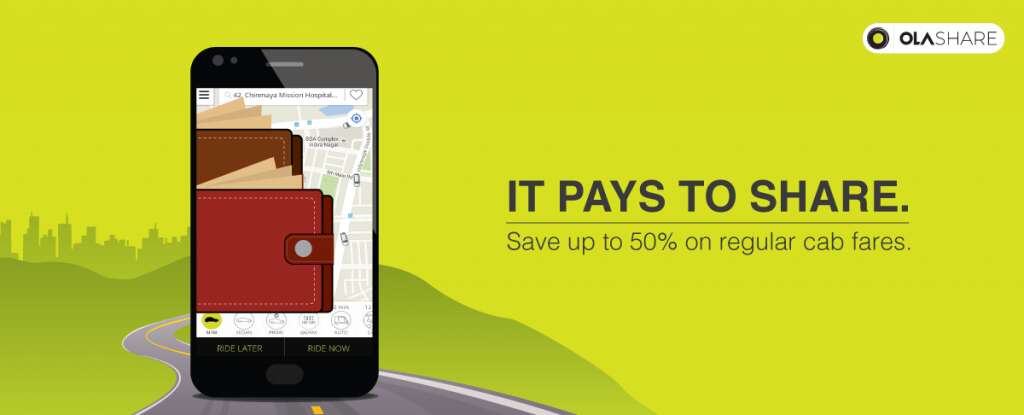 Ola Share enable their users to book and share a cab ride with fellow commuters who could be trusted. Connect with other travelers on the go – without having to plan it on prior basis, de-tour or wait for other passengers to join.
You share your ride with the people you choose. You can join a group based on one or more common aspects – your location and gender. OlaShare is now available in major cities like Bangalore, Hyderabad, Mumbai, Pune, etc. It is the first major home-grown cab aggregator founded in 2010 by Bhavish Aggarwal. The company has also expanded its wings to international markets like Australia and New Zealand.
5. Ridely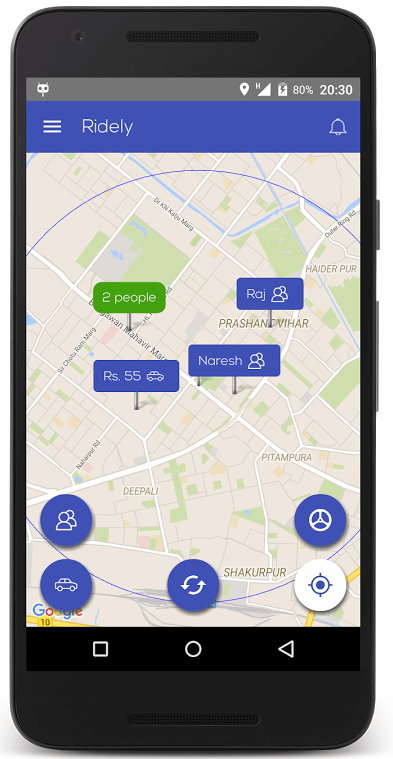 While there is a typical Hindi proverb "Teen Tigada Kaam Bigada", the trio have certainly discarded this myth. When three young and enthusiastic talents come together, a fresh and innovative product is expected to be launched. This has what happened in the case of Ridley, one of the top 10 carpool apps in India. The owners, Varun, Rachit and Ankur quit their jobs from Jabong to start this Indian-based carpooling app.
Ridely is one year old now. It was during the first phase of Odd-Even in Delhi when the trio came up with this concept and was bootstrapping in the first quarter. Ridely is a part of Microsoft BizSpark Program and Facebook's FBStart and has its presence in Delhi-NCR, Hyderabad, Pune, Bangalore, Mumbai. The app is free and available for download all across India.
6. ToGo (Together We Go)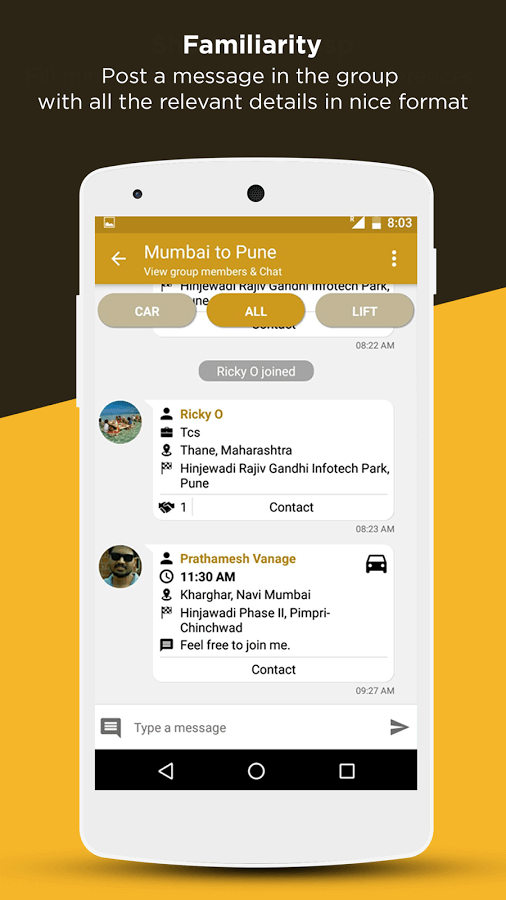 Here is another fast emerging social carpooling mobile app – Together We Go (ToGo) which is aimed at grouping people commuting on the same routes. This app offers a chat option, where people can chat with each other or in the group to find suitable carpooling partners. While carpooling is yet to become mainstream, ToGo is undeterred and is busy offering trusted carpooling services in few parts of the nation. Whether one is willing to travel to the office, airport, or a nearby city, this carpooling app introduces them to like-minded people, thus making the journey a tight affair.
This Mumbai based startup is started by Parth Patel (Mechanical Engineer from IIT Delhi), Chintan Pandya (Electrical Engineer from IIT Kanpur) & Vipin Raghavan (MBA graduate from Symbiosis Pune and has overall 7.5 years of work experience with EY and SKS Microfinance).
Here's what the founder had to say to Economic Times,
"Six of us from the office shared a flat. At times, when one had to stay late, it was tough to find transportation to our place at an affordable rate. Especially in metropolitan cities, traveling alone in a car hurts the pockets. We have derived a mathematical formula. Based on this, transportation charges will be less in comparison to traveling by a public mode. Considering the safety of co-travelers, the application gives the option of commuting with male and female passengers."
7. Quickride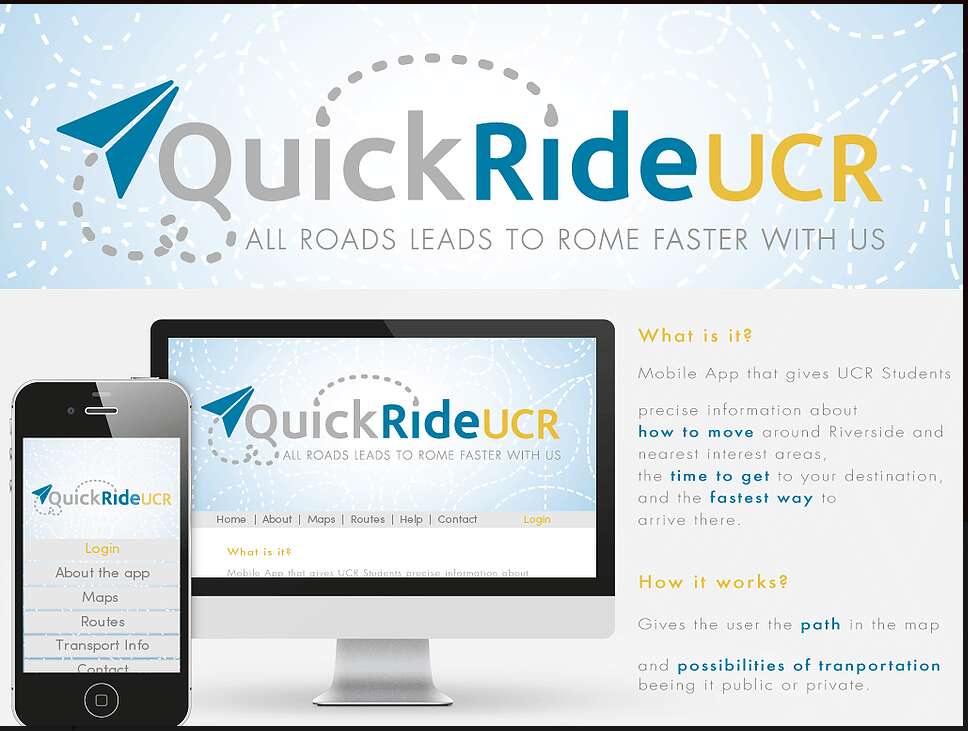 As per a survey conducted a few years ago, Bengaluru was ranked as the sixth worst city in the world for commuting. Years later, the condition in the city still hasn't improved. While many startups had tried coming up with car share services in Bengaluru, the idea eventually died. However, undeterred by the failures of other carpool service providers, Quickride founder KNM Rao came up with his app for real-time ridesharing with end-to-end automation in 2015.
The founder of Quickride had this to say,
Our ultimate dictum was maximum usage of available resources and filling those empty seats on the road. We always considered cars with single occupants a sheer wastage of resources that gives rise to many unpardonable issues like traffic jams, cluttered parking spaces, pollution, and long hours on the road which impacts one's health.
8. ZIFY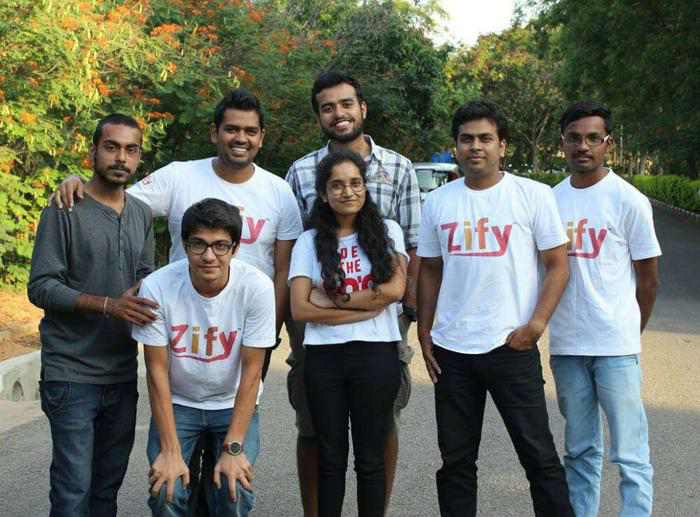 ZIFY is a Hyderabad-based company listed in our carpool apps in India. ZIFY aims at resolving the raging issue of traffic in India which affects almost every working professional in metropolitan cities. It provides a social platform to vehicle owners who can only save a lot on their fuel but also contribute towards helping fight pollution and congestion. With their "Smart Route-Matching" algorithm, ZIFY can provide intermediate pickup and drop off enabling instant booking on their platform. The startup also has its wallet for cashless transactions. ZIFY competes with other major carpool apps in India such as BlaBlaCar, Tripda, Ryde by Ibibo and Carpool by Meru.
The owner of ZIFY had this to say,
I believe the competition is helping us in a lot of ways. Carpool as a concept is still very much new in India, and the marketing efforts are helping in educating the users about the alternate mode of transportation that is affordable & more social. Even though we have a sizable chunk of users sharing city to city rides, but our focus is more on within the city travel. Once we create a large enough user network for intra-city travel, the inter-city segment would be elementary for us to tap into.
9. Ryde by Ibibo

Online travel group Ibibo has launched a carpooling app named Ryde that lets users share their rides and travel cost. Ryde operates in a similar space as BlaBlaCar and Tripda, but stands out, as it offers the service for both intra and intercity rides. Passengers can search for registered members on the app offering rides, book their ride and preferred seat, make the payment, chat with the driver and decide the pick-up location. On the other hand, the app allows drivers to choose their source, destination, and fee. They can search for requests by passengers who are looking to share rides with them in the same direction of travel and pick their passengers. Both passengers and riders can review each other as the ride ends. It also gives a history of the past rides of both the driver and passenger.
The app also enables the users to check verified member profiles, chat with them and do real-time tracking of the driver and vehicle. Drivers can create custom preferences on waiting time, detour, luggage size, music, smoking, etc.
10. Carpool by Meru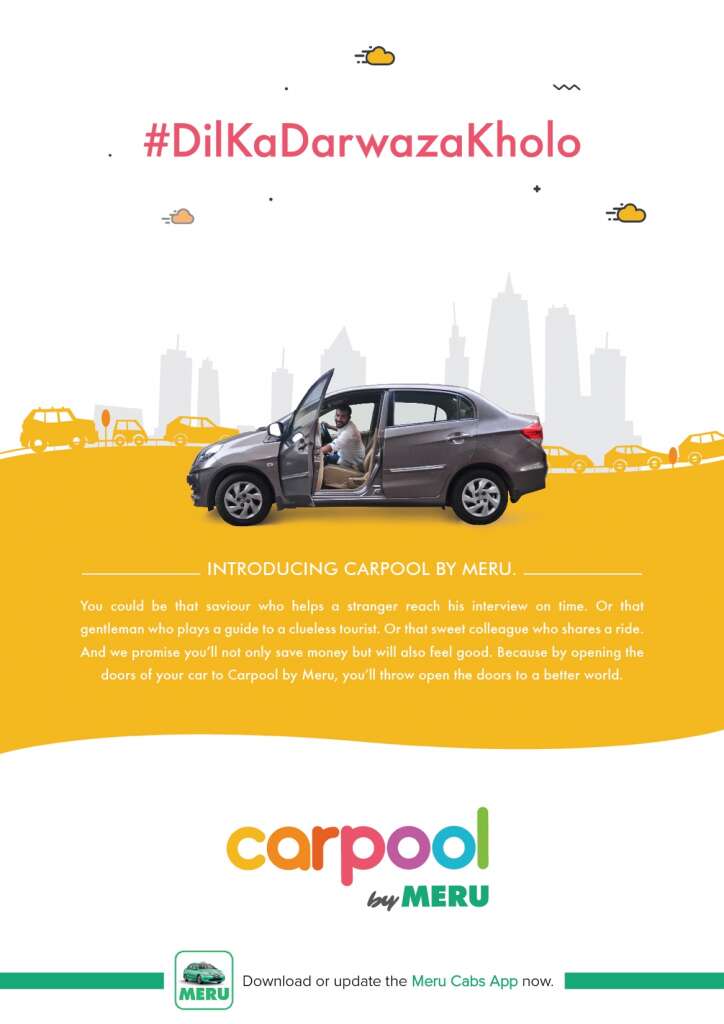 Last but not least, Carpool by Meru is ranked at 10th position in our list of carpool apps in India. Taxi service provider Meru launched a first-of-its-kind 'CarPool' service in 2016 for its customers across the country. Unlike other carpooling services which are confined to particular cities, Carpool by Meru is available in all the cities where Meru is already operating. The company is targeting the top 20 cities, which have over 12 million cars and they aim to bring them on a popular and trusted platform like Meru. Integrated into the Meru Cabs mobile app, CarPool offers the 'personal car' ridesharing option for people traveling in the same direction or area.
As per Siddhartha Pahwa, chief executive of Meru Cabs,
This is a pure customer to customer service, and we are making it available across the country. We are currently not monetizing it, but we will work towards charging a margin fee in the future once the service is well established.
The company also claims at making thorough credential checks of all the drivers, who offer to give rides to people, including taking their details of driving license, Aadhar, and PAN.
Save on your travel expenses with amazing Happyeasygo travel coupons and offers.
Expectation vs Reality – Carpool APPs in India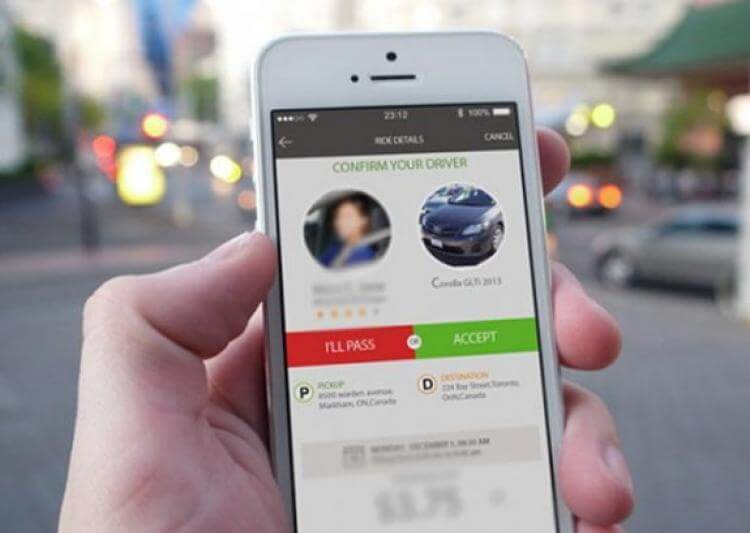 When carpooling was introduced in Indian cities, it was expected that many commuters would register for carpool apps that help connect car drivers with those looking for rides. And when in Delhi the odd and even scheme was implemented, it seemed to be a good option. Strong tie-ups would not only help lessen the traffic, but it's also a great way of saving fuel, in short going more environment-friendly. With growing awareness campaigns about the need to reduce traffic and pollution, on the whole, the popularity of the apps was expected to rise steadily.
Well, Uber and Ola are not the only ones who are offering carpooling services. 'sRide,' one of the carpool apps in India was developed in 2014 by a team of software professionals based in Pune, Delhi, and California in the US. This app is currently available on Android and iOS, and any working professional can register with it by furnishing name, address, personal and official e-mail address. The app team verifies the member credentials through his/her employer records. Once successfully registered, the user can look up other registered members traveling on his/her route and time and connect with them to avail or offer a ride. On completion of the journey, the rider needs to pay the car owner at the rate of Rs 3/km. The app has more than 5,000 members and receives more than 300 posts every day.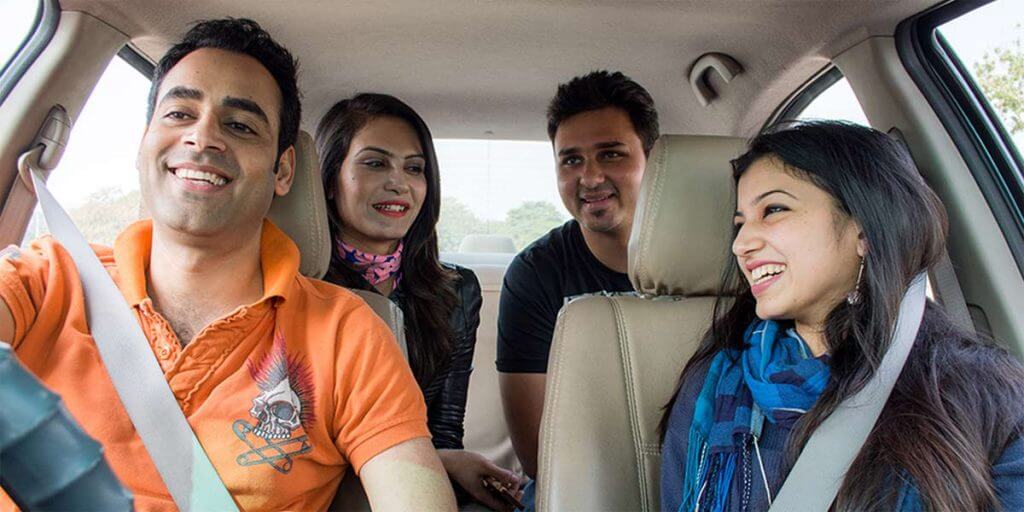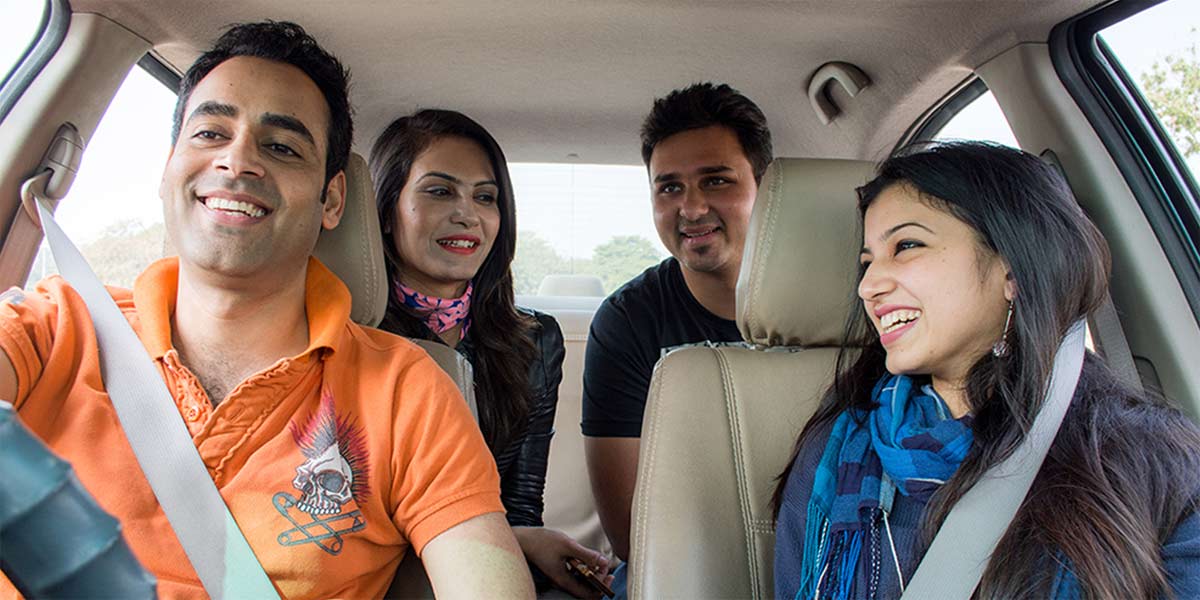 Nitin Chaddha, Business Development Officer of sRide, had this to say,
We encourage members to travel only with verified members. The payment aspect is a one-to-one deal between the driver and the person availing of the ride. However, at Rs 3/km, it is as cheap as using public transport, yet offering the convenience of a car. Our app is already integrated with Google Maps, and we are now trying to connect it with Paytm to provide the comfort of payments too.
A similar app is CarEgiri, which was developed in 2014 by a team of city-based IT professionals and is currently accessed by around 2,500 people, enabling users to exchange kilometers for rides. Someone offering carpool service earns in km, and the one availing of the trip spends them. Siddharth Jagtiani, founder and chief technical officer of the app, had this to say,
If you accumulate enough km by driving more often, you earn enough for fuel and maintenance. If you spend in km, you pay only what you usually would spend if you drive an economy car. It's a simple system that requires no login and an elaborate registration process. I, as a commuter, have faced the traffic problem and felt the drain on my energy and time, and thus thought of developing this app.


For all those companies who are offering carpool apps in India, they see congestion as a problem waiting for a solution. They then try building up a platform that users can access and avail of carpooling services. Many young companies have built carpooling apps and services, which help you hook you up with fellow commuters who are traveling the same route.
There was a bunch of enthusiastic people who swore by carpool apps in India. There were radio jockeys who would explain to us the benefits of carpooling but considering the Indian mindset; the interest has already started fading. It seems carpool apps in India will never go mainstream. You can build the best technological solutions, but the concept will still not work — the reason being the Indian laid-back attitude and consumer behavior.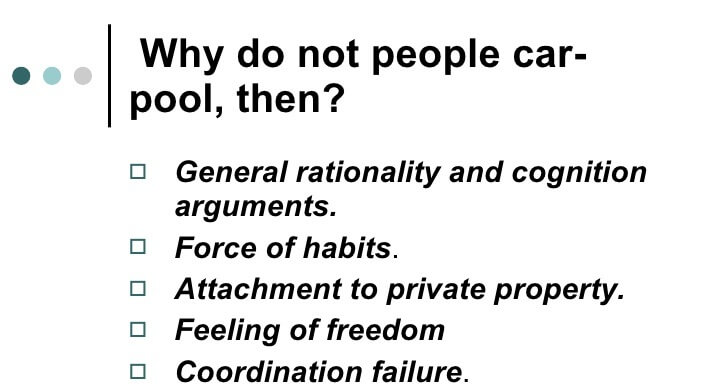 End Notes
Now with several such top carpool apps in India, most of the commuters are not aware, and those aware are skeptical about availing this service, especially the female passengers. Earlier, carpooling means your dad used to share a ride with his colleague. Now let's be honest; we hardly even know our neighbors and traveling with a stranger is still a social stigma. It's worse when it comes to strangers. Carpooling firms may have done all the background verification about people I need to pick up along the way, but all I need is one bad experience to put me off.
Coming to the peak traveling hours, mornings are the busiest hours when we are in a rush to make it to the office on time and on the other hand, evenings are even worse. Unexpected meetings pop up just when we were planning to head back home. In such scenarios, we cannot afford to either wait for a carpool service who is busy picking other passengers or even won't like to keep fellow passengers waiting in the evening.
With all those speculations in mind, we still want to see carpool apps in India as mainstream, so that the real-time issues of congestion and pollution be reduced if not resolved entirely.
Happy reading!
Image Courtesy:
independent.co.uk
YouTube.com
indiatvnews.com
quickride.in
groupool.in
total-croatia-news.com
sride.co
newsroom.uber.com
olashare.com
yourstory.com
inc42.com
medianama.com