India is a simmering pot of various religions & faith. Each of these has its traditions, beliefs & culture. This year, the Ganesh Chaturthi festival season starts on 31st of August (Wednesday), 2022 and ends on the 9th of September (Friday), 2022.One of the many festivals celebrated during this time is Ganesh Chaturthi, also known as Vinayagar Chaturthi, the worship of the elephant-headed God. The festival is celebrated throughout the country, especially in Maharashtra, Andhra Pradesh & Telangana, on the fourth night of Bhadrapada
The immersion ritual or Ganesh Visarjan usually follows on the 10th day of the festival of Vinayaka Chavithi. The immersion process is a scene that is nothing but mesmerising. It is the day when people, irrespective of where they come from, can be seen dancing on the streets with a smile on their faces and travelling to the waterfront with idols for visarjan.
We have listed below places you must visit on the 10th day of the festival. Celebrate the festival with all your heart. We've got you covered with our special Ganesh Chaturthi offers, discounts, and more.
Must-Visit Places To See Ganesh Visarjan
Read on to know more about the popular places to visit during Ganesh visarjan:
1. Girgaon Chowpatty (Mumbai)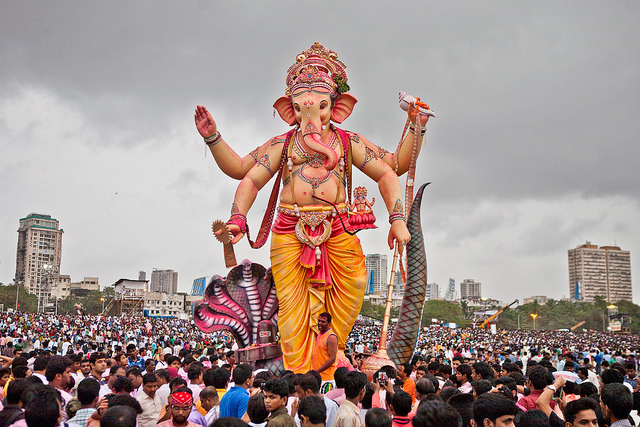 There is no start to Ganesha's Visarjan without a mention of Girgaon Chowpatty. The place is located just beside Marine Drive – one of the famous beaches in Mumbai. If you are planning to visit this place, as the roads will be closed, take the train to Grant Road and then towards Girgaon Chowpatty.
2. Powai Lake (Mumbai)
Powai lake is another famous immersion place where people from all parts of the city flock in to view this mesmerizing proceeding. You can see different Ganesh idols being immersed in the lake and people dancing and cherishing with joy. Unlike Chowpatty and other places, Powai Lake is the most peaceful place if you want to immerse your Ganesh idol in a less crowded place.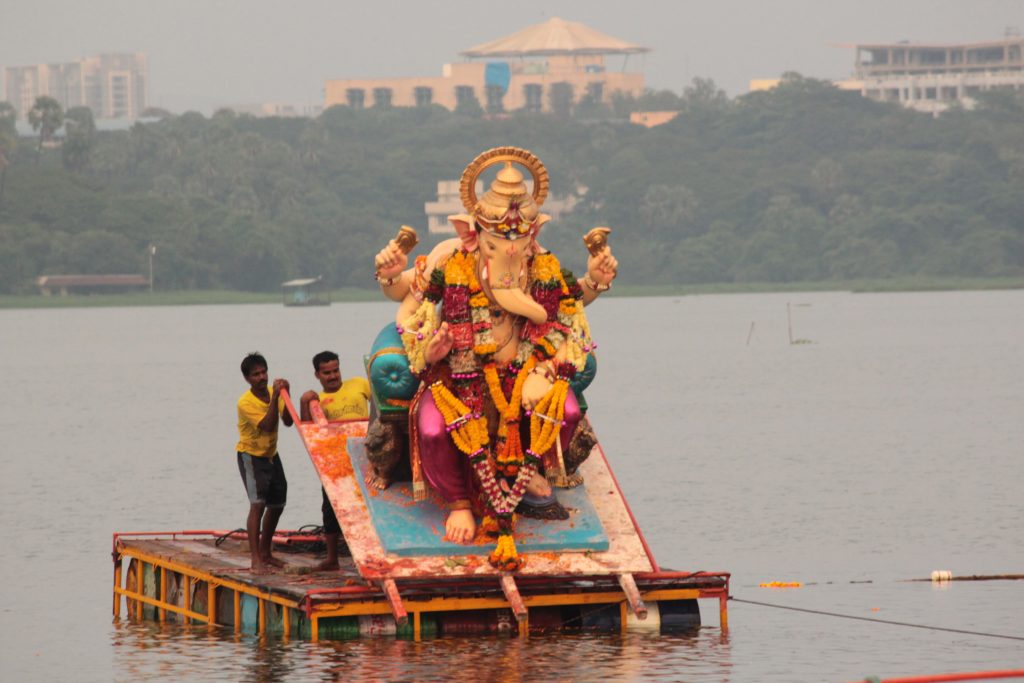 3. Besant Nagar Beach (Chennai)
Besant Nagar beach, also known as Elliott's Beach, is located along the coast of the Bay of Bengal in South Chennai, India. This is yet another famous place to perform the rituals of Ganesh Visarjan. During this festival, some devotees even bring clay idols, making them eco-friendly (no harm to mother nature). Post-pandemic, this place witnessed less crowd compared to other beaches in Chennai. 
4. Nagarjuna Sagar (Telangana)
Located between Telangana and Andhra Pradesh borders, Nagarjuna Sagar is one of the prominent places to visit all year, especially during the Ganesh immersion festival. This is a must-visit nimarjan place if you wish to enjoy the festive spirit in a frolic environment with friends and family.
5. Juhu Beach (Mumbai)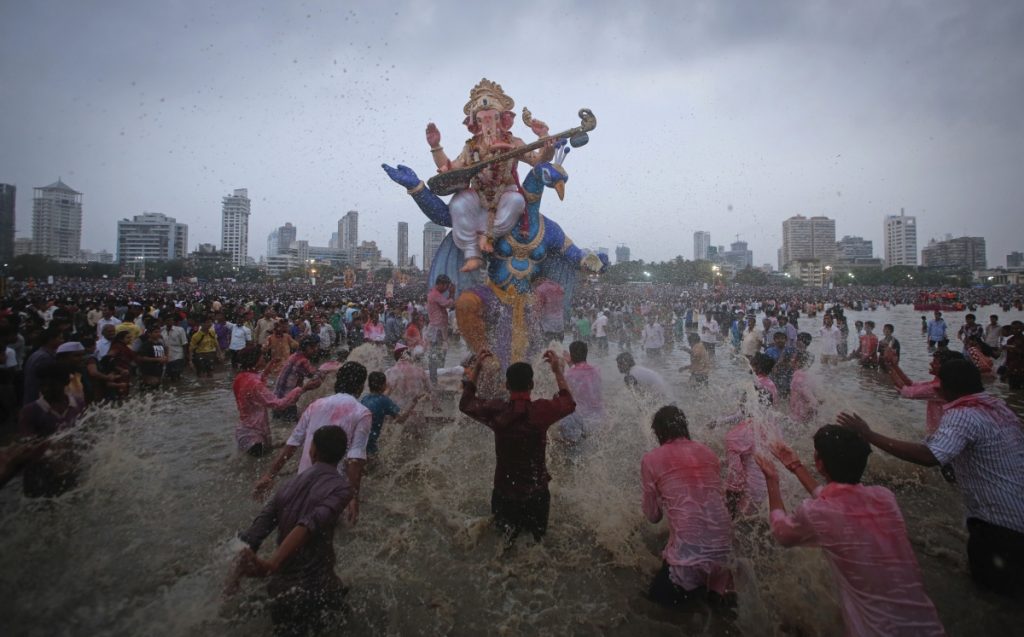 Another of Mumbai's famous beaches, home to famous Bollywood actors, this place witnesses immersion on a different scale. Ganesha's idols are taken far off into the sea and are then immersed. The immersion takes place on a grand scale, starting late afternoon and going on until late at night.
6. Sabarmati Riverfront (Ahmedabad)
People started celebrating the elephant-headed Ganesh festival with utmost prosperity and integrity at Sabarmati waterfront, a beautiful place in Ahmedabad. This place has gained immense popularity due to its landscaping visuals, environmental-friendly, and sustainable development. Join this fantastic visarjan event and experience the city in vibrant colours.
7. Yediyur lake (Bangalore)
Plan a trip with friends and family during the Ganesh festival to one of the famous lakes in Bangalore, Yediyur, located near the Bangalore-Mangalore highway. Special arrangements are made across the city to ensure the safe immersion of lord Ganesh's idols. The government has also created separate cement tanks with tight security at Yediyur lake to avoid unexpected incidents. You will be delighted to see the beautiful scenery once you visit this lake.
8. Kasimedu Fishing Harbour (Chennai)
Hundreds of Vinayaka idols are immersed in this Chennai fishing harbour (also called Kasimedu fishing harbour), one of the popular fishing hubs in Tamil Nadu. Don't forget to take a camera and other travel accessories to capture stunning pictures of the immersion.
9. Shree Ganesh Mandir, Mapusa (Goa)
Shree Ganesh Mandir, located in Mapusa, is close to the beaches in North Goa. Devotees of Lord Ganesh perform the visarjan every year here. You will experience a glimpse of Ganesh-mania with explosions in the sky and a brass band performing many chartbuster songs with a bit of enthusiasm and devotion.
10. Pune
This list is incomplete without Pune. The city's Ganesh immersion festival is known for its melodious dhol, synchronized dance performances etc. This glimpse of a colourful day will make you fall in love with Punekars. The Ganesh immersion in the Deccan area of the city is the most popular and attracts people from across the city, including tourists. So, don't forget to add Pune's Ganesh immersion to your bucket list.
11. Hussain Sagar Lake(Hyderabad)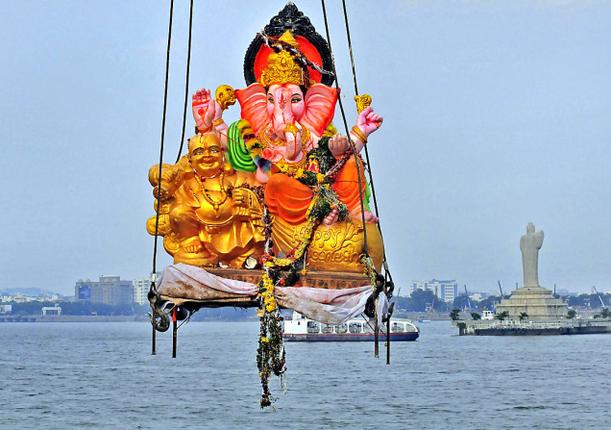 Featured as one of Hyderabad's must-visit destinations among all tourists, courtesy of a single carved stone sculpture of Buddha, immersion in this place is under tight scrutiny to keep pollution levels in control. With emotions running high, people bid farewell to the beloved Ganesha with chants of "Ganapati Bappa Morya" filling the streets.
12. Rushikonda (Andhra Pradesh)
Rushikonda is a beautiful place located near Bheemili road, Visakhapatnam. During the Ganesh visarjan, this place is fully-crowded, and you can hear the people chanting "Jai Bolo Ganesh Maharaj Ki Jai" everywhere. People believe that by immersing the idol in water, Ganesh may return to his home after his stay and takes away all the miseries during his departure on visarjan day.
13. Bheemili Beach (Andhra Pradesh)
Bheemili Beach is located at the Gosthani River origin, at a distance of 24 km from Visakhapatnam. It is one of the popular tourist attractions of Andhra Pradesh. People nearby perform rituals, light firecrackers to emit dazzling sparks, pay a visit to the Bheemili beach to see the colourful Ganesh Idols, and be a part of this mega euphoric visarjan event.
14. Bhavani Island (Andhra Pradesh)
The midst of the Krishna river, Bhavani Island, is considered one of India's largest river islands. This place is quite popular for the Ganesh celebrations held here. The devotees bring large, colourful Ganesha idols to this Bhavani Island, followed by the people witnessing the grand immersion process. People turn on the music and tap a few steps, saying goodbye to Vinayaka.
As always with pudhchya varshi lavkar ya, another year of waiting starts.
So, this is our list of Must visit places to enjoy the wonderful day of Ganesh Visarjan. Do let us know which place are you planning to visit this year? Also, if we missed out on any of the famous Ganesh immersion places in India? Do let us know in the comments section below.