They say impromptu plans are the best. One sure knows the pain of "Jyada dhindora peetne se Goa ka plan cancel hojata hai". Which literally translates to " If you talk about it a lot, the plans are bound to be doomed". But for those who still believe in planning well ahead in time are in for a treat. Haven't picked a holiday destination yet? Well, then Goa is the right place for you.  Why? For one, there are countless beautiful places to visit in Goa. For two, there are incredible offers on almost everything including flights and accommodation this monsoon. There can never be a better time than now to explore the goodness of Goa than the monsoons. A perfect destination for a bunch of friends or passionate lovers who want to spend some quality time together. For those who love the rainy season, Goa has some surprises for you. Visit Goa and leave all your worries behind. Don't forget to save on your trip expenses using travel coupons.
The Goa Tourism is unbelievably captivating and you can experience its pristine form in monsoon. Want to explore something new in Goa and not just visit the beach? Well, it's time to pack your bags and get ready to have a terrific time this monsoon.
The streets in Goa have hues of green and blue in the rainy months. This weather and the sight make it a perfect destination for lovers. Goa is sure known for its beaches and party life but this serene view is definitely worth watching. A trip to Goa this season might be your ultimate rejuvenation therapy. A session that will soothe your nerves and calm you. Walking on the beaches with silent drizzles will help you have that alone time. A moment when you can reconnect with yourself.
Things To Do In Goa During MonsoonsBeing a magnet for tourists, Goa is a blissful haven to tiny celebrations, but it still has many shades which are unexplored. Let's get into those slimy lanes of ancient-Portugal and we bet you'd love to know what Goa offers to you beyond the beaches and beyond the shores.
Without further ado, let's get down to the brass tacks.
Here are the 11 places to visit in Goa,
this monsoon and not just the beaches or shores!
1. Mesmerising Forts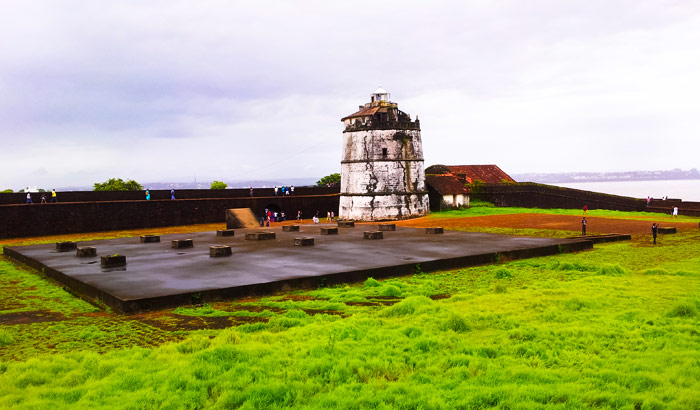 Oh yes. You'll be thankful to the Portuguese for this wondrous sight. Get to re-create your own "Dil Chahta Hai" pose at Fort Aguada. You can also trek up to Chapora fort and en route take glimpse of Vagator. With clouds passing over your head, one sure is to look up. Do take a stick along on your trek to get a grip on your path.
2. Lush Green Wildlife Sanctuaries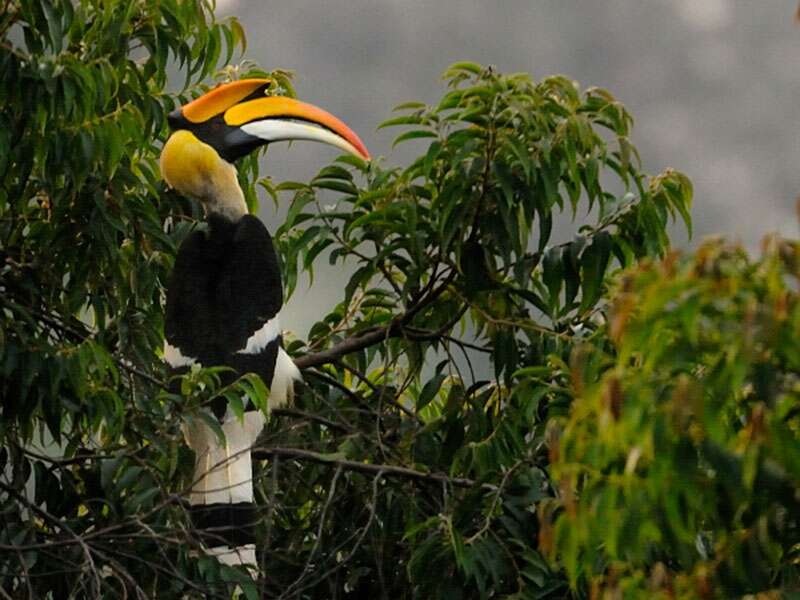 Some of the best places in goa are exquisite. The parks and sanctuaries are usually lush green after a good rain. Animal lovers are in for a joy, the park is a perfect place to take your pet along. So, put on those canvas shoes or rain boots and explore Mhadei Wildlife Sanctuary. If not Mhadei wildlife you can always go to Bhagwan Mahavir Sanctuary and Mollem National Park. These are a part of the must visit places in goa and you better take your camera along for you might actually spot the great Bengal Tiger.
3. Dudhsagar Falls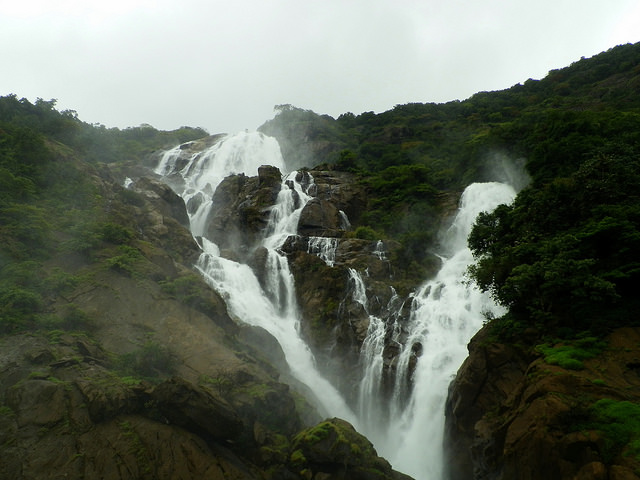 If you find waterfalls mesmerizing and if you indeed are enchanted by them then take time to explore some of the waterfalls in Goa. You sure are bound to have an unforgettable experience at Dudhsagar Falls for the trek to this place will leave you spellbound. The best way to travel to this place is by train. As the train crosses Castle Rock you will catch the view of the lovely waterfall. A breath of fresh air and cool breeze will pass by you. You sure will feel more closer to nature. So go ahead and visit the waterfalls near goa and pick your best.
4. Sahakari Spice Plantation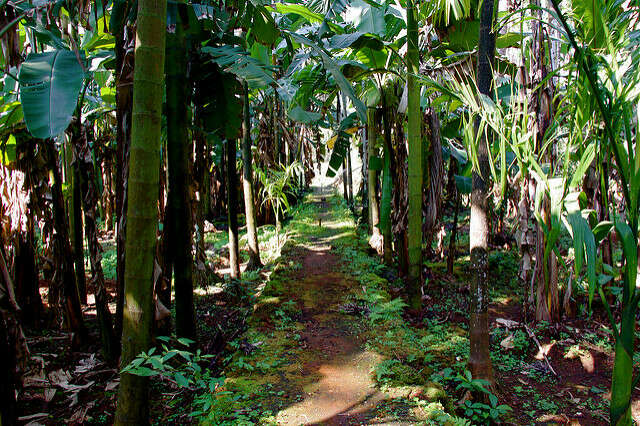 There are countless ways to stay closer to nature or get a view of the serene view. The spice plantations in Goa are definitely worth your time, for each one of them is special in its own way. Refreshing, pristine, lush green is exactly the right of sets words one would use to describe the Sahakari spin plantation. Situated among the tropical forest and verdant valley, this place makes it to the list of top 10 places to visit in Goa.
5. Fertility Feast of St. John the Baptist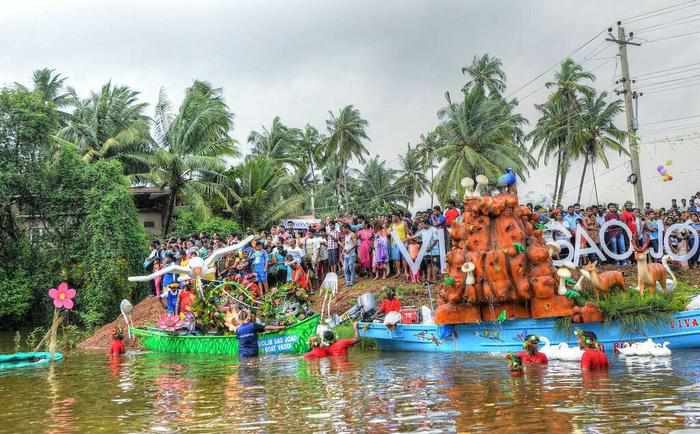 The vibrant Sao Joao festival is the heart of Goa during monsoons. Known as the Fertility Feast of Saint John the Baptist, it is celebrated in June every year. The festival enlivens the spirit of Goa (retrieving Feni).
6. Bonderam Festival & Damodar Saptah

Bonderam is one of the most colorful monsoon festivals in Goa that you would never want to miss. It's a euphoria to attend it in Divar Island. The Damodar Saptah is another festival that lasts for 7 days and is held during the monsoon season. The shoppers are in for a treat s there are plenty of stalls spread across during this festive occasion.
7. Goan Fish Curry: Martin's Corner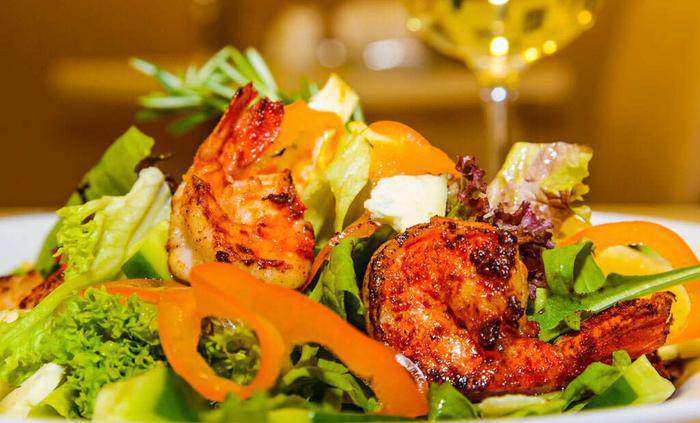 Martin's is another spellbinding food hub also known as 'The Paradise of Goan Delicacy'. What should one try there? Their seafood assortment includes stuffed crab, Goan fish and the fresh river water fish. These dishes are indeed worth tasting. Given that Goa has the best of fish picks in the month of monsoon, it is the best time to try their local delicacy.
8. Best Place for Crocodile Spotting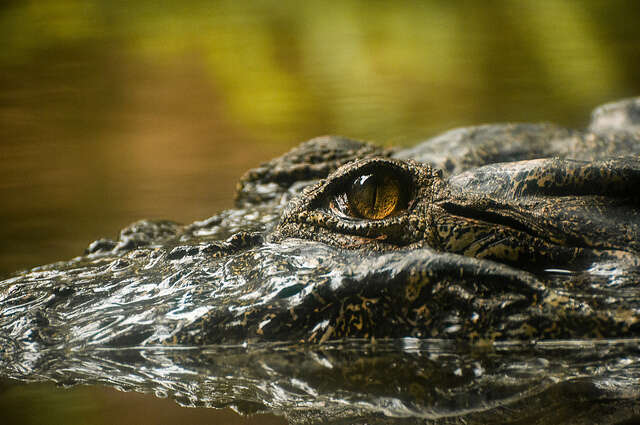 Going on a crocodile spotting expedition can be a fun experience for some and scary for rest. An adventure worth having. Cumbharjua canals, widely known as the home of the crocodiles a.k.a "mugger". This place is filled with crocs during monsoon and shall leave you with goosebumps. If you aren't scared, then go a bit further and catch a sight of the crocs chilling on the bay.
9. Elephant Splash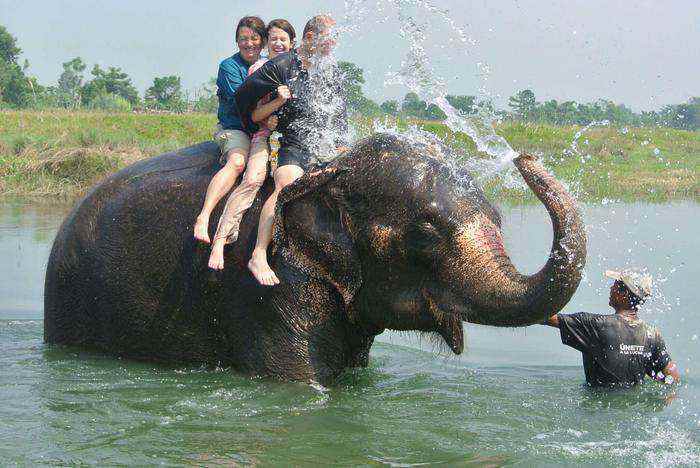 Elephants sure love water. Be it for a bath, to relax or to just play. It has been part of traditions to give these majestic beings a bath in the lake or river. You can get close to the elephants in Goa and maybe splash some water on them.
10. Trekking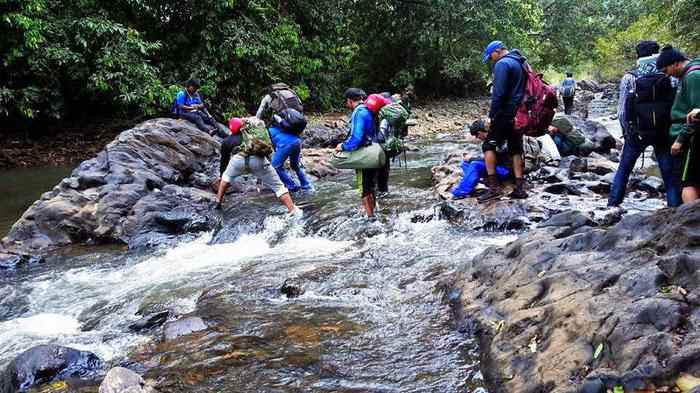 Is an adventurous trek part of your Goa plan? Want to trek, camp and be with nature? Well, for all the adventure enthusiasts, Goa has some of the best trekking places. With beautiful landscapes and experiences you can't say no to, you really must consider going.
11. Thrilling River Rafting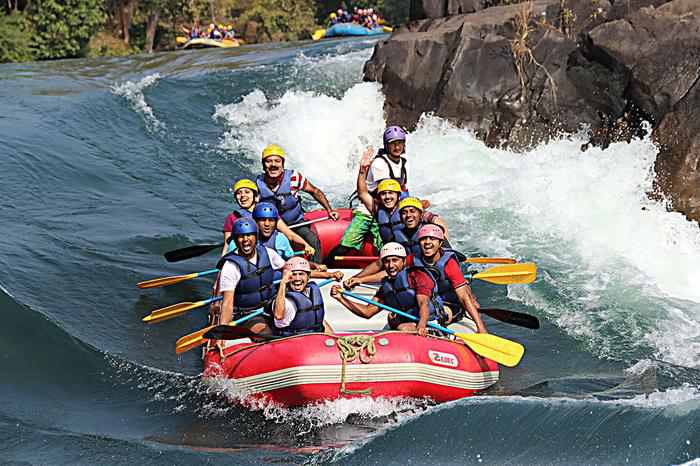 River water rafting is the one thing that is definitely there on the adventure junkies' list. And it is preferred to ride in the monsoon season for the waters are best then. Gear up to have a thrilling ride and once in a lifetime experience.
The Hardest Part About Goa Is Leaving It!
So, now that you're aware of all the wonderful things to do and the best places to visit in Goa in monsoon, you can satisfy your rainy day wanderlust.
Out of this list of places to visit in Goa, which is your best pick?
Tell us in the comments below. Happy holidays and may you have a wonderful time in Goa this monsoon.
Image Courtesy:
Flickr
Creative Commons
Google Images