Diwali, the festival of lights is finally here! It's time to celebrate this occasion with lights, sweets, and have fun with your loved ones. Diwali is incomplete without sweets. There definitely has to be a special sweet made only for this day. When it comes down to making sweets, each of us has a favorite that we would want to make this Diwali. These are the sweetmeats or mithai and varieties from the likes of desserts, snacks, and confectioneries. These can be eaten throughout the day, or with meals, or with a hot cup of tea or just like that, after all, it's Diwali! So, what would be your choice of Diwali sweet dishes? Not sure what to make? Want to try something new which is easy to make?  Well then, you have landed at the right place.
In this blog, we will help you with easy-peasy finger-licking Diwali sweets. You can preserve them and also serve them to your guests. So, are you excited to pamper your sweet tooth with these sweets?
Yummy Dishes
If you want to cook some great dishes but are afraid that it will be hectic, worry not! We will go ahead and let you know how to make some mouthwatering Diwali mithai recipes, that can be done in a jiffy and would be loved by one and all. For most of these preparations, the basic ingredients are like chickpea flour, rice flour, condensed milk, and sugar. Dry fruits like cashew nuts, almonds, pistachios, and raisins are also pretty important. Don't forget that ingredients like saffron, cinnamon, cardamom, cloves, and rose water will enhance the flavor and add a sweet fragrance to it. Give sweets a shining touch, just add silver or gold leaves. You can order all of these from the online grocery store and using the Diwali offers, you can also save loads on your orders. So, without further ado and keeping the basic ingredients in mind, let's get down to the food business!
Here are the 6 easy Diwali sweets recipes:
1. Gajar Halwa Pie-Crust
Who doesn't like Gajar Halwa? It's the most common yet one of the most delicious sweets ever! One of the most loved Diwali snacks recipes for anyone who prefers a sweet dish. How about giving it a makeover? So, here is the modernized version of the traditional dish!
Ingredients:
For the Pie Crust:
Choice of biscuits- 250grms
Butter- 3tbsp
For the Halwa:
Grated carrots- 1kg
Sugar- 1/2 cup
Ghee- 4tbsp
Elaichi powder- 1tsp
Dry fruits- your choice
Method:
Beat the biscuits into a coarse powder or simply turn it in the mixer grinder and add melted butter into the mixture, fold well.
Flatten the mixture in a pie dish and chill until firm.
Boil the milk, add grated carrot and cook. To this add elaichi powder.
Once the carrots are cooked and the milk thickens, add sugar and stir until it dissolves fully.
Add your favorite dry fruits and cook for an additional 10 minutes. Cool it.
Transfer this mix onto the pie crust.
Serve warm or chilled (We loved it super chilled, though!).
2. Chocolate Dryfruits Snowball
Let's not forget about the kids! They would love to have loads of chocolates, and if it's a creative version to that, it can make them go nuts! Wanna find out how?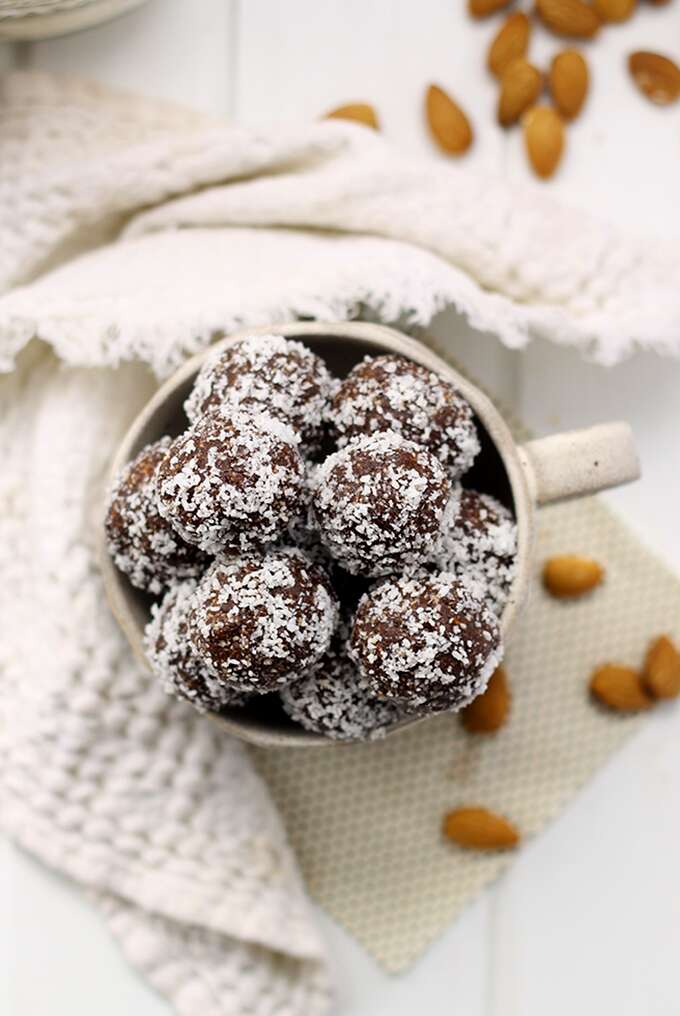 Ingredients:
A bit of chocolate- 100gms
Chocolate biscuits- 200gms
A handful of chocolate chips
Dry coconut powder
Method:
Make a coarse powder out of chocolate biscuits (you can also use your choice of biscuits).
Melt the chocolate and add it to the coarsely powdered biscuits. Knead it into a dough.
Now grease your hands with butter and make smalls balls with the dough.
You can add chocolate nuts to the dough.
Finally, sprinkle dry coconut powder onto the chocolate balls and you are ready to serve!
3. Coconut Barfi
Who doesn't like coconut barfi? Made perfectly, it can be cherished by kids and adults alike. Moreover, you can preserve it for days and enjoy the same taste.
Ingredients:
Coconut
Sugar
Cashews
Milk
Cardamom powder
Method:
Heat a pan. Add ghee and broken cashews and fry it till it turns slightly golden. Remove it.
Add coconut and milk in the pan. Stir well until it is combined and bring it to a boil.
Cook the mixture on medium low heat until the milk evaporates.
Then add sugar and mix it until the moisture evaporates.
Add little ghee and stir it continuously.
Add some cardamom and mix it well.
Once done, transfer the mixture to a greased pan and pour some dry fruits on it.
After it cools down, cut it into square pieces. The barfi is ready to be served.
4. Dry Fruits Kheer
Kheer is one of the most popular sweets during festivals. Just add a dash of dry fruits to anything and make it irresistible! This lip-smacking dish is the perfect option and one of the most popular Diwali sweet dishes.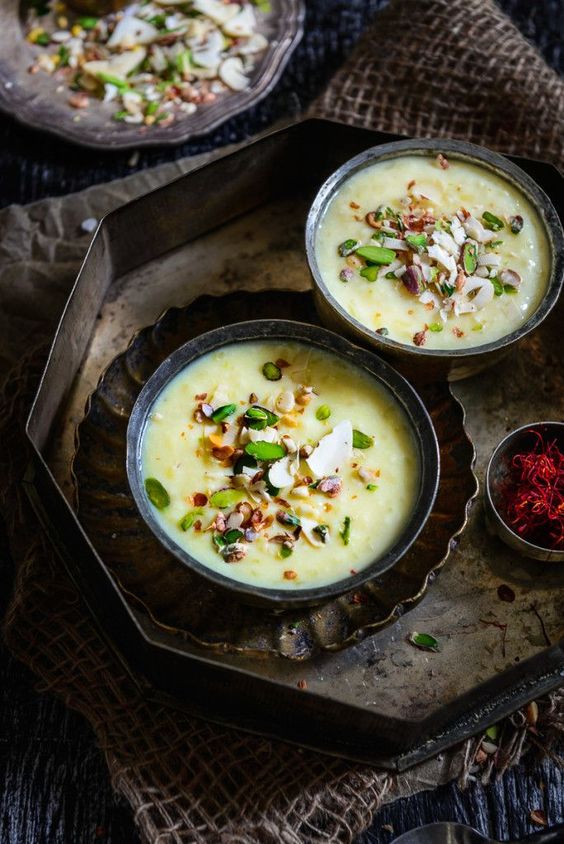 Ingredients:
Full-fat organic milk- 1litre
Basmati rice- 1/4 cup
Sugar- as required
Elaichi powder
Dry fruits (almonds/badam,cashews/raisins)
Method:
Rinse and soak basmati rice for 30mins.
In a wide pan, heat 1litre of full-fat milk and boil it (use a ladle to stir the milk so that it doesn't stick to the pan).
To the simmering milk, add basmati rice (drained).
Add sugar as required. Now on a low flame, cook the rice in the milk (make sure to stir continuously or else it will start burning).
Once the rice is halfway cooked, add elaichi powder.
Now add chopped dry fruits and stir.
Once the rice has cooked completely, and the kheer has reached a thick consistency, turn off the flame.
Garnish with more dry fruits and serve one of the most sought-after Diwali sweet dishes, the dry fruits kheer, hot or chilled.
5. Healthy Laddoos
Laddoos are one of the most popular Diwali special dishes in India. So, this year during Diwali, don't forget to try this with your favorite combinations in sweet recipes. And what does healthy laddoo mean?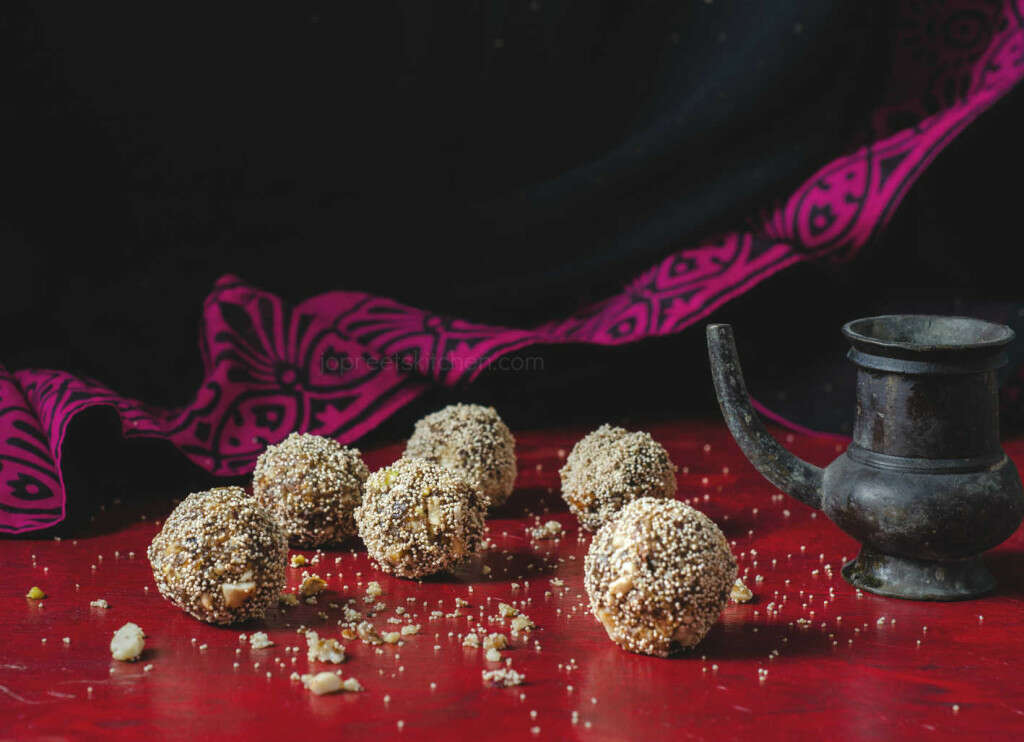 Ingredients:
Dates and Raisin- 200gms
Dried Apricot- 40gms
Poppy Seeds/Khus Khus- 2tbps
Cashew Nuts- 40gms
Almonds- 40gms
Walnuts- 20gms
Pistachios- 20gms
Ghee- 2-3tbps
Method:
Dry roast Cashew Nuts, Pistachios, Walnuts and Almonds for a few minutes. Dry roast Poppy Seeds for few minutes and remove from heat.
Allow the dry fruits to come down to room temperature. Now grind the roasted nuts in a mixer to a coarse paste. (Don't make it too powdery).
Keep a pan on the stove and add 2tbps of ghee. Add the coarse dry fruits powder. Stir well to mix it properly.
Now add ground nuts and stir everything. Turn off the flame and let it cool off, till it's lukewarm.
Apply ghee on your hands and start making laddoos. Now roll these laddoos in roasted poppy seeds. Preserve them in an airtight container.
6. Rocket Dryfruit Barfi
The name itself brings out the festive mood. A modern twist to one of the traditional Diwali sweets recipes, this barfi adds a charm to the dish. Of course, kids would love to have them.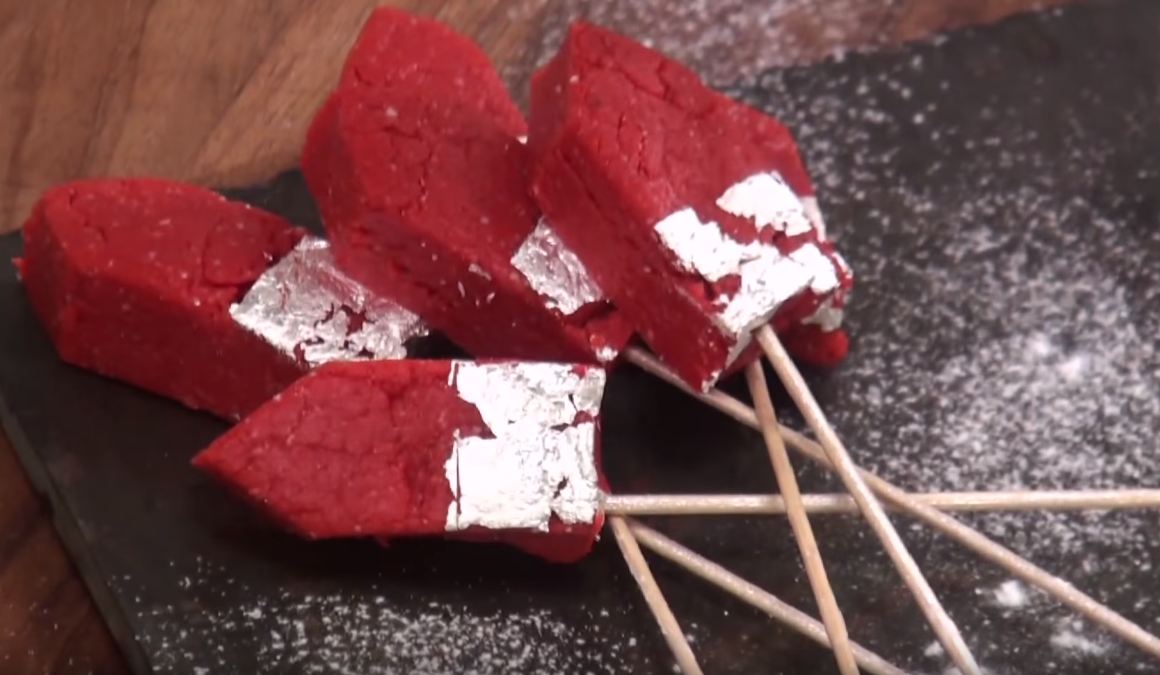 Ingredients:
Milk -1 tbsp
Rose syrup- ¼ cup
Sugar-1 cup
Almond powder- 1½ cups
Cashewnut powder- 1½ cups
Edible color in red- A few drops
Liquid glucose- 2 tablespoons
Ghee-1½ to 3tbps
Method:
Take a deep non-stick pan and cook the sugar in 1½ cups water, till the sugar gets dissolved.
Add milk and cook on a medium heat for 12minutes or till multi-string consistency of syrup reaches.
To the liquid glucose and ghee, add rose syrup and red color and mix well.
Add almond powder and cashew nut powder, after taking the mixture from heat and mix well. Knead to make a soft dough.
Now spread the dough on a greased aluminum tray. Smoothen the surface of the mixture with a spatula and set aside for 1-2 hours.
Cut the barfi into rocket shapes and insert sticks through them.
Garnish with silver foils if needed. Tada! You are done.
7. Decorative Kaju Katli
Kaju Katli is a loved sweet for many Indians, Kids, youngsters and older people all like to indulge in some. The romance of it makes a sweet lover drool. Let alone looking at one.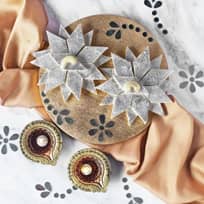 In order to make Kaju Katli for Diwali in a decorative way, simply follow the instructions to make Kaju katli and arrange it in a flower flormat like shown above. You and kids will love it.
Here are these simple steps.
Grind the cashews
Prepare the sugar syrup. To do so add as much sugar as you want the sweetness to be to water and boil it
Add cashew powder to the syrup and continue to heat and stir
Take the mixture out and let it dry
Roll over it to make flat surfaces
Cut diamonds
Arrange in flower arrangement.
Serve
Sweets after all add sweetness to our lives and to the festival. No festival is complete without them. This Diwali, why not try something at home with the help of the above simple recipes?
What's your choice of dessert and Diwali sweet dishes this year? Do share your opinion with us!
Wish You a Happy and Safe Diwali.
Image Courtesy:
Saffronstreaks
Thehealthymaven
Pinterest
Jopreetskitchen
Sanjeev Kapoor Khazana
IGP