Don't worry, the horrible year is almost to a close. Throughout 2020, and 2021, the lives of people around the world have gone countless upheavals. There has been an apocalyptic-level death toll. Lots of people have lost jobs in a time when money is sorely needed. Economies have fallen on their own life support. People have forgotten what the word "vacation" meant. Any sane person would wonder how this year's Christmas can be made merry in such trying times. Well, that's the thing- so many times have gone wrong this year, it almost makes sense to enjoy the little festivities. Prepare your Christmas dishes, put up your bright lights and decorate your Christmas tree.
What finger-licking goodness can be made in the kitchen this Christmas, you ask? Well, just put on your holiday aprons, set up YouTube in your kitchen, and make some delicious holiday recipes. You can indulge in a huge spread of many delicious dishes like soups and salads, fries and fritters, cheesy delights, cookies, candies, cakes, and much more. So, here are the 22 best dishes for Christmas evening to extend your celebrations.
Before we browse through the top dishes, we recommend getting poultry, meat, fish, or chicken only from FreshToHome. In order to save on the mentioned prices on the website, use Freshtohome coupons and offers.
Dishes for Christmas
You should try out all these dishes even if not for Christmas:
1. Cauliflower Soup with Leek and Potatoes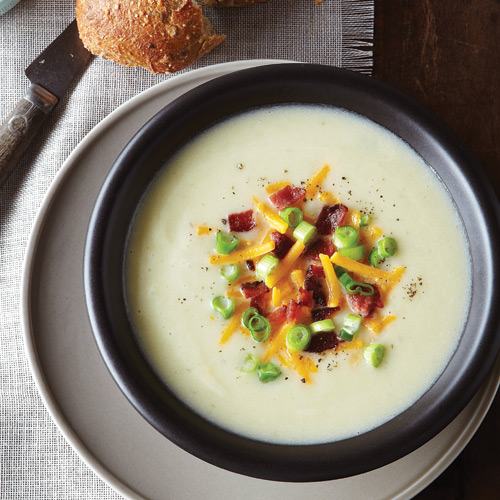 Love the cool days, cold nights and Christmas for a pot of soup. This Cauliflower soup is quick and healthy. Get fresh and the best grocery items by availing the Christmas offers.
2. Creamy Mushroom Bisque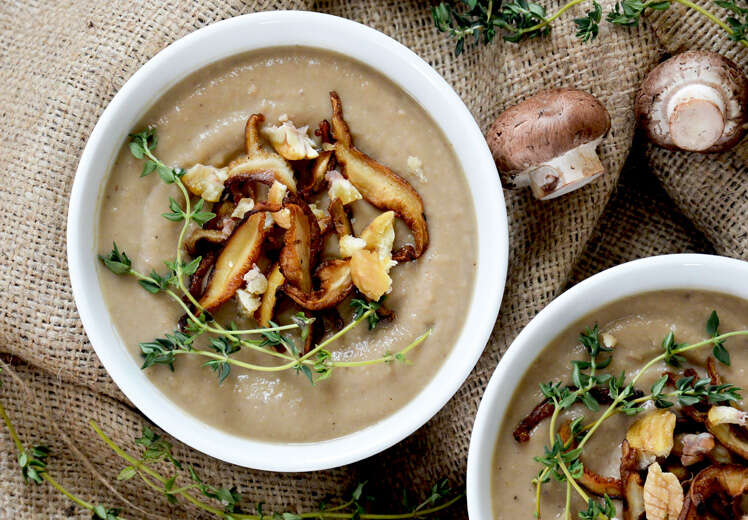 This is a creamy skillet soup with mushroom and onions. A must try dish given that it has a velvety texture, which you would love to indulge in.
3. Strawberry pancakes with mint and cream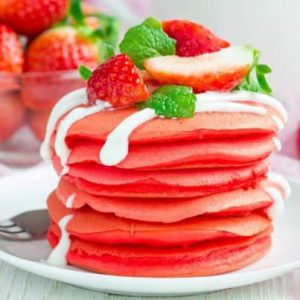 Get the yumminess of classic pancakes blended with the exotic taste of strawberries by cooking them together. The strawberry leaves juice which gives the pancakes its unique taste. Great for people who have an undenied love for berries or exotic foods.
4. Fluffy French Toast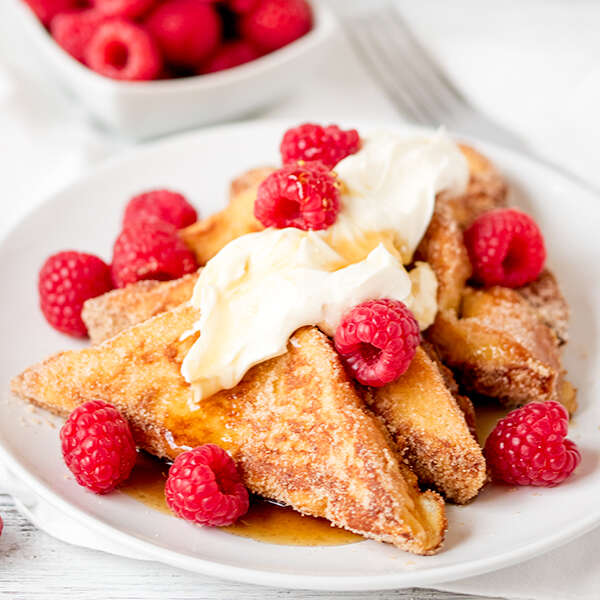 It's an easy dish to cook and goes light on the tummy. Just toast it with cinnamon to make it yummier. You can even top it up with fruits.
5. Eggs Benedict Brunch Braid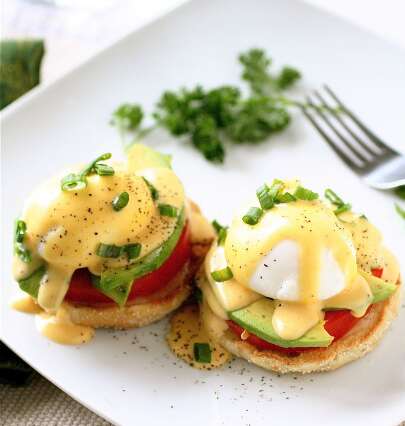 One of the easiest and healthiest recipes to try this Christmas. It gives you a kick start on a festive day.
6. Walnut infused cake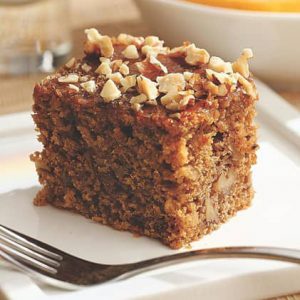 Create a perfect blend of the classic cake taste mixed with the energising taste of walnuts. Plus the crunchiness that you get is satisfaction on another level.
7. Spiced Glazed Nuts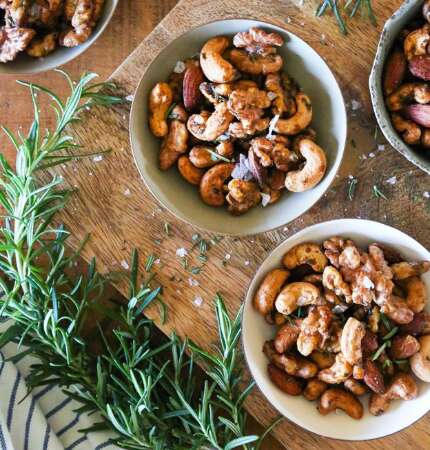 Here come the most addictive snacks. It is considered to be the best cocktail snacks to chill out with friends and family. You can pick any of your favourite choice of nuts. It is one of the best dishes for Christmas evening.
8. Meat Cutlets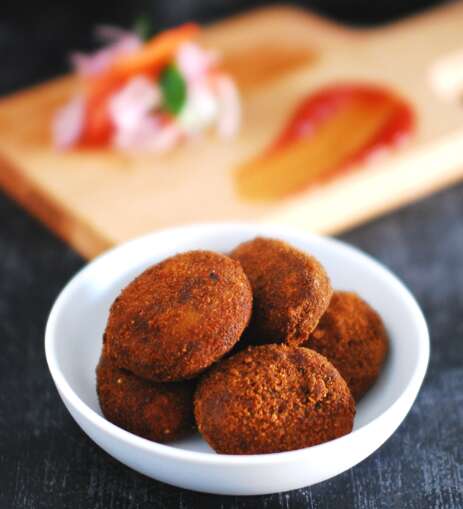 Any gatherings without this dish are incomplete. It is a crunchy and easy to munch meat snack.
9. Red Sauce Pasta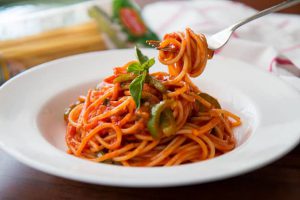 A little unconventional for Christmas goods, but why not? Pasts is becoming hugely popular in many countries and its dainty and flavoursome taste will make for an excellent christmas dish.
10. Crunchy Potato Chip Chicken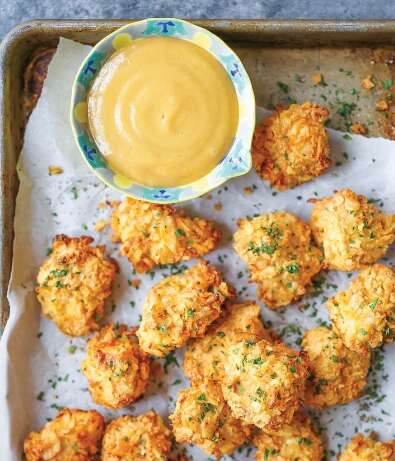 This crunchy chicken makes you go gaga over them. It's just made to perfection so that it's crispier outside and tender inside.
11. Prawn Chilli Fry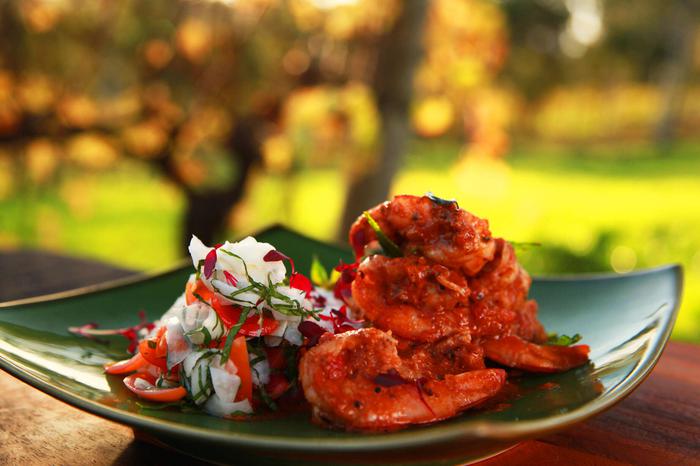 Prawns are the best comfort food for many people. It's quick and easy to prepare. Toss with some chillies and capsicum to make it super hot.
12. Roast Chicken with Dried Herbs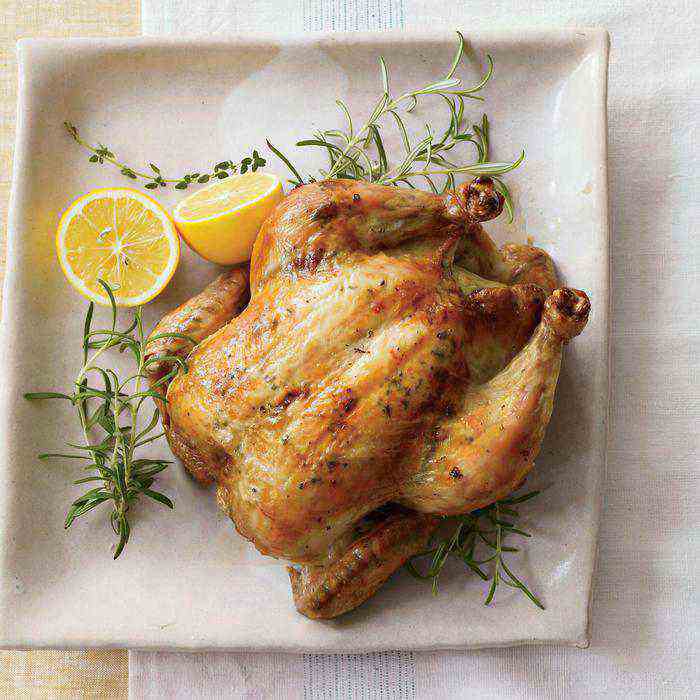 Christmas feast cannot be completed without this dish. It's almost as important as the Turkey is on Thanksgiving. You can choose your choice of herbs for flavour.
13. Salt Roasted Prime Ribs of Beef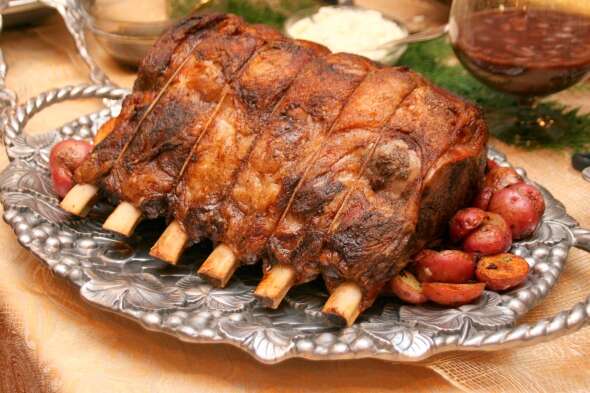 The rib roast is the most loved dish. It is a roasted chunk of meat made from the meat around the ribs.
14. Christmas Turkey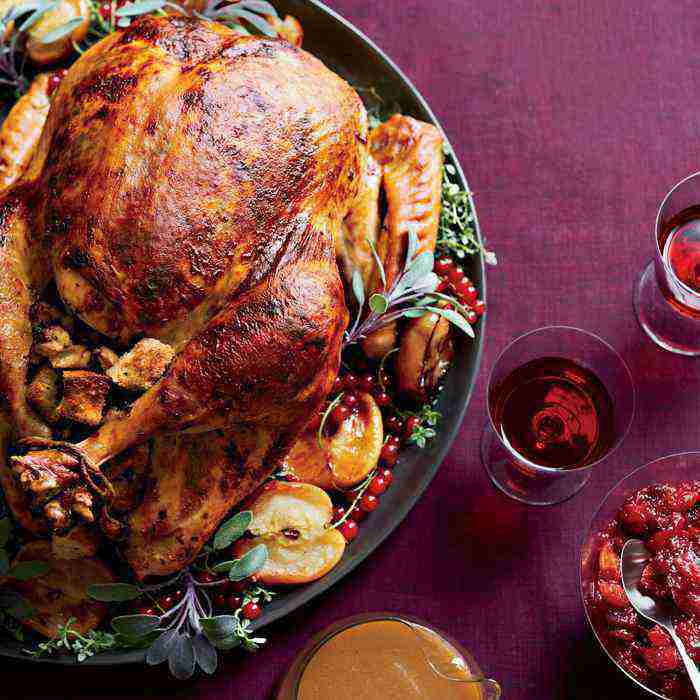 One dish that is a must for Christmas is Turkey. The Christmas eve cannot be complete without this dish. It brings out the festive vibes to the fullest. Make a note that it is best dishes for Christmas evening.
15. Spiced Roast Side of Salmon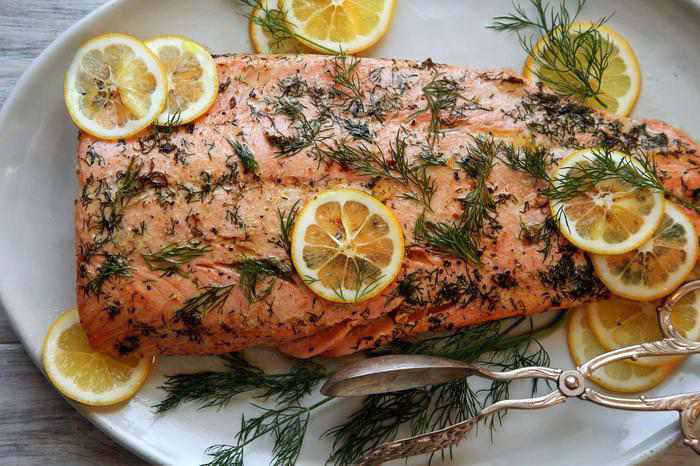 The tenderness of salmon makes you crave for this dish. You can serve the dish with steamed rice and it is super easy to make.
16. Pomegranate, Cinnamon and Ginger Rice
Basmati rice with pomegranate, cinnamon and ginger make a perfect combo for chicken and pork.
17. Fig, Caramelized Onion and Goat Cheese Pizza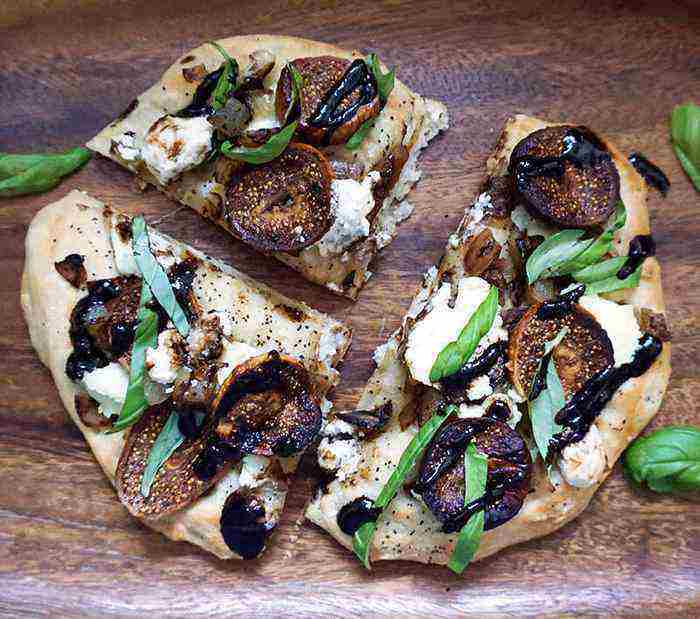 Fig, Caramelised Onion and Goat Cheese Pizza are one of the favourite dishes for kids. It is loaded with flavours and gets ready in no time.
18. Lemon Lamb Chops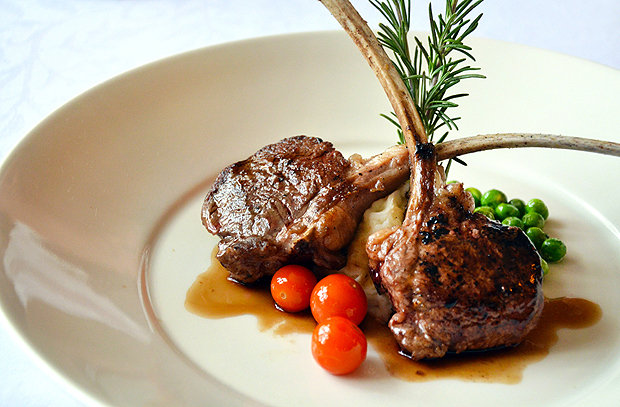 Lamb, rosemary and lemon are a classic combination. This is so easy to prepare and tastes out of the world.
19. Spiced Seasonal Fruit Salad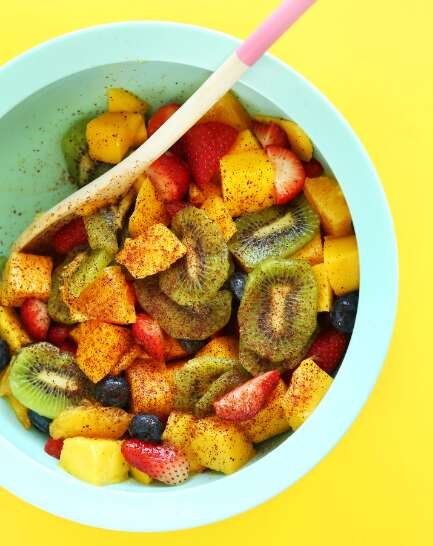 Pick all your favourite fruits and just spice it up. This is a complete refreshing and nourishing salad. This is one of the easiest Christmas recipes to make.
20. Chocolate Mousse Pots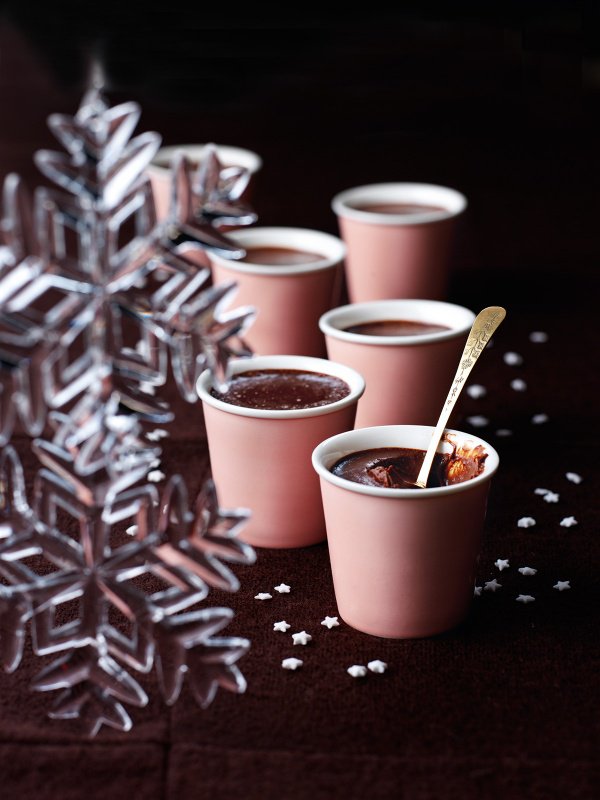 Christmas without chocolates is a big no-no. These tiny chocolate mousse pots steal the show.
21. Gingerbread House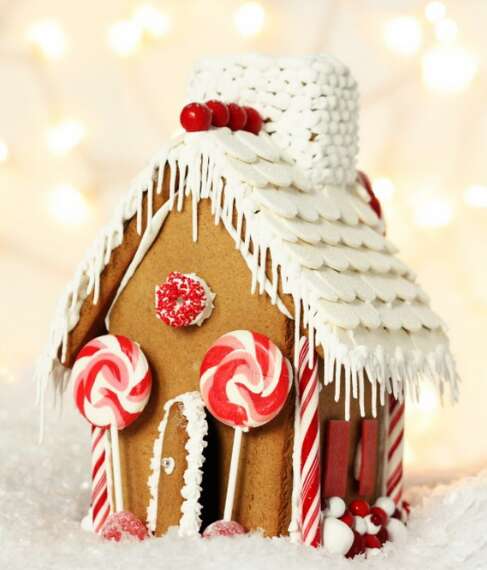 Last but not the least, Gingerbread House is a must for Christmas. This dish makes festivities more fun than ever. Plus, you and your family's collective creativity comes to the fore in this recipe. Now, that's some quality family-bonding time, I'd say.
22. Mashed Potatoes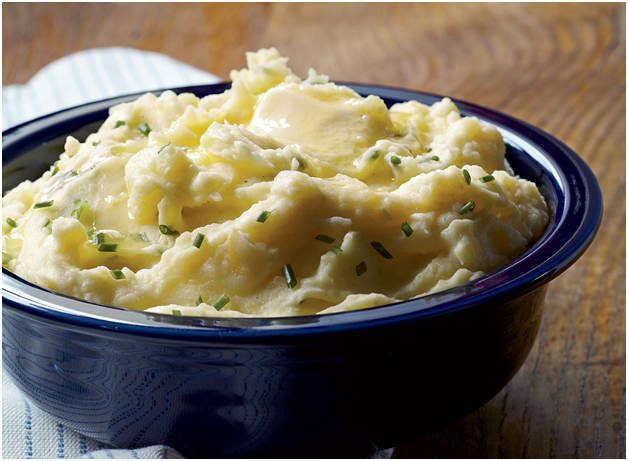 I don't think any Christmas is complete without some mashed potatoes. Your Christmas table definitely needs to have one of these dishes.
23. Garlic Butter Mushrooms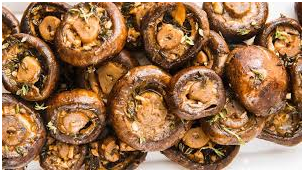 Mushrooms are one of the underdog ingredients, when it comes to holiday dishes. And yet, every time you take a bite of these garlic butter mushrooms, you're going to want more. Wash them down with a signature Christmas drink.
24. Herb-roasted Potatoes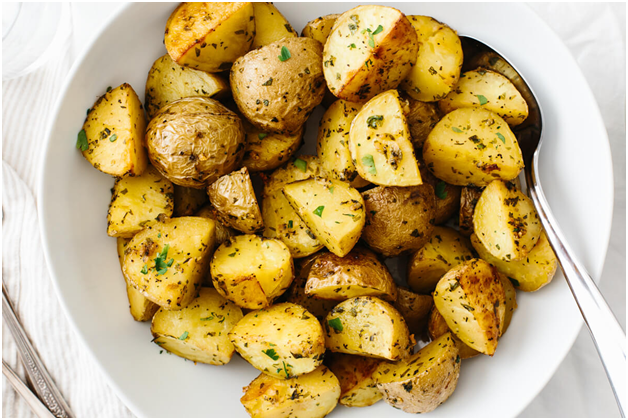 Your Christmas evening dinner feels light without atleast 2 potato dishes. This is another potato recipe that is just as easy to prepare as it is to eat.
25. Cheesy baked Broccoli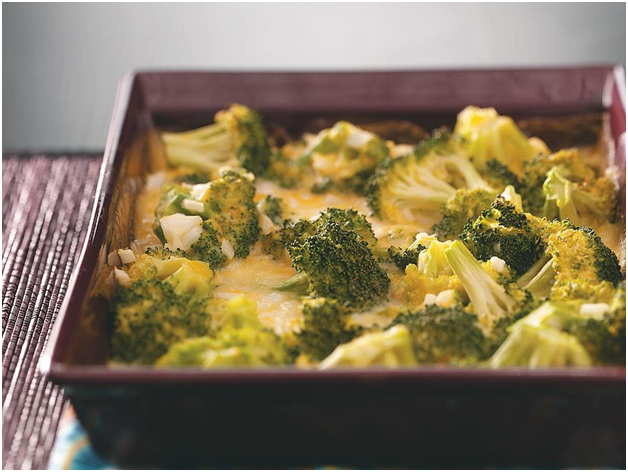 Now, I know that broccoli is not the most-friendliest of vegetables in the world but a great recipe is one that turns such an ingredient into a delish. And you can say there
26. Sweet Rolls
Nothing gets better than starting your day with these Christmas morning sweet rolls. Here's how you can make them.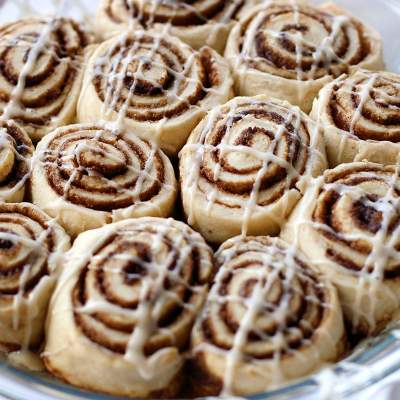 Total Time: Prep time (45 minutes + chilling) and baking time ( 2o minutes).
What you will need and how to make it:
1 package (1/4 ounce) active dry yeast
1 teaspoon salt
1 cup warm water (110° to 115°)
1/4 cup canola oil
1 large egg
1/2 cup sugar
4 to 4-1/2 cups all-purpose flour
Take warm water in a small bowl and dissolve the yeast in it. Take a large bowl, add sugar, oil, salt, flour ( 1 cup), egg, and the yeast mixture. Churn on until mixture is smooth at medium speed. Add remaining flour slowly until you get a soft dough. Don't knead it but put it in a greased bowl. Cover it with a wrap and refrigerate it overnight.
Roll the dough into a rectangle. Spread butter over it and sprinkle some sugar. Roll it up and seal it. Cut it into 12 pieces. Place it in a greased baking pan. Cover with a kitchen towel; let rise in a warm place until doubled, about 45 minutes. Preheat oven to 350°. Bake for 20-25 minutes until golden brown. Take it out and let it cool slightly.
For the filling:
1/4 teaspoon ground nutmeg
1/3 cup sugar
3 tablespoons butter, softened
1-1/2 teaspoons ground cinnamon
Take a small bowl, mix cinnamon, nutmeg, and sugar.
For the frosting:
1/2 teaspoon vanilla extract
2 to 3 tablespoons eggnog
5 tablespoons butter, softened
2-1/2 cups confectioners' sugar
1/2 teaspoon ground cinnamon
Mix the butter, cinnamon, vanilla extract, confectioners' sugar, and eggnog together. Beat it until you get the desired consistency. Spread it over the warm rolls.
27. Stuffed Chicken Cooked in Banana Leaves
This recipe is a blend of the east and the west. The recipe is originally from the west but it is made with an Indian twist.
What you will need:
Chicken Breast 750 gms
Boiled potatoes 100 gms
Spinach: 50 gms
Spring Onions 2 tablespoon
Any type of boiled vegetables 100 gms
Mayonnaise 2-3 tablespoon
2-3 Banana leaves
Salt & pepper as per taste
How to make it:
Take thin slabs of chicken breast and add salt and pepper to it. In a bowl, mash the boiled potato. Mix all other vegetables along with spinach and spring onions. If you don't like vegetables, then you can just add boiled potatoes and spring onions. Then add the mayonnaise and make a paste out of it. Add salt and pepper as per taste. Now put 1 tablespoon of this mixture on the Chicken and roll it well. Tie it with a string.
In a bowl take warm-hot water and dip the banana leaves for 5 seconds and take it out. Wipe the leaves well and add a few drops of oil on it. By dipping the Banana leaves in warm water you will be able to wrap the chicken in it easily. Now place the stuffed chicken on the Banana Leaves and tie it with a string. In a pan, pour 2-3 tablespoon of water and add few drops of oil. Now place the chicken covered with banana leaves in it. Cover the pan with a lid and let it cook. The mixture of oil and water will help it cook and add the aroma of the banana leaves in the chicken. Turn the chicken once the leaves start changing color. Cook it for 15-20 minutes.
You may add the oil and water mixture if the pan dries out. Open the banana leaves and cut the string that ties the chicken and serve it in the leaf itself. Your guests will love to re-visit your house only for this recipe.
28. Cinnamon Rum Cake
You must have a Christmas Cake on the dinner table on 25th December. And you think baking a cake is messy. Well not after you try this recipe.
Before you start baking your cake, preheat your oven at 180-degree centigrade.
What you will need:
2 Eggs
150 gms Flour
150 gms Brown Sugar
100 gms Butter
2 Tablespoon Vanilla Essence
2 Tablespoon Baking Powder
1 Tablespoon of Cinnamon Powder
2 Tablespoon of Rum
How to bake the cake:
Beat eggs separately. Then add the flour, sugar, and butter. Beat them well along with the egg. Add rum, vanilla essence, baking powder, and cinnamon powder. Beat it again. In the cake, mold apply some oil to grease it. Pour the mixture. Add dry fruits like cashew, raisin, almonds, and walnuts. Bake it for 35-40 minutes. Take it out and serve it.
29. Green Apple Mojito: Don't Mock with a Mocktail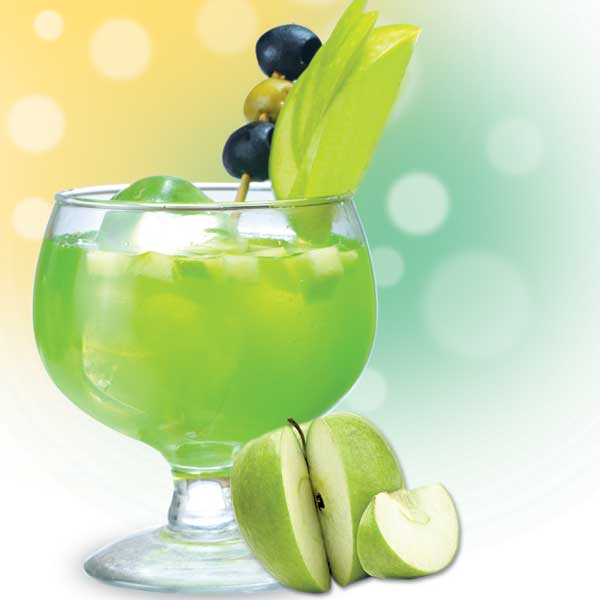 When your family gets together, you must have a welcome drink or you can say a mocktail to serve.
Get Monin Syrup Green Apple flavor and soda. Add 2-3 tablespoon of Monin Syrup and add soda. Mix it with a stirrer and serve. This syrup has high concentrated sugar so make sure that you don't add more than 2-3 tablespoon of it.
30. Garlic Bread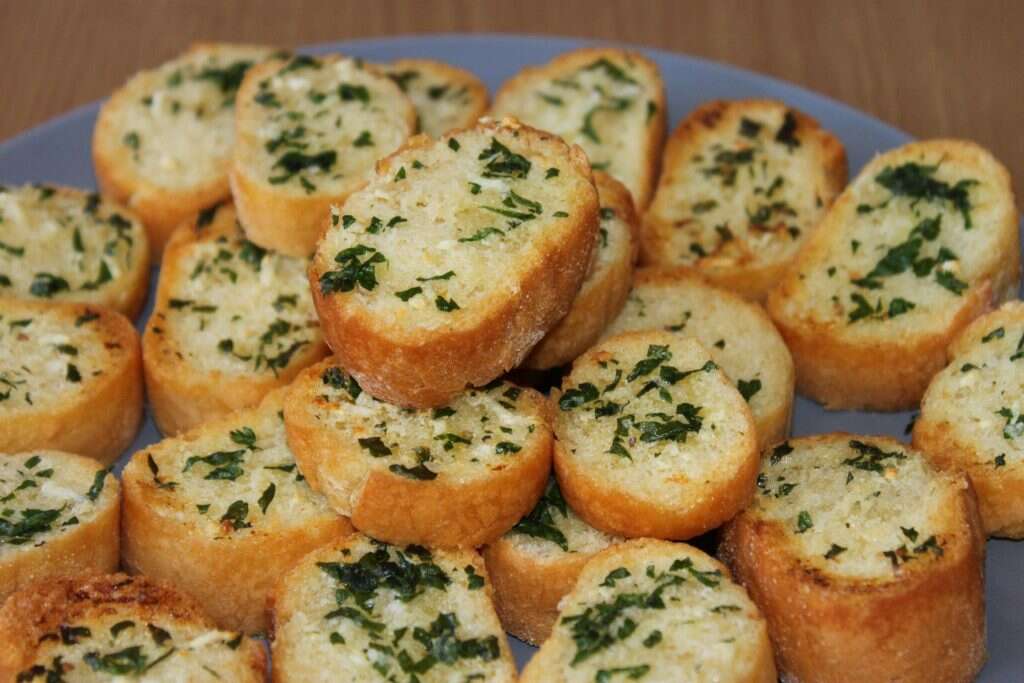 Take bread as per your choice. You may use regular sliced bread too. In a bowl mix 2 tablespoons of cheese spread, add finely chopped capsicum, onions, coriander leaves, and enough garlic. Add a pinch of crushed pepper. Spread the mix on the bread and bake it for 2-4 minutes. For added flavor, you may add shredded cheese on top before baking it. Serve it hot to enjoy the most.
31. Chocolate Dipped Cookies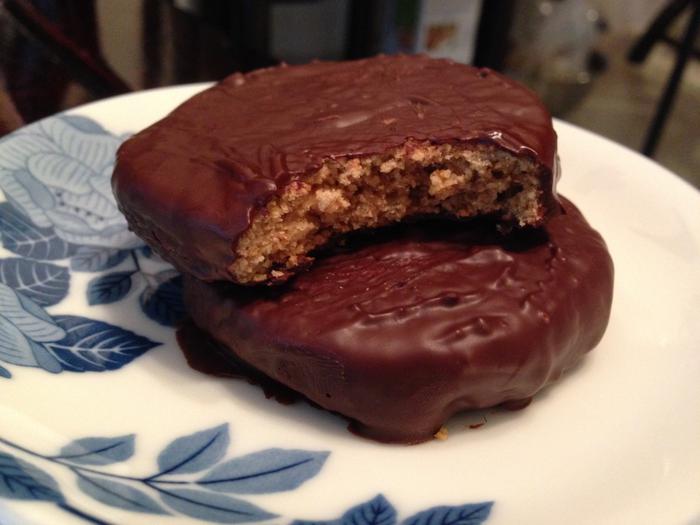 This can be the easiest recipe yet tasty and highly liked by kids. Take some choco chips and melt it. Now take digestive biscuits and dip them in the melted chocolate. Chill it in a freezer and serve.
32. Hot Chocolate With Marshmallow
A hot chocolate is the best thing you can have on a Christmas evening. What's better, it tastes wonderful with marshmallows.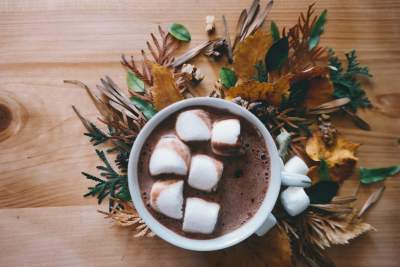 Total time: Prep/ cooking time ( 20 minutes)
What you will need:
Sweetened whipped cream
2 ounces milk chocolate, chopped
1 teaspoon vanilla extract
1/4 teaspoon ground nutmeg
4 cups half-and-half cream
2 bars (3-1/2 ounces each) 70% cocoa dark chocolate, chopped
How to make it:
Take a large saucepan and pour the cream into it. Heat it on medium until mild bubbles form. Remove it from the stove, put the chocolates, vanilla, nutmeg, a bit of salt and whisk away until smooth. Heat it again for a bit. Pour it into the mugs and top it off with whipped cream and marshmallows.
33. Holiday Punch
No one can ever say no to a refreshing drink. This holiday season, prepare a smooth punch with the recipe below and have your guests coming back for more.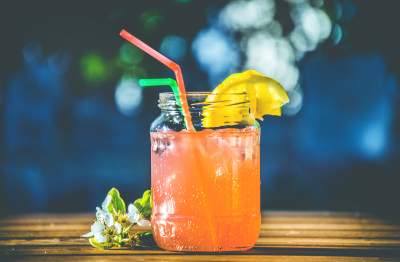 Total time: 5-10 minutes
What you will need:
1 bottle (2 liters) lemon-lime soda, chilled
Fresh raspberries
Ice cubes
1 bottle (64 ounces) cranberry-raspberry juice, chilled
1 can (12 ounces) frozen raspberry lemonade concentrate, thawed
Lime wedges, optional
How to make it:
In a juice jar, mix juice ( cranberry-raspberry), and lemonade concentrate. Pour in the soda, a few raspberries. Drop in ice cubes if need be and garnish the glass with lime wedges.
34. Cranberry Pie
A Christmas without a pie? Naah. For those of you who think baking a pie is difficult, here's a super simple and easy recipe for you.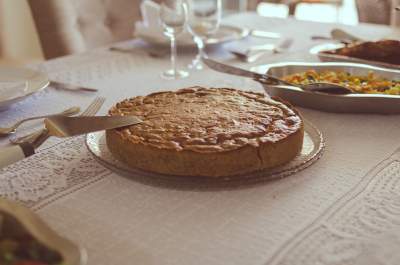 What you will need:
1/2 cup sugar
2 tablespoons rum or 1 teaspoon rum extract
1/2 cup heavy whipping cream, whipped
1/8 teaspoon ground nutmeg
1 tablespoon cornstarch
1 pastry shell (9 inches), baked
1 tablespoon unflavored gelatin
1-3/4 cups eggnog
6 tablespoons cold water, divided
2 cups fresh or frozen cranberries
How to make it:
Take a large saucepan. Mix sugar, cornstarch, and 2 tablespoons of water until smooth. Throw in a bunch of cranberries. Cook until the mixture is thick on a medium flame. Let it cool for about 15 minutes. Slowly pour the mixture into the crust and let it set.
In another small saucepan, take some water and put some gelatin. Set it aside for 5 minutes. Cook over a low flame and stir until the gelatin dissolves completely. Slowly add in the rum and eggnog.
Put it in the fridge. Stir it occasionally for 5 minutes. Pour the whipped cream over the cranberry layer and refrigerate it until set. For the final touch, sprinkle some nutmegs.
35. Double Chocolate Fudge
A quick delicious snack that everyone would love. It isn't that difficult to make.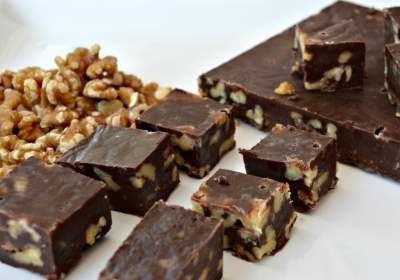 What you will need:
2 teaspoons vanilla extract, divided
1 package (11-1/2 ounces) milk chocolate chips
1 teaspoon butter
1 package (12 ounces) semisweet chocolate chips
1 cup chopped walnuts, divided
1 can (14 ounces) sweetened condensed milk, divided
How to make it:
Grease a square pan with oil.
In a large saucepan, put in chocolate chips and 3/4 cup of milk. Heat it over a low flame. Remove from flame and put in 1/2 cup of walnuts with 1 teaspoon of vanilla extract. Pour into the pan.
Take another saucepan, mix milk and milk chocolate chips. Heat it for a while and remove from flame. Put in more walnuts and vanilla. Pour this over the previously set mixture.
Refrigerate this for 2 hours until set.
Take out the fudge and cut it into pieces.
Weren't they all easy and simple to make?
36. Eggnog Cheesecake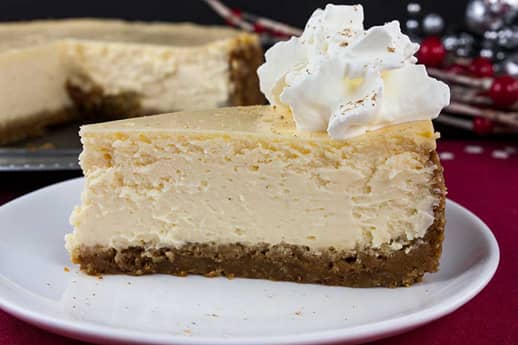 Eggnog Cheesecake with Gingersnap Crust has thick, rich, and creamy flavours. Beat the heavy cream, powdered sugar, and vanilla until stiff peaks form. Pipe the whipped cream on top and garnish with freshly grated nutmeg. Simply slice, serve and enjoy this indulgent delicious recipe.
What you will need:
2 1/2 cups gingersnap cookie crumbs
1/4 cup granulated sugar
5 tablespoons unsalted butter
32 ounces cream cheese
1 1/4 cups granulated sugar
3/4 cup eggnog
1 tablespoon bourbon
4 large eggs
1 cup heavy whipping cream
1/2 cup sugar
1/2 teaspoon vanilla
freshly grated nutmeg
37. Candy Cane Twist Cookies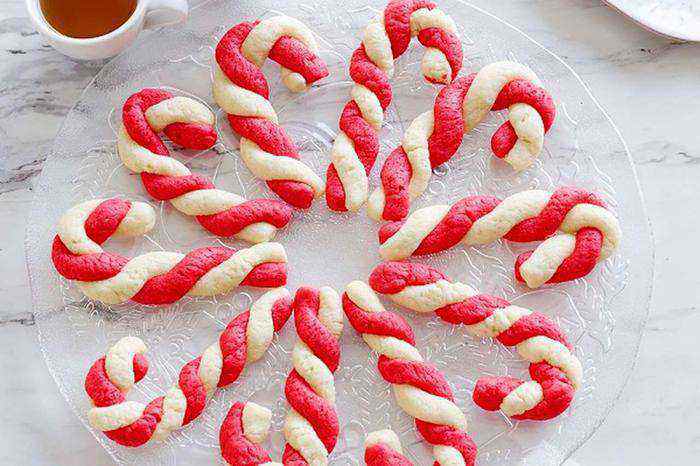 One thing that strikes you when you think about Christmas, the candy cane cookies. The candy canes embody the very spirit of Christmas. Kids find these bright red twisted cookies to be fun. Serve with dry coconut powder sprinkled on it.
Ingredients Required
2 sticks unsalted butter
1 cup sugar
1 1/2 teaspoons peppermint
1 teaspoon vanilla
1 teaspoon baking powder
1/2 teaspoon kosher salt
1 large egg
2 3/4 cup all-purpose flour
1 teaspoon liquid red food colouring
38. Christmas Tree Cookies with Sprinkles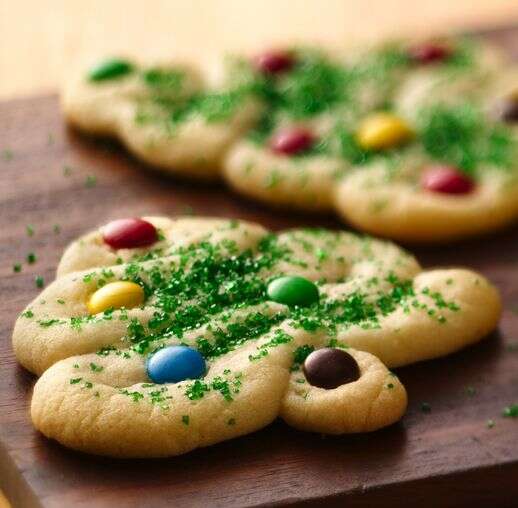 Sugar candies or cookies with colourful sprinkles are all about this dish. You can dip these cookies in chocolate sauce and then sprinkle these with your favourite sprinklers. You can vary with colours as you please- red, blue, green, brown- whatever you want.
Ingredients Required
1 cup unsalted butter softened
1 1/2 cups granulated sugar
1 egg
1 1/2 teaspoons vanilla extract
1/2 teaspoon almond extract
2 3/4 cups all-purpose flour
1 teaspoon salt
Leaf green gel food colour
Dark green food colour
1 cup rainbow nonpareils
Tootsie Rolls
39. Cinnamon Stars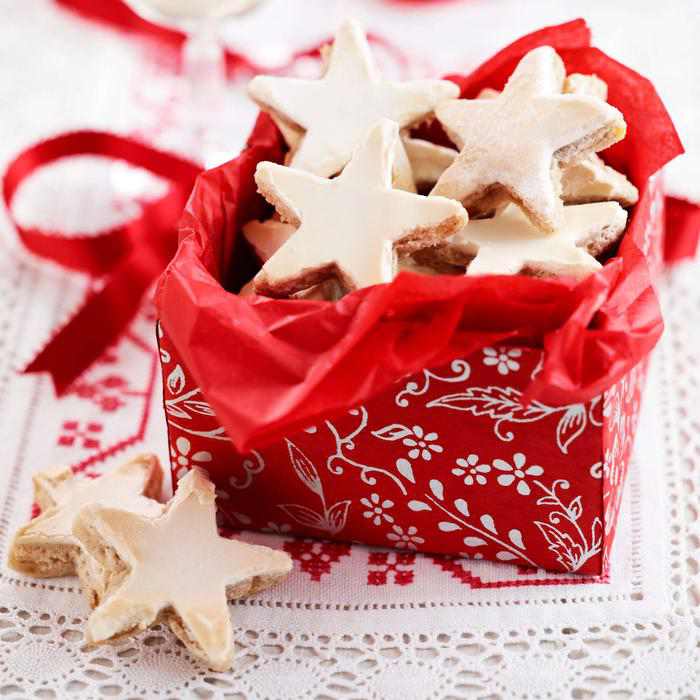 Cinnamon Stars are the most traditional Christmas sweets since ages. These cookies are made of biscuits and sugar dough with cinnamon icing.
Ingredients Required
2 cups almonds
1 tablespoon ground cinnamon
1 teaspoon lemon zest
½ cup egg whites
½ teaspoon salt
2 ½ cups sugar
1 ½ teaspoons lemon juice
40. Cream Cheese Sugar Cookies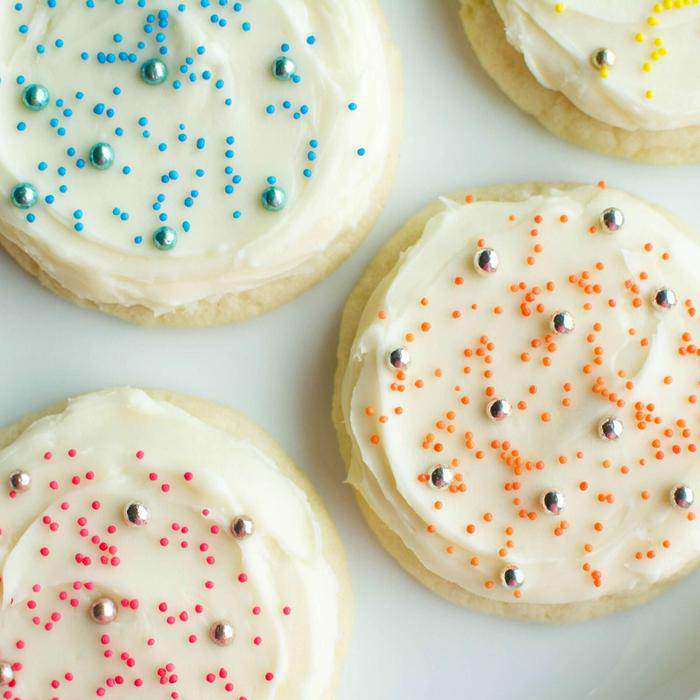 It's customary for cookies to be shared with people you know on Christmas. It's one of the best and most common ways to share Christmas joy. Now, what kind of cookies, is totally upon you. One of the options is cream cheese sugar cookies.
Just enjoy these sugar cookies with your favourite cream cheese topping. The sugariness of the cookies is bound to make your tongue roll while the cheese topping is going to make it so smooth on your mouth.
Ingredients Required
3 cups all-purpose flour
1 and 1/2 teaspoons baking powder
1/2 teaspoon salt
1 cup unsalted butter
2 ounces block cream cheese
1 cup granulated sugar
1 large egg, at room temperature
2 teaspoons pure vanilla
1/2 teaspoon almond
41. Chocolate Walnut Fudge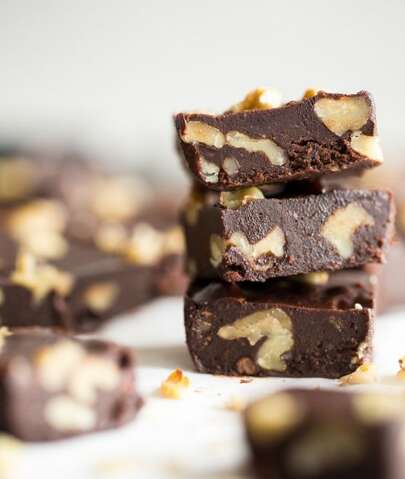 A must on the list of Christmas treats. Who doesn't love chocolates? Everyone does right! You can add any of your favorite dry fruits (be it cashew, walnut or almond) and whipped cream. But walnut is the popular choice among the sweet-teeth of the world.
Ingredients Required
16 ounces semisweet chocolate
2 ounces unsweetened chocolate
½ teaspoon baking soda
⅛ teaspoon salt
2 cups sweetened condensed milk
1 tablespoon vanilla
1 cup chopped walnuts
42. Cake Pops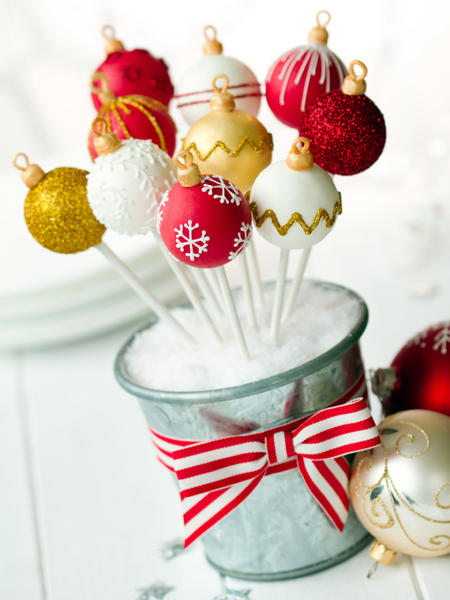 Cake pops look fancy and they are great for parties and treats. These are ideal for every occasion and can be themed accordingly. Kids are bound to have one of these in their mouths on Christmas, sucking their sugary richness.
Ingredients Required
12/3 cups all-purpose flour
1/2 teaspoon baking powder
1/4 teaspoon baking soda
1/2 teaspoon salt
1/2 cup unsalted butter
1 cup granulated sugar
1 large egg
2 teaspoons pure vanilla
1 cup whole milk
43. Little Snowman Cookies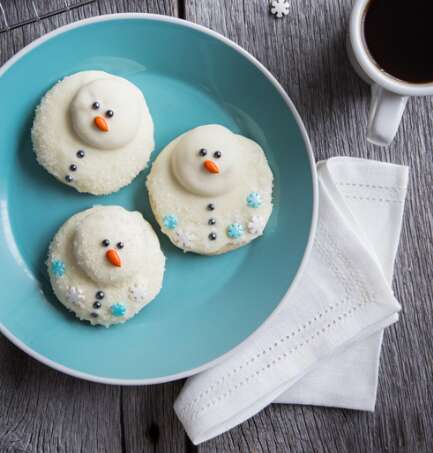 This is where the artist in you comes out. Winters, Snow and Christmas- they all only come in a package. Winters without kids making snowman in the streets is unimaginable.
Those snowmen often find themselves on your cookies as well. All you really need to turn your tiny round cookie into a snowman are icing and finger-small carrots. Just that and you have your own little snowman cookie. Sounds perfect, right?
Ingredients Required
1 cup butter
1 package cream cheese
2 cups sugar
1 large egg
1 teaspoon vanilla
1/4 teaspoon almond
1/4 teaspoon coconut
3 cups all-purpose flour
44. Pumpkin Pie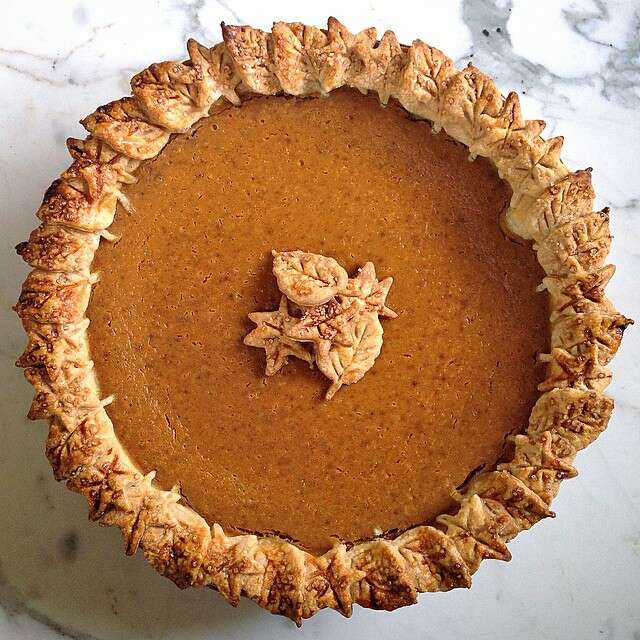 Pumpkin Pie is a must for Christmas.Don't you wonder what happens to all the pumpkins that are hung as decorations on Halloween? Well, this is where they go- into pies and then, your belly.
It is a classic desert recipe with a crispy base and smooth pumpkin filling. Every slice of it is layered with the many joys you felt when preparing that pumpkin pie.
Ingredients Required
1 cup fresh cranberries
15 oz pumpkin puree
3 large eggs
1 1/4 cups dark brown sugar
1 tablespoon cornstarch
1/2 teaspoon salt
11/2 teaspoons cinnamon
1/2 teaspoon ginger
1/4 teaspoon freshly grated nutmeg
1/8 teaspoon cloves
1/8 teaspoon black pepper
1 cup heavy cream
1/4 cup milk
45. Sugar Cookie Buttons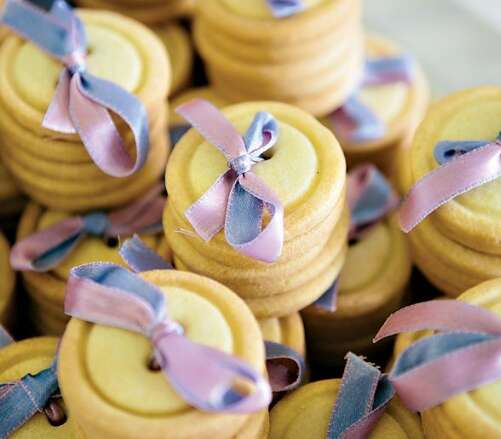 These are the buttery cookies which melt in your mouth. It is a perfect choice as a gift for guests. Now, it's up to you whether you want pin these buttons to their shirts or stuff them in their mouths.
Ingredients Required
1 cup unsalted butter
1 cup sugar
2 eggs
2 tsp. vanilla
3 1/3 cups all-purpose flour
1/2 tsp. kosher salt
46. Popcorn Balls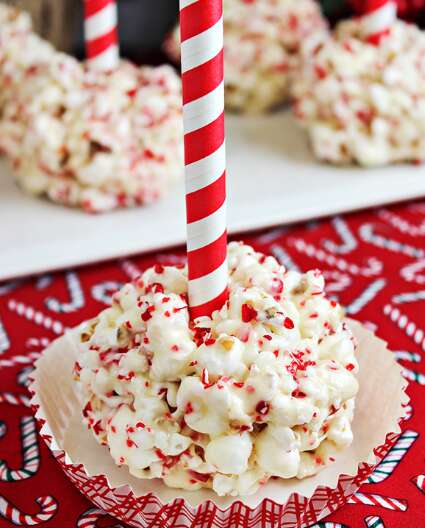 Everyone loves munching popcorn. It's the best snack, which is low in calories and tastes good. Every time you watch a movie, you have a bucket of popcorn by your side, like your own best friend. To put a Christmas twist to popcorn, just add caramel to it and make it into balls.
Ingredients Required
7 quarts popped popcorn
1 cup sugar
1 cup light corn syrup
1/4 cup water
1/4 teaspoon salt
3 tablespoons butter
1 teaspoon vanilla extract
Food colour
47. Snowflake Cookies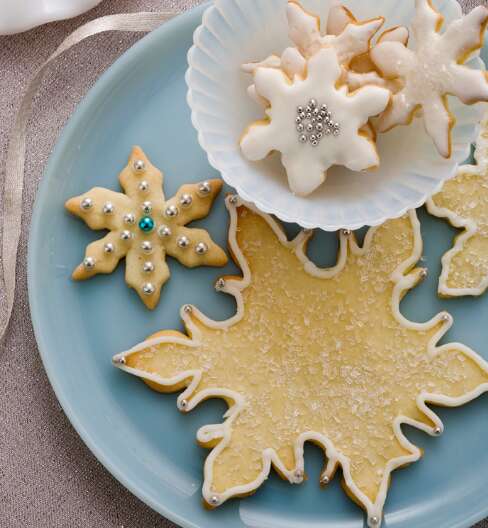 These sugar delicacies make you go ga-ga. It's so smooth and yummy to have. Keep hogging…one is not enough. It is one of the best Christmas treats ever. As an added bonus, they do well as wall hangings and tree decorations too.
Ingredients Required
3 cups all purpose flour
¼ tsp baking soda
½ teaspoon salt
1 cup unsalted butter
1 cup sugar
1 large egg
1 1/2 teaspoons vanilla
48. Peppermint Meringues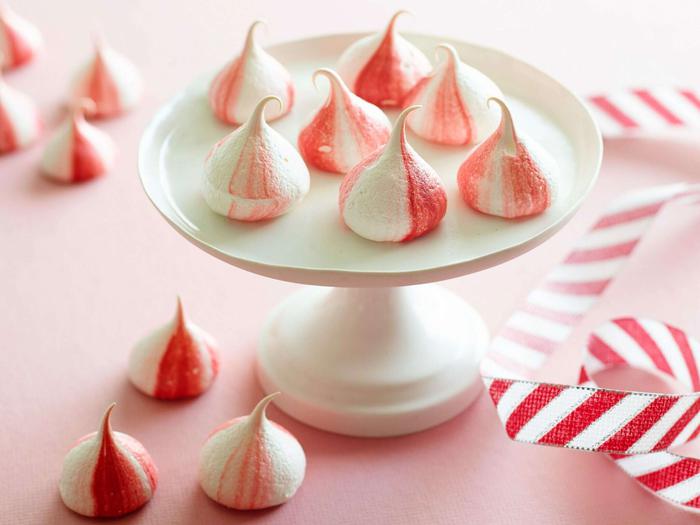 Peppermint Meringues are light and airy. It's unique in taste and to make it yummier, just dip in chocolate sauce. One of these tiny food-bombs is never enough. You want to keep on gorging on these little, cute-looking treats.
Ingredients Required
2 egg whites
⅛ teaspoon salt
⅛ teaspoon cream of tartar
½ cup white sugar
2 peppermint candy canes
49. Chocolate Brownies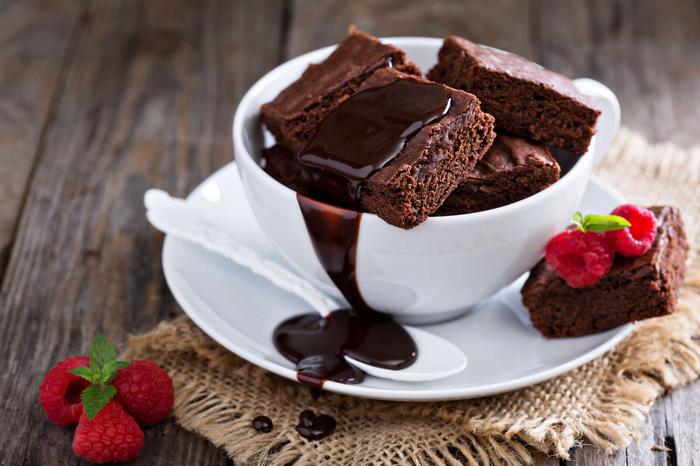 These gooey chocolate brownies are hard to resist. Serve with ice cream or desert and it will make the perfect sweet treat for the Christmas. They are the life of all parties, especially, Christmas parties.
Ingredients Required
185g unsalted butter
185g best dark chocolate
85g plain flour
40g cocoa powder
50g white chocolate
50g milk chocolate
3 large eggs
275g golden caster sugar
50. Gingerbread Cookies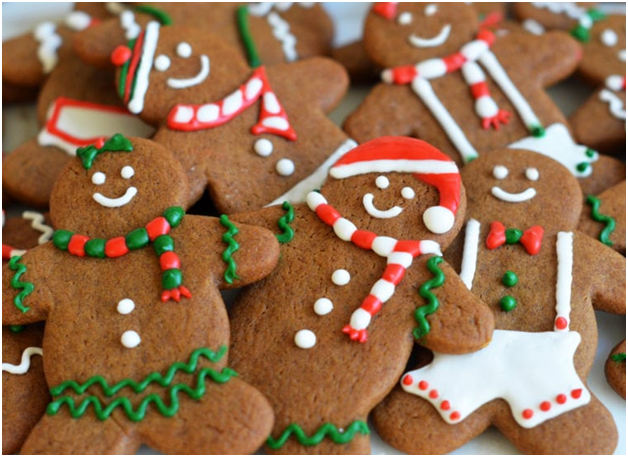 The most Christmassy of all treats, gingerbread cookies are the very symbol of Christmas. The smile on kids' faces when they see these man-shaped delicious cookies is exactly what Christmas is all about. Making these tiny ginger men is as fun as eating them later.
Ingredients Required
10 Tablespoons unsalted butter
3/4 cup dark brown sugar
2/3 cup unsulphured molasses
1 large egg
1 teaspoon pure vanilla extract
3 and 1/2 cups all-purpose flour
1 teaspoon baking soda
1/2 teaspoon salt
1 Tablespoon ginger
1 Tablespoon cinnamon
1/2 teaspoon allspice
1/2 teaspoon cloves
51. Christmas Blondies
M&Ms, Oreos and chocolate chips- they all make for delicious sweet treats on their own. But then, you dump them all together and you get Christmas Blondies, a treat that will leave you salivating.
Ingredients Required
3/4 cups butter
1 cup granulated sugar
1/2 cup packed brown sugar
2 large eggs
2 tsp. pure vanilla extract
2 cup all-purpose flour
3/4 tsp. baking powder
1/2 tsp. kosher salt
8 Oreos
1/2 cup Christmas M&M's
1/2 cup semisweet chocolate chips
Final Thoughts
On the whole, Christmas is one of the most celebrated festivals in the world. It is a time when people enjoy good food and great company. While you may not be able to get out and spend time with your family during this season, you can still prepare some delicious meals for them.
So, now you have the easy Christmas recipes with you. Go ahead and make yourself a wonderful meal. Happy cooking!
And why not make your Christmas more merrisome with some unbelievable savings on shopping? Here's a list of offers and discounts that you can avail this Christmas.
These are our best dishes for a yummy Christmas evening to celebrate with your family and friends. So, a day in the kitchen preparing the food that will cheesy smiles on your friends and family. Then, share your Christmas evening with your loved ones, encircling the sight and aroma of some delicious dishes. Bring in the holiday cheer, do some caroling to spread the Christmas merriness. Also, hope, nay, pray for a healthier and happier 2022, because we all need one.
We would love to explore more dishes for Christmas. Do share with us if you get to know of any exotic dishes. Have a Happy Christmas!
<div class='toc'><ul><li><a href=#Dishes-for-Christmas><b>Dishes for Christmas</b></li><p> <a href=#1.-Cauliflower-Soup-with-Leek-and-Potatoes>1. Cauliflower Soup with Leek and Potatoes</p><p> <a href=#2.-Creamy-Mushroom-Bisque>2. Creamy Mushroom Bisque</p><p> <a href=#3.-Strawberry-pancakes-with-mint-and-cream>3. Strawberry pancakes with mint and cream</p><p> <a href=#4.-Fluffy-French-Toast>4. Fluffy French Toast</p><p> <a href=#5.-Eggs-Benedict-Brunch-Braid>5. Eggs Benedict Brunch Braid</p><p> <a href=#6.-Walnut-infused-cake>6. Walnut infused cake</p><p> <a href=#7.-Spiced-Glazed-Nuts>7. Spiced Glazed Nuts</p><p> <a href=#8.-Meat-Cutlets>8. Meat Cutlets</p><p> <a href=#9.-Red-Sauce-Pasta>9. Red Sauce Pasta</p><p> <a href=#10.-Crunchy-Potato-Chip-Chicken>10. Crunchy Potato Chip Chicken</p><p> <a href=#11.-Prawn-Chilli-Fry>11. Prawn Chilli Fry</p><p> <a href=#12.-Roast-Chicken-with-Dried-Herbs>12. Roast Chicken with Dried Herbs</p><p> <a href=#13.-Salt-Roasted-Prime-Ribs-of-Beef>13. Salt Roasted Prime Ribs of Beef</p><p> <a href=#14.-Christmas-Turkey>14. Christmas Turkey</p><p> <a href=#15.-Spiced-Roast-Side-of-Salmon>15. Spiced Roast Side of Salmon</p><p> <a href=#16.-Pomegranate,-Cinnamon-and-Ginger-Rice>16. Pomegranate, Cinnamon and Ginger Rice</p><p> <a href=#17.-Fig,-Caramelized-Onion-and-Goat-Cheese-Pizza>17. Fig, Caramelized Onion and Goat Cheese Pizza</p><p> <a href=#18.-Lemon-Lamb-Chops>18. Lemon Lamb Chops</p><p> <a href=#19.-Spiced-Seasonal-Fruit-Salad>19. Spiced Seasonal Fruit Salad</p><p> <a href=#20.-Chocolate-Mousse-Pots>20. Chocolate Mousse Pots</p><p> <a href=#21.-Gingerbread-House>21. Gingerbread House</p><p> <a href=#22.-Mashed-Potatoes>22. Mashed Potatoes</p><p> <a href=#23.-Garlic-Butter-Mushrooms>23. Garlic Butter Mushrooms</p><p> <a href=#24.-Herb-roasted-Potatoes>24. Herb-roasted Potatoes</p><p> <a href=#25.-Cheesy-baked-Broccoli>25. Cheesy baked Broccoli</p><p> <a href=#26.-Sweet-Rolls>26. Sweet Rolls</p><p> <a href=#27.-Stuffed-Chicken-Cooked-in-Banana-Leaves>27. Stuffed Chicken Cooked in Banana Leaves</p><p> <a href=#28.-Cinnamon-Rum-Cake>28. Cinnamon Rum Cake</p><p> <a href=#29.-Green-Apple-Mojito:-Don't-Mock-with-a-Mocktail>29. Green Apple Mojito: Don't Mock with a Mocktail</p><p> <a href=#30.-Garlic-Bread>30. Garlic Bread</p><p> <a href=#31.-Chocolate-Dipped-Cookies>31. Chocolate Dipped Cookies</p><p> <a href=#32.-Hot-Chocolate-With-Marshmallow>32. Hot Chocolate With Marshmallow</p><p> <a href=#33.-Holiday-Punch>33. Holiday Punch</p><p> <a href=#34.-Cranberry-Pie>34. Cranberry Pie</p><p> <a href=#35.-Double-Chocolate-Fudge>35. Double Chocolate Fudge</p><p> <a href=#36.-Eggnog-Cheesecake>36. Eggnog Cheesecake</p><p> <a href=#37.-Candy-Cane-Twist-Cookies>37. Candy Cane Twist Cookies</p><p> <a href=#38.-Christmas-Tree-Cookies-with-Sprinkles>38. Christmas Tree Cookies with Sprinkles</p><p> <a href=#39.-Cinnamon-Stars>39. Cinnamon Stars</p><p> <a href=#40.-Cream-Cheese-Sugar-Cookies>40. Cream Cheese Sugar Cookies</p><p> <a href=#41.-Chocolate-Walnut-Fudge>41. Chocolate Walnut Fudge</p><p> <a href=#42.-Cake-Pops>42. Cake Pops</p><p> <a href=#43.-Little-Snowman-Cookies>43. Little Snowman Cookies</p><p> <a href=#44.-Pumpkin-Pie>44. Pumpkin Pie</p><p> <a href=#45.-Sugar-Cookie-Buttons>45. Sugar Cookie Buttons</p><p> <a href=#46.-Popcorn-Balls>46. Popcorn Balls</p><p> <a href=#47.-Snowflake-Cookies>47. Snowflake Cookies</p><p> <a href=#48.-Peppermint-Meringues>48. Peppermint Meringues</p><p> <a href=#49.-Chocolate-Brownies>49. Chocolate Brownies</p><p> <a href=#50.-Gingerbread-Cookies>50. Gingerbread Cookies</p><p> <a href=#51.-Christmas-Blondies>51. Christmas Blondies</p><li><a href=#Final-Thoughts><b>Final Thoughts</b></li></ul></div>