"Laptop Lifestyle" has become the new name for working online. Not even two decades ago hardly anybody knew that simply having a laptop and an internet connection can help you create wonders. You can make money from anywhere and anytime, be it a café, a poolside, a bar, or a beach. The life with a laptop in hand has become so comfortable that one can approach the world in just a few clicks. In this article, we will cover details of blogging laptop lifestyle, but before that we would like to discuss few other details about the same.
What is Laptop Lifestyle?
Friends, don't get confused with the expression as all businesses cannot come under laptop lifestyle type of business. There are few trades which deal in tangible products and cannot be covered under laptop lifestyle kind of work. Laptop lifestyle gives you freedom to work in your own comfort zone, away from office brouhaha and work on-the-go. If you go through the history of this comforting routine, not many people will be familiar with this kind of way of earning. This way of life made its way into our lives slowly and gradually with the advancement of time.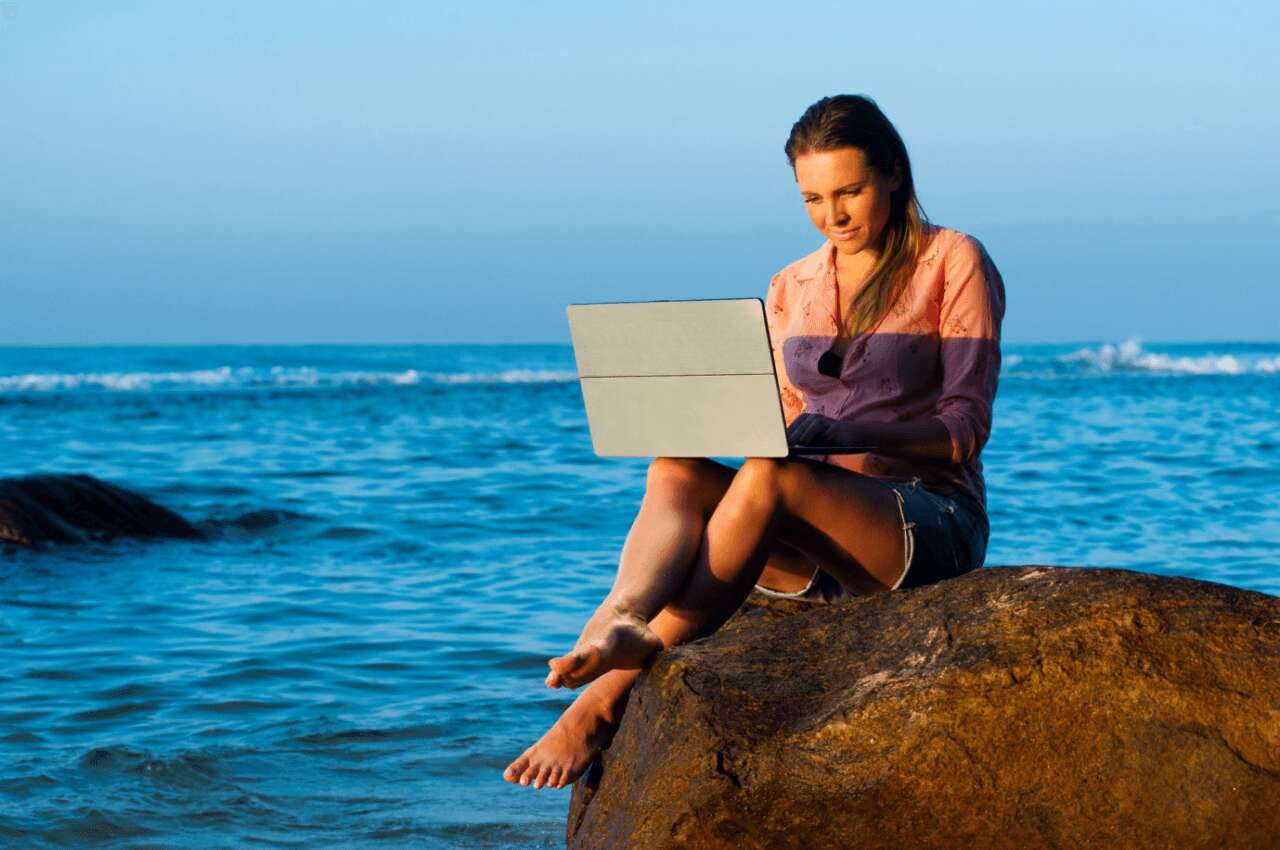 Most of us still have the habit of getting ready daily and attend our offices for the 9 to 5 jobs. Few of them don't even like it but still does it for their livelihood. But I don't blame those as everyone has a set perspective about earning a living. But believe me friends, those following such routine have also indulged in laptop lifestyle recently in some or the other way. As per the changing scenario, many companies have started providing laptops to the employees for working from the comfort of their home. So, this proves the prominence of laptop lifestyle even in the life of employees following the 9 to 5 routine, right!
Advent of Laptop Lifestyle
You see how this way of life has impacted most of the working sectors and big organisations? The employees are given full freedom to work as per their convenience. The laptop lifestyle has given birth to many such opportunities in the past few years that people make a decent earning by just sitting at home or any place, or even while travelling. This sounds great, and believe me folks, today there are end number of internet marketers who are making much more money than they could ever expect from a 9 to 5 job. This profession has become a full-time career for many.
Precisely laptop lifestyle is all about making money via the internet without the involvement of physical store or any brick and mortar presence. The mechanism is called internet marketing, and the business kinds of this type of marketing are affiliate marketing, tossing websites, freelancing, selling information like online videos or eBooks. Overall, there are many options to choose from when you go onto explore online opportunities. Let's start exploring.
How to live Blogging Laptop Lifestyle?
Many other trades offer laptop lifestyle kind of work like that of blogging, YouTube star, content writing, product creation, etc. You just need a headset and a good quality camera as additional gears to explore the online laptop lifestyle world. Blogging is among the most common ways to earn money online. Blogging suits most of the internet marketers needs as it is the first step towards making money online.
Many years ago, blogging was considered an option for secondary income, but today you will find many full-time bloggers who earn a handsome revenue for their lavish standards of living. Blogging has changed the complete scenario of the present day world and the way people used to think about it. Indulging in a full-time blogging activity needs a laptop, a comfortable chair, an internet connection, and there you go choosing any place to sit and get started.
You can do blogging anytime, anyplace whether you are traveling or relaxing at your favorite spot. This profession gives you the full liberty of choice, and you can use the free Wi-Fi spots available almost at all hotels, cafes, bars, malls, etc. You can keep in touch with your contacts and build a network wherever possible. The most important task accomplished via the internet is to send emails, submit or take work details, manage payments, networking, etc. These kinds of communications have become very easy today by laptop lifestyle incorporated in our daily lives.
Note: To start blogging you always need a good hosting provider to keep your blog up and running smoothly.
Using Google to earn money through blogging
We know that blogging is not limited to only content writing or affiliate marketing for other products and services, but involves a series of stuff which can help you create great fortunes. If someone possesses an excellent writing skill, then one can create their own eBooks for Kindle or other publishing houses. You can even get your own books published and sell them on Amazon, Flipkart, eBay or Snapdeal.
Google Ads also pays a decent amount to blogs that have established themselves in the internet marketing field. You can approach Google for placing relevant ads on your blog and earn money thereby. For those who choose not to go for Ads, can build their network via other social platforms, do freelancing, sell their own products or services like self-created apps or software, or even start consulting services. All these options are a part of laptop lifestyle, which can be processed from anywhere and anytime.
Blogging also includes affiliate marketing and referral marketing, which are again few simple options to make money for new bloggers and for those who want to make some extra money in their spare time. For this, you just need to sign up for the particular products and services and start promoting or recommending them from the comfort of your home or your favorite location. Amazon Affiliate program is one of the great tools to make money online as it is straightforward and hassle-free.
It is not easy to choose laptop lifestyle
Blogging makes you aware of so many opportunities to choose from so that you can opt to blog as a round-the-clock career option for handsome earning. But friends, as you know very well that no profession in the world can succeed without putting in much time to it, so is the case in blogging. Blogging needs your substantial amount of time be it within your comfort zone or your choice of place.
Blogging lifestyle can spread its wings more dominantly with the emergence of technological advancement and change of business tactics. Blogging laptop lifestyle as the new emerging trend has already prospered and captured a substantial market share. Other companies may also become accustomed to the laptop lifestyle when these organisations will start implementing more flexibility in their working methodologies.
Keep blogging and live your life with full freedom with "Laptop Lifestyle".
Image Courtesy:
hbpl.co.uk
pixabay.com