Ganesh Chaturthi is celebrated on 10 September 2021 in India. After celebrating the 10-day festival and availing the grandest Ganesh Chaturthi offers, the country today has all set to bid adieu to Lord Ganesha who is widely worshiped as the God of prosperity, wisdom and good fortune. As India gears up for Ganesh idol immersion today, devotees from all over India made a beeline to near-by waterbodies in the city. Chants of "Ganapati Bappa Moriya" rend the air followed by the hoards of devotees who're looking out to proceed this traditional immersion in a unique way.
Joy of Ganesha Festival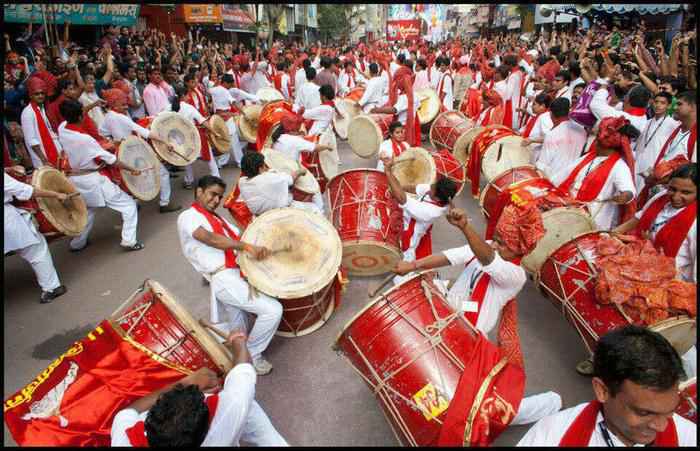 10 Safety Tips and Precautions to Follow on Ganesh Immersion Day
The streets are filled with youngsters and children dressed in a beautiful way dancing and playing drums. The parade of lord Ganesha, combined with celebrants who're smothered with Gulal (a red or orange powder) has doubled the fun of Ganesh Chaturthi this year.
Besides roadsides and water bodies, there are small families, youth, students everywhere marching on their foot while chants of slogans renting the air, the processions fueled up momentum and Ganesh Idols (from small idols to massive ones) are brought for the final journey.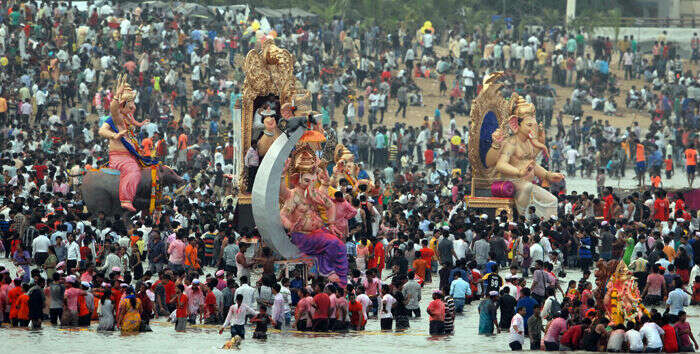 However the bottleneck of traffic jams and crowded places are inevitable, especially in major cities like Mumbai, Pune, Hyderabad, Delhi, Bangalore and so on. Here're some tips that help you avoid traffic congestion on Ganesh visarjan and beat traffic woes without hampering the ethnicity of Vinayaka Chavithi:
Get Notified Via Smart Apps
Keep an eye on Broadcasting mediums
Wear Light and Comfortable Clothes
Say No to Personal Vehicle
Turn on the Radio
Find the easiest routes
Inform your beloved family members
Carry First-aid Box
Avoid using plastic bags and bottles
Prefer Eco-friendly Ganesh Idol
Get Notified Via Smart Apps
#Tip 1: Get live traffic updates about Ganesh Visarjan through mobile apps, televisions, FM radios and plan your commute accordingly. Also there are some apps that function with GPS tracking facility, this'd inform you about traffic density in various places near by you. Keep yourself informed with smooth, moderate and heavy traffic drives.
Keep an eye on Broadcasting mediums
#Tip 2: Most television's traffic alerts submit travel updates on a minute-to-minute information basis. So stay tuned for this useful information by ensuring you sign up, and give your route details and travel time. If you are not sure about the places, check out the best ganesh chaturthi destinations that everyone must visit and offer prayers in their lifetime.
Wear Light and Comfortable Clothes
#Tip 3: Do opt for light color clothes during the festive days because it reflects the maximum heat and makes you feel cool. Also, it is good to use lightweight dresses during the rally and visarjan time.
Say No to Personal Vehicle
#Tip 4: To ease all your traffic worries, try and avoid taking your personal vehicle on the streets. For today, you can carpool to your work, share a taxi, or a bike ride with your fellow-mates or colleagues to reduce traffic congestion. Or rather start early to avoid delays to your appointment.
Turn on the Radio
#Tip 5: Turn on the Radio in your car. Radio channels provide updates on the traffic that will help you identify best routes to work, home or any other place you are heading towards.
Find the easiest routes
#Tip 6: Help a friend in need. Inform your family or friends about the busiest routes if they plan to step out. You not only help them save their time, but also would gain a brownie point for being kind. Also, you can plan a trip with your family members to pay a visit to the beautiful Ganesh Chaturthi immersion places and cherish the childhood memories.
Inform your beloved family members
#Tip 7: Inform if you are going to be late if someone is waiting for you. It's always better to be intimate as soon as you sense a delay.
Carry First-aid Box
#Tip 8: Like other pooja essentials, it is important to carry first-aid boxes along with you during the visarjan. While dancing on the roads, you may be prone to several injuries. A one-stop solution is to have a first aid kit. You can use the necessary items right away without spoiling the mood.
Avoid using plastic bags and bottles
#Tip 9: Do you know as per the CPCB (Central Pollution Control Board), plastic alone contributes 8% of total wastage in India, Delhi being producing the maximum quantity. Not just that! The plastic bags, covers, bottles, and other forms are immersed in rivers, lakes, etc., on this auspicious day, resulting in great damage to the environment.
Prefer Eco-friendly Ganesh Idol
#Tip 10: As we all know, the GOI (Government of India) banned using Paris plaster to make the idols of gods and goddesses. If you are a true environmentalist, you can go green by using biodegradable materials like clay. You can immerse the idol easily at home. With that savings, you can amaze family members with the beautiful Ganesh Chaturthi gifts that can last longer.
Final Thoughts
Wrapping up, many measures have been taken by the Indian government, NGOs, and organizations to bring awareness about the harmful effects of the Ganapati festival. However, to protect the environment for future generations, you can use the eco-friendly Ganesh idol at home. Besides, you can gift the items like key chains, pillows, etc., with Lord Ganesh's picture embedded in it. To know more about such gift ideas, check out our blog on top Ganesh Chaturthi gifts in 2021 to surprise your beloved ones.
So that's the end of the glorious 10 days. 10 days of devotion, happiness and excitement. But immersing Ganesha into the water is only one way to start waiting until he comes the next year. And that's how we say it "Ganpati Bappa Moriya, Pudhchya varshi lavkar ya".
Translation: Praising Lord Ganesha and expressing that we can't wait for the next year.
We hope you will follow the above-mentioned tips and precautions and stay safe during the festival days.