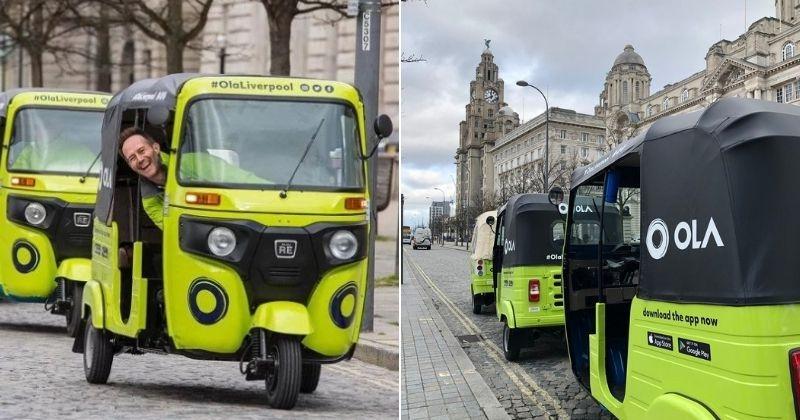 When we think of mind-blowing marketing strategies that had to be thought of by some genius, Ola's promotion campaign in Liverpool, UK in 2019 comes to mind. Why? Because when was the last time you had seen auto-rickshaws on European soil? Yes, Ola did exactly that. Back in March 2019, Ola put their trademark yellow-and-green Piaggio and Bajaj auto-rickshaws on UK roads. It was a strategic move to show the UK residents how Ola offered much cheaper means of transport than other ride-hailing services.
Till them the closest thing we had gotten to seeing an autorickshaw on foreign soil was from a Netflix series Black Mirror episode titled, 'Hang the DJ'. But Ola turned it into a reality by dropping their rickshaws on the UK roads for a single day, 22nd March 2019. Ola service launch in Liverpool came on the heels of its previous successful service rollout in Cardiff during August 2018. Ola currently operates in 20 major UK towns & cities in varying operating capacities and is planning to expand further in the coming years and newer services.
Ola Offers 40% OFF On Rides
We had an absolute blast in Liverpool this weekend! Did you all enjoy your free rides? #OlaLiverpool pic.twitter.com/cwXSlDTXyq

— Ola UK (@OlainUK) March 24, 2019

The ride-hailing service providers had reportedly offered free rides to Liverpudlians for the entire day on 22nd March 2019. Although users can no longer avail the free ride, they can still get their hands on Ola discounts and promo codes like 40% OFF discount if they download the app and enjoy the service before the end of April.
Ola's Targeted Effort At Edging Out Uber On A Global Scale
Founded in 2010, India's popular ride-hailing service has an overseas presence in Australia, New Zealand, and the UK. Ola offers over 1 billion rides per year across 169 cities globally. And with services in multiple UK cities, Ola aims to create its dominion over the UK ride-hailing market. Its direct international competition is Uber, and both these companies are engaged in a global tug-of-war for the crown of the ultimate ride-hailing service in the world. With this campaign, Ola managed to indicate its intention to offer cheap rides in the UK to the public and edged Uber in the competition.
Recent Funding & Acquisitions
Starting as a cab aggregator located in Mumbai, Ola unquestionably has come a long way. Now, headquartered in Bangalore, India, Ola has recently raised $56 million and $300 million from Tiger Global & Matrix India, and Hyundai & Kia, respectively. With acquisitions like FoodPanda and Ridlr, Ola is looking to diversify its services into the food tech and transport ticketing sectors. With the previous acquisition of TaxiForSure and recent investment in Series A funding for Vogo, Ola seems to be firmly in the driver's seat regarding the transportation service segment of India.
Ola Charging Lesser Commission Rates Than Competitors
Ola is indeed changing the way transport is perceived in the UK. From offering attractive discounts to changing the way, the commission is charged for cabs and taxis. Charging just 10% commission rates on black taxis in the UK compared to the steep 25% that competitors charge is a massive change and a good one for local cab drivers and the UK public.
Ola's Auto-rickshaw Promotional Campaign gathers praise all around UK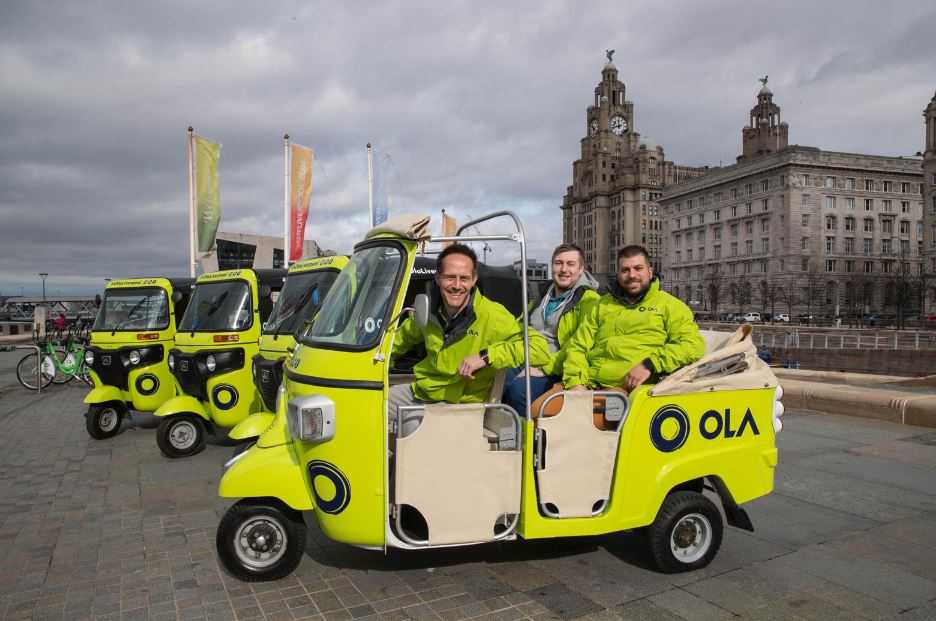 Managing Director of Ola UK, Ben Legg mentioned on his LinkedIn profile that he had a great time driving local Liverpudlians around the city interacting with them and understanding their transportation problems and how they can be resolved.
If you're thinking of a new marketing campaign and need something fresh, use this as an inspiration. Ola outdid themselves with it.
Image Courtesy:
Ben Legg, LinkedIn