Whether you're a casual holidaymaker or a seasoned traveler doesn't matter. Mumbai will almost certainly be one of the top destinations on your bucket list. The Maharashtrian capital is a city bursting with culture and excitement, making it a location that no visitor forgets. But if you're going to spend time in Mumbai, it's imperative that you make the most of it. You absolutely need to know the places to visit in Mumbai.
Have a Look at Best Places to visit in Mumbai
With so many things to see and do, you wouldn't believe how easy it is to get lost in the city. You are likely to miss out on some glorious experiences. As such, making a prioritized list for your time in India is essential. Here are 20 places that every traveler should want to visit.
Visit Mumbai with amazing offers on flight and hotel bookings using the best MakeMyTrip offers available online :)
1. Gateway of India
The whole of India is packed with breathtaking monuments, and Mumbai's Gateway of India is one of the most spectacular. Overlooking the Arabian Sea, the 85-foot structure offers a particularly stunning sight when lit up in the evenings. It had taken nearly a decade to build this beautiful structure, that we have been seeing since 1924, but it's truly one of Mumbai's greatest attractions. Furthermore, it being on the waterfront provides the visitors with plenty more to enjoy too.
The Gateway of India cost Rs 24 lakh back in 1924. The gateway is a brilliant example of the Indo-Saracenic style i.e. amalgamation of Indian and Islamic architecture.
Fun Fact: On February 28, 1948, the First Battalion of the Somerset Light Infantry walked past the gateway signifying the end of British rule in India.
Take a vacation to Mumbai with the best Offers and coupons for Happyeasygo and save on your expenses. 
2. Marine Drive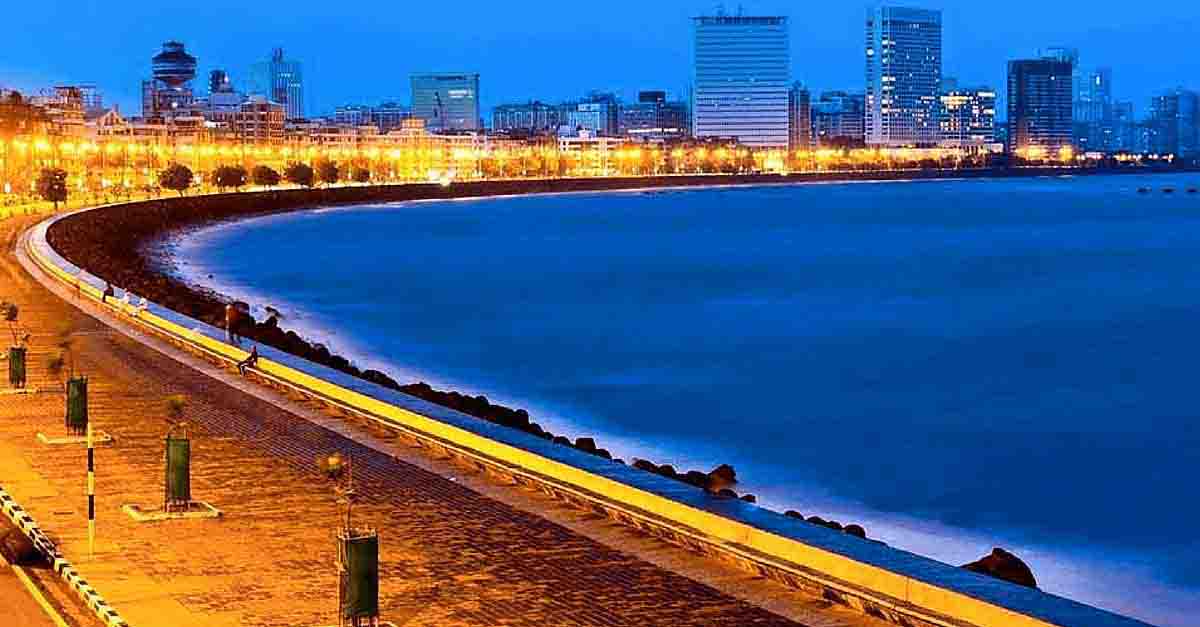 Visiting the city of dreams and not seeing the most dreamy destination is definitely a big 'No-No'! Considered to be the most romantic place in Mumbai, Marine Drive must surely be in your visit list. It is a 4-km long promenade that gives a breathtaking view of the city's nightlife. Walking across Marine Drive, feeling the fresh air of the Arabian Sea, and gazing at the sparkling lights of skyscrapers is an experience to be cherished! You can also enjoy some delicious street-side food while you walk by the road with your loved one.
3. Bandra-Worli Sea Link
The cable-stayed bridge was only completed in 2010, but it is already considered a must-see part of the beautiful city. Essentially, it's just a construction used to link Bandra to Worli. However, it symbolizes the juxtaposition between natural beauty and man-made beauty. In truth, the Worli side probably edges things in terms of scenery. But if you're looking to enjoy both areas of the city, crossing the bridge will cut travel time by half. Therefore, it's a practical attraction as well as a sight that will stay with you forever.
The 5.6 km long Bandra-Worli bridge cost Rs 16.5 billion and took 10 years to be constructed (starting in 2000). The bridge brought down the commute time between Worli and Bandra from 90 minutes to less than 10 minutes!
4. ISKCON Temple
Just a short distance from the enjoyable Juhu Beach, the ISKCON temple is a Hindu temple built on four acres of land. It's big, it's beautiful, and it's a landmark that every visitor should want to visit during their trip to Mumbai. The temple opened in 1978. It does get busy, especially during holy festivals. The architecture and cultural significance ensure that you'll be left in awe throughout your visit and making it on the list of thing to do in Mumbai.
The complex houses the beautiful marble temple, alongside a restaurant, auditorium, and seven-story guest house for the visitors.
5. Imagica Water Park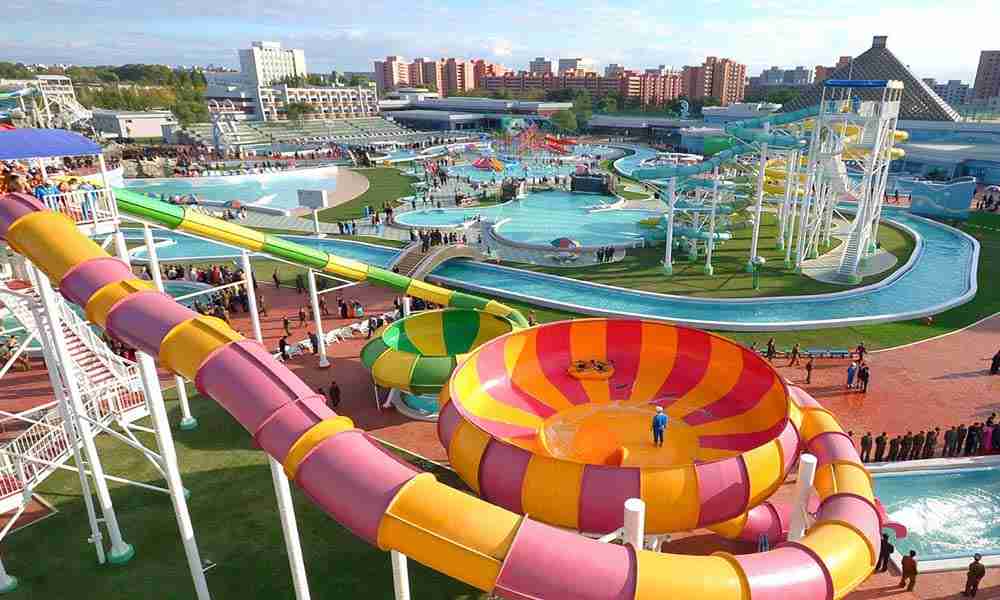 In addition to its cultural significance, Mumbai boasts an average temperature of 27.2 degrees. And if you're visiting outside of the rainy season, then you'll want to get out and enjoy the sun too. There's no better place to do that than at Imagica water park dubbed as one of the best resorts near Mumbai.
Rides include
Boomeranggo
Floatsa
Loopy Woopy and
Raftaastic.
Those slides and attractions ensure that the water park is an ideal venue for a day of family fun. Even, the on-site food is pretty decent. As a day excursion to break up the sightseeing, it is undoubtedly one of the best. Not only in Mumbai, but in India as a whole.
6. Ferozeshah Mehta
Ferozeshah Mehta, also known as the Hanging Gardens, is located opposite Kamala National Park. Fountains, flowers, and other beautiful elements offer the ideal scenery, and it's a welcome break from the hustle and bustle of the city. Kids will love the animal-carved hedges on display throughout the grounds. The Hanging Gardens is something that has caught people's attention for nearly 150 years. Even the idea of seeing something hanging, let alone it being an entire garden is fascinating to many. And, Ulhas Ghapokar creation has been doing this since 1881. So if you are planning a trip to the Maharashtra capital, make sure you are spending some time at this beautiful creation. Want to know, when is the best time to visit this beauty? When the sun is about to set, the view is just spectacular. Yes, when in Mumbai, points of interest are many but then again this one shouldn't be missed.
Don't Miss: The beautiful sunset overlooking the Arabian Sea.
7. Shree Siddhivinayak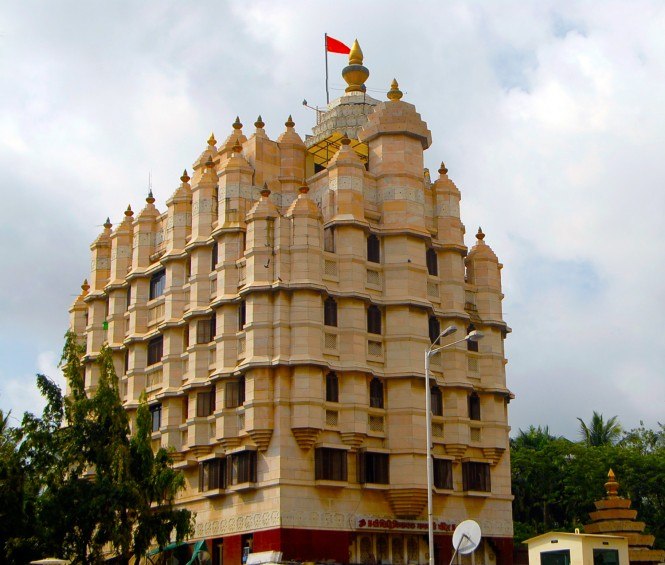 Hindu temples are a key feature of Mumbai, and it would be impossible to enjoy the city without taking in those sights. Built-in 1801, Shree Siddhivinayak is one of the city's most famous. It is regularly visited by famous people from the worlds of politics, business, and entertainment. Moreover, the iconic design makes it a photograph that all tourists should seek. The insides of the temple are equally breathtaking. From the architecture to the ornaments, your eyes will be treated to a feast of beauty. If you are a member of the religion too, then taking part in the activities will complete an already wonderful visit.
The Shree Siddhivinayak temple is one of the richest temples in the world, attracting over Rs 100-150 million everywhere.
Fun Fact: The Lord Ganesha idol in the temple is one of kind, being carved out of a single block of stone and has the trunk to the right instead of the usual left.
8. Juhu Beach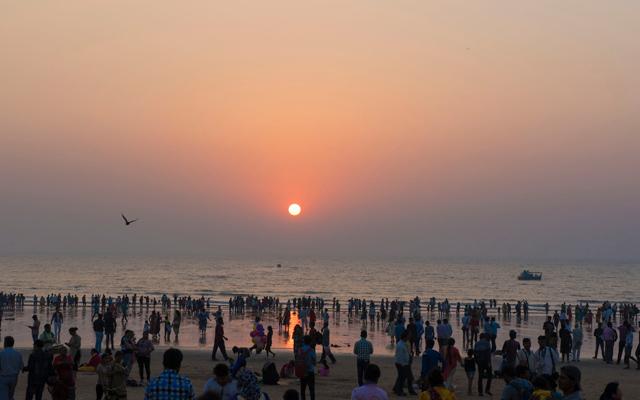 Mumbai is full of beaches and Juhu beach is the most popular yet beautiful one in the lot. The area near the beach is the most renowned one with many celebrities living there. The beach is one of the famous tourist attractions as it looks extremely stunning in the evenings and also has many interesting activities to do. You can also savor your taste buds with some delicious dishes such as pav bhaji, pulav, ice cream, ice gola, and much more available on the beach.
9. The Bollywood Tour
Mumbai is one of the central hubs of Indian culture. The country has given so much to the world, more so when it comes to entertainment. Indian music, dance, art, and fashion have influenced global audiences for generations. All of it is displayed in our larger-than-life film industry- Bollywood. There's no better way to celebrate and learn about a culture and its artforms than taking a tour. Unlike a lot of tours, the Bollywood Tour focuses on quality rather than quantity. It provides users with a fantastic insight into the key points rather than wasting time on pointless endeavors. It's the perfect way to spend a few hours, particularly if you are a film fantastic. Even if you're not, it's an attraction that has plenty to offer. When it comes to Mumbai tourism, how can you miss our good ol' Bollywood?
10. The Peshwa Pavilion
Indian food is heralded the world over, and Mumbai is home to a number of truly incredible restaurants. The Peshwa Pavilion is one of them, offering the ultimate luxury of fine dining. The building is stunning, and the food is even greater still. In fairness, you can delight your taste buds with a host of street foods and cheap options throughout your stay. But no trip to Mumbai is complete without at least one magical meal. With such an extensive menu, you'll have no problem finding the perfect dish either.
The Peshwa Pavilion boasts an elaborate and delectable spread of breakfast, lunch, and dinner buffet. A meal for 2 people at the Peshwa Pavilion will cost you around Rs 5000. Enjoy amazing offers like the Culinary Break which offers accommodation, along with 2 meals starting at Rs 26,999.
11. Haji Ali Dargah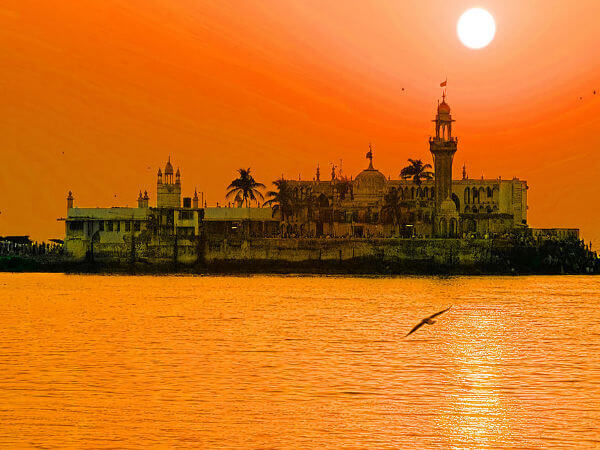 The Haji Ali Dargah Mosque and tomb is another religious attraction of major appeal. Located off the coast of Worli, it dates back to the 15th century. It looks amazing from across the water, but the only way to truly appreciate its beauty is to visit. Over 80,000 people visit the famous building every single week, which tells you everything you need to know. Even the walk across the causeway offers an unforgettable experience. If you get a chance to visit, you should.
Fun Fact:  The famous Dargah was built in 1431 to honor the memory of a Sayyed Peer Haji Ali Shah Bukhari. Legend has it that Haji Ali Shah Bukhari who came from a wealthy family gave up his riches on his way to Mecca for the pilgrimage. He didn't make it to Mecca and sadly passed away on the journey. The coffin carrying his body washed up on the shore of Worli, and the Dargah was constructed as a shrine to this pious man.
12. Sanjay Gandhi National Park
Named after India's most famous icon, SGNP is visited by over two million people every single year. The national park covers a massive 40 square miles and is home to a variety of animals. Many of those species are endangered also, underlining the significance of the park.
From a visitor's perspective, it's a chance to see those animals up close. Better still, it's an opportunity to do so in the surroundings of arguably India's best national park. Quite simply, it's easily one of the city's greatest attractions.
13. Kanheri Caves
Located within the grounds of SGNP, the Kanheri Caves offer an incredible detour. Having over 100 basalt carved caves some of which are scriptures dating back to centuries, these caves were once used for meditation and studying, but is a must-see on the list of Mumbai sightseeing places. I understand, that you are not likely to see all the caves, but number 34 is an essential inclusion as it includes roof paintings depicting Buddha.
14. Tangerine Arts Studio
Traveling is the perfect opportunity to try new and unique activities. One of the coolest trends right now is to try aerial yoga, and the Tangerine Arts Studio is the ideal place to do it. Whether you're into yoga or not, it's an item that should be included on your bucket list.
Mumbai is a spiritual location, and aerial yoga is one of the best ways to tap into your spiritual side. If nothing else, it's an activity that you're unlikely to go anywhere else. If that's not an incentive to visit the Tangerine Arts Centre for a couple of hours during the stay, what is?
15. Chhatrapati Shivaji Terminus
Visiting a railway station may not sit on top of the agenda in many destinations. However, the CST is a wonderful landmark and is even carries the status of being a UNESCO World Heritage Site. It's over 125 years old and serves as one of the most important stations in the whole country.
If you are looking to do a bit of travel during your stay, you'll probably end up here for practical reasons. But even if you don't need to embark on a train, the magnitude, and beauty of the station building is a sight to behold.
16. The AER Lounge
Mumbai is an amazing state capital with ample activities to keep all visitors occupied. Sometimes, though, there's nothing better than taking a step back to enjoy the beauty from afar. And there's no better place to do it than the AER Lounge above the city's Four Seasons hotel.
The open-air bar offers incredible panoramic views of the beautiful city. Meanwhile, the food, drink, and music are the perfect accompaniment for the perfect relaxed evening. Whether staying at the Four Seasons or not, visiting the lounge is a must.
17. Babulnath Temple
Unsurprisingly, you could spend your entire trip enjoying the various temples in what is a religious and cultural city. The harsh reality is that you probably won't get around to visiting them all. However, the Babulnath temple near Girgaum Chowpatty is one that should take priority.
As well as being hundreds of years old, the sacred temple is one of the most striking to look at. It stands tall and proud above the local surroundings and is guaranteed to leave all visitors smiling.
18. Horniman Circle Gardens
Located in the city's Fort district, it serves as a symbol of India's independence. In fact, the renaming to commemorate Benjamin Horniman is directly linked to the newspaper editor's support of the fight.
The gardens cover 10,000 square meters. It additionally hosts several important events, including the Ruhaniyat music festival, each year. Whether there's a big event on or not, it's definitely a place worth visiting.
19. Mount Mary Church
The Mount Mary Church is situated in Bandra and serves as the city's most iconic Roman Catholic building. Overlooking the Arabian Sea, the backdrop is just as stunning as the building itself. However, if visiting on the first Sunday after September 8th, it will be very busy. This is due to the celebration of the Virgin Mary's birthday.
Mount Mary Church was rebuilt in the 18th century and has undergone huge changes since then too. Nevertheless, it remains one of the city's most important landmarks. Catholic or not, it's well worth a visit.
20. Mumbai High Court
High Courts are a common point of interest in various cities around the world, and that's no different in Mumbai. As one of the country's oldest and most important high courts, it has a huge significance for the city as a whole. As a visitor, you should take the opportunity to soak it in.
It has existed for over 150 years and is, unsurprisingly, a beautiful large building. It is also surrounded by some stunning natural scenery.
21. Linking Road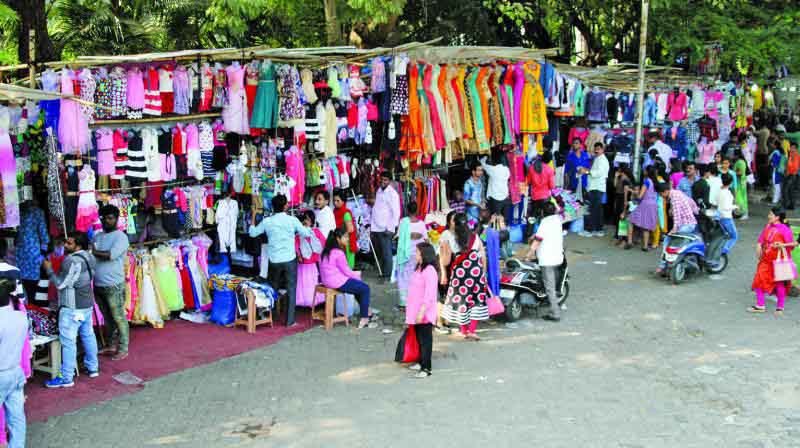 Apart from beaches, amusement parks, gardens, and party places, Mumbai is also the fashion capital of the country. So, if you are new to the city or planning to visit there anytime soon, you must check out its exquisite flea markets. Among the bunch of markets available in the city, Linking Road is the most popular one! From clothes to accessories to footwear for men, women, and kids, it has a plethora of stores and items to be offered at a reasonable price.
22. Jehangir Art Gallery
The city of Mumbai isn't only packed with spectacular architecture. The Jehangir Gallery was founded in 1952 and is home to some incredible artwork. Meanwhile, it holds various exhibitions, meaning you're always guaranteed a unique experience.
After a 1990 renovation, it has become a place of even greater beauty in more recent generations. It is a place to celebrate the culture of India, Mumbai, and humanity as a whole. If you love art, it will leave you inspired. If you don't, it'll change that stance completely.
23. Powai Lake
It might be an artificial body of water that was built around the turn of the 19th century. But Powai Lake is guaranteed to produce very real joy. There have been issues regarding the water's safety to drink etc. As a tourist attraction, though, it's an amazing place to relax while getting panoramic views of a truly wonderful backdrop.
The chances are that you'll only walk around a portion of the lake, but it's still a great way to spend a few hours. If the weather's nice, your visit will be truly memorable from start to finish. At the right time of year, the purple balsam bushes are a magnificent feature also.
So, in the list of places to visit in Mumbai, did I miss out on any quintessentially Mumbai place? Sound off in the comments below. On that note, you might want to look up at our Yatra Coupons to save on your travel and hotel bookings.
Share this article On Your Site