Like experimenting with your looks? Bored with wearing regular styles every day? Wanna try out something fun, chic, and yet comfortable? Then make Palazzo pants your wardrobe staple.
I swear by this fresh fashion and already own quite a few wide-legged beauties in my collection. I am simply in love with Palazzos…and can't stop gushing about how fashionable these are. It is a great and easy way to look gorgeous.
Well…cutting short, to the point; though it is commonly known as one of the fashion outfits most suitable for the summers, styling it wisely is the trick to wear it anywhere and anytime, be it the summers, rains or the winters, be it for a night out, to the office or a marriage function.
So, let me take you through the styling tricks that would help you wear a Palazzo with aplomb!
Different types of Palazzo pants
I just thought of sharing with you people how different types of Palazzos look like. Prints are quite common, such as abstract, floral, digital, bird, Moroccan, Boho, and numerous other styles are popular at present. Or, you can choose from the single colored ones, which again come in various beautiful shades such as the neon ones, pastel shades, and the basic colors. Color blocks, part prints, lacy and self-designed ones are available quite commonly. The trick of choosing a Palazzo pant style depends on your body type, how bold you are and where you are wearing it to.
Styling your Palazzo
Here are 5 amazing ways in which you can style your Palazzo pants.
Print or solid, team it with a single colored tank top. This can be your go-to outfit if you are going out for some casual outing with friends on the weekend. If you are going to a party, simply add a blingy jacket (though not over the top bling) or an embellished belt to spice up the look. Complete your party look with a matching clutch or envelope bag. Top knots or open hair and bold lips with minimal makeup gel well with such a look. Flat or heeled peep-toes, wedges, and shimmery belted flats would look good with this kind of weekend outfit idea.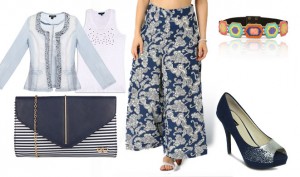 Palazzo pants style 1
Going out for a bit of casual shopping or to grab some food at a nearby place? Pair a simple tee in print or a single color with a Palazzo. In this case, if the pant is printed, choose a single colored tee or if the tee is printed, opt for a single colored Palazzo. If you are tall, any style of Palazzos, be it wide-legged, pleated, or one with less flare would look good on you. High waisted Palazzo pants are a great choice for you as well. If you are concerned about your height, opt for crop tops. If you are not comfortable with baring your midriff, get crop tops that aren't too short. Sneakers or strappy flats would look good with crop tops and tees. A messy bun and no makeup look, that's how you can put together a lazy day outfit.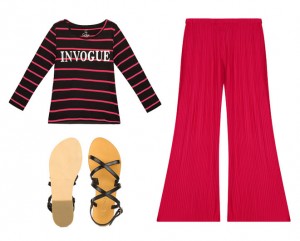 Palazzo pants style 2
Shirts and wide-legged pants can look great on all. Be it single-colored pants or printed, the shirt looks help you create that formal look needed for the office and corporate meets. Simple chains and earrings are great for day looks. And if you want to amp up the style quotient for the evening or dinner party, go for bold lips. Pointy toed stilettoes and heeled pumps are your best bet if you are trying out this look. Messenger bags and clutches can be accessorized with this kind of a look.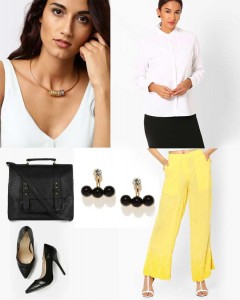 Palazzo pants style 3
Going ethnic with a Pallazo is as easy as a breeze. Get a straight cut Kurti with embroidery or yolk style, and wear it with a single colored pant. The Kurti can either be long or short, have collars (mandarin or Nehru collar or any other style), or have no collars at all. I believe color blocks and basic colored kurtis look great with Palazzo pants. Flat sandals, statement earrings, and a fishtail braid look will complete your style for the day. You can wear this to the office on a weekday or even to corporate dinners. If you are going to the office, tone down the look by choosing a smaller earring. That's it, it is that simple. And if you are going out with that special someone, just after office, do some touch-ups and wear jhumkas or any other statement earrings and arm yourself with an embellished clutch.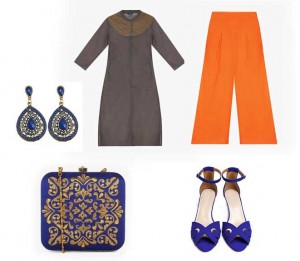 Palazzo pants style 4
For marriages and functions, choose long Anarkali style Kurtis and or straight long ones. Pair these up with ankle-length pants in coordinating colors and material. For example, if you have a Georgette kurta with sequin details or embroidery, go for a flowy Georgette based pant. And if you have a silk-based kurta, get for yourself a silk-based Palazzo. Mules and any other heels look great with such a look. Depending on the neck design, you can choose a neckpiece or give it a miss. Again blingy and statement earrings such as big jhumkas would look great. So, now you know how to wear Palazzo pants with a kurta.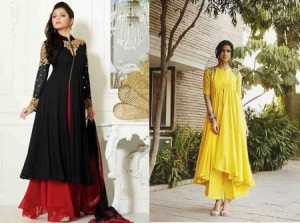 Palazzo pants style 5
Try these styles and let me know if you liked these styles. And please do share your styles as well!