Are you looking to book your favorite bus charter for the perfect on-the-road experience? First, you need to admit that traveling via bus in cross-country may take quite a long time, but bus commuting is relatively lesser compared to car riding and flying for the cost factor. Along with the top-used bus booking portals like redBus, Abhibus, MyBusTickets, and Goibibo, this article provides an overview of the best online bus booking portals. The best thing about the online bus ticket portals is – you can book journeys with just a few clicks of the mouse, without booking your ticket at the stations.
List of Best Online Bus Booking Portals in India in 2023
1. Abhibus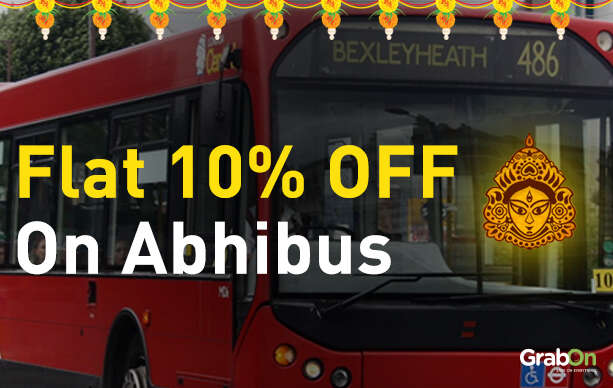 Initiated in 2007 with an aim to bring a huge range of inventories of bus operators from all over India into the market and make the bus ticketing process much simpler than ever, Abhibus today is one of the favorite online booking portals in India to book bus tickets.
They are getting a wide range of bus service providers on one platform. Connecting passengers with these service providers offering exclusive and amazing deals is not a hard nut to crack for Abhibus. They give technology to bus inventors to pick up the pace of reaching customers directly and reducing the extra costs with this online portal. Otherwise, customers may end up paying big by booking tickets offline or in the stations. Here are some exclusive Abhibus Coupons and offers:
Exclusive offer only for GrabOn users – you can now get a flat 10% off on your bus booking. From Rs. 100 off to 80% cashback, there is an amazing range of deals offered by this portal. Check out Abhibus coupons on GrabOn to get more details of these offers.
2. RedBus
When you think of online bus ticketing, the first thing that rings a bell is redBus. However, other prominent players on the market offer safe and easy online bus booking sites to customers across India, but this company dominates others. Founded in 2005, this ticket booking portal takes pride in offering zero booking charges to its customers. With redBus, you are sure to get no extra fare and a pre-booked seat in a hassle-free way. With Dussehra and Diwali festivals around the corner, this company has brought a wide range of exclusive offers for GrabOn users, such as — flat Rs. 300 OFF on a round trip, flat 10% off on bus ticket booking, and many banks offer to choose from. Check coupons from redBus.
3. EaseMyTrip
Bring back old memories by taking a bus to your destination. With EasyMyTrip bus, you can get hundreds of options for your trips and amazing discounts on them too. The tickets can be booked online in minutes. Easemytrip has some really amazing features that users can benefit from that include:
No-convenience fees: Users don't have to bear the convenience fees if there is no other coupon or offer applied.
No hidden costs: The price what you see is the price what you pay.
Ease my Trip has come a long way from its inception in 2008 and now caters to every destination you can imagine. Other than buses, you can also book flight tickets, trains and hotels on the website.
4. MyBusTickets
Book smart and get smart with bus booking online using MyBusTickets. Booking online is no new, but scouring an exciting range of offers on booking buses makes a real difference. This portal is dedicated to offering low-cost fares and frequent offers like no other. Since traveling need is high right now with back-to-back festivals and with MyBusTickets, there is no shortage of exciting offers — get a flat 12% off on your bus booking and up to Rs. 100 off using MyBusTickets coupons.
5. MakeMyTrip
Avail of the best deals on Bus tickets with MakeMyTrip for over 12,000 routes with 1,300+ operators. It is simple, convenient, and quick. This portal offers instant discounts on select Bank Debit & Credit Cards. MakeMyTrip offers the ultimate travel experience with its easy interface that enables booking, revisions, and cancellations. Try MakeMyTrip today and save upto ₹2500 with exclusive MakeMyTrip coupons.
6. Goibibo
Make travel a safer and more enjoyable experience with Goibibo. Over 60 million travellers use it to make their journey easier. Goibibo offers a GoSafe Travel Checklist that will help you stay fit and protected. Book and choose tickets with all major operators and filter the deals as per your preference. Avail of our super cool Goibibo Coupons and get the best deals to help your travel plans.
All Goibibo bus booking customers will get 5% off currently on account of the ongoing Holi offer.
7. Paytm Bus
PayTM facilitates quick, hassle-free ticket booking on Bus tickets of over 2,000 bus operators. It offers real-time updates and also allows you to view seat availability. It tracks the status of a bus along its journey to pinpoint its exact location and estimated time of arrival. Save big with exciting offers and PayTM Coupons that will make your journey simple, fun, and easy! Here are some of the coolest discounts you can get:
Cashback of Rs 150 when these two conditions are fulfilled: booking is made for three people, and the minimum is Rs 1300.
Rs 200 cashback on bus ticket booking for all users on the web and mobile app
Be the 20th user and get the entire amount back in the form of cashback
8. MobiKwik Bus
Book your bus tickets seamlessly using the MobiKwik app. You can link your Bank Account via UPI on MobiKwik, which will help you make payments straight from your phone. It is a platform used to make ticket bookings easier than ever with the 'kwik' payment gateway. Travel to your destination in style and with comfort by availing great deals with MobiKwik Coupons.
9. BusIndia
Buendia was founded in 2005 to make travel easier. It makes your journeys more straightforward and more enjoyable by getting you the best price on bus tickets. BusIndia's network covers all of the well-known routes in India and can help with your travel plans. Make a reservation, and you're ready to go! We have a tip on how you can make your journey more economical – Avail BusIndia's unique and exciting coupons to get the best deals.
10. BestBus
Book one-way, roundtrip, or multiple-trip bus tickets with the BestBus app. Check out the best deals and get the flexibility to travel by rescheduling your trips as per your convenience. BestBus also provides live updates and changes in schedule due to bad weather or other unforeseen circumstances. So be travel-ready and make your trip a memorable one with exclusive discounts from BestBus Coupons to get the great deals and enjoy the best prices!
11. NeetaBus
Search through more than 170 destinations across India for the list of all available coaches with NeetaBus. It offers 100% secure transactions and has important tools like ticket cancellation and feedback forms. You can find a luxurious and reliable bus ride with NeetaBus. Pack your bags and fasten your seatbelts with these irresistible offers with NeetaBus Coupons.
With the rampant pace seen in this industry, there are a few other bus portals rolling out special offers on a wide range of bus fares. Some of these best bus booking online portals include –
Buspapa
eTravelsmart
RunBus
TicketGoose
Booking Khazana
YatraGenie
Bobe