Saree is a timeless classic ethnic piece of clothing found across the length and breadth of our country. The standard nine yards of elegance has evolved over the years and has become an internationally accepted versatile clothing piece around the world.
Just like we have different languages, dialects, and food, we have different types of sarees as well that represent our culture and traditions beautifully. From varied draping styles to different materials used, sarees in India differ from each other vividly.
Hence, here we are, walking you through different types of sarees in India.
| | | |
| --- | --- | --- |
| Type of Saree | State | Speciality |
| Gadwal Saree | Telangana | Gold Zari and Temple Border Designs |
| Sambalpuri Saree | Odisha | Traditional Handwork with Ikat Work and Motifs |
| Banarasi Saree | Varanasi | Gold and silver brocade or zari |
| Kanchipuram saree | Tamil Nadu | Its texture, glimmer(shimmer), and durability |
| Chanderi saree | Madhya Pradesh | Sheer texture, transparency, gold, and silver brocade |
| Bandhani Saree | Gujarat | Interplay of different colors, patterns, and dots |
| Moga Silk saree | Assam | Delicate gold colorwork and style of thread |
| Bomkai Saree | Odisha | Thread work designs in the border |
| Lehraiya | Rajasthan | Bright color cloth with a distinctive pattern(traditional tye-dye) |
| Nauvari/Paithani Saree | Maharashtra | Contrasting golden zari borders |
| Tant Saree | West Bengal | Lightness and transparency |
| Kalamkari saree | Andhra Pradesh | Block prints |
| Patola saree | Gujarat | Its complexity |
| Phulkari Saree | Punjab | Colorful flower work |
| Kasavu Saree | Kerala | Natural hues, texture, and gold border |
| Pochampally | Telangana | Ikat design |
| Chikankaree Saree | Lucknow | Delicate hand embroidery |
| Tussar Silk Saree | West Bengal | Soft and Rich Texture |
| Kantha Saree | West Bengal | Delicate hand-embroidery |
| Mysore Silk Saree | Karnataka | Fine Quality Silk with Zari Borders |
| Baluchari Saree | West Bengal | Silk Weaving with Mythological Motifs |
1. Gadwal Saree from Telangana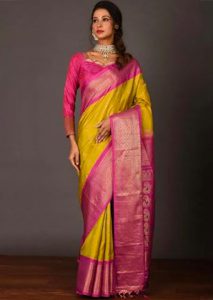 Gadwal sarees are traditional, handwoven garments that originated in the small town of Gadwal in Telangana. These stunning sarees have been crafted for generations and have become a symbol of beauty and elegance across the country. The intricate designs are inspired by both Hindu mythology and local cultural motifs, making them one of the most beautiful sarees in South India.
The weaving process is a skilled art, with weavers dedicating months to create a single piece. Gadwal sarees are either made from cotton or silk yarn and often feature gold or silver zari work as embellishment, adding a touch of luxury to the already stunning fabric. The zari work is done using gold and silver threads to create intricate patterns that are unique to each design.
Today, these gorgeous sarees can be found all over India as well as in other countries around the world – a testament to their enduring popularity amongst those who appreciate traditional Indian apparel!
2. Sambalpuri Saree from Odisha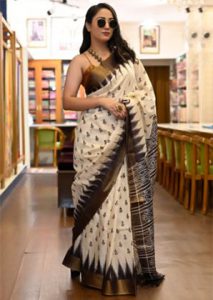 Sambalpuri sarees are a type of traditional Handloom textile originating from the Sambalpur region of Odisha, India. These sarees are made with unique weaving techniques and draw their inspiration from the culture and landscape of the area. The intricate weaves of the Sambalpuri sarees give them a distinct identity and make them highly sought after in Indian fashion. The colorful designs that adorn these sarees are believed to be inspired by flowers, birds, animals, and other aspects of nature.
These traditional handloom sarees come in various designs that include stripes, checks, floral motifs, geometrical patterns, Ikat-style weaves, and abstracts. The use of natural dyes gives these sarees vibrant colors such as reds, blues, greens, yellows, and purples. Corsets and borders can be found on certain Sambalpuri sarees which further enhances their uniqueness. In the past, these stunning weaves were only donned by women during special occasions in rural areas. Nowadays, however, their intricate craftsmanship and dazzling design have earned them admirers from all corners of India as well as around the world.
3. Kantha Saree from West Bengal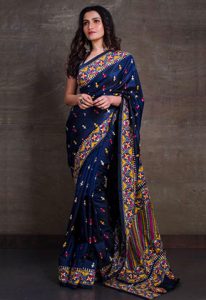 Kantha is a century-old form of hand embroidery that originated in West Bengal and is renowned for its exquisite needlework. It is one of the oldest embroidery forms that comes from India and dates back to the pre-Vedic period, or before 1500 BCE.  It is an embroidery form that is practiced by rural women on cotton fabrics preferably. Initially, Kantha embroidery was created by layering old sarees and dhotis to create pillows or bedspreads. Women in the Bengal region typically wear Kantha sarees.
According to folklore, the original Kantha embroidery's motifs and patterns were inspired by ancient arts, with the majority of the designs depicted from nature. However, Kantha Sarees and Kurtas are currently popular on social media, which has pushed up the demand for sarees with Kantha embroidery. It is ideal to wear throughout the year as it is embroidered on soft cotton fabric as its base.
4. Banarasi Saree from Varanasi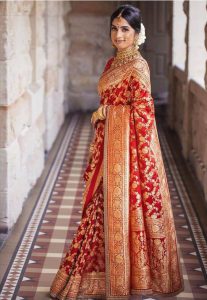 Banarasi saree is one of the finest and famous sarees we have in our country. These sarees are known for royal golden or silver brocade zari work that exudes regalness. Their intricate designs compact weaving, goldwork, etc are what make them royal and unique. These sarees are worn on special or important occasions with fine jewelry to complete the look.
Moreover, they are made from high-quality silk and zari threads derived from alloys of gold and silver. That's the reason they are expensive. Besides, the weaving process is also laborious and time-consuming which makes them even more special.
5. Kanchipuram from Tamil Nadu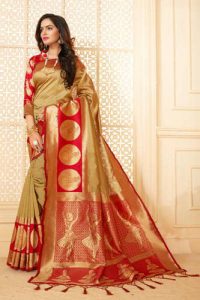 Kanchipuram aka Kanjivaram is one of the different types of sarees present in India. Considered one of the most gorgeous types of saree, Kanchipuram is the South Indian version of the Banarasi saree. It is made from high-quality silk material and has exquisite designs. Moreover, they always have a touch of gold which makes them perfect for any occasion.
One of the most astonishing features of a Kanjeevaram saree is that its pallu and borders are woven separately and then are eventually joined together. If you have noticed, the pallu is always quite different from the body of the saree and that's what makes it stand out. Also, these sarees are also wedding sarees worn by the bride herself.
6. Chanderi Saree from Madhya Pradesh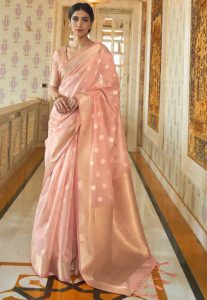 Chanderi saree is another type of Indian saree popular among women. It is made from three different types of fabrics namely chanderi silk, pure silk, and silk cotton. The beauty of the chanderi saree lies in its simplicity, gorgeous borders, and beautiful pallus. They are light in weight, wearer friendly, and can be worn casually as well as on special occasions.
Moreover, Chanderi fabric is one of the most preferred fabrics in summers. Since these sarees are soft against the skin and are airy to make you feel comfortable. Being simple yet striking, Chanderi sarees bring a sense of calm and occupies a special place in our hearts.
7. Bandhani Saree from Gujarat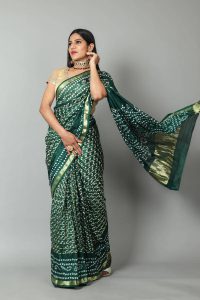 Bandhani is one popular type of saree worn in India. Basically, it refers to the traditional tie and dye technique used to produce circular patterns on the fabric. The technique to produce bandhani is what makes them unique. The fabric is tied tightly and then dipped in a dye bath. Hence it is advisable to not iron the saree keeping the iron on high heat because it may loosen its strength. Moreover, it is usually made of vibrant colors that are enchanting and eye-catchy to make it look extra-ordinary.
Bandhani sarees are versatile and can be worn occasionally and casually, depending on the saree. The demand for bandhani sarees has increased exponentially and has become one of the most sought-after saree in our country.
8. Tussar Silk Saree from West Bengal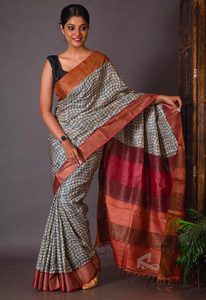 Tussar silk, also known as wild silk, is a fabric with a soft texture that is mostly manufactured in the West Bengal districts of Malda, Bihar, and Bhagalpur. In recent years, Jharkhand has surfaced as the state that produces the most Tussar silk. The main feature of this fabric is its thermal qualities, which keep you cool in the summer and warm in the winter. Surprised!!! Well, it's true. Due to its insulating properties brought on by the air captured between its threads, Tussar silk functions as a natural thermal regulator.
This fabric appears to be dull and just a little sheer, which makes it an excellent and comfortable option for workwear or casual clothing. A 100% natural fabric like Tussar silk that is lightweight and gentle on the skin makes it more suitable in a place like India where a saree is considered to be a regular outfit that can be worn for nearly many occasions. Unlike other saree fabrics, Tussar Silk sarees don't have a specific design pattern. Tussar Silk is available in a wide variety of design patterns, including floral, solid, ikat, and others. If Tussar Silk is used as the saree's base fabric, you can still acquire the desired design pattern.
9. Patola Saree from Gujarat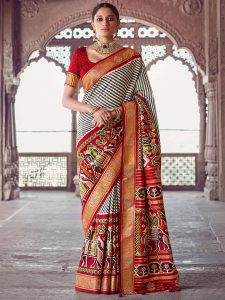 Everyone at some point in life may have heard the word Patola in their lives. There are even songs mentioning patola. So what's that special in Patola sarees from Patan, Gujarat. Let's find out.
Patola is a double ikat woven saree, woven usually on silk fabric in Gujarat. These sarees are famous among those who can afford high prices. Today there are only three families who weave patola sarees. It is said that no one is taught the technique to weave these sarees except the sons. It takes nearly six months to one year to make one saree due to dying each strand separately before weaving them together.
10. Kalamkari Saree from Andhra Pradesh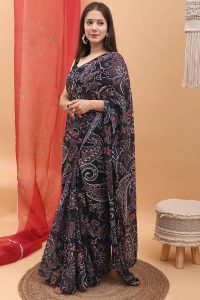 Kalamkari is an old traditional handicraft that recently observed a recent boom in the past years.  All of a sudden everyone was pulling off traditional prints in the sarees as well as the home decor. Kalamkari is derived from two words namely kalam, which means pen, and Kari means craftsmanship. Hence a pen is used to draw beautiful motifs and then the patterns are filled with vibrant colors.
These sarees have intricate designs and patterns all over the saree but still, they don't come off as over the top. And that's the specialty of kalamkari sarees. If you are an art lover, kalamkari sarees can be your perfect match.
11. Pochampally Saree from Telangana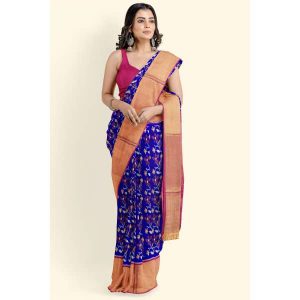 Pochampally saree, from Telangana, is one of the most popular saree types in the country. These sarees have the traditional geometric prints in the Ikat style of dyeing. These sarees are made in the area called Bhoodan in the Nalgonda district that found its way into the tentative list of 'World Heritage Sites' by Unesco under the category called 'Iconic saree weaving clusters in India'.
These sarees have distinctive characteristics in design that differs from other ikat-producing areas. While Pochampally sarees may not be popular in the northern states of India, they are the most famous in the southern states. Even the Indian government's official Airline company, Airline India, has its cabin crew wear these special Pollampally sarees.
12. Moga Silk Saree from Assam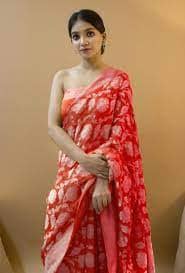 Assam has been blessed with Muga silk which is quite different from white silk available around the world. It is much more durable than the usual one and can be used for a longer period of time.
Muga silk sarees are known for their shimmery golden color and glossy texture. The designs woven on the saree have red, green, or black colors to provide a dramatic effect against the golden fabric. Various motifs are woven on the saree and its border. Usually, the motifs used in these sarees are the traditional symbols of humans, plants, animals, ornamental designs, etc.
Muga sarees are not just elegant but they are far more comfortable as well. Moreover, they are easy to carry and have exceptional humidity absorption quality.
13. Bomkai Saree from Odisha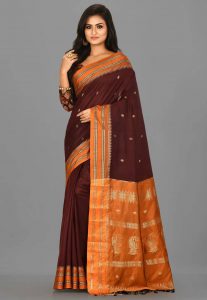 Bomkai saree from Odisha is derived from the village named Bomkai. These sarees are a result of ikat and embroidery interwoven with each other. The borders have contrasting colors and the pallus consist of intricate thread work. Moreover, what makes Bomkai sarees different from others is the past mythological stories woven onto them.
These sarees easily give out a hint of tribal design. The designs may seem simple but are strikingly beautiful. The main colors generally used in these types of sarees are black, red, and white.
14. Lehraiya from Rajasthan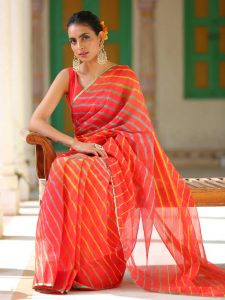 Lehraiya is one popular saree from Rajasthan. As the name suggests, lehraiya means wave. Hence the pattern used is lehraiya which goes diagonally along the edges of the saree. Also, it is another tie-dye traditional technique practiced in Rajasthan. Moreover, the cloth used is usually of lively colors to make it look enchanting and eye-catchy.
The fabrics used in these sarees are mainly cotton and silk. Lehraiya cloth is also used in turbans as well to make them look unique and colorful. Also, the traditional lehraiya sarees are dyed with natural colors and have to undergo several washes. And this is what makes it distinctive and special.
15. Paithani Saree from Maharashtra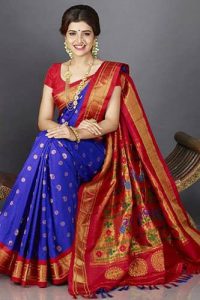 Paithani sarees is an integral part of Maharashtrian culture. Women wear Paithani sarees on special occasions, festivals, and weddings. What kanjivaram saree is to the south, paithani saree holds the same importance. Needless to say, it is a must saree for every Maharashtrian woman.
Over the years, paithani sarees have evolved and have moved from cotton base to silk base. Contemporary paithani sarees don't have cotton at all in their fabric. On the design front, another change weavers have made is moving away from small borders to large borders. Making it look more exquisite and dazzling. However, complex designs and patterns still remain the same. Another great thing about the paithani sarees is that the threads are sealed completely so that the accessories don't get entangled with each other. That's a big relief for almost every woman out there.
16. Tant Saree from West Bengal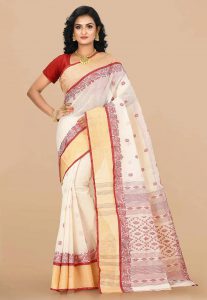 Tant saree is a popular traditional Bengali saree. These sarees are made from cotton threads and are quite light in weight and comfortable. Tant sarees are characterized by intricate motifs that seem to float on the surface of the ultra-fine fabric, giving it a mystical charm.
These sarees may not be glittery or shiny, but they are modest in nature with striking designs that may seem simple but are intricate in nature. Also, tant sarees are 6 meters long and not 5.5 meters. And their borders are woven thick so that they don't get worn out.
17. Phulkari Saree from Punjab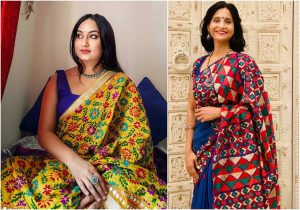 Phulkari is derived from the word Phul which means flower and kari mean craftsmanship. Phulkari is the traditional and ritualistic art form of Punjab. Previously, it was a family tradition of making phulkari sarees after the birth of a male child in the family. But with high demand, this art got commercialized and started got woven on the machine.
Phulkari saree's embroidery is intricate and colorful in its nature. The silk threads used in embroidery are of vibrant colors to make it look popping and catchy. Now available in many patterns, phulkari sarees are still loved and popular saree types in our country.
18. Kasavu Saree from Kerala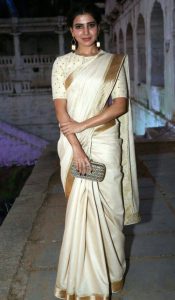 Kasavu saree is the traditional saree worn by women in Kerala. In a country, where bold colors and intrinsic designs rule the saree world, Kasavu stands out by being minimalistic and simplistic in nature. A plain white saree and its innate borders soaked in golden color are all you need to feel close to your roots. Behind this simple appearance, there lies a legacy and eccentric aesthetic.
Moving forward to details, Kasavu refers to the zari used in the borders of the saree and not the saree itself. Thus, if the kasavu becomes part of dhoti, it becomes kasavu dhoti. Hence it's a kasavu saree. These sarees are occasional wear and are especially worn at New Year, weddings, and other auspicious events. People even today appreciate the simplistic kasavu saree with contemporary blouses and designs to make it more fashionable.
19. Chikanakree Saree from Lucknow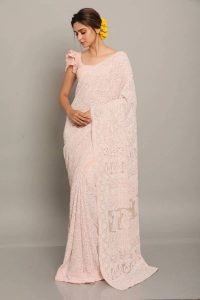 Chikankree saree hails from the Nawab city, Lucknow. These sarees are simply gorgeous with heavy embroidery on soothing colors making them sophisticated and classy. Chikan is the traditional embroidery style and is known best decoration style in Lucknow. Formerly, the chikan Kari work was only done on white fabric with white threads. Today with advancements, chikan embroidery has been done on other colors and fabrics as well to make it look even more glamorous and trendy.
Chikan work is done on lighter fabrics like cotton, georgette, chiffon, silk, crepe, etc to accentuate the embroidery. These sarees are the most famous and preferred ones in all the parts of India. All thanks to its ultimate beauty and elegance.
20. Mysore Silk Saree from Karnataka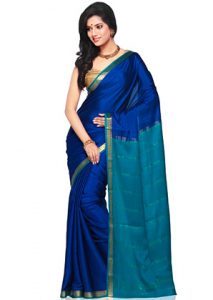 Mysore silk sarees are a unique type of Indian traditional sari that have been crafted in the South Indian city of Mysore since the 12th century. The sarees have a unique glossy texture due to the use of pure mulberry silk and Zari threads woven together in intricate designs. These sarees are often adorned with gold and silver threadwork, giving them an air of sophistication.
The silk used to craft Mysore sarees is considered one of the finest in India and is produced within Mysore city limits. The weaving process is extremely delicate and involves a number of steps, including dyeing, spinning, winding and finally weaving into intricate patterns. This process can take many months to complete depending on the complexity of the design, making these sarees highly sought-after by those who appreciate luxury fashion items.
In addition to their luxurious look, these sarees also possess practical advantages such as being lightweight yet strong at the same time. As well as this, they are easy to fold and store away when not in use – making them perfect for traveling or regular wear. Wearing a Mysore silk sari has become a symbol of status in India, with some families passing down pieces from generation to generation.
21. Baluchari Saree from West Bengal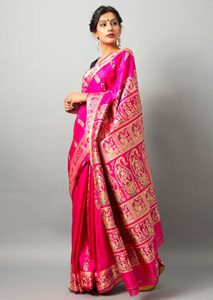 Baluchari sarees are a type of Indian sari originating from the West Bengal region. They are intricately woven and feature figurative scenes from Hindu epics, such as the Mahabharata and Ramayana, as well as scenes depicting everyday life. Named after Baluchar village in the Murshidabad district of West Bengal, these sarees are crafted using traditional weaving techniques.
The body of the saree is predominantly made with a cotton warp and weft, while the pallu is finely embroidered using silk threads in various intricate designs. The border is usually adorned with multiple colors and motifs such as flowers and vines, while the figure work is done on two or three stripes across its length.
The motifs used to decorate Baluchari sarees carry a symbolic significance that reflects the creative imagination and skill of the weavers. For example, peacocks symbolize beauty, swans denote love and devotion, parrots signify romanticism, the lotus flower stands for divinity and prosperity, and similarly, tigers denote courage. Additionally, during weddings, it's common for brides to wear red Baluchari sarees featuring designs made with gold or silver threads depicting mythological scenes or floral patterns.
Types of fabric used in Sarees
The fabric used in the saree plays an essential role in its look and feel. So here are the types of fabrics used in the sarees.
Silk
Silk is one of the most famous fabrics used in sarees. They have this lustrous texture and vibrant appeal. Silk is almost used in regional sarees to make them look rich and elegant. For example, Kanjeevaram sarees are made from silk. Moreover, even the type of silk is named after Kanjeevaram called Kanjeevaram silk used in Kanjeevaram sarees.
Chiffon
Chiffon is another fabric highly used in sarees. It is plain, lightweight, and easy to manage. They have a transparent appearance made primarily from cotton, silk, nylon, rayon, and polyester.
Cotton
Cotton is the most famous and used fabric. When you are looking out for comfort, cotton is the primary pick for everyone. This fabric is also one of the most versatile fabrics as well because you can wear cotton sarees on a day-to-day basis and on special occasions as well.
Georgette
Georgette fabric is basically woven silk that is translucent. It is crinkled and lightweight in nature. This fabric comes in two forms namely Pure and Faux. Pure georgette is made out of silk yarns while Faux one is made from rayon and polyester.
Linen
Linen is a very strong, high-absorbant capacity deriving fabric known for its coolness in hot and humid nature. This fabric is made from fibers of the flax plant. Linen is not easy to manufacture and yet has a huge demand for it.
Crepe
Crepe is a thin silk fabric known for its unique crinkled and wrinkled texture. Crepe fabric was initially made from silk but now faux crepe is made from cotton, rayon, and chiffon.
Final Words
Looking at all these different types of sarees,  we came across one thing in common among themselves. Each one encompasses a different tradition and culture. And that's something incredible about the Indian sarees. Each saree type has its own unique story that makes them special. Hence sarees will always remain an integral part of our country because they hold history and age-old traditions worth celebrating.