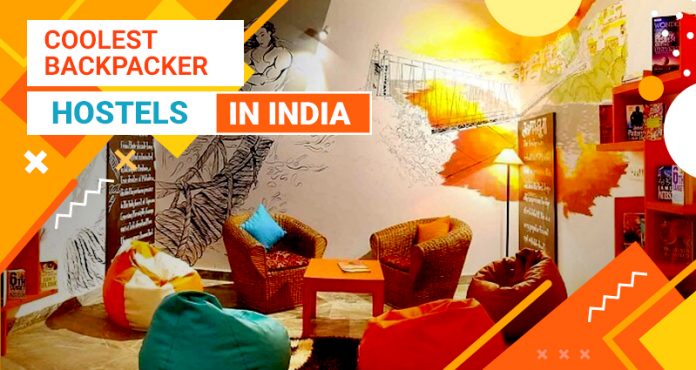 Traveling soon? Book your beds at some coolest backpacker hostels in India and unleash the hippie in you! Hostels aren't just a place to stay, it's an experience that can teach you the most important lessons in your life and weave the best memories for you to think of when you're not so young. Living in hostels with people who are completely new and different can be a life-changing experience and you have to experience that once.
Here's Our List of Best Backpacker Hostels in India
Popular Backpacker Hostel Chains In India
1. Zostels
Zostel believes in the mantra "Live it. Now". Do you need any other reason to book your stay here? Solo traveler or a group of students, a writer looking for solitude or just a bunch of techies looking for a place to chill and relax, Zostel is everyone's top pick. Properties picked by Team Zostel is full of everything artistic and quirky, perfect to throw an invigorating vibe all the time. The company has its properties installed in 36 cities in India and are now also operational in Nepal. #Zostel is comfortable, easily accessible, very cheap, and everyone's favorite, hands-down!
You will find Zostel in – 36 Indian cities.
2. goStops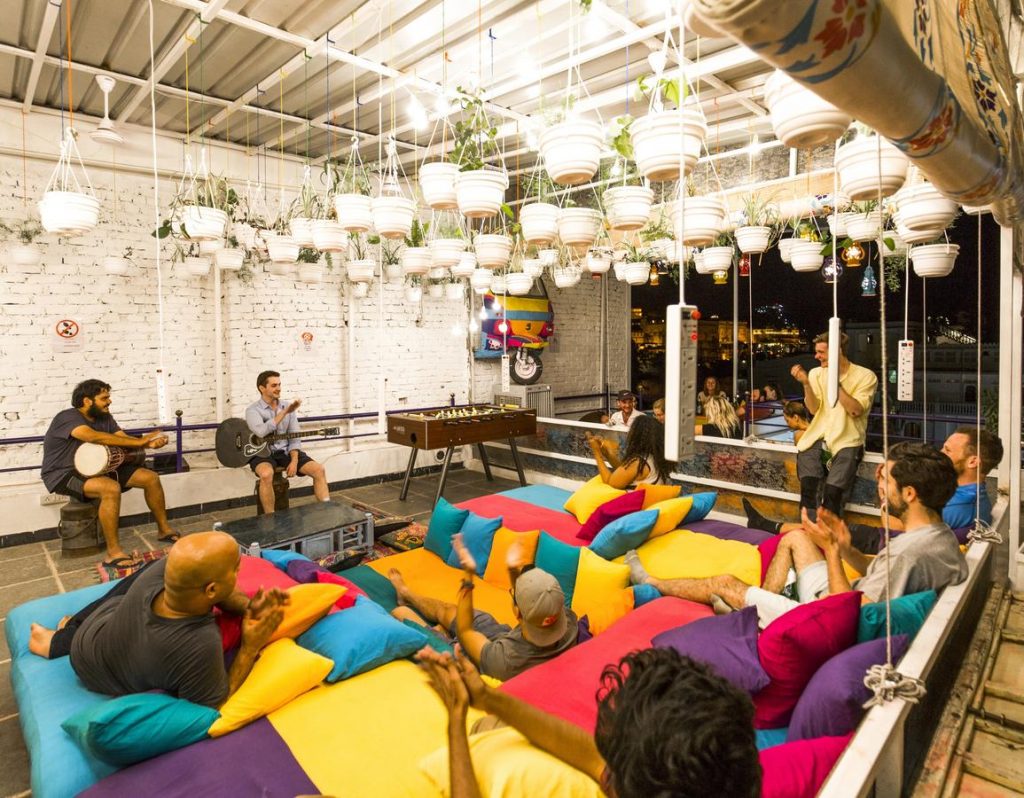 A lot of people might not be aware of this super cool hostel set-up in India but those who know, they love it beyond words. goStops isn't just a hostel, it's an experience. It's a story that you'd like to tell your grandchildren when you're 70. Do you know what's even more awesome? goStops is a pet-friendly property so you can take your pets, friends of your pets, friends or friends of your pets and chill in solitude, away from the clamor of the city.
You'll find goStops in – 13 Indian cities.
3. Vedanta Wake Up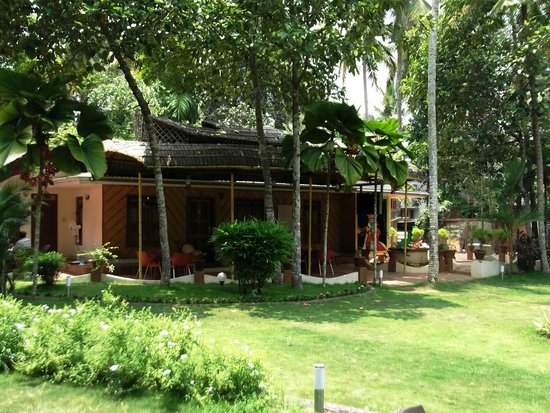 Vedanta Wake Up is a backpacker hostel chain in South India that has properties in Kerala, Tamil Nadu, and Karnataka. With a theme of attaining the highest level of self-consciousness, Vedanta is a perfect property where you can find spend some time in the laps of nature and find out things that you let go unnoticed in the busy everyday life. It's a perfect place to be with your thoughts, in silence by dropping all concerns and judgments.
You'll find Vedanta Wake Up in – 7 Indian cities
4. Youth Hostels Association of India
One of the most popular platform in India that promotes traveling, trekking, and most importantly, being adventurous. YHAI is a very known name among students and trekkers in Indian and abroad. They keep organizing expeditions to various peaks but here, were are talking about their hostels. YHAI stay properties have dorms as well as private rooms. The tariffs are pretty cheap, more if you have their annual membership. Check out their website to know where they are present and how you can book your stay at YHAI hostels.
You'll find Youth Hostels Association of India in – 90 countries
5. Backpacker Panda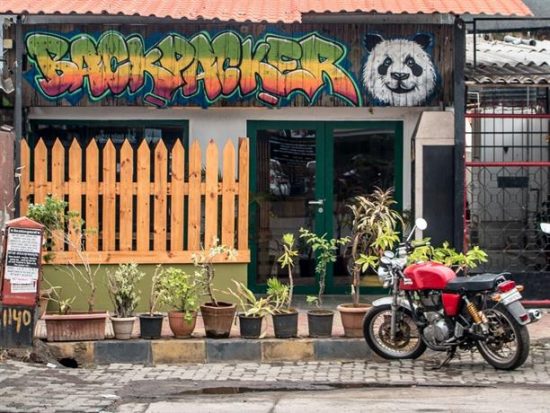 A cute hostel with a cute name! Spread across various cities in India and a couple of other countries, Backpacker Panda is a perfect place for people looking for a comfortable stay without shelling out a bomb. The stay offers a friendly ambiance with a shared kitchen, common recreation area, and a lot of other exciting things to do. If rooms and dorms are too mainstream for you, you can also book a tent for yourself and get proper camping feel during your stay at Backpacker Panda. Cool, isn't it?
Best Backpacker Hostels in Indian Cities
India is famous for its diversity, culture, and warm people. Every state in India has different weather, different landscapes, and a different vibe and culture. Hostel and backpacking culture is slowly progressing in India and people are adopting this new hippie way of traveling. We have curated a list of best backpacker hostels in India you should definitely experience at least once in your life.
Jodhpur
The Blue City Jodhpur is frequented by travelers from all across the world. The narrow lanes of this old city, the majestic walls of Mehrangarh Fort, and the colorful Bandhani never fail to attract people. Jodhpur is famous for a camel safari in the Thar Desert, sinful Ghewar, and a rich culture that embraces everyone with love.
We shortlisted some of the most amazing hostels in Jodhpur for you to look at.
1. Zostel, Jodhpur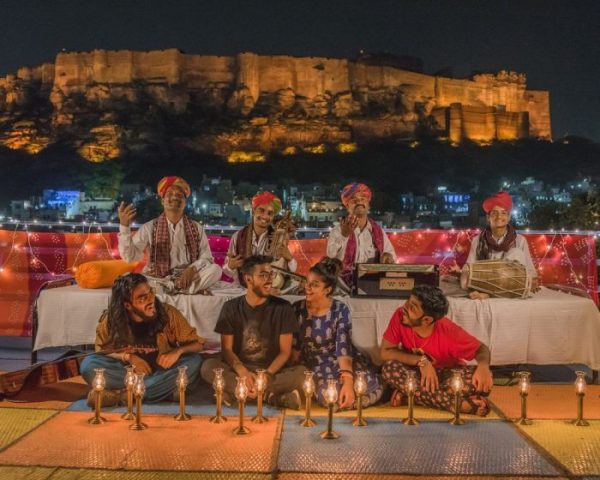 Zostel is one of the quirkiest hostel chains in India that takes backpacking experience a notch higher by offering amazing experiences. Zostel Jodhpur is an uber cool property constructed in the heart of the city, near Ghanta Ghar. When you return after taking the city tour, what awaits you at the cafe in Zostel Jodhpur is a hot cup of coffee with a direct view of the fort's boundaries. On special occasions, the management also organizes for traditional music performances on the Hostel Rooftop. Aren't you already booking tickets to Jodhpur? Click to save more as you book!
Price – Starts from Rs 299/- per night
2. Locomo Hostel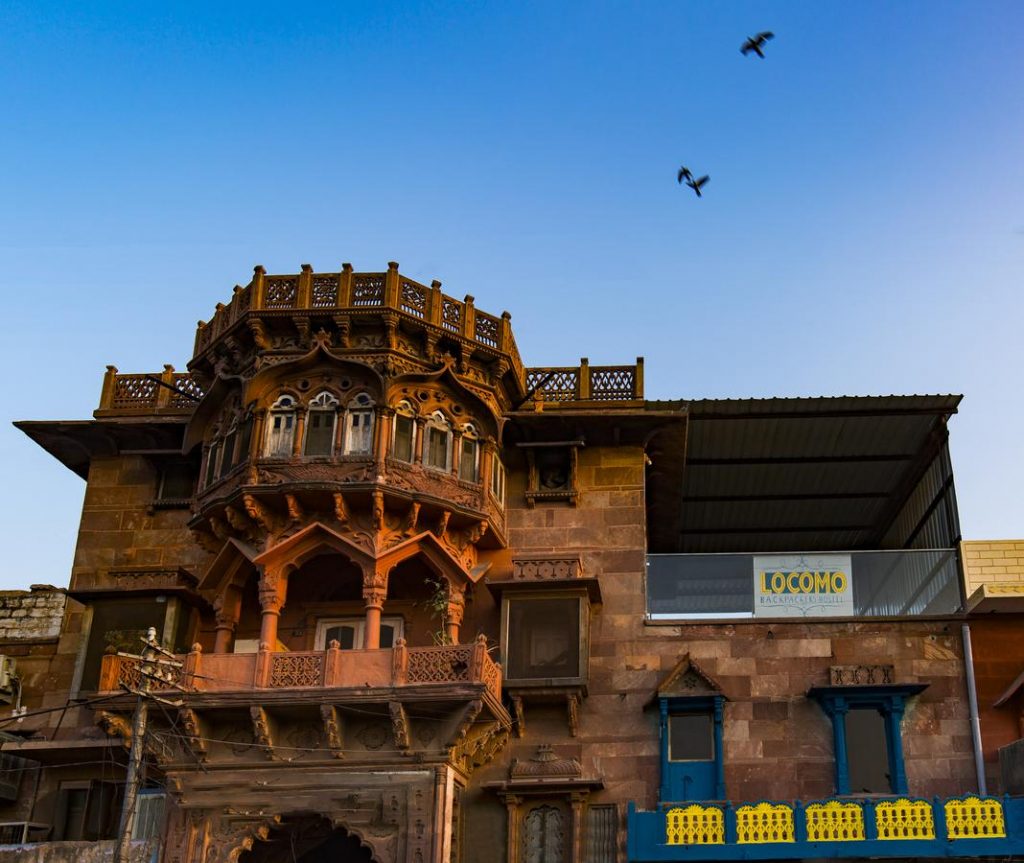 A Heritage Property – What's better than living in a heritage property in a city that carries such a rich cultural heritage? Locomo is an extremely beautiful property that's very well maintained. During your stay, you will surely experience a magical mix of old with the new. The entire place is very well decorated and dolled up and perfectly oozes the vibe that resonates beautifully with the beautiful city that Jodhpur is. Staying at Locomo has to be one of your best experience in a lifetime, we bet!
Price – Starts from Rs 249/- per night
Varanasi
They say Varanasi is not a city, it's an experience and I cannot agree more! "Benaras is older than history, older than traditions, even older than legend and looks twice as old as all of them put together", wrote Mark Twain. Trust me, living anywhere except hostels will only make you miss out on the adventures that the city has to offer. Come here with no expectations, lose yourself in the chaos of the city, breathe the vibes, and be, just be!
Wondering which hostel to book? Here are a few options!
1. Ram Bhawan Residency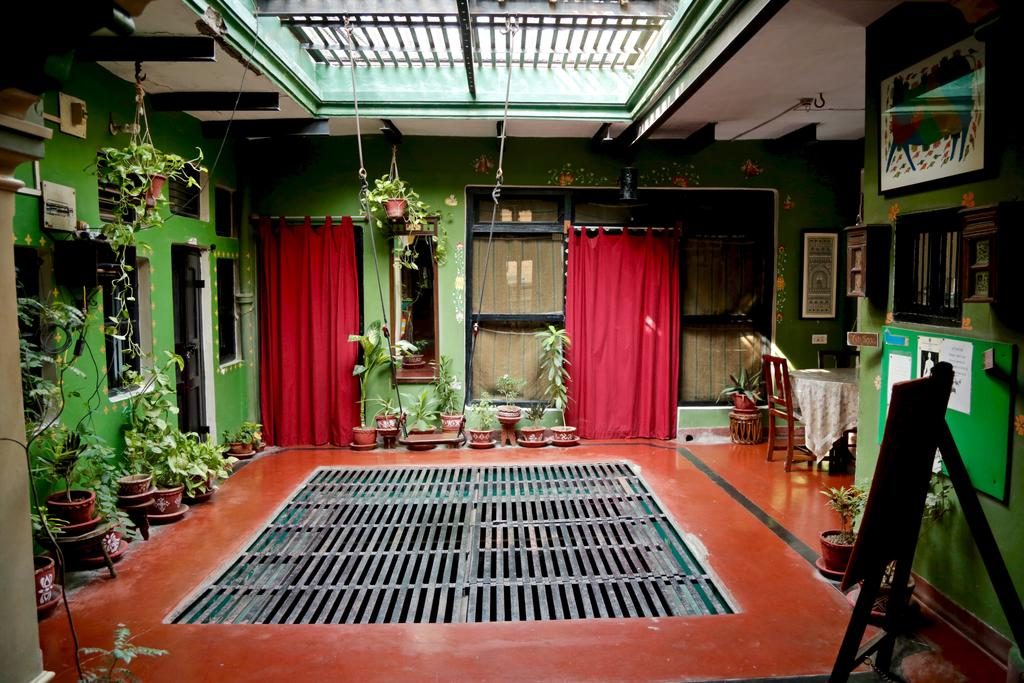 Ram Bhavan is a heritage property that's managed by two NGOs. the idea behind hosting travelers is to indulge in intercultural dialogue and keep the history alive. Ram Bhawan residency is an 80 years old heritage property that's well maintained and offers extremely delicious home cooked food to the guests for breakfast and lunch. To make it even better, there's a cute swing in the middle of the house. Could it be any better?
Price – Starts from Rs 600/- per night
2. Bunkedup Hostel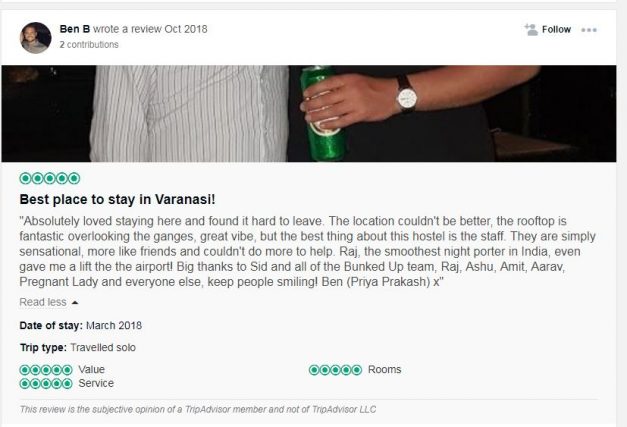 Tucked in the narrow lanes of Varanasi, Bunkedup is a small yet cozy hostel for people who are looking to have a relaxing and adventurous time at the same time. The property is a 500-year-old mansion that's converted into a hostel and has their in-house cinema, a small library, recreational room, and lots of love from the caretaker.
Price – Starts from Rs 450/- per night
Delhi
The capital city of India has a lot of different experiences to offer everyone who steps into the city. From finger licking street food to a walk into the historical side, glittery nightlife to a stroll in the lanes for Daryaganj book market tour, Delhi unfolds itself in various ways. Ditching a luxurious stay will be the sanest thing to do when you're in Delhi. Choose a cool backpacker hostel in Delhi over the opulent 5-star hotels with in-house spa. That's not what Delhi demands. It demands a comfortable pair of shoes, a water bottle and an excited soul thirsty for all things adventurous.
Check out our picks from Delhi and choose the best option according to your preferences.
1. LetsBunk Poshtel
Ladies and gentlemen, your dream stay is located right at Hauz Khas, the most happening place in Delhi. LetsBunk Poshtel is a very fresh concept to Indian. Brewing together the luxury of a five-star hotel while maintaining the kick of a backpacker hostel is what Poshtel is all about. It's a space that welcomes everyone – from a young soul wrapped in a 60-year-old body or a creative mind looking for a muse. It's a hybrid space that makes for a perfect hotel room while also surprising the guests with occasional gigs and events. Poshtel is a new concept that offers a fresh experience to every customer in its own little ways.
See what Gautam Munjal, the CEO of LetsBunk Poshtel, has to say about his endeavor:
"Poshtel blends the craft of a boutique hotel, the social buzz of a hostel, and convenience of a private rental. We're trying to embody the real meaning of hospitality, putting our customers first and building a community around them".
Check out LBB's creative coverage of this luxury hostel in the video below.
Price – Starts from Rs 599/- per night
2. The Hosteller
Whether you want to practice Yoga or read in silence, The Hosteller has everything sorted for you. This Yellow property is located near Saket with proper connectivity to the metro station. Their open terrace cafe is a chilled out place to spend a quiet evening playing your favorite tune of the guitar. The property has dorms, single, and private rooms.
Price – Starts from Rs 449/- per night.
Leh
This "land of high passes" is beautiful beyond imagination, so much so that the paradise itself envies the beauty that this place has. So pristine that the sky never lets its light dim down when it shines on Leh. White stupas, beautiful monasteries, and the beauty of untouched nature ornate the place magically. Leh is every backpacker's dream. One of the top bike rips that people want to take is to Leh and Ladakh and we aren't surprised why! It's what heaven looks like, protected by the mighty Himalayas and a walk on the Frozen River, if that's not beautiful, we don't know what is!
Backpacking in Leh can be one of the most beautiful and life-changing experience for anyone. To make it more interesting, we suggest staying at backpackers hostels that promote cultural exchange and offer the rawest experience one could think of.
1. The Eagle's Nest Happy Drifters
Imagine yourself on a cold night, star gazing in a surrounding brimming with happiness and solace. The Eagle's Nest Happy Drifters is exactly that space in Leh, amidst the Himalayas where you can just be yourself. It allows you to find like-minded people and promotes a quality exchange of culture, thoughts, and silence! Don't forget to check them out when you're in Leh.
Price– Starts from Rs 400/- per night
2. Himalayan Bunker
The Himalayan Bunker provides beds and dormitories to the travelers in Leh. The property is pretty cute but follows a curfew time which means you're not allowed to walk in after 11 PM. If you're looking for a quaint place to spend some me-time, Himalayan Bunker will be the best choice.
Price – Starts from Rs 370/- per night
Kodaikanal
In the mood to discover the woods and hills in South India? Kodaikanal is the destination! Tamil Nadu is a beautiful state with some of the best places to visit in India. It has everything beaches to mountains to jungles. Plan a trip to Kodaikanal and take a dive into the mysterious nature, there's a lot in Kodaikanal left to be discovered.
Also read: Top 10 Places to Visit in Kodaikanal
Best backpackers hostels in Kodaikanal:
1. Greenlands Youth Hostel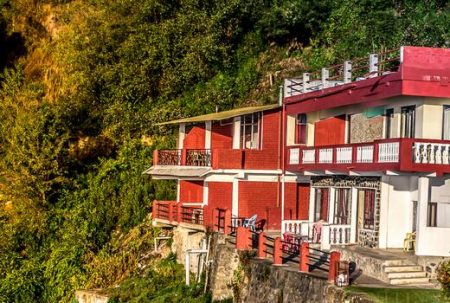 Located near Coaker's Walk, Greenlands Youth Hostel is perfect to watch the sun go down beyond the hills leaving the hues of orange and red. Founded back in the 1940s, this property is perfect for a peaceful vacation admiring nature. You have the option to book the mixed dorms which promotes co-living of all the genders together.
Alleppey (Alappuzha)
Spend some time in God's own country. Kerala is one of the most beautiful places in India which never fails to mesmerize people with its unmatched beauty and pristine vibes. It's pure, it's divine, it's soothing! Alleppey is famous for its backwaters and beach. Spend some time here, indulge in relaxing Kerala Ayurveda Spa, and discover the lost you.
Best Hostels in Alleppey for a great experience
1. Carpe Diem B&B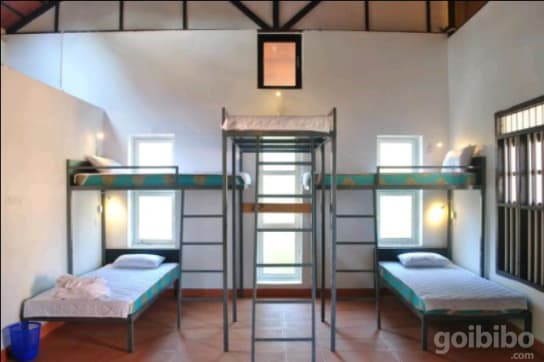 A very well maintained hostel space for backpackers who're on a budget trip to Kerala, Carpe Diem should be your choice in Alappuzha. The property has a beautiful garden, a captivating canopy over a small stream of backwaters, and very friendly staff. You can stay here for as long as you want, they are extremely hospitable people who serve continental breakfast to the guests. Do you need any more reason to book them?
Price – Starts from Rs 690/- per person
Pondicherry
It's time to explore the French Town. pick up your favorite hat, put on those sunglasses and a comfortable pair of sneakers, start the scooter and drive around the French lanes of Pondicherry. And when you're tired and want to relax, come back to a hippie hostel and spend some time talking to fellow backpackers over a few bottles of beer. Trust me, that's all you need in Pondicherry!
Looking for best backpacker hostels in Pondicherry? Here's where you should stay.
1. Time Travellers Hostel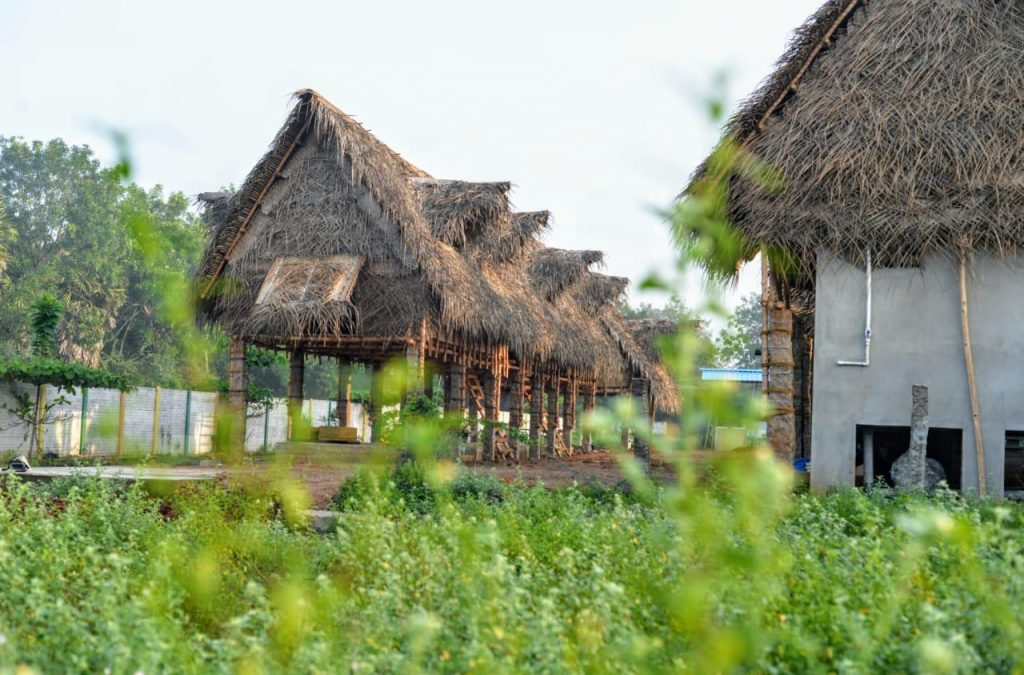 Perfect to spend some nights in the village style set-up, this is the place where you'd want to have a bonfire night singing soulful music under the sky. The complete property has huts and very minimalistic arrangement. It's for everyone who wants to choose experience over luxury.
Price – Starts from Rs 379/- per night
2. Natura Ashram
A very cute looking place, Natura Ashram is an economic option for backpackers in Pondicherry. The rooms of this hostel are pretty basic with minimal amenities but they're super clean and comfortable for staying. It's a family friendly property.
Price – Starts from Rs 600/- per night
Mumbai
Mumbai is the city of dreams. It's the land that watches people shine brighter than a diamond and also has people who fall and get up to walk again. It's the city that never sleeps. It's full of starlets, dreamers, strugglers, and achievers. It's a city that has beautifully embraced both underprivileged and the well-heeled. It's definitely a place to live a myriad experiences, all at once!
Mumbai has some amazing backpackers hostels that you'd like to check out. Here are some of my favorites –
1. Horn Ok Please, Bandra
Before we proceed, check out this amazing video by LBB!
Perfect hostel to visit with your cool gang. It's a free space where you can live for days, reading, partying, discovering yourself, or doing whatever you want. It's an extravagant place when it comes to having an experience. Horn Ok Please is hands-down one of the best backpackers hostel in India with oh-so-quirky decorations and chic environment.
Price – Starts from Rs 699/- per night
2. Namastey Mumbai Backpackers
Want to experience what it feels like to stay in a 100-years old Portugal style cottage? Book a bed in Namastey Mumbai Backpackers. This co-living space is for all the fun loving people who live to tell a story. The place is mostly booked so try to reserve your slot well in advance if you're traveling to Mumbai.
Price – Starts from Rs 799/- per night
Goa
Soothing by the day, crazy during the nights, that's Goa! While the waves hypnotize you in the morning, the glitters during the celebrations at night bring out the party animal in you. Goa is so many things for so many people. To experience Goa in its best form, book a hostel, interact with different people, and then pick up your scooter and ride through this beautiful city.
Below are some Backpacker Hostels in Goa for a fun experience.
1. Happy Panda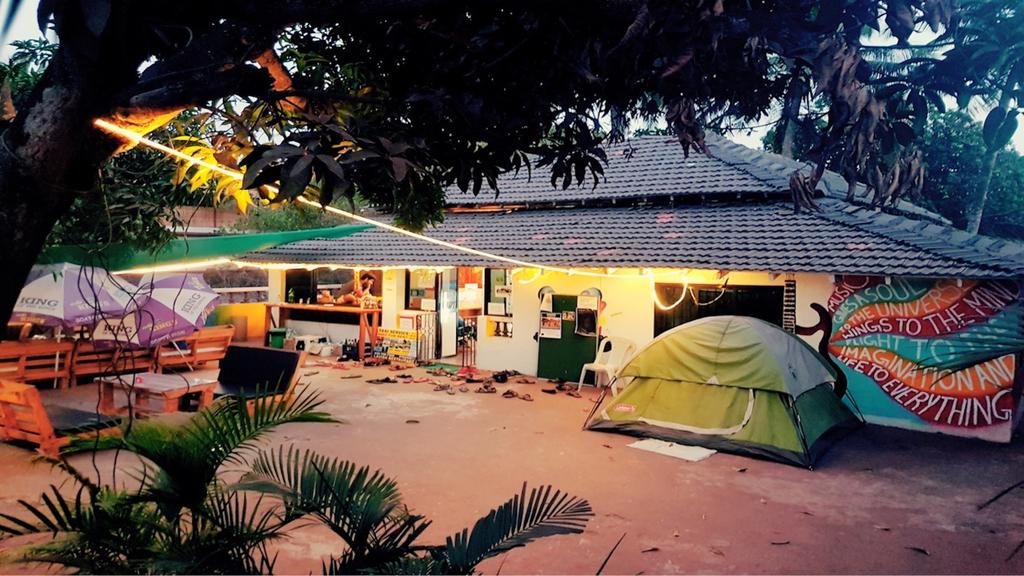 Perfect place with perfect vibes to experience Goa in the perfect way. Lots of perfect in one sentence, right? That's exactly how this hostel is, just perfect! Happy Panda is scribbled with joy and laughter where you'll never feel alone. It's a place unleash the hidden you, discover your talent, talk to people and understand their culture, explore yourself and the city. It's definitely the happiest place to be at!
Price – Rs 399/- per night
2. Old Quarter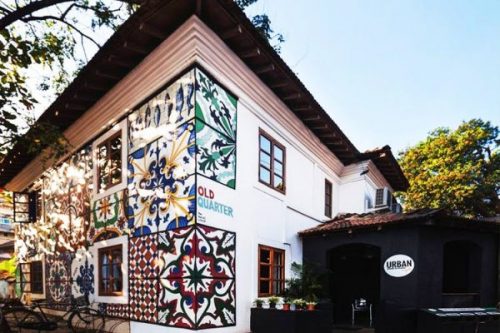 If Old Quarter is your choice, be ready to live Goa the Goan style! This is an old house refurbished into a cool and trendy hostel for backpackers in Goa. The hostel has well-maintained rooms for groups as well as solo travelers.
Price – Starts from Rs 300/- per night
3. The Bucket List
This one is located near my favorite Vagator beach. The Bucket List believes in "turning moments into memories" and those who've lived here know that it's true. This quirky place will make you fall in love with it at first glance.
Price – Starts from Rs 250/- per night
Backpacking to a hostel for the first time? Here's what can help you.
Best Backpacking Hostels for Couples
For all those couples who want to ditch the monotony of a hotel for the fun of a hostel, we have the best suggestions for you.
1. Zostel, Pushkar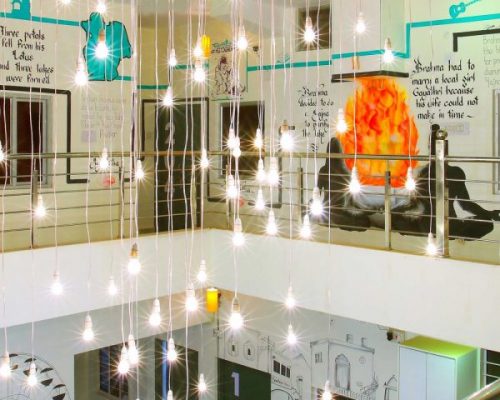 Beautiful property at the most serene place. Pushkar is sacred, it's soothing. While the Holy Lake is frequented by people all across the year, the town lights up like a new bride on the occasion of Pushkar Mela where people all across the world come to Pushkar to witness something unique and fun. Zostel Pushkar has everything that the traveler in you could dream of. Games to play when you want to have fun or a beautiful swimming pool to relax after exploring the city. It's an experience that's one in a million.
2. Banjara Hostel, Udaipur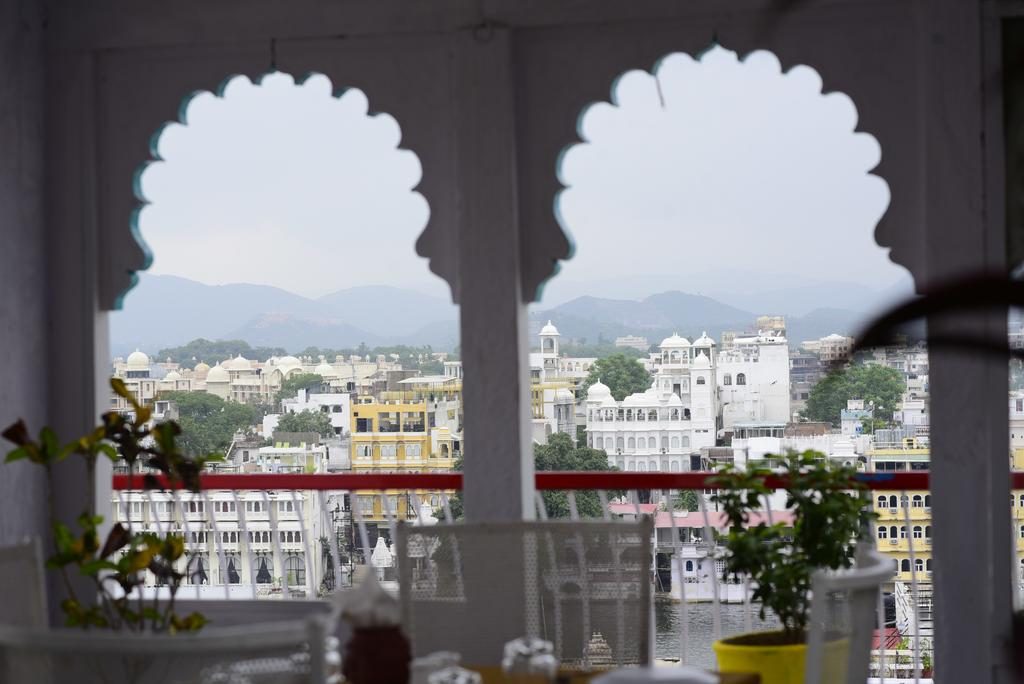 The Venice of the East will make you skip your breath with its grandeur and royalty. And to be honest, Banjara Hostel just adds a lot more fun to your Udaipur experience with everything that it has to offer. Located at the heart of the city, it's very convenient for the travelers to travel to any of the attractions from Banjara's. You can always step out and take a stroll around Lake Pichola, it's literally at a stone's throw distance from this hostel. The private rooms in this property are beautifully decorated and one can enjoy the sunset from the cafe overlooking the hills and the lake. Can there be something more romantic than this?
Best Backpacking Hostels for Solo Travelers
Solo trips are an escape from the routines of life to discover the lost self and detox ourselves mentally. Here are some of the best places to stay for solo backpackers in India.
1. YHAI, Shillong
Youth Hostels Association of India is known for its Youth Hostels and adventure escapades. Youth Hostel in Shillong is well equipped with everything that a traveler would need while giving the visitors an opportunity to mingle with new people and explore the beautiful Shillong and also find some alone time whenever they want.
2. Moustache Rishikesh
Rishikesh has no dearth of hostels for backpackers, thanks to its immense popularity in India and abroad. Moustache stands out in terms of its location, food, and hospitality. This hostel for backpackers has space for Yoga, jamming, and a recreation area for the visitors. The rooms are really well maintained and visitors enjoy the lip-smacking food offered at Moustache. Do consider this when you visit Rishikesh.
Though there are a lot of backpackers hostels in India due to its growing popularity, these were some of our favorite picks from the lot. Both backpacking and hostel stays are a budding concept in India and we can see them picking the craze really fast. If you haven't experienced living at a hostel yet, book your tickets right away and head to a beautiful destination that has a pretty hostel. You will know what bliss means! Feel free to let us know if we missed any great hostel in India, we will update the list with them. Till then, happy backpacking!
Image Courtesy:
Zostel
Locomo
YHAI
Letsbunk Poshtel
LBB
Hostels.com
Bookings.com
GoIbibo
Tripadvisor