Flea markets are one of the best places to shop from, be it anywhere in the world. You get lots of affordable, colorful, trendy and yet quality goodies in the flea markets. Believe it or not, you can always get the best at flea markets, not that branded stuff are bad. But the essence of the flea market products is a little different. Earlier, you had to spend a lot of time to get what you require from these flea markets. But, things have got pretty cool with the advancement of technology. Now, if you want the quirky, chic and the best, you need not visit a flea market physically, jostling in the crowd. You can do that from the comfort of your home. Quite a few online marketplaces have introduced flea markets, making it easier for you to shop. Shopclues Sunday flea market is making news for bringing the best fare online!
Flea market are best for saving money
If you love shopping and yet would like to save money, flea markets are your best bet. Here's why:
You can get everything for less. Yes, you can buy each and every item for much less than what you would otherwise get it for at other markets. What better way to save your money and shop at the same time!
When you shop at a flea market, there are high chances that you will end up buying not only what you need, but also all of what looks fascinating; on an impulse. It is always better to have a list of what you require and follow it throughout.
Use your debit card or rather cash when shopping at a flea market. This will help you save even more. Tuck away the credit card you have so that you do not use it while shopping on such a platform. Or else, you will never be able to stop yourself from shopping more and shopping unnecessarily as well. But the goal is to shop smart and save more.
Use flea market coupons, cashback and various other offers to save big. There are lots of such coupons that are available online and for free. Why not avail those?
So, what is this Shopclues Sunday flea market all about?
Everything about Shopclues Sunday flea market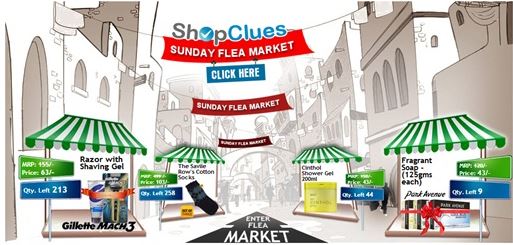 Flea markets are a beautiful place, where you get awesome stuff and which you simply can't but buy! Shopclues is one of the biggest online marketplaces that has made online shopping easy for the online shopping freaks. And with the introduction of the best ever shopping concept – the Sunday flea market – they have turned up the game by a notch.
The quintessential factor of regional India has been brought together through the Shopclues Sunday Flea Market.
This market is open for one and all, but comes live only on Sundays and stays open 24 hours. Enough time to grab some good items!
You can get great stuff at unbelievable prices, which are easy in your pocket but will forever be close to your heart.
Everything that is available in the Shopclues Sunday flea market are quality products, best for everyday use.
The products available at the Shopclues Sunday flea market is so cheap that these can beat the prices offered by the local markets. Keep an eye on the market every Sunday.
This flea market covers all kinds of categories, be it home and kitchen, lifestyle, apparel, kid's products, electronics, daily utilities or gadgets.
You can get products from this flea market at a price as low as Rs. 23. Shipping charges are extra, though. So, it is always wise to buy in bulk! Planning ahead helps.
The discounts can be on any kind of product, be it a popular one or a newly launched one.
You can get additional discounts in the form of bank offers or the wallet discounts. Do check the details of these before you make the payment.
Can it get any better? No right….don't miss the market this Sunday. Remember to plan ahead and check all the categories.
How does the discount work?
In order to get the discount, you will need the coupon code, which can vary based on products or product categories. Once you land on the Shopclues Sunday flea market page, in order to avail the discount, you need to:
Login to your Shopclues account. Alternatively, if you do not have an account on Shopclues, create one.
Browse through the product categories or the products and add these to the cart.
Use the coupon code during checkout and you are done. The coupon code will be mentioned in the product page.
Do you have any other details in mind about the Shopclues Sunday flea market? If yes, do share with us in the comments section. We will be glad to add it to the list.
Image Courtesy: Shopclues