If you wish to travel far and fast, travel light. There. Cesare Pavese just gave you your travel tip 101.
Packing Tips For Women
Anything which involves traveling, be it Business trips, detours, weekend getaways or family vacations, demands organizational yet simplistic packing this includes all your bare essentials without being a space hogger in your backpack. For most of us, our packing begins way before the journey and still doesn't suffice. This is can prove to be a major spoil sport with traveling as it drains us out and leaves us frustrated. Especially for us ladies! Sigh! Even the thought of obliging to our never-ending needs in one bag can prove to be a nightmare, right? Fret not. Armed with a few travel packing tips, you'll be good to go.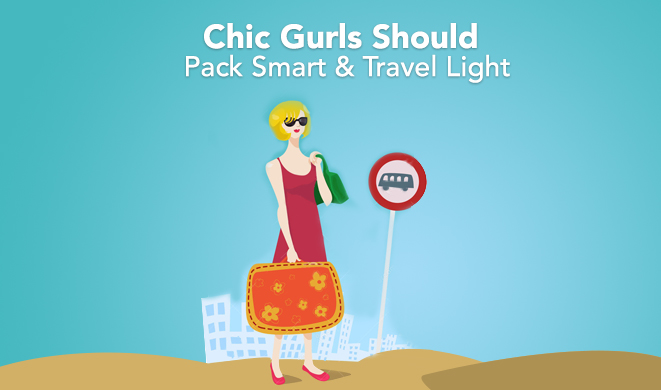 The key to ultralight minimalist packing is to pack multi-functional items with high utilitarian value. These tips include hassle free packing making the whole process a breeze.
They say too much is too bad. Indeed. And unplanned packing leaves you frantic and you keep wondering what items you've missed out on. For starters, keep a list. Jot down all the necessities and you can add/remove in the later stages when you have got it all figured out. There's no particular rule book but a few travel packing tips and essentials require adherence.
THE TOTE-ESSENTIALS
A spacious travel tote should be on top of that list that accommodates all your little requisite items and basic travel gear including your phone, wallet containing cards and cash, Swiss army knife/pen, notepad, pen, portable water bottle, hand sanitizer, Sunblock, deodorant and mouth-freshener or mint and finally shades which provide appropriate UV protection. Put on your sunnies and travel like a boss.
THE TRIO – HYGIENE, BEAUTY AND SAFETY
Keeping in mind the importance of hygiene, check toiletries off the list. Travel size toiletries that are small and compact, and the ones that are disposable and replaceable is the best choice. The basics should include wipes, cleansers, oral cavity care, soap sheets, shampoo cum conditioner and body care products. And how can we forget beauty needs? Double duty make up is boon! Your travel make-up kit should have an all-in-one cream, lip and eye care and a hair protectant spray so that all the wind and dirt does not take a toll on your gorgeous tresses.
"Better be safe than sorry" applies to traveling as well. A first-aid kit is just as crucial as the rest. Many pre-packaged travel medical kits are available. Buy one of these and add your prescribed medicines to it if any and a pack of sanitary napkins.
THE CHIC WAY OF TRAVELING
Choosing the right apparel and footwear is a herculean task. It should be destination and weather dependent. Don't try dumping your whole wardrobe in one suitcase. Not going to happen. You don't want to look like a fashion disaster but you don't wanna be a runway either. When it comes to clothing, pick solid and versatile colors. Throw in a loose linen top, pair of comfortable jeans and neutral/dark color bottoms, a classic evening/maxi dress and accessories encompassing several different looks. The idea is to mix and match and to carry off any style with sass. Also, carry a multifaceted jacket that can be paired up with several combinations along with a hat to protect you from the harsh sun or just to jazz-up your overall look. And finally, a stylish bold printed scarf which amps up your look.
FOR THOSE HAPPY FEET
Take comfy flats which can be tucked away anywhere in your backpack for that emergency foot therapy or long-distance walking. A chic in-vogue pair of flats which compliments most of your clothing items will do you wonders and you can safely ditch those sky high heels. It could be ballerinas, loafers or strappy sandals. Also, do not forget your flip flops.
ENTERTAINMENT ON THE GO
Whether you're a gadget freak or not, do not forget a portable power bank, headphones, phone and the traveler's companion, a camera. For entertainment, a good novel or interesting magazine can come-in handy.
With all these travel packing tips and items, you're set to explore new destinations without losing your cool.
Go. Fly. Roam. Travel. Voyage. Explore. Journey. Soar. Discover. Adventure. Spin away your own yarn and weave a tapestry of rich memories while you travel smart and light.