Your kid's birthday is round the corner which makes you glow with pride and feel warm and fuzzy with happiness. While you have saved up for celebrating your kid's birthday, sometime unexpected expenses and annoying bills eat into the budget. Plus, if you have 2 or more kids, then you want to celebrate each child's birthday on an equal level to not let down and disappoint them. Everything you need for planning a perfect party can be brought at Fristcry. A special website designed to fulfill all your Kids needs. Avail Special party dresses and stickers with great savings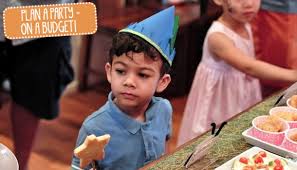 Birthday Party Within Budget
We bring to you cool ways to plan your kid's birthday party on a budget – Stretch your imagination, give way to creativity and come up with fun ways to make your child's birthday a success and loads of fun!
Deciding the Venue: While throwing a big bash at a banquet hall or a restaurant might cost you a bomb, how about celebrating your kid's birthday at home, on the lawns, backyard or apartment terrace? You could save on the rental fee and still make it a success. You could decorate the house/lawn/terrace in a fun, colorful style which will appeal to kids and create a happy, birthday-ish mood.
Theme – A theme would work wonders for your party, make it delightful and give your expenditure a definite direction! Most of us tend to get carried away when it comes to kids and planning out stuff for their birthday parties. Deciding a theme like Disney characters or power rangers will help you chalk out the budget in terms of paper decorations, wall hangings, face masks, cake to be bought and outfit for your child and his/her friends!
Invitations – How about creating cute, little invites by yourself rather than buying them? With thousands of templates, ideas and techniques available on sites like Pinterest, you could create a cool concept on your computer, give it out to the local printer and have a bundle of invites at low cost!
Goodie Bags– Give the little guests of your birthday party fascinating goodie bags. Buy pouches on whole sale and fill it with delightful items like chocolates, candy, key chains, little toys and pretty stationary items. You can buy everything on wholesale and fill in the pretty, colorful pouches! Voila! You have now reasonably priced yet delightful return presents for the kids attending the birthday party!
Entertainment – You need not hire big red nosed clowns or a bounce house for fun and enjoyment in the birthday party! Surf the web, ask up friends and come up with your own, fun party games which appeal to kids in the age category you are catering to. Treasure hunt, musical chairs and pass the parcel are still classic party games which never fail to entertain young children!
Food – Now it is up to you whether you want a caterer to make a whole grand fest for lunch/dinner or have snacks, milkshakes, smoothies and baked goodies for the party. You can always make lots of finger snacks like tiny sandwiches, little burgers, miniature samosas, aloo tikkis and serve these to your guests. If you are good at baking, then you can make batches of brownies, cupcakes and cookies for the little guests! Try to avoid going the whole feast way which might put an terrible strain on your budget or end you miserable in the kitchen frying never-ending batches of puris/doling out hot paranthas. Avoid soft drinks and instead serve home-made sherbets/ juices to your guests.
Hope you have a grand time planning out your kid's birthday party and enjoy it as much as he/she does! Keep it simple, happy and fun :)
Also Read:
5 Ways to Teach Kids How to Save Money