Is this another great idea to save money during festive season? Well, festivals like Durga Puja and Diwali do come with great enthusiasm and leave us with a hole in our pocket, provided we did not set a budget beforehand. Anyway, we can save money using the Diwali offers that are easily available online.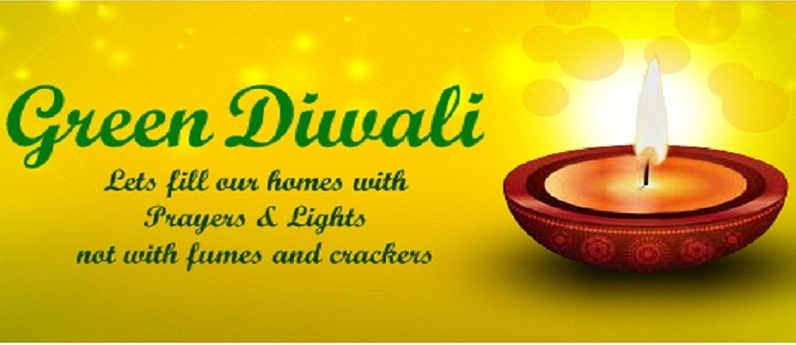 This time why not opt for a method that also solves other significant purposes, like preferring an eco-friendly Diwali this year? This Diwali just pop up a question before your family – What does it really mean to celebrate Diwali? And when you get an obvious answer of spreading joy, laughter and love then make your kids aware about the harmful and diabolical festive carousal, which we have been celebrating for years now.
It is now the easiest notion about Indians before the world that we lack conscience and we cannot completely deny this. Because every year hundreds of children die in firecracker factories and still we burst crackers with so much fun.
10 Noble Ways to Celebrate a Benign Diwali
1. Fresh flowers
Fresh flowers will not only add the natural vibe and freshness to the atmosphere, but also will make great decorative pieces. They're great replacements for artificial flowers that are made from plastic. Simply put some flowers inside of water in a bowl and place them at different locations inside of your house. Seasonal flowers will make quite a look.
2. Go eco-friendly
These days, people are becoming aware of adverse results. There are numerous Govt. schools, where students are encouraged to make colorful diya. They not only enjoy enhancing their artistic skills, but are also helping a lot to our environment. Some teachers, like Pratima Ghosh from Kolkata, invite their students to their homes on Diwali. The children are given delicacies and have fun in making diya and other handicraft items.
3. Be caring towards animals
Last year, when my son was sick and had to lay in bed missing the fun, our dog gave her the company. He soon realized how the loud noise from crackers disturbs him and scares him a lot. He could feel how his dog was happy that he wasn't out. This year my son is going cracker free and safe Diwali and is even encouraging his friends to do the same.
4. Add colors to your celebration
While bursting crackers will always add noise, rangolis will only add colors to your happiness. You can help your wife and even engage your kids in making beautiful rangolis from colors and flowers. By this way, you can truly spend some peaceful and quality time with your family.
5. Use natural colors
We love a splash of color with a dainty Rangoli in our home. That adds to the festive spirit and is a great welcoming gesture for guests. But instead of using the synthetic colors that you get in local shops, use natural colors. You can use turmeric for yellow, cloves for brown, kumkum for red, rice grains for white and many more. Browse through your kitchen to find out more creative ideas of a natural rangoli.
6. Social gathering
These days, the communities and societies are celebrating Diwali jointly. You can also check with your society and can celebrate altogether by hosting various kid-friendly activities, such as having a potluck.
7. Noise-free crackers
It's not like you cannot burst crackers. You can go for smoke-free Diwali by using environmental friendly crackers made up of of recycled paper. These firecrackers will only produce colorful sparks instead of noise and smoke. Even though they are comparatively pricey, it is affordable when you are celebrating as a community.
8. Eco-friendly gifts
Gifting is a major ritual of Diwali. Sending in presents to in-laws has always been a ritual never to be missed in our families. Or simply sharing gifts with your neighbours also counts. So why not choose something that shows care and also is eco-friendly. How about green plants? Gift them with snake plant, money plant, lilis, china grass, tulsi or more which they can decorate in their waranda, balcony, or inside the rooms. If you need some push to get the gifts, check out GrabOn's exciting Bachat Wali Diwali and get the best gifts you can this season.
9. Decorate in an eco-friendly way
Celebrate the festival of lights by giving light to nature as well. Instead of using something that's on a screen like LEDs and projectors, conventional diyas and organic candles are the best choice when it comes to Diwali decoration. Some of these also are scented that will add the perfect feel to your Diwali vibes.
10. Recycle
We buy tons of items for Diwali which do not always get exhausted the same year. Look for leftovers from last year's Diwali celebration in your store room like diyas, candles or even gift wraps. You can make use of these in order to save shopping spends and also finish up your existing stock.
Hope you found this post useful! Have a safe and Eco-friendly Diwali!
Articles You May Like:
6 Easy Tips to Save Money on Your Kids Uniforms
6 Golden Rules for Smart Online Shopping
Different Types Of Online Coupons You Did Not Know Existed
Hobbies that pay off: Enjoy & Earn