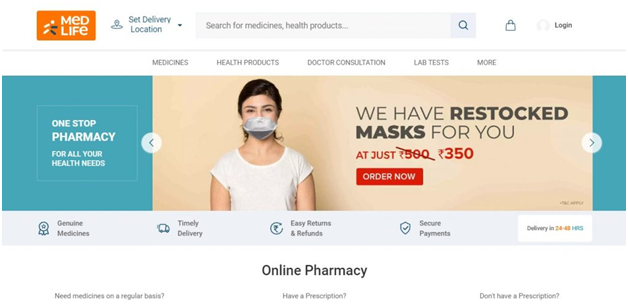 From ordering cabs to food delivery – we do everything online. The latest in the list is online medicine delivery. Till now, your neighborhood pharmacy has been the best place to obtain prescription medications. But more often than not, local pharmacies are slammed with orders. Getting medicines can be a time-consuming task since everything is done manually. Get rid of the inconvenience with Medlife's medicine online delivery.
A lot of medicine apps are available, offering online prescription medicine in Mumbai, Bangalore, Delhi, Kolkata, and other major Indian cities.
Medlife pharmacy has been hugely successful because of their quick and reliable medicine delivery. More and more Indians are opting for online medicine orders. You can buy medicine online with just a few clicks on your smartphone. Get the best healthcare services, along with online medicine discounts.
Medlife Medicine To The Rescue!
From high-end medicines to generic medicines, you can buy medicines online with discounts using the Medlife app. They need you to upload a prescription through your phone camera. If you think you are too lazy for the local medical stores, this is the best fit for you to have your prescription medicines delivered at your doorstep.
Medlife is all about making your life easier by providing complete healthcare solutions. Get medicines delivered at your convenience whenever needed. No need to run to the local pharmacy. Order medicines online without any hassle and enjoy Medlife discounts! In short, Medlife brings you the best in healthcare services to your doorstep. You can get online medicine delivered anywhere, be it Medlife pharmacy in Chennai, Ahmedabad, Bhopal, Noida, Pune, Hyderabad, Jaipur, or Varanasi.
Medlife medicine is not just about medicines and delivery, lab test facility because of the hassle-free service. Book top quality certified lab tests from any Medlife partners in your city and get a comprehensive medical checkup at low-costs. You can expect a certified phlebotomist at your home for sample collection. Furthermore, the sample collection is done based on your preferred time. Medlife will collect your samples, and the E-report will be sent in 24-48 hours. Medlife has partnerships with NABL, CAP, and ISO-accredited labs, thus offering you quality services at affordable prices.
All you need to do is:
Install the medlife app on your phone and
Upload a picture of your prescription
Before you order the medicines, Medlife executives will collect your prescription from the registered address.

What has made Medlife Medicine so popular?
Convenience of online booking even in case of emergencies
Free 24-hour Delivery
Online order-tracking (in 3 simple steps)
Why Should You Opt For Medlife Lab Tests?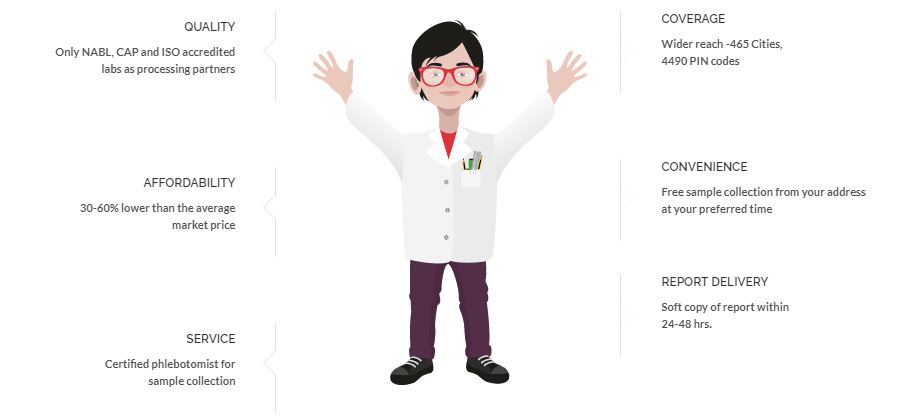 Medlife not only offers online medicine order and delivery but also state-of-the-art lab tests. They're straightforward to take. All you need to do is book a health check using your credentials and choose a package (for example, Lipid Profile or Vitamin Profile) and voila! The Medlife executives will reach you for samples followed by which tests will be conducted on the sample in NABL, CAP, and ISO-accredited labs. The e-report, including the test results, will reach you in 24-48 hours. These tests are available in 465 Indian cities. From cancer screening to STD panel, Medlife lab tests do it all.
So, what are you waiting for? Download Medlife and order your medicines at affordable rates from the comfort of your home. If you need to get a Covid-19 test or any other health check-up done, look no further, Medlife will take care of it all. And if you need anything else health-related like nutritional products, sexual wellness products, pediatric products, etc. Medlife has them all for you to order.
Image Courtesy:
RalphLaurenUK
Google Images
Medlife