Grocery shopping is very boring, but an unavoidable business. Want to get rid of it? Then do so. How? This is how. Order groceries online from the top online grocery store and sit back and relax. Yes, it is that simple. Get rid of the tedious task of commuting to the local store to buy groceries. Ordering these from the online grocery sites and apps for grocery in India helps you in more ways than one – saves your time, energy, and money.
So, here's a handbook of the best online grocery stores, websites, and apps that can help you shop like a pro.
Top Online Grocery Sites & Apps in India
Finding grocery stores a problem? We have accumulated a list of best grocery stores to make your shopping easy.
1. Spar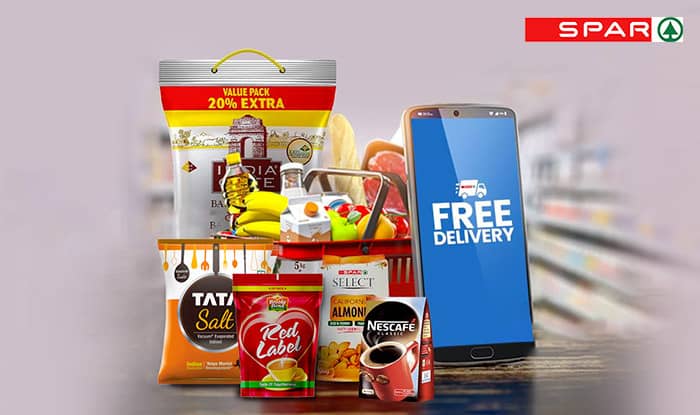 Spar is your one-stop online destination where you can find groceries at highly competitive prices. Not just that, Spar also sells fashion and beauty products, electronics, and home decor items among several other categories. There's a collection of 20000+ products spread across different verticals. So whether you are looking for something specific, or simply browsing, all the items are arranged in categories that will help you find what you need in no time.
When at Spar, you can expect some exciting sales where you will surely steal a great deal.
Highlights: Spar stands out with its convenient features like the card-on delivery option, same-day delivery, and even the no-questions-asked policy.
Availability: Web, Google Play Store, and Apple Store.
Categories catered: Apparel, Fruits & Vegetables, Grocery, Meat, poultry, fish, dairy, frozen, batters, bakery, cakes, beverages, branded food, home and hygiene, snacks and sweets, beauty and personal care, baby food, and care, home, and kitchen, luggage, and travel, toys, and stationery, gardening, clothing and accessories, electronics and appliances, culinary.
2. BigBasket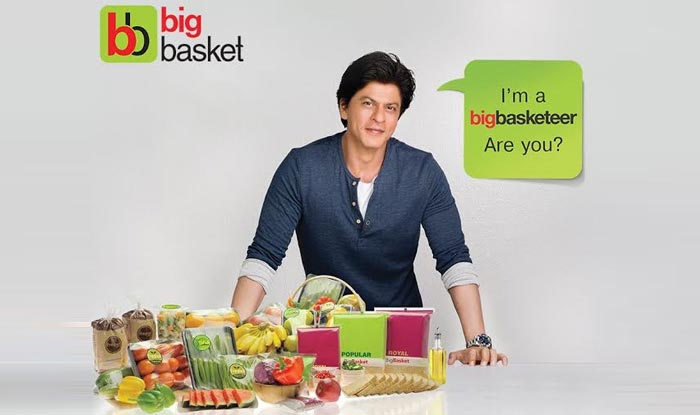 Big Basket is India's leading online grocery store. Here you will get quality products, be it rice, dairy, spices, gourmet products, or any other items related to your grocery needs. And if savings on grocery shopping is at the top of your mind, Big Basket is the place for online grocery in India. Here you can get various discounts and offers such as a 10% cashback or an extra 5% off on your orders using the Big Basket coupons.
Other than the quality and discounts, they also ensure on-time delivery, same-day or express delivery, and signature packing. The store delivers products that are ordered online anywhere in the following cities- Chennai, Bangalore, Hyderabad, Pune, and Mumbai.
Highlights: It is known for its quick delivery (90 minutes) and quality products.
Availability: Web, Google Play Store and Apple Store.
Categories Catered: Fruits & Vegetables, Foodgrains, oil, & masala, bakery, dairy, snacks & branded food, beauty & hygiene, cleaning & household, kitchen, garden & pets, eggs, meat, & fish, gourmet & world food, baby care
3. Blinkit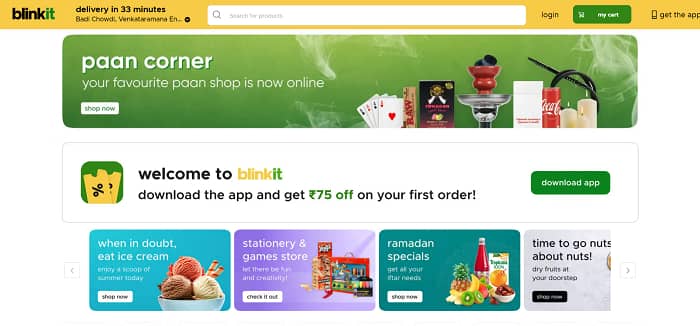 Blinkit is a hot favorite and the best online grocery shopping market place. Their uniqueness lies in the fact that they connect consumers with all local stores, selling grocery items. It is an on-demand store that delivers veggies, fruits, other grocery items, baked goodies, baby care, and pet care products as required by the consumers. You have the freedom to shop from the favorite stores in your area, choose and schedule delivery slots and also get real-time updates on whatever you order. They have covered lots of cities such as Delhi NCR, Mumbai, Pune, Nagpur, Kanpur, Kolkata, Hyderabad, Bengaluru, Chennai, Indore, Lucknow, Surat, Jaipur, Agra, Ahmedabad, Vadodara, and Chandigarh.
Highlights: It has been in news for its 10-minute grocery delivery feature which is pathbreaking. Also, Blinkit delivers products according to your flexibility, where you can also book time slots for delivery. It has a unique program that allows you to buy products at a wholesale rate.
Availability: Web, Android and iOS.
Categories Catered: Vegetables & fruits, Munchies, Breakfast & instant food, Atta, rice, & daal, sauces & spreads, organic & gourmet, baby care, cleaning essentials, personal care, dairy, bread, eggs, cold drinks & juices, tea, coffee, & health drinks, masala, oil, chicken, meat, & fish, Pharma & wellness, home & office, pet care.
4. Jiomart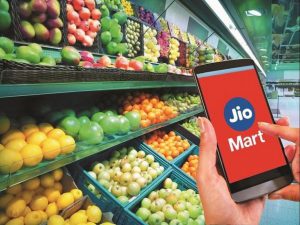 JioMart is one of the top online grocery stores in India. Launched as a joint venture by Reliance Retail and Jio Platforms, Jiomart was founded in 2019. It works as a mediator between the nearby grocery stores and end customers. It mainly deals with the delivery of groceries and daily essentials. Currently present in more than 200 cities and India's towns, it is also known for offering products at an affordable price range. Jiomart has posted a 3x growth in customer acquisition in 2020-2021.
We have a dedicated page for Jiomart coupons and deals. Do check out the page before buying from the brand.
Highlights: The app can be linked to WhatsApp for a user-friendly experience. Also, it has no such thing as called minimum order to get delivery from JioMart.
Availability: Web, Android, and iOS.
Categories catered: Groceries, Premium fruits, Electronics, Home & Kitchen, Beauty, and Jewelry
5. Amazon Fresh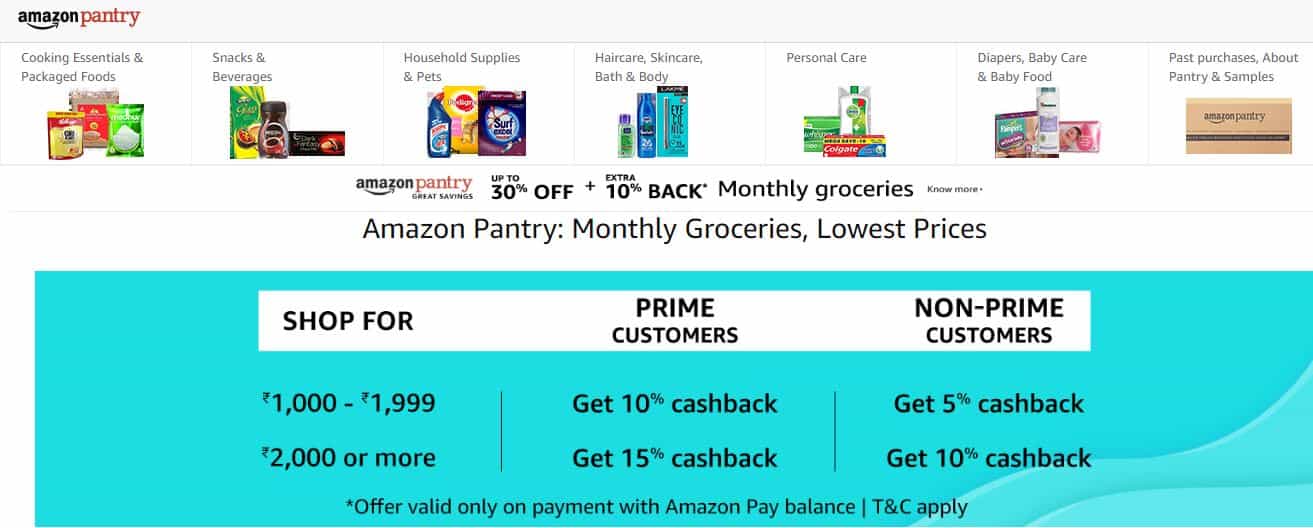 Amazon expanded its horizons in the grocery industry and became one of the top grocery shopping sites in India. You can now shop online for your monthly groceries with Amazon Fresh. Shop from a wide range of items, cooking essentials, beverages, household supplies, and other daily necessities. You can also get an extra 5-15% cashback if you purchase more than Rs 1000. Visit the site for more information.
Highlights: It is known for its vast collection of products and comprehensive stretch service across the country.
Availability: Web, Android, and iOS.
Categories Catered: Groceries, Tea, Coffee, & beverages, snack foods.
6. StarQuik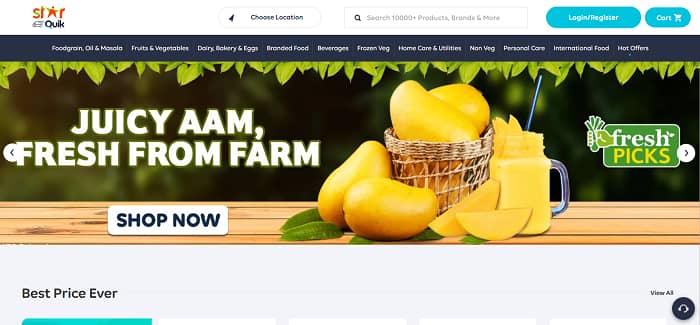 Love mangoes? Nothing tastes better than mangoes directly from the farms of Ratnagiri. But you do not have to travel to get the sumptuous taste of ripe mangoes during the summer. StarQuik online grocery store brings the Alphonsos directly from the farms of Ratnagiri to your doorstep. Not just that, the TATA enterprise also features over 10000 grocery and household items that you can shop from. And when at StarQuik, be sure that you are getting the best prices in town. There's veg, non-veg, dairy, spices & masala, frozen food, snacks, and even international food that you can buy. Check out the range of brands like Parle, Nestle, Britannia, Cadbury, and more on the website and get all the food that you and your family love from the comfort of your couch.
So whether it is your monthly stock that you are planning or just the evening snacks for kids, head over to StarQuik and choose from a variety of options. You are also sure to make some savings by using offers on StarQuick from GrabOn.
Highlights: A complete ecommerce storefront for grocery and other items.
Availability: Web, Google Play Store and Apple Store.
Categories Catered: Foodgrain, Oil,& Masala, Fruits & Vegetables, Dairy, Bakery, & eggs, Snacks, Beverages, Homecare & utilities, Frozen Veg, Non-Veg, Personal care.
7. Zepto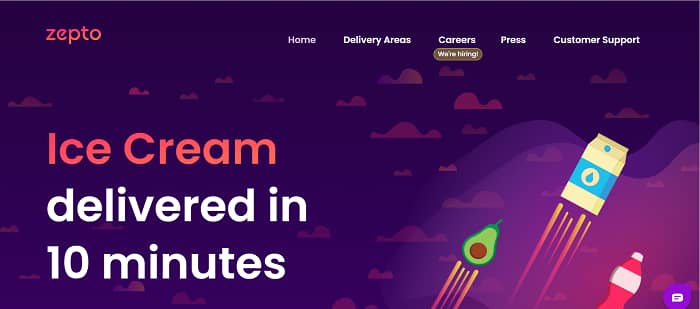 Zepto is India's fastest grocery delivery app that delivers all your orders in 10 minutes. Yes, you read that right. In 10-minutes. Zepto deals in various categories like grocery, diary, vegetables, fruits and more at best prices. Also, you can schedule your grocery delivery at your convenience at just a click of a button.
If you are looking to save big on grocery shopping, Zepto does provide offers and discounts on its app itself. The brand is presently available in Banglore, Chennai, Hyderabad, Kolkata, Mumbai, Noida, Ghaziabad, and Gurgaao.
Highlights: – Zepto delivers all your orders at just 10-minutes. Also, you can schedule your delivery.
Availability: Play store and App store
Categories Catered: Dairy Bread, & Batter, Beverages, Packaged food, Ice creams and desserts, chocolates and candies, meat and eggs, biscuits, personal care, paan corner, home and cleaning, health and hygiene.
8. Fraazo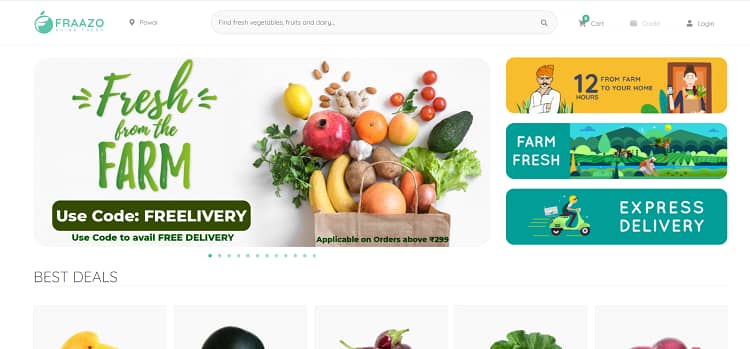 Fraazo is another best online grocery store available in the Indian market. It provides the largest variety of farm-fresh vegetables and fruits with the free delivery option with the valet plan. Moreover, the brand also offers various weekly deals and offers for its users to save money.
If you are thinking of ordering your grocery from Fraazo, the brand is currently serving across Mumbai, Bangalore, Telangana, Bengaluru, Pune, Gurugram, Noida, Delhi, and more.
Highlights: It offers a free delivery option.
Availability: Google Play Store and Apple App store
Category catered: Fruits, Vegetables, Herbs, Breakfast & Cereals, Dry fruits, kitchen staples, edible oil.
9. Flipkart Supermart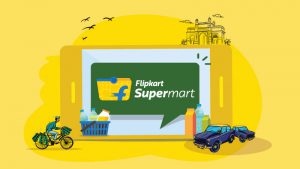 Want to make your online grocery experience fun and trustworthy? What else can be better than the e-commerce giant Flipkart's Supermart? From flour, dal, spices, dairy products too much more, the Flipkart Supermart can be your one-stop destination to fulfill all your daily needs. The online grocery store assures par excellence quality of all the available products. Besides this, the company provides amazing offers and discounts every day to make your grocery shopping more affordable.
Highlights: If you are running out of cash or forgot your debit card pin, you need not worry at all as the platform offers a 'buy now, pay later option to its users.
Availability: Web, Android or iOS device.
Categories Catered: Staples, Snacks & Beverages, Packaged Food, Personal & Baby care, Household care, Dairy & eggs, Home & Kitchen.
10. Spencer's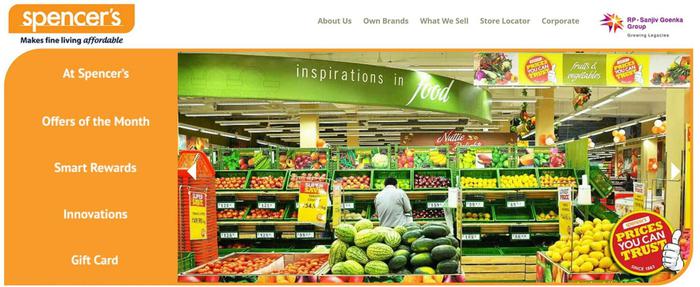 This online grocery shopping service is currently available in Kolkata, and NCR promises a 3 hour delivery of quality products at the best prices. However, you can find spencer stores in almost every city. You can use a store locator and find the nearest store in your area.
Offering 15000+ products spanning across categories like fresh fruits & vegetables, frozen goods, dairy products, personal care, and house decor and household items, Spencer's continues to enjoy the trusted status in the retail and grocery category.
Highlights: It promises to offer goods grown without harmful chemicals and pesticides.
Availability: Web, Android and iOS.
Categories catered: Brand store, Personal care, Liquor, Cigarettes, Groceries & Staples, Fruits & Vegetables, Home & Dining, Electricals & Electronics, Organic Food, Bakery: Eggs & Dairy, Coffee, Tea, & Beverages, Packaged Food, Imported & Gourmet, Fish & Meat, Baby care, Bathroom & cleaning, Frozen, Women, Men & Kids fashion.
11. FreshToHome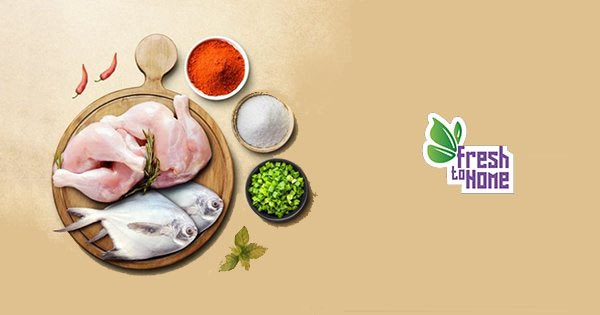 FreshToHome might not be an online grocery store per se, but we have added it to the list due to the considerable promise it is showing. The brand delivers marine or freshwater fish, meat, and poultry. It delivers only in Bangalore, Calicut, Chennai, Cochin, Delhi (NCR), Hyderabad, Mumbai, Pune, Thrissur, and Trivandrum.
You can save on your orders from the brand by using coupon codes from Fresh To Home available at Grabon. in.
Highlights: It is well known for its daily delivery of marine, shell, and freshwater fish in addition to poultry and meat.
Availability: Windows and Android.
Categories Catered: Fish & Sea Food, Poultry, Mutton, Steaks and Fillet, Ready to cook, and Vegetarian.
12. Nature's Basket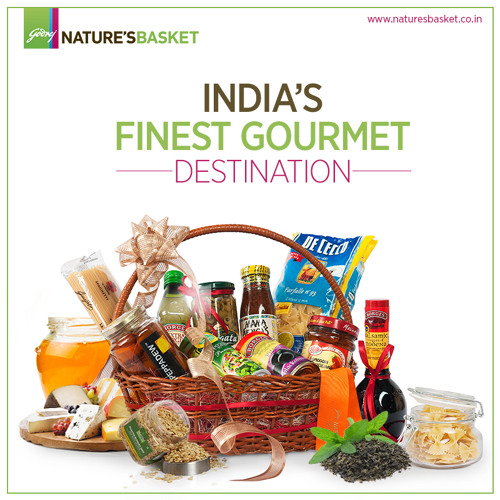 They say that nothing can bring people together, like good food. And so, Godrej Nature's Basket ensured that they bring you premium options to order food online in India across various categories. The categories are health, fruits, vegetables, beverages, bakery, eggs, meats, confectionery, desserts, lip-smacking ready-to-eat food, and more. Indulge your taste buds in a variety of tantalizing cuisines. You may also like to buy Nature's Basket cooking aids and books available in the form of accessories and books. They are also known as one of India's best online shopping grocery stores for their premium quality imported groceries, fruits, dry fruits, wheat, and more.
Highlights: It is known for its delicious instant snacks and availability of international cuisines with Indian grocery.
Availability: Web, Google Play Store and Apple Store.
Categories catered: Healthy Alternatives, Sauces, Pastes, beverages, bakery, eggs, meats, confectionery, desserts, Snacks & Beverages, Instant Meals
[Also Read: Ways To Save At The Grocery Store]
13. Morestore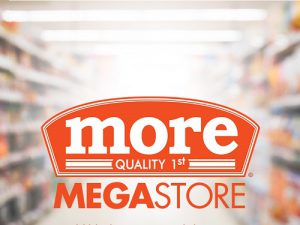 This hypermarket subsidiary of Aditya Birla Group has stores spread across major Indian cities. The e-commerce arm of More stores MyMoreStore is one of India's top online grocery stores in the market. It offers different kinds of products across categories such as fruits & vegetables, home care, furnishing, fitness products, personal care, stationery, and more. With Full & Fresh at 5, they make sure that you and your family enjoy high-quality products.
Highlights: It assures to deliver orders within 3 hours of order placement.
Availability: Android, iOS devices and Web.
Categories Catered: Fruits & Vegetables, Dairy & Frozen food, Beverages, Bakery, Foodgrains, oils, & Spices, Snacks & Packaged food, Breakfast essentials, Personal care & cosmetics, Household & Kitchen, Furnishing & Hardware, Books & stationery, Fashion, Electronics.
14. Zelorra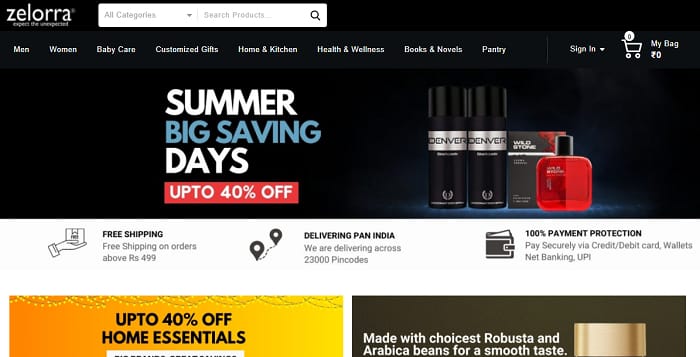 Zelorra is India's fastest-growing eCommerce platform that delivers grocery and other essential items PAN India to thousands of customers. You can buy everything from rice, flour, spices, and more from the website. There's also ready-to-cook and eat food like pasta, cereal, maggie, and more items that your kids might love indulging in after a tiresome evening of outdoor play. So head over to Zelorra if you are in need of stocking up your Amazon Fresh and get the essentials delivered to you in no time.
Highlights: Checkout is more fun with Zelorra as you get a free gift. Call it a return gift for visiting the web store.
Availability: Web and Google Play Store
Categories Catered: Grocery, Home Care, pet care, personal care, personalized gifts, books and novels, electronics, baby and kids, Women's hygiene and grooming, Men's hygiene, and grooming.
15. True Elements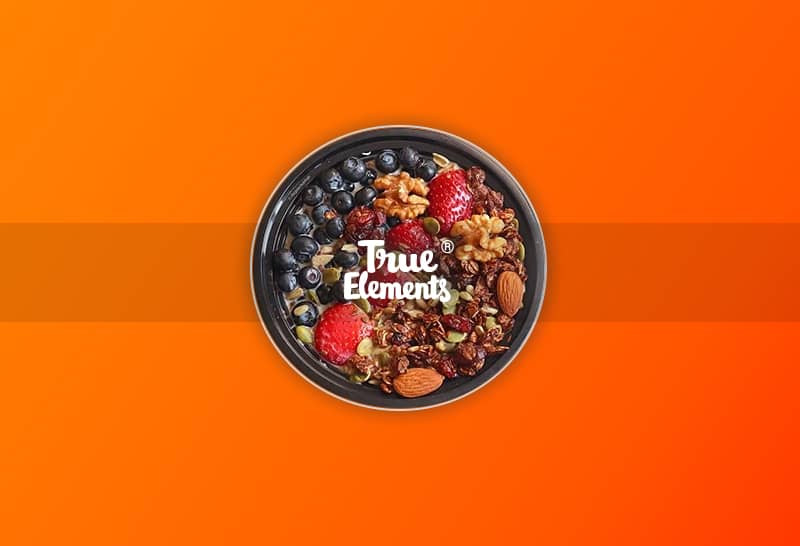 True Elements is the king of healthy yet tasty snacking and grocery market. From high fiber breakfast to protein-based snacks, you can choose from a wide range of tasty foods. Be it super grains, healthy seeds, oats, granola, flakes, roasted seeds or on the go snacks, all its products are 100% natural and has no harmful chemicals or preservatives. So, order your favourite product from the lot without any delay!
Highlights: The brand is known for its oatmeal, muesli, quinoa and other healthy breakfast and snack options.
Availability: Web and Google Play Store.
Categories catered: Cereals, breakfast mixes, healthy seeds, oats & oatmeals, roasted seeds, on-the-go snacks, sweet tooth, bakers friendly, chocolate store, dry fruits, millets.
16. Kolkata Bazar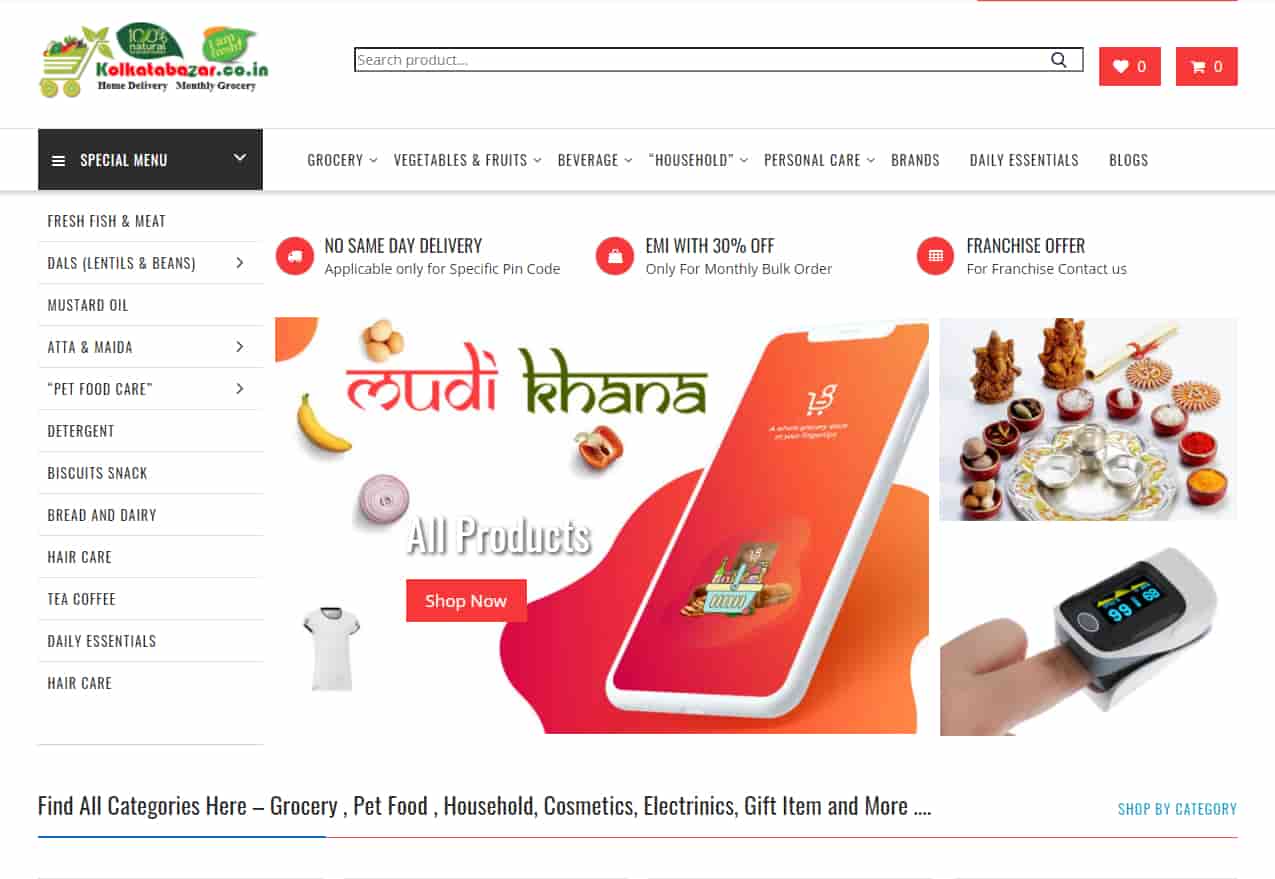 When it comes to buying groceries in Kolkata, what better than Kolkata Bazar! The online grocery delivery website sells everything from fruits and vegetables to pulse oximeters and more.
Lockdown or not, Kolkata Bazar is always there to send items to your home while you relax. Let that be mustard, ataa, yoghurt, and even fresh fish and meat, the website has it all. You can also order hair care, pet care, and many more items at the click of a button. So the next time you need groceries, visit KolkataBazar.co.in and stock up your pantry shelves. Also, you can even WhatsApp them your list at +91-9007545437
Highlights: Specialises in fresh produce and also delivers certain products directly from the farmer's collection.
Availability: Web, Google Play Store and Apple Store.
Categories catered: Grocery, oil, and ghee, fish and meat, vegetables-fruits, household, and personal care.
17. Fresh Pick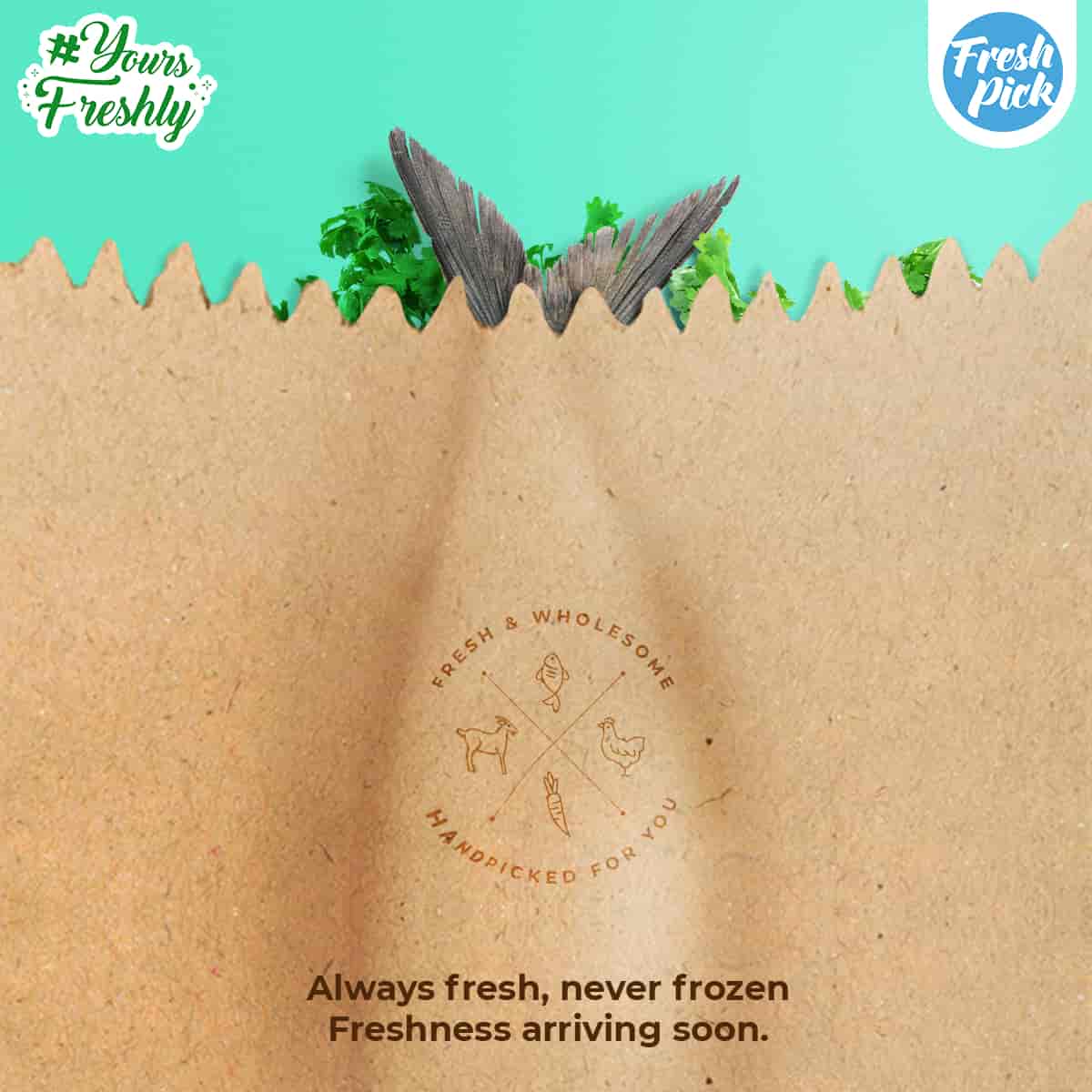 Fresh Pick is a one-stop destination for not only vegetables but non-veg too. You will get garden produced veggies that are freshly produced by local farmers. Along with that, you can also enjoy mutton and fish from Fresh Pick if you are a non-veg lover. There's also a range of ready to cook food to buy which you can instantly make and serve even at the last minute.
Highlights: It has a collection of plant-based meat that although is made from plants, tastes like chicken.
Availability: Web, Google Play Store and Apple Store.
Categories catered: Nutrition foods, dairy, pet foods, plant-based meats, farm-fresh veggies, Ready to cook and eat, exotics, eggs, cold cuts, seafood, combos, mutton, chicken, and partner brands
18. Fresh Club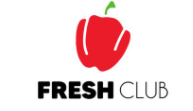 Due to the pandemic Grocery shopping has become a big hassle. Going to the supermarket next door is just impossible and the quality offered by online portals is below par. After facing the same problem multiple times like everyone, a couple decided to use their special skills to solve a daily problem at every household and founded Fresh Club!
They send you groceries and fresh produce that are hand picked for you like you would if you were out shopping at the grocery store and picking them out yourself.
Highlights: Freshly harvested stock, sanitised deliveries, no questions asked return policy.
Availability: Web, Google Play Store and Apple Store.
Categories catered: Vegetables, fruits, staples, bakery and diary, meat and eggs, household essentials, beauty and hygiene, snacks and drinks, stationery, baby care.
19. Gooric

Gooric supports sustainable farming and you would too when you shop from its online store. The company makes A2 products which prove to be great for pregnant mothers and their children. You can buy fresh paneer, achaar, chikki and many other such delicious items which also have a touch of health to it. It is a great place for not only customers and buyers but also people interested in farming and creating organic produce. All you need is a piece of land and a want to cultivate. The team can help you with getting started and be a part of this amazing initiative or creating quality products through sustainable farming.
Highlights: Sustainable farming, Range of products, A2 milk benefit
Availability: Web
Categories Catered: Organic grocery, vegetables and milk products.
20. BigBFreshStore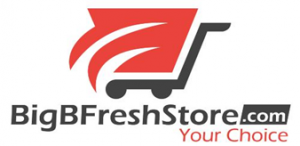 Grocery shopping is an essential part of our everyday lives. Whether you are a regular shopper or a first-time buyer, BigBFresh Store will help you shop smart and save money. It started in 2019 to make shopping easier for both household families as well as retail shops.
Explore the BigBFreshStore and get the best price on groceries & staples, household care, health & personal care, food & beverages, dairy & bakery, and more items. This could be a time-saving option for employees who have no time buying groceries and looking for online portals at Cuttack, Niali, Pipili, Jatani, Salipur, Odisha, and Bhubaneswar.Â
Highlights: It features doorstep delivery services, attractive offers & deals, and a wide range of categories. Â
Availability: Web, M-Site, and Google Play Store
Categories catered: Grocery and organic staple, household essential, juice and beverages, breakfast and branded food, fruits and vegetables, bakery and diary, eggs, fish, and meat, baby, and personal care, B2B retailers.
Conclusion
And that brings us to the end of our list! Indeed, it is no less than a blessing to be able to purchase online groceries at the lowest price from the comfort of your couch! Hence here are your options, so go and explore these best online grocery stores and pick the one you are more comfortable with. Also, if you wish to see more websites and apps on this list, don't forget to let us know in the comments!
<div class='toc'><ul><li><a href=#Top-Online-Grocery-Sites-&-Apps-in-India>Top Online Grocery Sites & Apps in India

<a href=#1.-Spar>1. Spar</p><p> <a href=#2.-BigBasket>2. BigBasket</p><p> <a href=#3.-Blinkit>3. Blinkit</p><p> <a href=#4.-Jiomart>4. Jiomart</p><p> <a href=#5.-Amazon-Fresh>5. Amazon Fresh</p><p> <a href=#6.-StarQuik>6. StarQuik</p><p> <a href=#7.-Zepto>7. Zepto</p><p> <a href=#8.-Fraazo>8. Fraazo</p><p> <a href=#9.-Flipkart-Supermart>9. Flipkart Supermart</p><p> <a href=#10.-Spencer's>10. Spencer's</p><p> <a href=#11.-FreshToHome>11. FreshToHome</p><p> <a href=#12.-Nature's-Basket>12. Nature's Basket</p><p> <a href=#13.-Morestore>13. Morestore</p><p> <a href=#14.-Zelorra>14. Zelorra</p><p> <a href=#15.-True-Elements>15. True Elements</p><p> <a href=#16.-Kolkata-Bazar>16. Kolkata Bazar</p><p> <a href=#17.-Fresh-Pick>17. Fresh Pick</p><p> <a href=#18.-Fresh-Club>18. Fresh Club</p><p> <a href=#19.-Gooric>19. Gooric</p><p> <a href=#20.-BigBFreshStore>20. BigBFreshStore</p></ul></div>