It's not all wine that does a Christmas celebration. You can always mix some fruit juices, or concoct some weird cocktail mixtures that nobody would have thought of. Or you can stick to that healthy diet of yours with some protein shakes or smoothies. There is no wrong drink to have on Christmas; you can make whatever you want and drink whatever you want. While you're preparing your drink, shop with amazing Christmas offers and maybe plan for a late surprise for your loved ones.
Food and drinks are an integral part of the festivities. For this festive season, to make your Christmas party a hit, try some amazing mocktails & cocktails and surprise your guests. Be it alcoholic or non-alcoholic, add some special element to the drinks to make them unforgettable. Remember, your concoction might not be everyone's favoured one. So, if you're preparing for guests, try the popular drinks. But if you're drinking yourself, then, feel free to experiment as much as you want. So, celebrate this Christmas and New Year's Eve with some refreshing seasonal drinks. From Mulled Wine Cocktail to Classic Eggnog, we've or everything covered for you. Read further!!!
Here are some refreshing drinks for the Christmas evening:
1. Mulled Wine Cocktail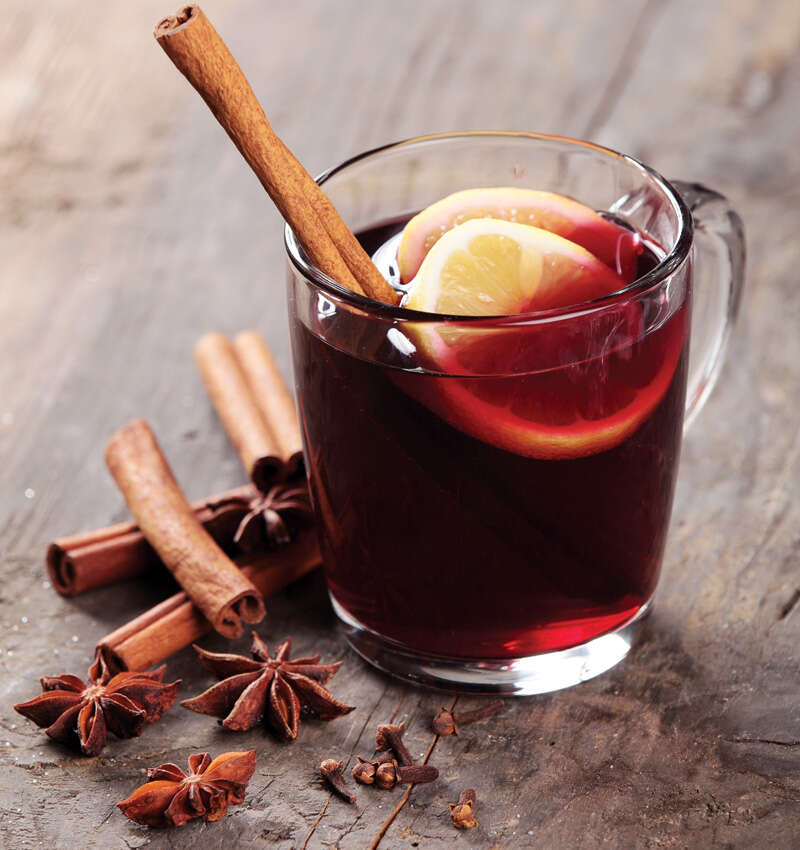 It is a traditional beverage made with red wine with various spices and raisins. It can be served hot or warm. It is one of the best Christmas drinks. It's the kind of drink you find being served at the "rich people parties".
Ingredients Required for Mulled Wine Cocktail
100 grams of muscovado sugar
1-star anise
1 cinnamon stick
4 cloves
150 ml water
1 lemon
2 clementines
150 ml Cointreau
750 ml red wine
2. Raspberry Martini Fizz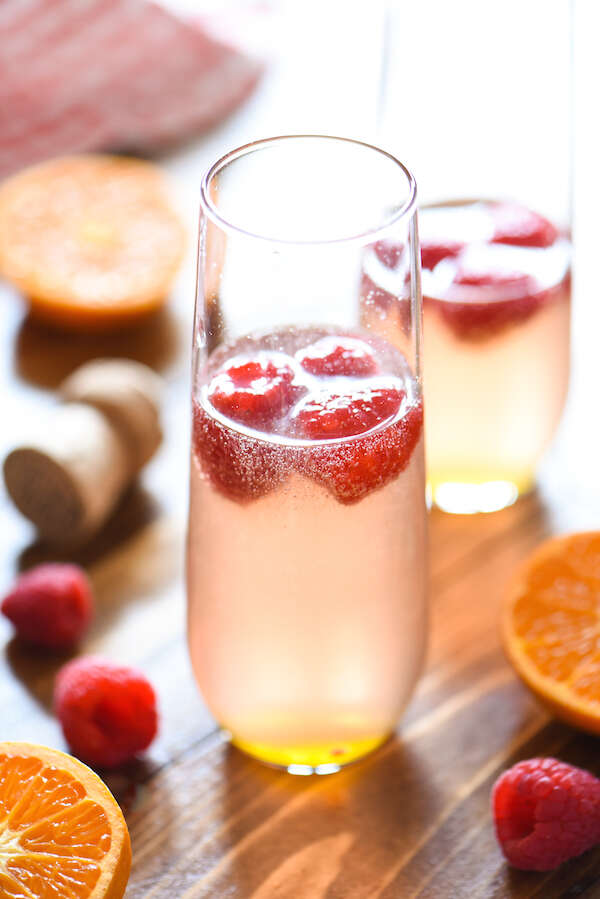 Add fizz to your Christmas party with this stylish cocktail. Just mix martini and gin together, add raspberry and let it chill…done! With this martini fizz, make your Christmas merry and raspy!
[Also Read:Â YUMMY CHRISTMAS TREATS TO SPREAD THE JOY]
Ingredients Required for Raspberry Martini Fizz
350ml Martini Rosso
150ml gin
4 tsp icing sugar
24 frozen raspberries
2 bottles chilled prosecco
3. Pomegranate Rosemary Spritzer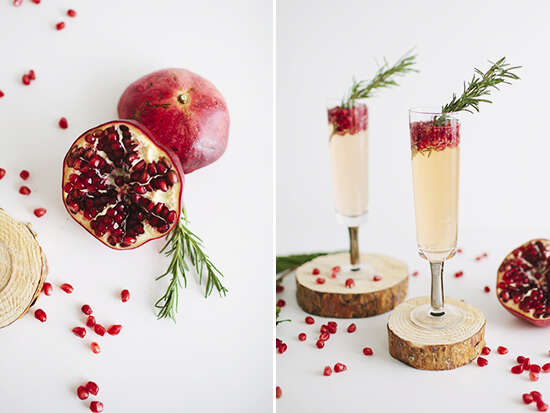 Give your pomegranate juice a twist with herbals. Just add rosemary to the juice and serve.Christmas is not about ignoring your health for a day. Christmas is about celebrating your and your family's good health. So, give this try pommy rosemary spritzer.
Ingredients Required for Pomegranate Rosemary Spritzer
200ml pomegranate juice
Sprig of rosemary
Prosecco
4. White Christmas Cocktail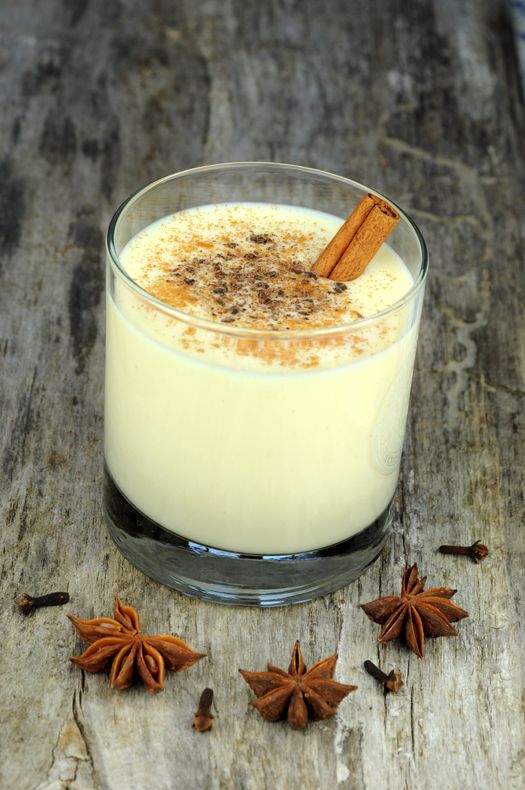 This refreshing vanilla vodka recipe drink is made out of coconut milk, vanilla and vodka, which makes a perfect entry for the Christmas party. Serve it with a sprinkling of our special spices.
Ingredients Required for White Christmas Cocktail
1 fluid ounce heavy cream
1 fluid ounce vodka
1 fluid ounce peppermint schnapps
1 fluid ounce white creme de cacao
1 cup ice cubes
1 small candy cane
5. Jack Frost Cocktail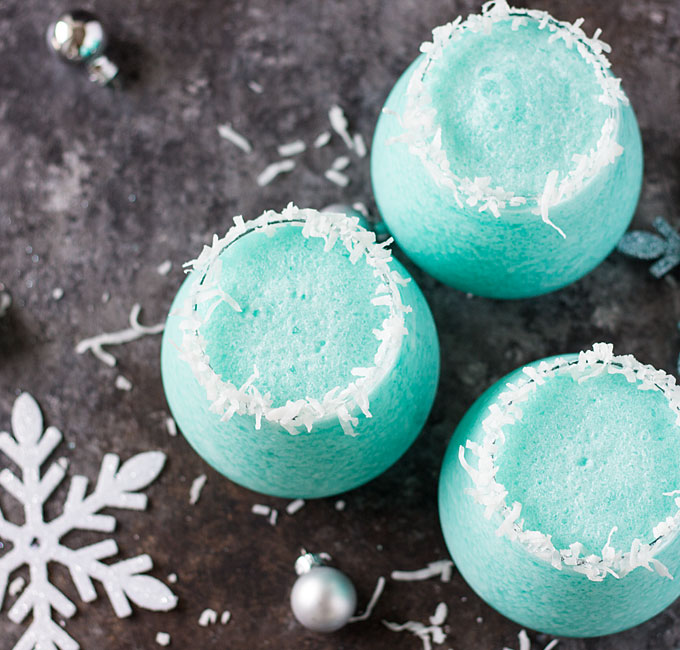 A perfect drink for those who love winters. Just mix Vodka, pineapple juice, blue curacao and cream of coconut. Voila, your guests are going to love it.
Ingredients Required for Jack Frost Cocktail
4 cups of ice
4 part pineapple juice
1 part vodka, or light rum
1 part Blue Curacao
1 part coconut cream
6. Christmas Peppermint Shake Cocktail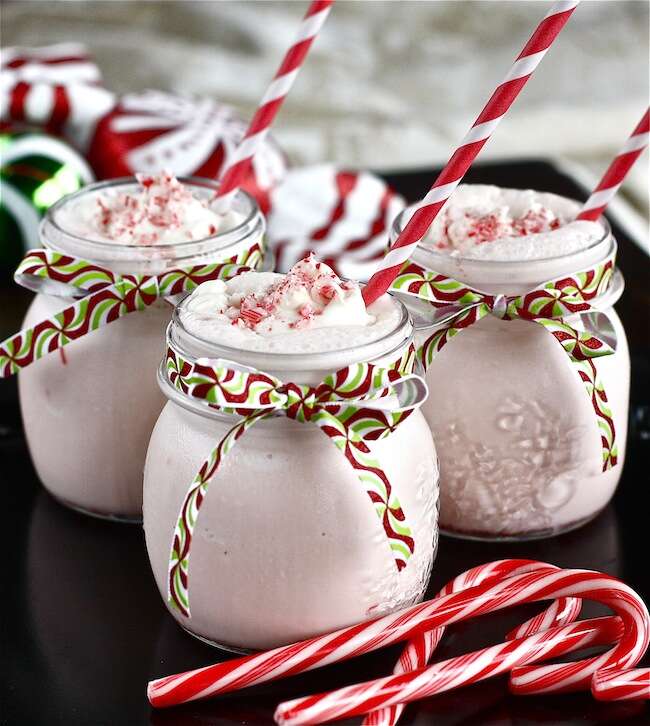 This drink makes your Christmas party complete. Blend strawberry & vanilla ice cream, Smirnoff peppermint twist, and mint syrup. Sprinkle a bit of Christmas in it with crushed candy canes.
Ingredients Required for Christmas Peppermint Shake Cocktail
1 Strawberry ice cream
1 Vanilla Bean ice cream
1 ounce Smirnoff Peppermint Twist
1/2 teaspoon Mint Syrup
2 Ghirardelli Peppermint Bark
3-4 Candy Cane
7. Cranberry Mojito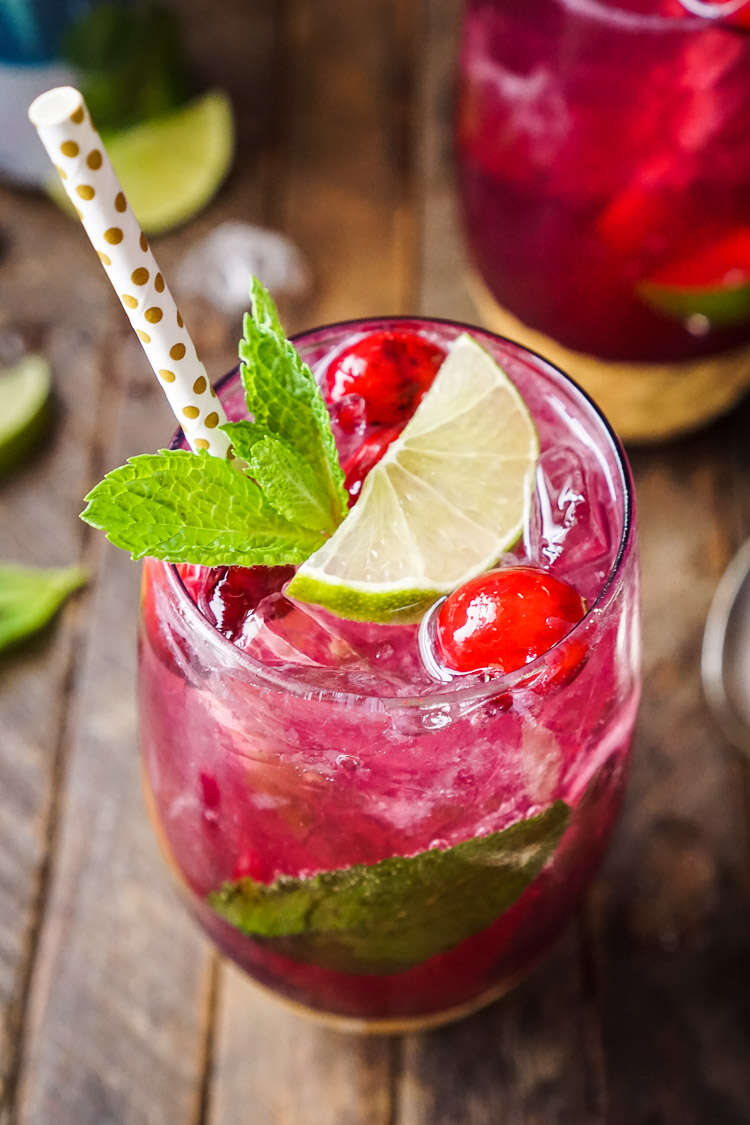 Add cranberry syrup and mint to a glass of Rum for this perfect Christmas drink. Top it up with fresh cranberries, lemon and mint sprigs.
Ingredients Required for Cranberry Mojito
1 cup cranberry juice
1 cup Seltzer water
1/4 cup lime juice
6 oz light rum
2 tsp of honey
1/3 cup mint leaves
3 cups of ice
8. Cranberry Ginger Shrub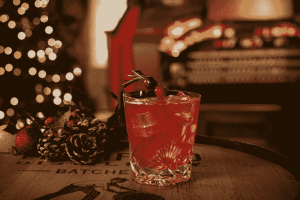 Cranberry Ginger Shrub is a party drink, and predominantly, one of the most loved drinks during the Christmas season. This refreshing drink is made with cranberries, ginger, and fruit juice for a sweet-tart flavor that will leave your taste buds singing merry Christmas tunes. It's also best known for its health benefits – better hydration, promotoes good skin tone, etc.
Ingredients Required for Cranberry Ginger Shrub
1 bag cranberries ((16-oz.)
1 cup cider vinegar
1/2 cup water
1/2 cup sugar
1 piece peeled and sliced fresh ginger
2 cinnamon sticks
Ice and club soda for serving purposes
9. Blood-Orange Italian Soda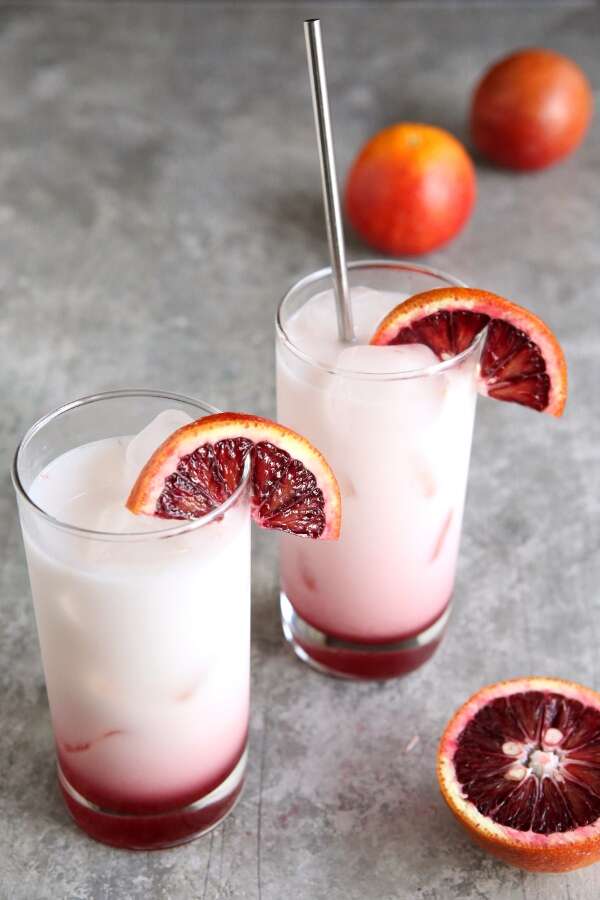 Blood Orange Italian Soda is made of fruit juice and sparkling water. It is a perfect blend of fruits and fizz. You can also use vodka or diet coke instead of sparkling water if you want.
Ingredients Required for Blood-Orange Italian Soda
1/4 cup juice (1-2 large blood oranges)
12 oz sparkling water
1-2 tbsp simple syrup
10. Caramel Rum Hot Chocolate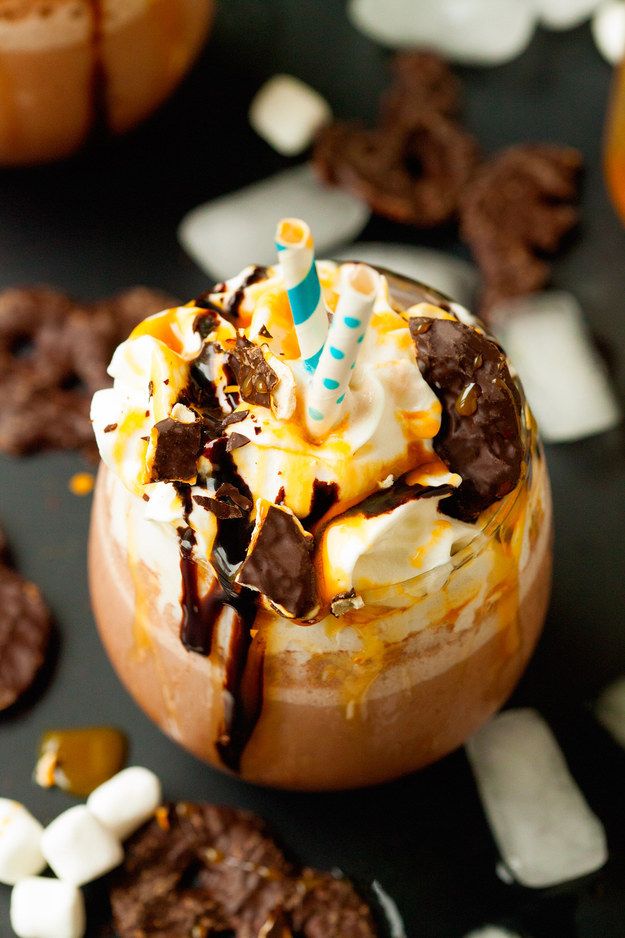 Isn't hot chocolate the drink for lazy occasions, you ask? Well, here's how you make it more festive. This Rum blended hot chocolate is to die for. Add a good amount of thick caramel and hot chocolate to the Rum. It's perfect for a cold winter evening…mmmm.
Ingredients Required for Caramel Rum Hot Chocolate
25ml dark rum
2 tsp of thick caramel
150ml whole milk
50g milk chocolate
11. Boozy Grinch Punch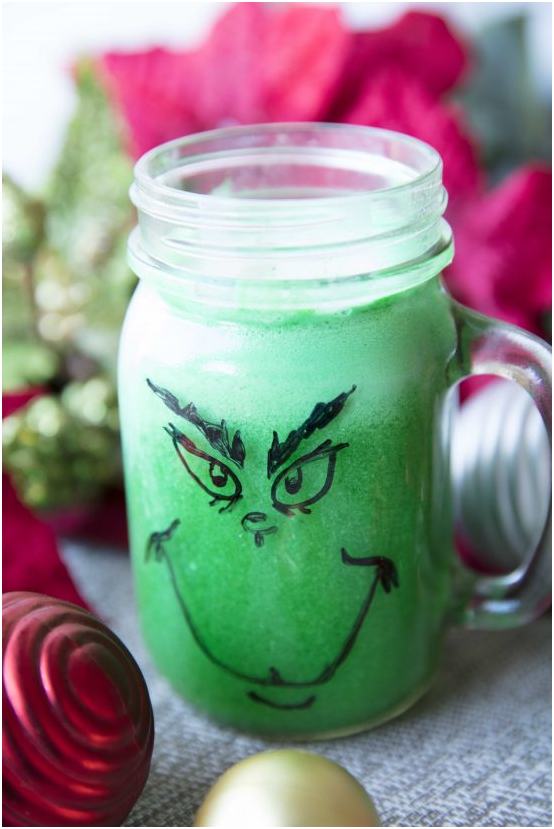 If you're looking for something spicy green, this punch is the very drink for you. Place a jug of Boozy Grinch Punch on a table, turn down the lights and watch "How the Grinch stole Christmas" with your family. It's the best way to do your Christmas evening.
Ingredients Required for Boozy Grinch Punch
1 Lemon Lime mix
4 cups of water
4 cups of ice
3 cups of lemon-lime soda
2 cups of pineapple juice
2 cups of vodka
1 cup ginger ale
12. Cranberry Mimosas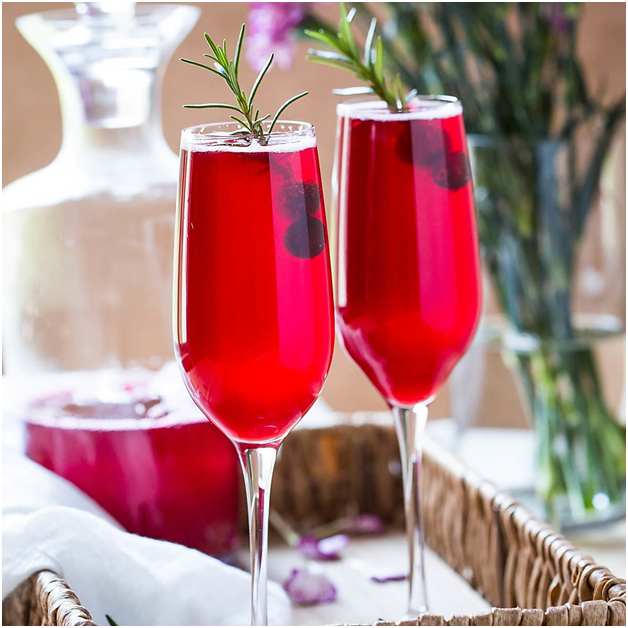 Every event or celebration has to have a mimosa. It's the drink that celebrates an occasion with you, even when you're alone. Wherever you go, it comes with you in one of your hands.
For your Christmas celebration though, a Cranberry Mimosa is the best choice. It livens up your Christmas party while keeping your own spirits high.
Ingredients Required for Cranberry Mimosas
1 lime halved
2 tbsp. sugar
1 cup sweetened cranberry juice
1 bottle champagne
12 fresh cranberries
4 small sprigs fresh rosemary
13. Butterbeer Punch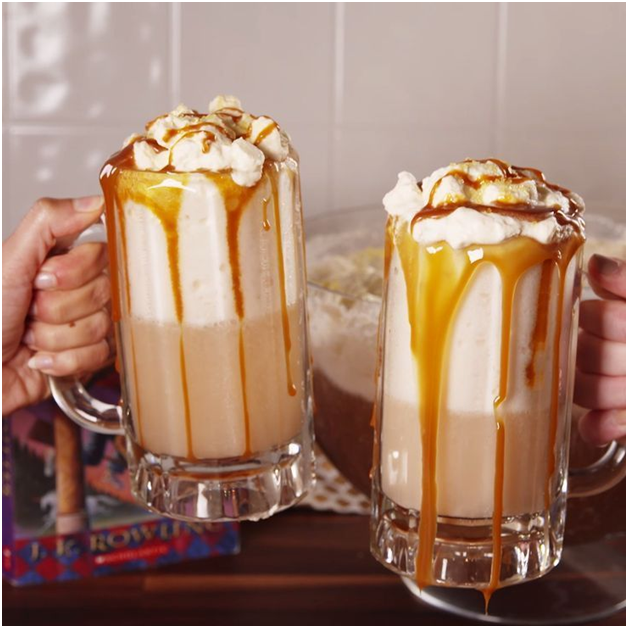 How about a Harry Potter-themed Christmas? Well, if that's your kind of thing, then, here's a Butterbeer Punch for you. Make this and it will feel like a Christmas party at the Three Broomsticks with Harry himself. What's more festive and fun than that?
Ingredients Required for Butterbeer Punch
2 cups heavy cream
2 tbsp. melted butter
Gold sanding sugar
Butterscotch syrup
2 tbsp. packed brown sugar
1 tsp. pure vanilla extract
6 cans cream soda
3 cans seltzer
3 cups vanilla vodka
14. Candy Cane Jell-O Shots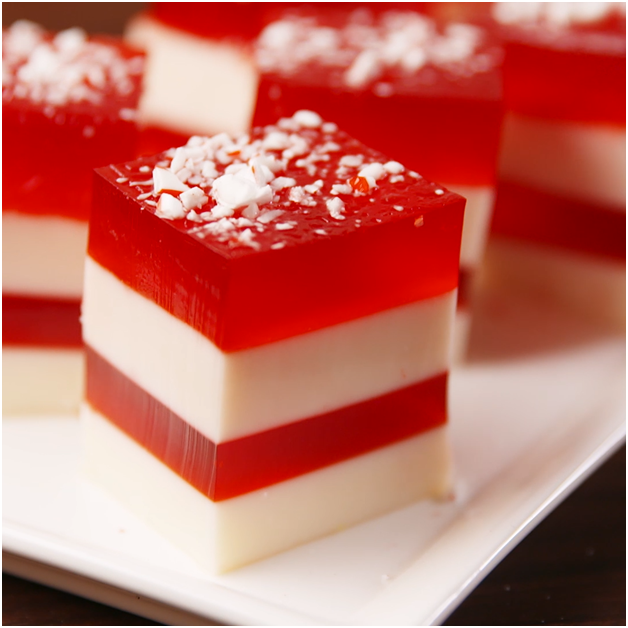 If you want your Christmas drink to be an appetizer instead, then, make one of these. You start by having one, two, and three and before you know it, your body becomes as loose as the Jell-O you ate. Plus, they look so good that you can put up the leftovers as Christmas decorations of their own.
Ingredients Required for Candy Cane Jell-O Shots
2 packs of cherry Jell-O
1 1/2 cup boiling water
1 cup vodka
2 envelopes of gelatin
1 cup sweetened condensed milk
Crushed candy canes
15. Irish Coffee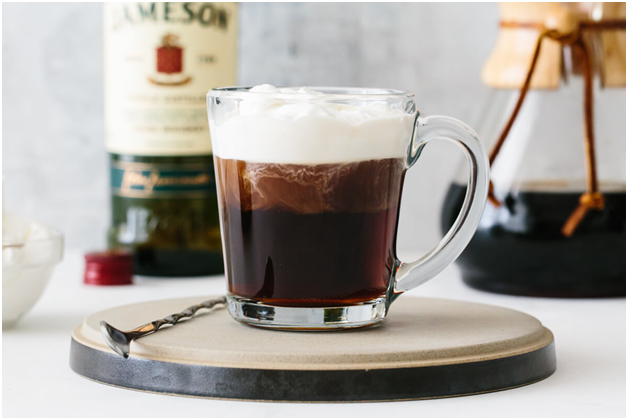 A coffee is not the most Christmassy of drinks but it's just the pick-me-up drink you need in the morning. Have an Irish coffee to give your Christmas morning the boost you need to do the many tasks ahead.
[Also Read:Â TOP 5 EASY CHRISTMAS RECIPES]
Ingredients Required for Irish Coffee
Heavy cream
1 cup freshly brewed hot coffee
1 tablespoon brown sugar
1 jigger Irish whiskey
16. Sugar Cookie White Russian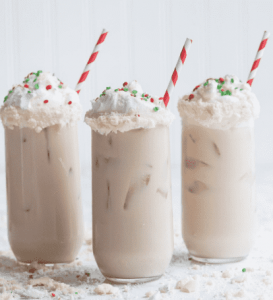 The White Russians is for sure going to be a unique drink you can try for this Christmas. This cocktail is made from vodka, sugar cookie liqueur, cream (or milk), white chocolate shavings, and whipped cream. Combined together, these ingredients make for an irresistible libation that will leave your taste buds begging for more. All it takes to make this refreshing Christmas drink is ten minutes or less.
Ingredients Required for Sugar Cookie White Russian
Vodka
Coffee Liqueur
Ice and Milk
Sugar Cookies
Whipped Cream
Sprinklers
17. Classic Eggnog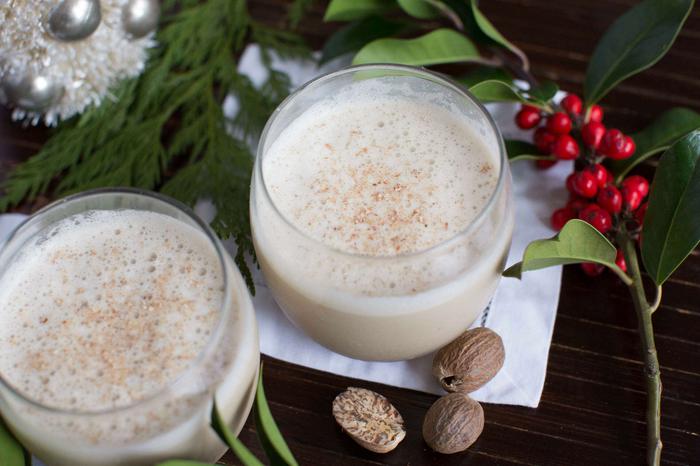 The best saved for the last, here's a tried-and-tested recipe that has escaped very few Christmas households. It is considered as one of the best or should I say popular Christmas drinks.
It is made with eggs, milk, cream, rum, brandy and nutmeg. In a way, it owns the very spirit of Christmas in it. It is a warm welcome to all good things in life, it inspires good health and well-being. Anyone can make this classic eggnog because it is meant for everyone. Try it to know why it is considered as one of the best traditional Christmas drinks!
Ingredients Required for Classic Eggnog
2 cups of milk
1/2 tsp. ground cinnamon
1/2 tsp. ground nutmeg
1/2 tsp. pure vanilla extract
6 large egg yolks
1/2 cup granulated sugar
1 cup heavy cream
1 cup bourbon or rum
Whipped cream
Final Thoughts
In conclusion, I am tempted to ask what your ideal Christmas could be. Could it be a celebration of all good that has happened throughout the year? Could it be the arrival/hope of a better tomorrow and an even better day after? Or just this very moment is frozen where you share a laugh with all your loved ones? Whatever it is, your Christmas needs to have at least one of these drinks.
So, get ready for the party. And, if you have any other interesting drinks for this party season, do share them with us. We would love to know and try them. Merry Christmas in advance.
<div class='toc'><ul><li><a href=#Here-are-some-refreshing-drinks-for-the-Christmas-evening:><b>Here are some refreshing drinks for the Christmas evening:</b></li><p> <a href=#1.-Mulled-Wine-Cocktail>1. Mulled Wine Cocktail</p><p> <a href=#2.-Raspberry-Martini-Fizz>2. Raspberry Martini Fizz</p><p> <a href=#3.-Pomegranate-Rosemary-Spritzer>3. Pomegranate Rosemary Spritzer</p><p> <a href=#4.-White-Christmas-Cocktail>4. White Christmas Cocktail</p><p> <a href=#5.-Jack-Frost-Cocktail>5. Jack Frost Cocktail</p><p> <a href=#6.-Christmas-Peppermint-Shake-Cocktail>6. Christmas Peppermint Shake Cocktail</p><p> <a href=#7.-Cranberry-Mojito>7. Cranberry Mojito</p><p> <a href=#8.-Cranberry-Ginger-Shrub>8. Cranberry Ginger Shrub</p><p> <a href=#9.-Blood-Orange-Italian-Soda>9. Blood-Orange Italian Soda</p><p> <a href=#10.-Caramel-Rum-Hot-Chocolate>10. Caramel Rum Hot Chocolate</p><p> <a href=#11.-Boozy-Grinch-Punch>11. Boozy Grinch Punch</p><p> <a href=#12.-Cranberry-Mimosas>12. Cranberry Mimosas</p><p> <a href=#13.-Butterbeer-Punch>13. Butterbeer Punch</p><p> <a href=#14.-Candy-Cane-Jell-O-Shots>14. Candy Cane Jell-O Shots</p><p> <a href=#15.-Irish-Coffee>15. Irish Coffee</p><p> <a href=#16.-Sugar-Cookie-White-Russian>16. Sugar Cookie White Russian</p><p> <a href=#17.-Classic-Eggnog>17. Classic Eggnog</p><li><a href=#Final-Thoughts><b>Final Thoughts</b></li></ul></div>