When it comes to food, there's no inequity. Food that is wholesome and delicious soothes the soul. No! we can never say no to mouthwateringly scrumptious food, our palates just crave for more. Hats off to all the food joints and restaurants that serve us a heavenly meal or snack. The food industry indeed does know how to impress and keep its customers happy. They know exactly what keeps customers coming back for more. And the latest buzz or spotlight is on the super creative, yet lucrative restaurant on wheels, the food truck.
It gets better if you can have food from one of the food trucks at your home and get discounts on it too. Check out best discounts on food at the Zomato coupons page.
For the busy workaholics or the ones who are caught up in this work-life cult. Or the ones who don't have enough time to prepare a sumptuous meal or rather can't afford to shell as much, food trucks are here to your rescue. For those of you who aren't acquainted with food trucks yet, we have some surprises for you. If you live in Hyderabad or accidentally happen to be visiting the city, then you must check out these sensational food trucks of this place. One mouthful and you are bound to come back asking for more. Our love for food trucks only grows. A major lot prefer to hang out here, for these mobile food vans serve delicious food and are light on the pocket. It's time to satisfy your hunger pangs and put an end to your hunt for great food trucks. If you are indeed on a mission to discover fantastic food trucks, then, oh boy, you have come to the right place. Behold, the best food trucks in Hyderabad.
Top 10 Food Trucks In Hyderabad
Parathawalas and Grill
Auto Express Hot dog
The King's Landing
Chepotle
Dosa Place
Spitfire Barbecue
Hungry Parrots
Fat Cow Creamy
Sofrehh
The food truck hub
Food trucks serve you a variety of dishes in their own style and from global cuisines. But the standout benefit of these food trucks is that you don't need a company. You can just go alone, order whatever you want and eat in peace without feeling awkward. Want to grab some yummy food while you head home today? Just drop in at these food trucks in Hyderabad.
1. Parathawalas and Grill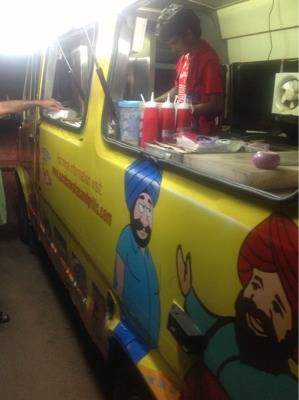 How about a plate full of Punjabi-style home-cooked food at a pocket-friendly price? If it's a YES, just head to Parathawalas and Grill. They serve the best combination ever – hot parathas and tandoori chicken. They have a variety of parathas with stuffing in the form of aloo to chicken and mutton. Also, try their shawarmas, Kathi rolls, and kebabs, they are equally finger-licking good!
Opening hours: 4 PM to 11 PM
Location: Film Nagar
2. Auto Express Hot dog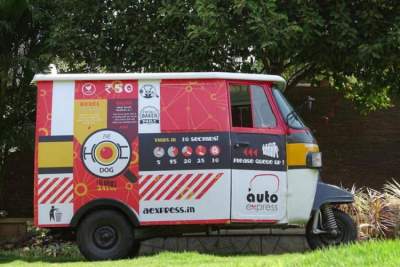 Want to taste a couple of authentic hot dogs? Auto Express Hot dog brings you the best American hot dog in the city. These hot dogs are very economical and are higher on the taste side. Their secret sauce makes them worth a bite. Just give them a shot when you are in a mood to try something new. It is one of the best food trucks in Hyderabad.
Opening hours: 4 PM to 1 AM
Location: Paradise Circle
3. Kingz Landing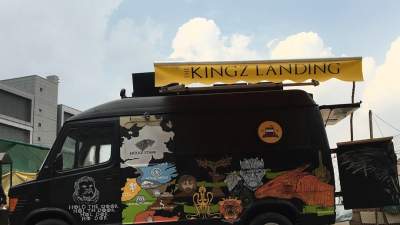 All the GoT fans and foodies listen up! This GoT-inspired food van is all set to steal the show. With a delectable and interesting menu, this place sure has a lot to offer.
Opening hours:  12 PM to 11:30 PM
Location: Kun United Hyundai Showroom, Kothaguda
4. Chepotle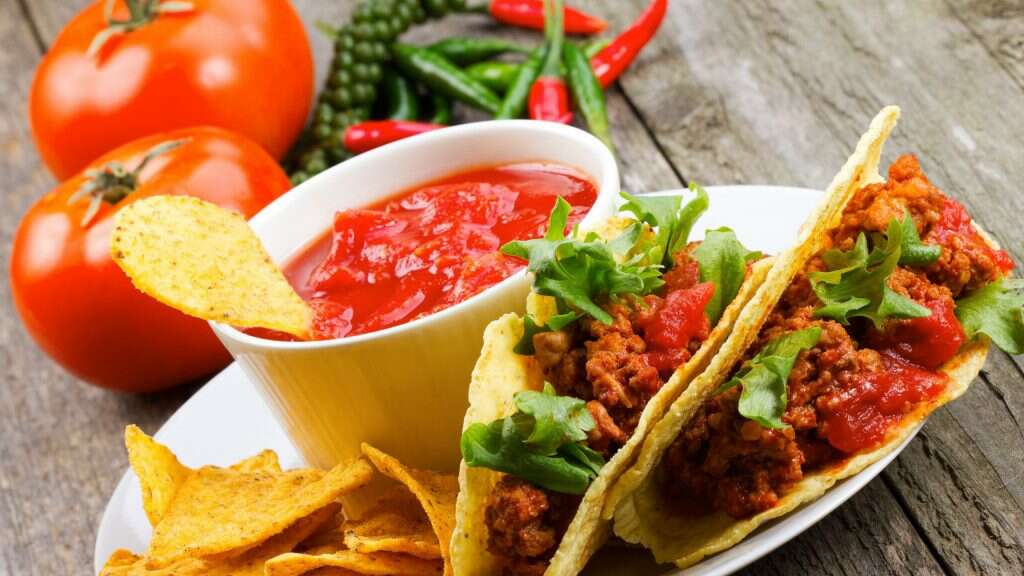 The name that strikes your mind when you think about hot and spicy Mexican food is Chepotle. Located in Gachibowli and Hitech city, this food truck serves amazing food from Mexican and American cuisines. You even have the option to make your own meal. Just pick from their variety of burritos, tacos and chips, and salsa, and complete your meal. Chepotle serves low-calorie food. If you don't believe it, just head to their truck and find out. And don't forget to taste their Chicken Burritos, Chips, and Salsa.
Opening hours: 12:30 PM to 11:30 PM
Location: Gachibowli and Hitech city
5. Dosa Place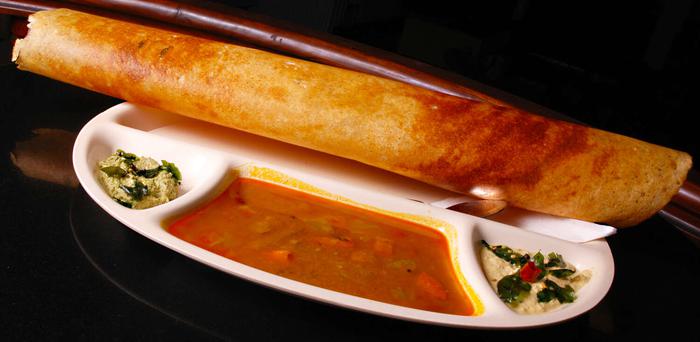 The most common yet delicious street food in Hyderabad is Dosa. There is no particular time to have a hot plate of dosa. It is comfort food for many. This dosa truck serves you a large variety of dosas beyond your imagination. Be it Chinese, mushroom, sweet corn cheese, American chop suey, you name it, they have it. Their signature dosas are a must-try, which are loaded with cheese. Wait! They do serve yummy Idlis in their signature style as well.
Opening hours: 5 PM to 11 PM
Location: Madhapur
6. Spitfire Barbecue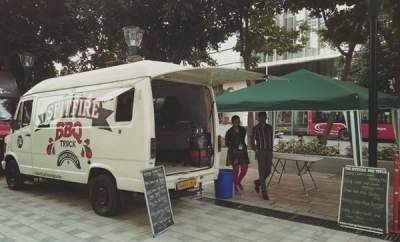 BBQ on wheels? Oh yes! This food truck is all about burgers and barbecues. Cinnamon rolls, BBQ chicken, to juicy burgers, this place is worth the visit. In fact, their food is so good and unique that Tollywood made a film about it (Go and watch it too, it's really good and explores the trend of food trucks accurately).
Opening hours: 8 PM to 11:45 PM
Location: Metro Pillar No 21. Mettuguda main road near railway degree college.
7. Hungry Parrots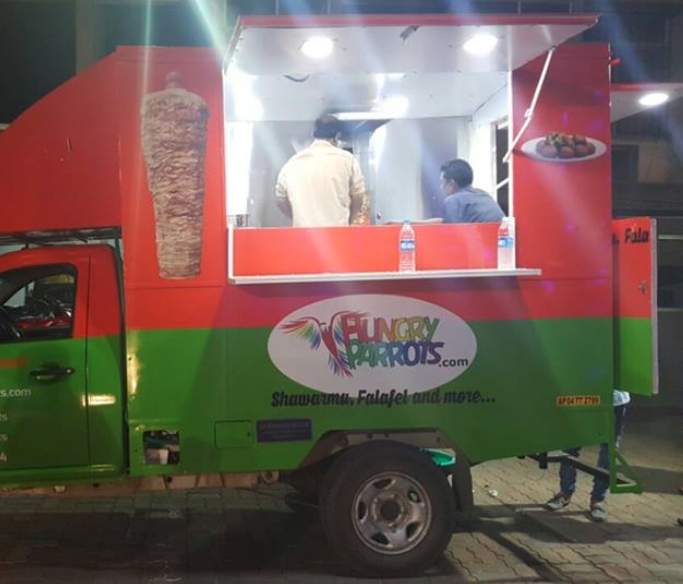 This famous food truck serves some lip-smacking shawarmas for less than 60 bucks! Yes, you heard it right. It serves shawarmas with a combination of roasted chicken, spicy paneer and egg bhurji wrapped in a rumali roti with garlic flavoured mayonnaise. Now you know where to go when the hunger pang strikes.
Opening hours: 5:30 PM to 12:30 AM
Location: Hitech City
8. Fat Cow Creamy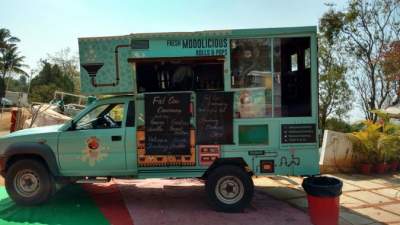 It's not ice cream but an ice cream rolls truck. Yes, they serve ice cream rolls that melt in your mouth. Fat Cow Creamy serves you only deserts and ice creams. Satisfy your dessert or ice cream cravings after a yummilicious dinner at a posh restaurant. Oreo and cream is a must-try from them.
Opening hours: 1 PM to 12:30 AM
Location: Banjara Hills
9. Sofrehh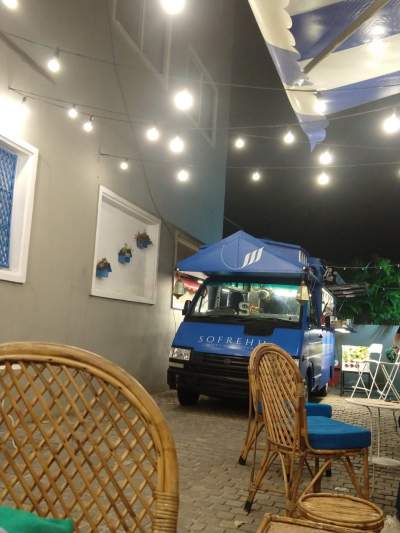 For all the Persian cuisine lovers or those who haven't tried it yet, Sofrehh Persian Bistro should definitely be on your food truck hopping list. Why? Well, everything is just perfect about this place. The ambiance, the food, and the music. Don't forget to try their classic bastani, a blend of saffron and rosewater flavored ice cream.
Opening hours: 5 PM to 1 AM
Location:  Road Number 36, Jubilee Hills
10. The Food Truck Hub
And the final spot goes to the famous food trucks in Madhapur. With food trucks lined up in a straight line of 300 meters, this place is packed with some of the best food vans ever. From dosas, idlis, momos, chaats to just about any kind of delicious street food one can get. It's basically a buffet where you can hop from one cuisine to another.
Opening hours: 9 PM to 1 AM
Location: Near Karachi bakery, Madhapur main road
These are our choices of the best food trucks in Hyderabad. There are a few more food trucks in Hyderabad. If you do have any other interesting food trucks in mind that serve in the gallis of Hyderabad, do share with us in the comments. We would love to know about them.
Image courtesy:
Travelwithamate
Shirishsen
Grabhouse
Mentalfloss
Cluburb
Thekingzlanding.business.site
What's Up Life
Justdial
ReserveDine