You can make your party worth remembering only if there is great food, music and friends. You take care of the friends and music and leave the food on us. Here we have finger licking party snacks recipes for you. These are easy, tasty and show stoppers for your party.
Here are 5 mouth watering party snacks for your next party
Stuffed Chicken Nuggets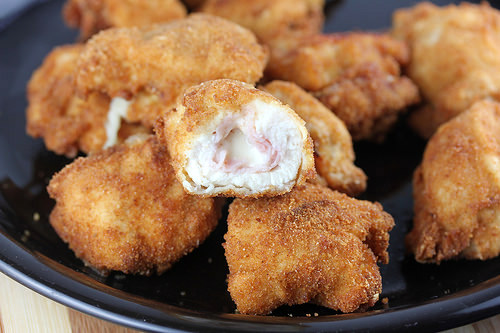 Who has not served nuggets at a party? It is a common dish, but you can make it different with this recipe.
You will need:
Chicken minced: 500gms
Cheese cubes cut into tiny pieces: 10-15
Egg: 1-2
Flour: 4-6 tablespoons
Breadcrumbs
Salt to taste
Oil to fry
Get yummy stuffed chicken nuggets on your plate
Take the minced chicken in a bowl and add salt as per taste. Now, make a ball out of it and put a cheese cube inside it. In a plate keep flour, beat eggs in a bowl and place bread crumbs in another plate. Now, roll the chicken nuggets in flour, then dip it in egg and finally roll in bread crumbs. Now they are ready to fry. You can deep fry it or swallow fry it.
Serve hot with ketchup or any dip of your choice.
Crispy Spinach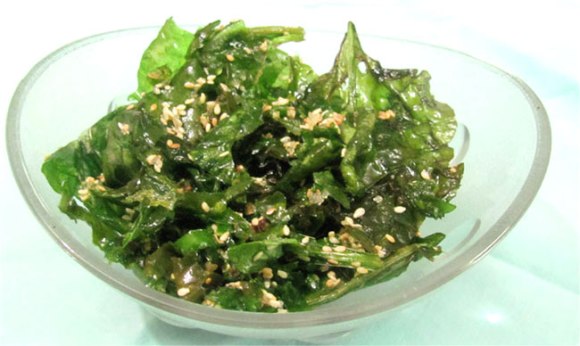 It's this vegetarian dish that will turn your party to a dazzling one. Let your friends dig into the crispy spinach next time.
You will need:
A bunch of spinach (washed and dried)
Chilly flakes
Salt and Sugar as per taste
Sesame seeds 1 tablespoon
Oil to fry
Time to serve crispy n crunchy spinach on the table
This can be the easiest and tastiest dish that you have ever served. You need to cut the spinach like ribbons. Make sure that the spinach bunch is washed and dried. Now in a small bowl take salt, sugar and chilly flakes and crush it well. In a pan heat oil and fry the spinach that you have cut like, ribbons. Once you take them out of the oil, place it on a tissue and sprinkle sesame seeds. Lastly, put the salt, sugar and flakes mix. Serve it hot.
Tangy Corn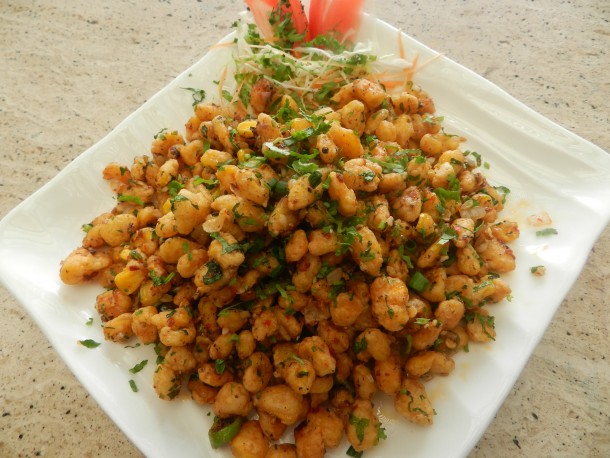 When it comes to party snacks you must serve corns. They are tasty and it goes well at parties.
You will need:
Corn: 500gms (Boiled)
Gram flour: 100gms
Rice flour: 50gms
Turmeric powder: ½ tablespoon
Chilly powder: ½ tablespoon
Lemon Juice: 3-4 tablespoon
Dried Herbs: 1-2 tablespoon (optional)
Salt to taste
Oil to fry
Make tangy corn to give a tangy twist
As you serve this tangy corn on your table just watch your friends. They might want this to be repeated on and on. In a bowl mix gram flour and rice flour well with water. This paste should not be too thick or too light. Now add all the other ingredients in it including boiled corns. Heat oil in a pan and deep fry the corns. Serve them hot.
Egg Basket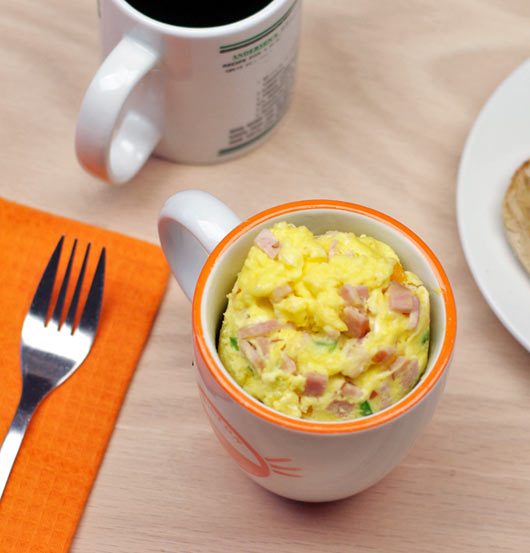 Party snacks are not always healthy but you need to think for the ones who are health conscious. Here's to the ones who do not like much of fried food.
You will need:
Eggs: 5-6
Onion: 1
Tomato: 1
Carrot: 1
Capsicum: 1
Boiled Peas: ½ cup
Salt to taste
Snacks at your party for the healthy food lovers
This is very tasty yet healthy dish. You may serve this dish any time to your guests. Take a small microwave cup and beat an egg in it. Then add finely chopped veggies that are mentioned above. Make sure that veggies are very finely chopped. Add salt and pepper to it. You may add few drops of oil in it. Microwave it for 2 minutes and take it out. The egg will take the shape of the cup and will have all veggies with the right taste. Sprinkle some chopped coriander on top before serving it.
Ice Cream Bread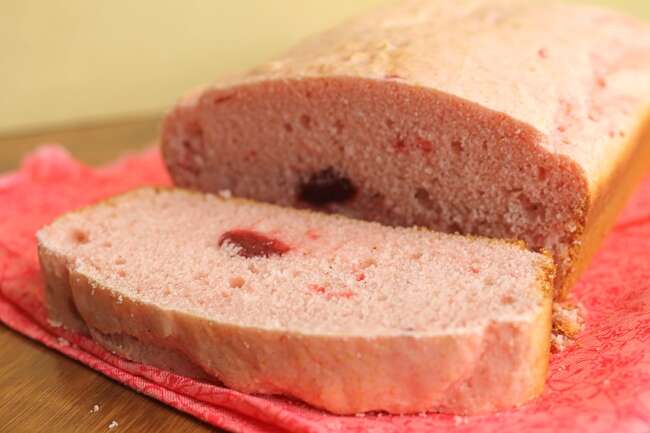 Have you ever served ice cream bread to your guests? Next time, serve this and they will be amazed at how you made it. It is a unique combination of ice cream and flour.
You will need:
Ice cream of your choice: 2 cups
Flour: 1 and ½ cup
Baking powder: 1 and ½ tablespoon
Salt: ½ tablespoon
It's time to pop ice cream at the oven
Ice cream bread can be served at any party as a snacks or a dessert at times as well. Serve it as sweet snacks at your next party and see the difference. For this dish, first you need to make self rising flour. You can make it by mixing baking powder and salt to your flour. Now take ice cream of your choice. It may be vanilla, butterscotch or strawberry. Now mix 2 cups of ice cream and 1 and a half cups of flour together. Then bake it in the oven for 30 minutes at 350 degree centigrade. You may serve it with sprinklers or cherries on top.
You can get all grocery items online from BigBasket, that will help you make these amazing dishes. So, now you are all ready to set your party!