Dine like you're on top of the world! Romance is involved when it comes to rooftop restaurants and bars. Whether it's simply savoring the local cuisine or sipping on champagne while overlooking the exotic skyline of Hyderabad, nothing can beat the experience of having a drink and being 'high' enough to feel being closer to the clouds. If you're planning to visit Hyderabad, choose your Instagram filters and ensure you dine out at any of the 5 best rooftop restaurants in Hyderabad listed in this post. Read on!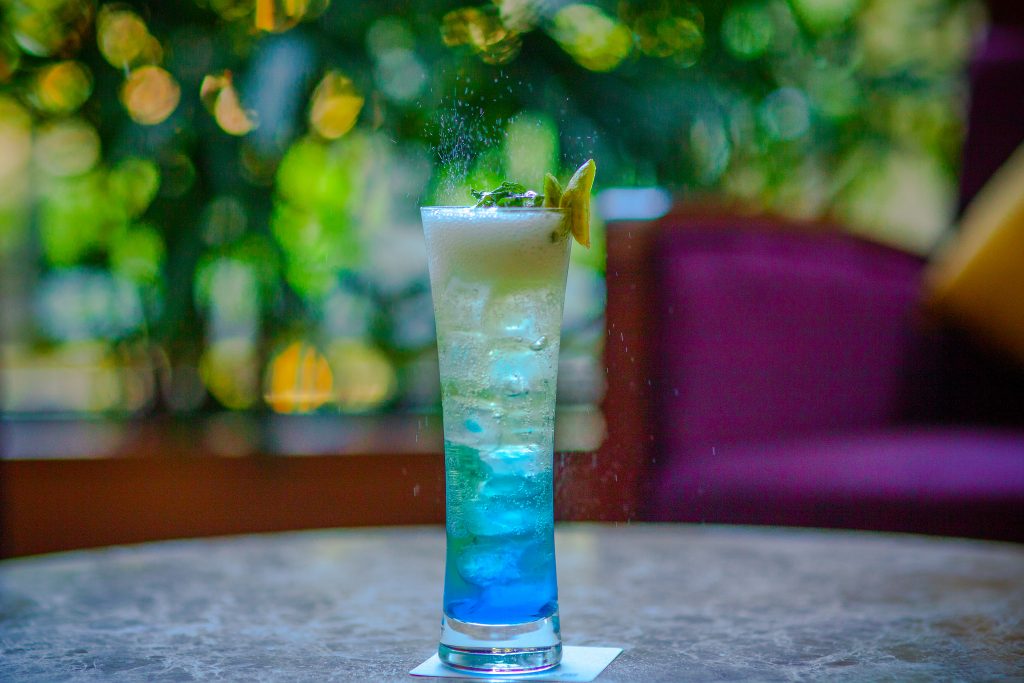 There's no point being stacked up inside and letting cool breeze go to waste. And nothing beats enjoying a live band performance on rooftop while sipping your favorite drink with your partner. The right ambiance not only uplifts your tired soul after a week's hectic schedule but can make you sufficiently hungry and pleasantly high without too much effort. That's why the trend of rooftop lounges and bars is on the rise in Hyderabad, that's soon going to be the food capital of India.
So this coming weekend or even after work get spirited at these 5 best rooftop restaurants in Hyderabad. For all the rooftop lounges we have mentioned here, it's harder to figure out which restaurant is the best in Hyderabad. These diners come aplenty with mouth watering delicacies to satisfy your taste buds followed by an exotic ambiance to uplift your mood! For those who have not visited Hyderabad, they have this image of a concrete jungle city flanked by a chaotic traffic to tolerate, but Hyderabad is much more than this with some places quite close to nature with luscious green hilly areas where even a brief walk could make you fall in love with the City of Nizams.
We bring you a list of the 5 best rooftop restaurants in Hyderabad for you to pick and have a great time with your loved ones.
 1. Stonewaters, Jubilee Hills
Plot No. 1299B, Aruna Arcade, 5th Floor, Road Number 1, Jubilee Hills, Hyderabad
Phone:096422 79000
Hours: 11AM–12AM
Stonewaters Hyderabad is a picturesque tree-lined rooftop restro bar cuddled up in the heart of Jubilee Hills, overlooking the KBR park. This open terrace diner serves North Indian, Asian and Continental and is one of the best rooftop restaurants in Hyderabad.
One of its kind in rooftops restaurants, for it offers Live Music along-with exquisite food overlooking the scenic beauty of Jubilee Hills. Totally a weekend hangout place for people of all walks of life. Come Witness it.
Here's a testimonial from one of their guests,
"Stone Waters has got a great view to its advantage, open to the sky and KBR Park in its vicinity is a big plus. While one can be sipping their favorite drink, looking over great view and hearing to soothing music is a bliss, which can be experienced here. Place is well lit, open to sky terrace, seating is quite comfortable; their ambiance indoor is great too, with amber lighting, which is warm and cosy. Kitchen is swift in dishing out at rapid pace. Well presented Oriental Shrimp Nest, crispy Chicken Bruschetta, juicy Stuffed Chicken Breast, Beer Battered Fish, Korean Pot Rice, Nasi Goreng (Sea Food) are some of their specialties, they do have great number of choices for vegetarians like Veg Kabab Platter, Spicy Ginger Cottage, Garlic Bread, and Teppan Soba Noodles. Service is not great, needs improvement but food served is good. Overall great view, foot-tapping music and good food come at a price!"
2. Olive Bistro
Road No 46, Jubilee Hills, Inside Durgam Cheruvu, Near Arogya Shree Bhavan, Hyderabad
Phone: 092489 12347
Hours: 12PM–11:30PM
Arguably this is the best olive restaurant across the nation and among the best rooftop restaurants in Hyderabad. A white walled bungalow, one of Hyderabad's best rooftop restaurant is situated in a tranquil setting on top of a hill namely Durgam Cheruvu or Secret Lake as we call it. in the sunshine. The rooftop lounge overlooks the serene views of the city's secret lake. To make the ambiance more enticing, the bistro is flanked by white cobblestone stairs that wind past windowsill flower beds spilling color.
If you're living in the city and have not yet explored this exotic diner then step out and get soaked basking in the warmth of good food, wine and the pleasure of living. The food is another significant aspect of the restaurant as they specialties are in European, Italian and Mediterranean cuisines. Come in the evening to witness a distinct shift in mood as the sun sets with high octane nights, where the city's fashionable folk come to live it up.
Here's what one of the TripAdvisor users had this to say,
"We thoroughly enjoyed their food, especially their wood oven pizzas, and loved their rustic modern ambiance and lake view, flawless."
3. Fusion 9
1st Avenue, Road No. 1, Banjara Hills, Opp. City Centre, Hyderabad
Phone: 098489 68949
Hours: 12–3:30PM, 7–11:30PM
Here's another popular rooftop multi cuisine restaurant offering an eclectic and appealing menu that has been one of the major reasons behind its popularity. Located in the heart of Banjara Hills, F9 enjoys a strategic location, and because of its location F9 is in our list of 5 best rooftop restaurants in Hyderabad. F9 is listed in Zomato and is also synonymous with mouth watering Sunday Brunches and special World Festivals such as the Oktoberfest and Thanksgiving. Apart from he typical cuisines, they also offer Sushi, Calamari as well as world favorites such as Hommus, Thai Curries, Wood fired Pastas et al. Their Sunday brunches are to die for as they have a huge spread right from starters to deserts. The specially trained bartenders provide the extra zing and you can savour Mojitos, Caiprioskas, Mimosas etc. from their menu.
F9's design is minimalist and cozy adorned by subtle textures, wooden floors and a bar counter using Portuguese art and a window made of river stones.
Here's what one of their guests had posted on their Facebook page
"Fusion 9 offers a great Sunday brunch that has a wide spread It is a good place for a family lunch or if you want to catch up with friends. The brunch has 2 options, one with alcoholic drinks and one without. Give yourself 2-3 hours so that you can savor the menu .The spread was big enough that you have plenty of choices but you don't get overwhelmed by the number of dishes Food quality is excellent.. Finish it off with yummy deserts.The Brunch is slightly expensive but for the food offered you would want to go there again and again.. A special mention to our server Mr. Joseph he was very considerate of our kids and was warm and carried a smile all through."
4. Exotica
241, Road Number 12, NBT Nagar, Banjara Hills, Hyderabad
Hours: 12:30–3PM, 7–11PM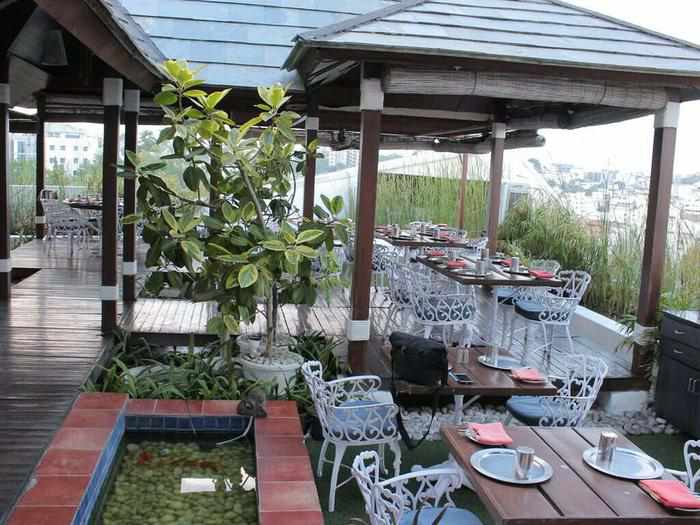 Exotica is another popular diner listed among the best rooftop restaurants in Hyderabad. Situated on the fifth floor of the building, the elevator opens right into the rooftop tree-lined restaurant with water elements and tranquil ambiance inviting you with open arms. The ambiance is flanked by dim lighting and the diner also has air conditioned rooms for those who want to take a break from the occasional heat waves.
This rooftop lounge offers North Indian, Chinese and Mughlai to name a few. Do try out the mouth-watering kebab platter. Best part is this place is extremely budget-friendly for that kind of ambiance and food.
Here's what Times Food Guide had this to say,
"The ambiance at Zafraan Exotica will charm you – the terrace, gurgling water bodies, bamboo thickets, green plants et al. There is also an enclosed area seating option. Although it offers Chinese, Thai and Hyderabadi cuisine too, the focus is on North Indian and North-West Frontier food. For vegetarians, Paneer Tikka Peshawri, Crispy Corn Chilli Pepper, Dal Zafran are good options. Popular non-vegetarian options include Murg Kastoori Kebabs, Chilli Chicken and Gosht Seekh Kebabs. Do keep some space for desserts like Angoori Rasmalai (you will love this!) and Pink Rasogullas. Exotica lays out a Lunch Buffet on weekdays for Rs.385 (inclusive of taxes) and an exhaustive Sunday brunch (Rs.600) for a buffet with alcoholic drinks and Rs.400 for a buffet with non-alcoholic drinks too, but evenings are the best time to unwind here."
5. Pasta Bar Veneto
5th Floor, Empire Square, Road No. 36, Opposite P.Satyanarayan & Sons Jewellers, Jubilee Hills, Hyderabad
Hours: 11AM–11PM
Phone: 040 6704 567
Apart from their fabulous menu, it's their picturesque setting overlooking the lush Jubilee Hills area.The outdoor space altogether creates a different mood and when it rains with rain droplets sliding over the glass walls makes the place absolutely serene and romantic! The deserts are mind blowing and is a must try mainly their mud pie and the tiramisu della casa. Pastas are good but not brilliant as the name indicates. Hookah and cocktails too are some of the other options on hand.
Here's a review on TripAdvisor,
"The terrace is peaceful and simple ambiance. Music from PirateBrew next door can get a little loud. The food was good, soup fresh and tasty (right spice n herbs), bread soft n super fresh. For the bad part, pasta wasn't well cooked, a little too sweet for our taste buds. The soup was a little sweet too. You better specify your tastes to the waiter to make your visit perfect."
So those were the 5 best rooftop restaurants in Hyderabad. So where are you heading this Friday night? Do share your experience with us!
Image Courtesy:
flickr.com
dineout.co.in
justdial.com
bytplus.com
crn.vjhome.com
gharbaithebazar.com
eatz.com
thebluebook.in