It's one of those evenings when you want to dine while admiring the hues of twilight. You wish to find that perfect rooftop bar that once again surprises you with the dazzling view of the city skyline. The desire is to sip a glass of sparkling wine while soaking yourself in the splendid shades of pink that the setting sun has left behind to admire. For one of those evenings, we have curated a list of the best rooftop bars and restaurants in Hyderabad that guarantee an experience you'd want to behold for a lifetime.
"I want an average dining experience", said no one ever. If you have gotten up from your couch to go out for dinner, you deserve the best experience. Whether it's a lovely date with your beau or a catch up with your friend, rooftop restaurants and bars add to the experience almost always. A stellar place that throws out an unhindered panoramic view of Hyderabad's beautiful skyline is totally what you have in mind, right? Get dressed and go out to these open roof restaurants that will definitely elevate your dining experience.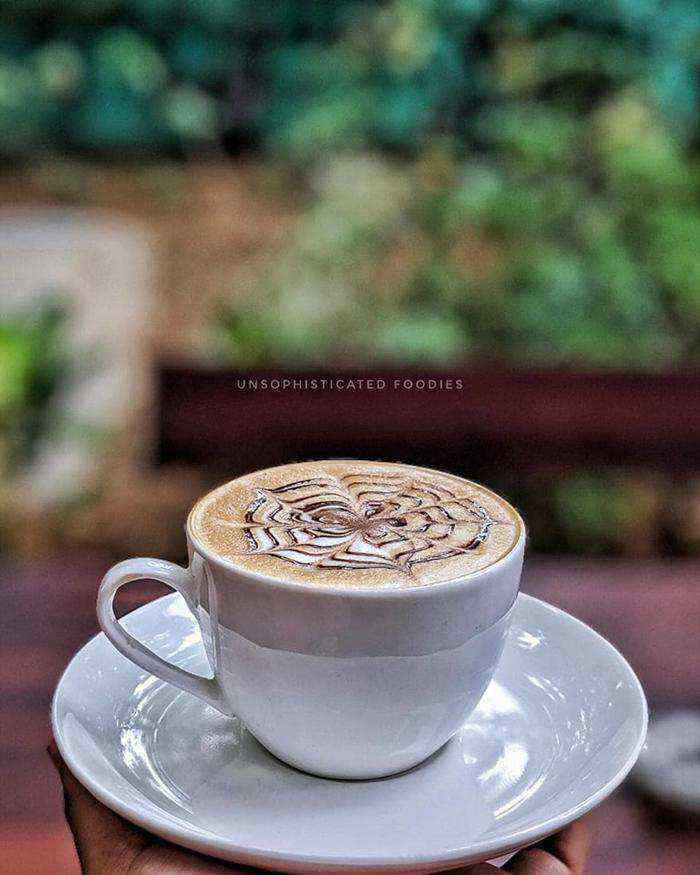 So this coming weekend or even after work, get spirited at these 8 best rooftop restaurants in Hyderabad. For all the rooftop lounges we have mentioned here, it's hard to figure out which is the best restaurant in Hyderabad. These diners come aplenty with mouth-watering delicacies to satisfy your taste buds followed by an exotic ambiance to uplift your mood! Some best-themed restaurants, some romantic places for couples, and some the perfect hangout to grab the after-work drink.
Top 8 Best Rooftop Bars and Restaurants that Hyderabad Boasts of
1. Amnesia Sky Bar
2. Mazzo at Marriott Executive Apartments
3. Fat Pigeon Bar Hop
4. Dirty Martini
5. Over The Moon, Daspalla
6. Exotica
7. Resign Skybar
8. Stone Waters
On one of those days when the concrete life is just too much to take or when your beloved needs an escape from the shor in the city, plan a dinner that's as sparkling as the starry night sky. Or maybe you can just go alone, savor your favorite food and sip the best wine to spend some Me-Time before you get back to the daily drill. Pick an option from the list and we promise you'll have a lovely time.
Amnesia Sky Bar, Inorbit Mall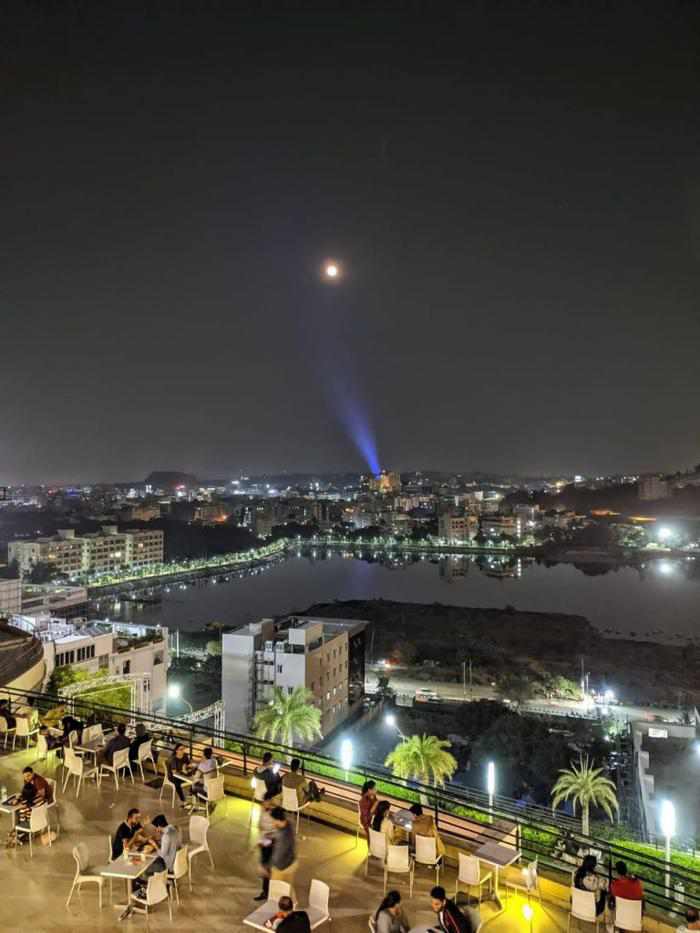 Located in the heart of the city, Amnesia Sky Bar will make you skip a beat with its stellar lake view. This tranquil rooftop bar is one of the best places to visit on those dates when you want to let the cool breeze kiss your face while you sway to the tunes of great music. Their experiment with the cocktails is something to kill for, honestly!
If you want to dance till you drop on the best Bollywood songs, do not forget to visit Amnesia on Saturday night and catch one of the best DJ in Hyderabad, DJ Kim play the best Bollywood tracks for you to shake a leg with your friends.
What's a bonus is the mesmerizing view from the 5th Floor of the Inorbit Mall that certainly makes the mood lively and energetic.
Cuisines: Continental, Indian
Cost for Two: Rs 1500/- with alcohol
Address: 5th Floor, Inorbit Mall
Mazzo by Marriott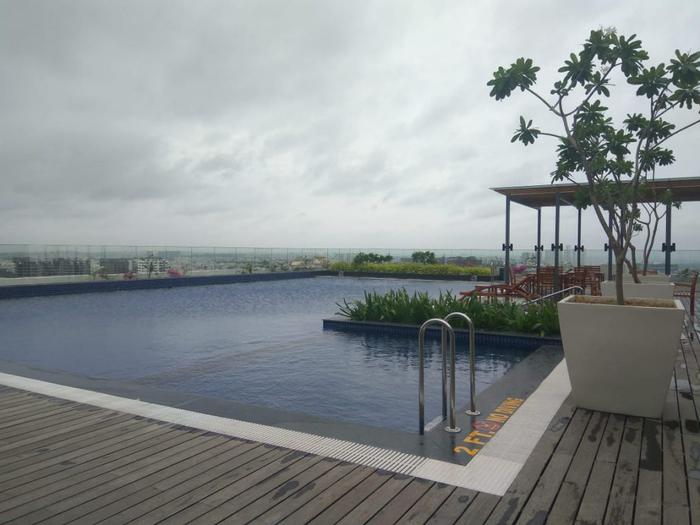 Mazzo is the hidden gem that people aren't really aware of. The 10th floor of SLN Terminus building was turned into Mazzo, a beautiful sky bar offering a stunning view. The setting is further accentuated by the gorgeous pool and greenery. The place perfect for every plan, be it a surprise birthday dinner with a personal violinist or a relaxed Sunday brunch with access to pool and gym. Mazzo has it sorted for you.
Cuisines: Asian, Italian, Indian
Cost For Two: Rs 1700/-
Address: Marriott Executive Apartments, Level ST, SLN Terminus, Gachibowli, Hyderabad
Fat Pigeon, Jubilee Hills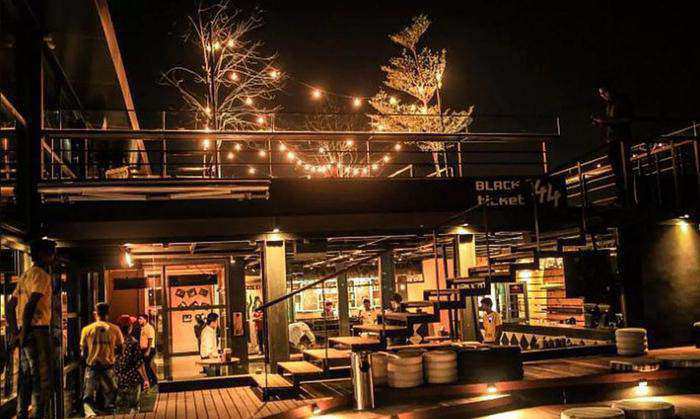 Having focused on the places perfect for a quiet date night, let's move on to some party destinations perfect to uplift the mood after a tiring week. Soulful lighting, quirky furniture, and music that makes you tie your shoe-laces and get up from the seat to tap the feet, this is the "cool kids' favorite hangout". Fat Pigeon is filled with energy that is contagious and everything about it is exhilarating. Predominantly popular for a get-together after 6 PM, people also come here for a lazy Sunday Brunch. A perfect mix of funk and class, the broad menu covers everything you'd want, from great food to refreshing drinks. Neither a theme-based restaurant nor a private place for couples, Fat Pigeon focuses on entertaining the crowd.
Sway with the tunes of the live music that's just the perfect ending one wishes for.
Cuisines: Continental, North Indian, Mexican, Italian, Lebanese
Cost for Two: Rs 1600/-
Address: Plot 1335/A, Road 45, Jubilee Hills, Hyderabad
Dirty Martini – Kitchen and Cocktail Lounge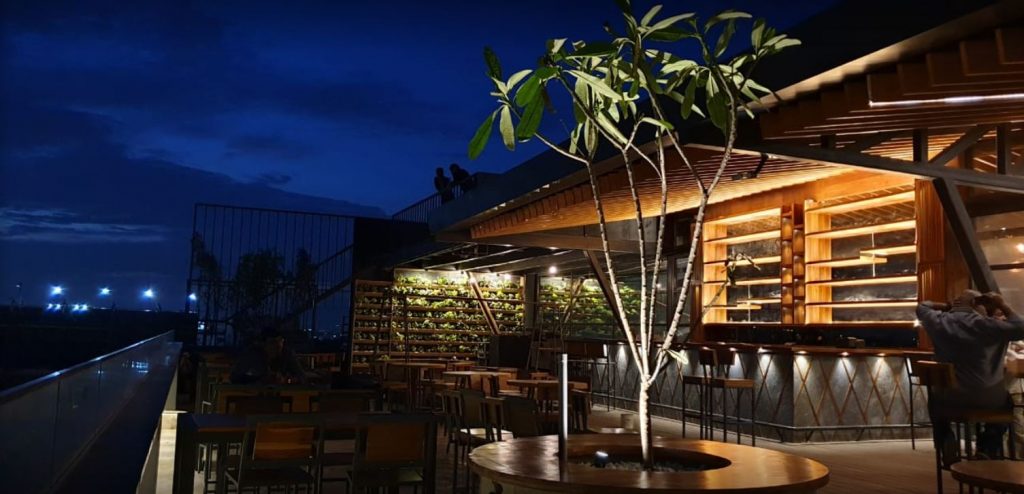 The famous bar from the UK is now in Hyderabad and we know you cannot keep calm. It has already entered the list of best rooftop restaurants in Hyderabad. Apart from those regular dining sessions at Dirty Martini, it's best if you wish to get wasted under a sky full of stars. Trust me on this, you're going to go gaga over their LIIT and Pizzas.
Here's what one of their customers had to say about the place:
"Very nice place situated in a very good locality. Its a premium lounge with premium liqueur and the food was really good. Try the crispy corn and alfredo sauce pastas here. #DirtyMartini . Made some good memories in this place😊😇"
Cuisines: Continental, Italian, North Indian
Cost for Two: Rs 1,400/- with alcohol
Address: Top Floor, Alcazar, Road No 36, Jubilee Hills
Over The Moon, Daspalla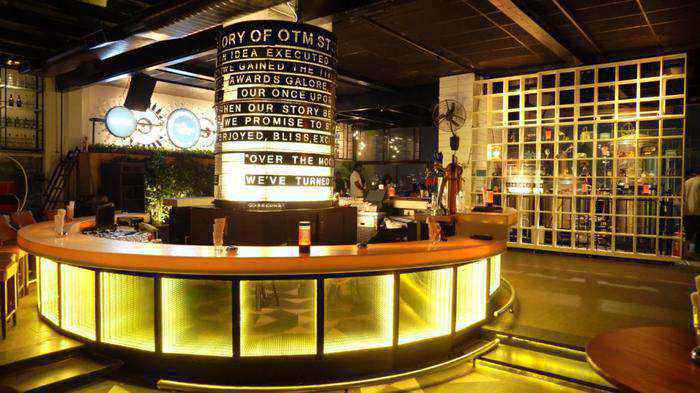 You cannot miss talking about OTM when you're listing out the best rooftop lounges in Hyderabad. This micro-brewery will leave you amazed with their craft beer and stunning view. With the cool breeze kissing you while you're sipping a savory glass of Apple Cider Beer, OTM will be an experience to remember. Chill out on a Friday night with your bar buddies at this super amazing place and please your eyes with some really breathtaking city view. Pin your Uber location to Over The Moon Daspalla and spend a nice evening at this lovely place.
Check out this customer review on Zomato:
"Definitely the most beautiful place to be in Hyderabad. Plain simple!
Though the staff members are not so sure of how Zomato Gold can be used, it still is such a great place to visit.
Great crowd, great music, and great great ambiance.
We ordered LIITs, Jack Daniels, couple of beers, and lots of starters.
The chicken tikka were a tad bit spicy, but still delicious.
Surely, one of most memorable nights till now in the last 3 months in Hyderabad."
Cuisines: Asian, Continental, Italian, North Indian
Cost for Two: Rs 2500/-
Address: Hotel Daspalla, Rooftop, Road 37, Jubilee Hills, Hyderabad
Zafran Exotica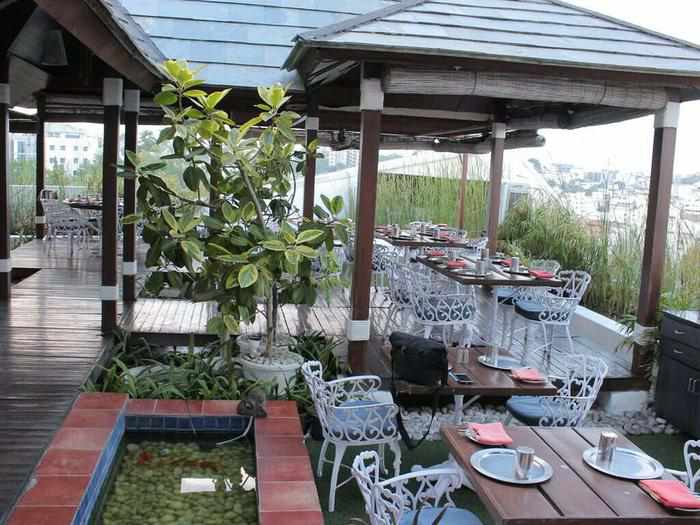 Exotica is another popular diner listed among the best rooftop restaurants in Hyderabad on Zomato. Situated on the fifth floor of the building, the elevator opens right into the rooftop tree-lined restaurant with water elements and tranquil ambiance inviting you with open arms. The ambiance is flanked by dim lighting and the diner also has air-conditioned rooms for those who want to take a break from the occasional heat waves during the afternoon meal treats.
This rooftop lounge offers North Indian, Chinese and Mughlai to name a few. Do try out the mouth-watering kebab platter. The best part is, this for that kind of ambiance and food it serves, the place is extremely budget-friendly. 
Cuisines: Mughlai, North Indian, Chinese
Cost for Two: Rs 1500/-
Address: Opposite Audi Showroom, 5th Floor, 12th Square Building, Road 12, Banjara Hills, Hyderabad
Resign Skybar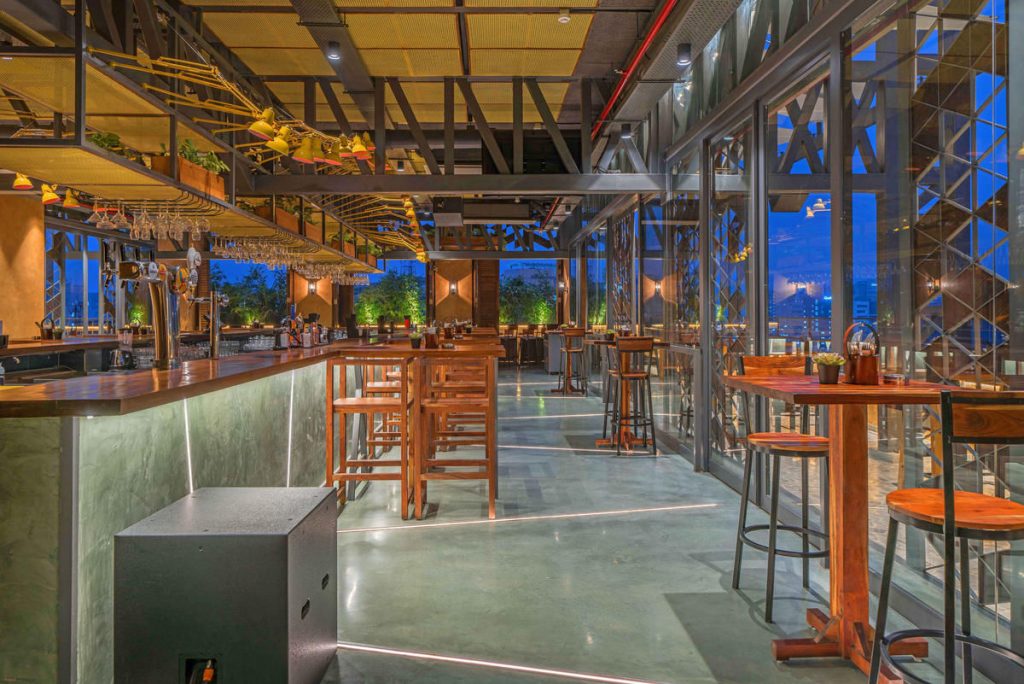 Resign Skybar is another gem in the already studded lanes of Hi-Tech city. Ever since its inauguration, Resign has become the favorite spot of the corporates who bank on this rooftop bar to give them some weekend chill! while you're at Resign, you cannot miss the Murgh Ghee Roast and Mashed Potatoes.
Cuisines: Continental, Finger Food
Cost for Two: Rs 1,400/- with alcohol
Address: 5th Floor, Ohri's Cyber Grub, Huda Techno Enclave, Mindspace, Hyderabad
Stone Waters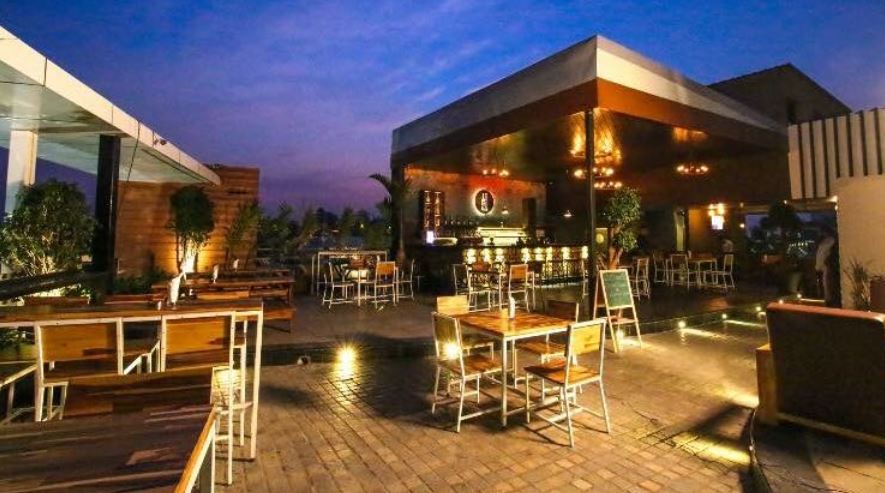 How about spending a peaceful evening in a beautiful place? Stone Waters is one of the prettiest places in Hyderabad with amazing decor and lip-smacking food. Tucked in the lanes of Jubilee Hills, this makes for a great place to spend a relaxing weekend with close friends.
Cuisines: Continental, Asian, North Indian
Cost for Two: Rs 1,800/- with alcohol
Address: 5th Floor, Aruna Arcade, Road No 1, Jubilee Hills
If you're looking out for the best party places, these pubs in Hyderabad will have the options sorted for you. However, in case a romantic candle night dinner with Bae is on your mind, head straight to these best rooftop restaurants in Hyderabad to experience your fairytale dinner date come true! Let us know about your experience in the comments section! :)
Image Courtesy:
dineout.co.in
Zomato
Unsophisticated Foodies