It's one of those evenings when you want to dine while admiring the hues of twilight. You wish to find that perfect rooftop bar that once again surprises you with the dazzling view of the city skyline. The desire is to sip a glass of sparkling wine while soaking yourself in the splendid shades of pink that the setting sun has left behind. For one of those evenings, we have curated a list of best rooftop bars and restaurants in Hyderabad that guarantee an experience you'd want to behold for a lifetime.
"I want an average dining experience", said no one ever. If you have gotten up from your couch to go out for dinner, you deserve the best experience. Whether it's a lovely date with your beau or a catch up with your friend, rooftop restaurants and bars add to the experience almost always. A stellar place that throws out an unhindered panoramic view of Hyderabad's beautiful skyline is definitely relaxing. Get dressed and go out to these open roof restaurants that will definitely elevate your dining experience.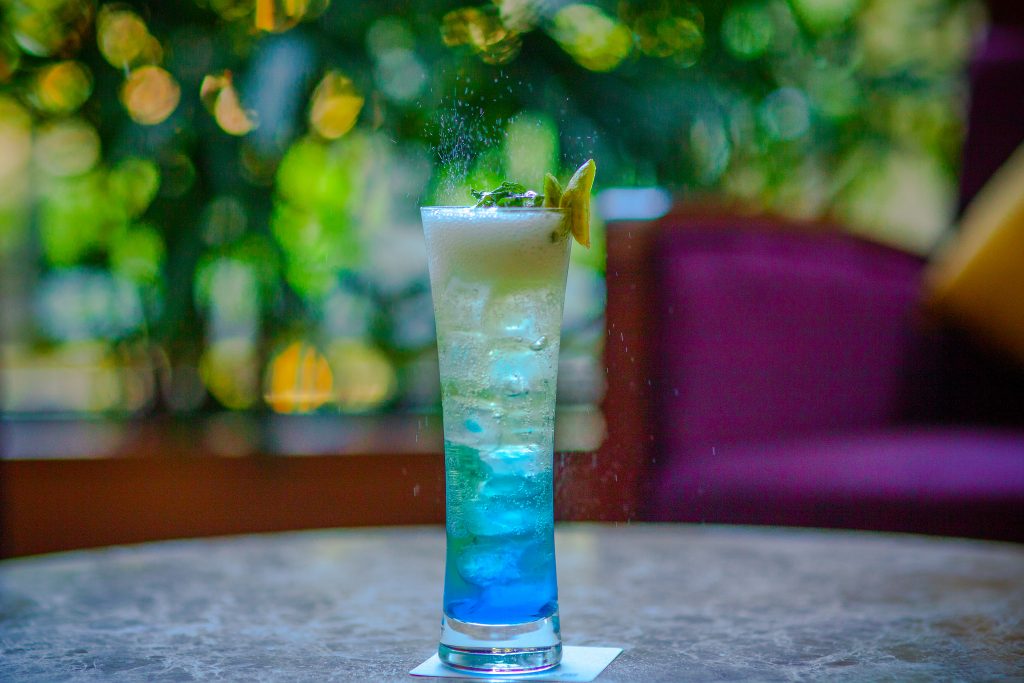 So this coming weekend or even after work, get spirited at these 7 best rooftop restaurants in Hyderabad. For all the rooftop lounges we have mentioned here, it's harder to figure out which restaurant is the best in Hyderabad. These diners come aplenty with mouth-watering delicacies to satisfy your taste buds followed by an exotic ambiance to uplift your mood! Some best-themed restaurants, some romantic places for couples, and some the perfect hangout to grab the after work drink.
Top 7 Best Rooftop Bars and Restaurants that Hyderabad Boasts of
1. MoXa Kitchen
2. Mazzo
3. Fat Pigeon
4. The Fisherman's Wharf
5. Da Yellow Cane
6. Over The Moon, Daspalla
7. Exotica
On one of those days when the concrete life is just too much to take or when your beloved needs an escape from the bustling city life, plan a dinner that's as sparkling as the starry night sky. Or maybe you can just go alone, savor your favorite food and sip the best wine to spend some Me-Time before you get back to the daily drill. Pick anyone from the list and we promise you'll have a lovely time.
MoXa Kitchen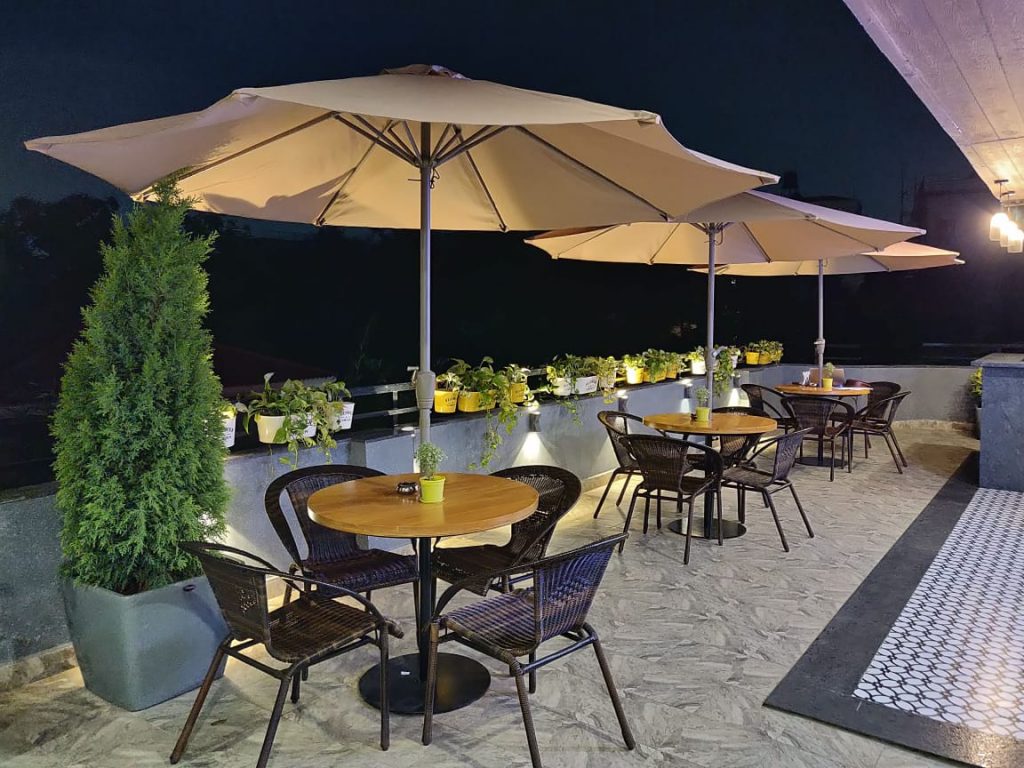 Located in the by-lanes of Film Nagar, MoXa is untouched by the clamor of this city. This tranquil rooftop hotel is a venture by Mango Hotels. MoXa is one of the best places to visit on one of those dates when you want to indulge in conversations over great food.
The intrinsic decor in the pastel setup is extremely attractive. The rooftop area makes for a wonderful seating space with umbrellas over the tables. The food will tickle your taste buds and the serving staff will make your experience worth it with their prompt services. MoXa also makes for a great breakfast place on a Sunday morning.
You also might want to checkout the best of food offers from the food delivery app. Check ou what one of their customers had to say on Zomato:
"Excellent food quality be it south indian or north indian dishes. Very friendly and welcoming staff. I have been staying here at Mango suites and never felt need to go out anywhere else for luch or dinner. Keep it up."
Cuisines: Chinese, Continental, Indian
Cost for Two: Rs 1300/-
Address: Mango Suites Viera, 4th Floor, Road No. 3, Film Nagar, Jubilee Hills, Hyderabad
Mazzo by Marriott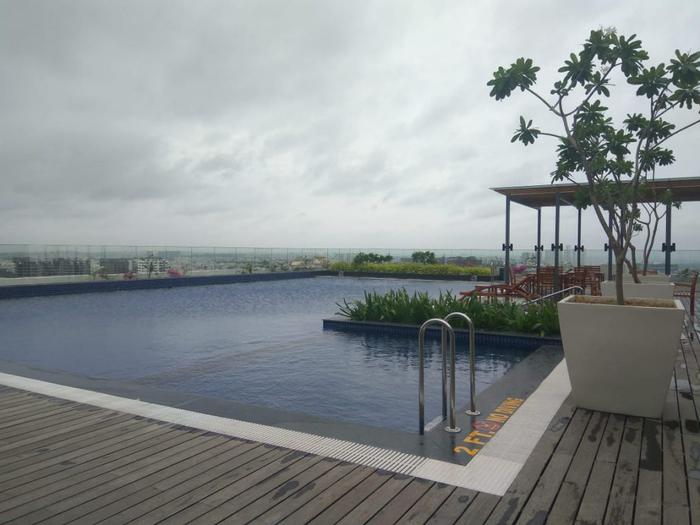 Mazzo is the hidden gem that people aren't really aware of. The 10th floor of SLN Terminus building was turned into Mazzo, a beautiful sky bar offering a stunning view. The setting is further accentuated by the gorgeous pool and greenery. The place perfect for every plan, be it a surprise birthday dinner with a personal violinist or a relaxed Sunday brunch with access to pool and gym. Mazzo has it sorted for you.
Here's what one of their customers had to say about them on Zomato –
"This place is on our list for quite some time. We finally decided to celebrate our 4th wedding Anniversary here. We choose to have Buffet Breakfast early in the morning and the Hyderabad weather on this day added more beauty to this place. We were in by 7'o clock in the morning for the breakfast buffet. We reached the Super terrace which offers a wonderful combination of Rooftop as well as Poolside for a perfect Romantic and luxury dining. Full marks for the ambience. Of course the weather played its role as well to give us the surreal feeling.

Breakfast spread is really decent. All the south Indian plus North Indian breakfast options like Idli, Dosa, pongal, Puri bhaji, lemon rice are served piping hot. They tasted perfect with the variety of Chutneys provided. Live counters for Dosa, Omelettes and waffles matched our expectations. Chocolate waffles with mapple syrup are heavenly. There were a variety of Cheese spreads, crossiants and cakes. We loved the Cinnamon Danish, Mushroom tart and the Banana cake.

This place is highly recommended During a cool weather for a Brunch or Breakfast."
Cuisines: Asian, Italian, Indian
Cost For Two: Rs 1700/-
Address: Marriott Executive Apartments, Level ST, SLN Terminus, Gachibowli, Hyderabad
Fat Pigeon, Jubilee Hills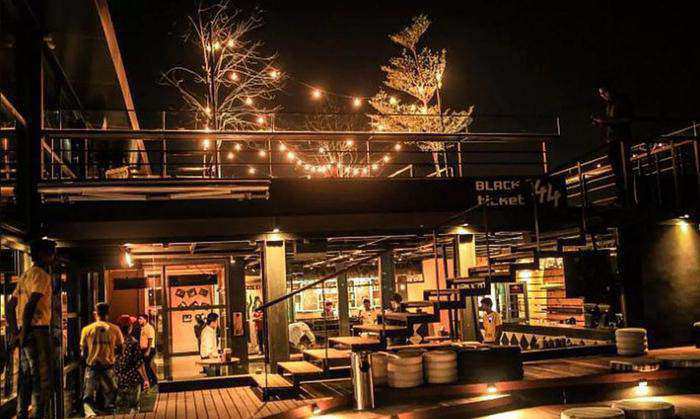 Having focused on the places perfect for a quite date night, let's move on to some party destinations perfect to uplift the mood after a tiring week. Soulful lighting, quirky furniture, and music that makes you tie your shoe-laces and get up from the seat to tap the feet, this is the "cool kids' favorite hangout". Fat Pigeon is filled with energy that is contagious and everything about it is exhilarating. Predominantly popular for a get-together after 6 PM, people also come here for a lazy Sunday Brunch. A perfect mix of funk and class, the broad menu covers everything you'd want, from great food to refreshing drinks. Neither a theme based restaurant nor a private place for couples, Fat Pigeon focuses on entertaining the crowds.
Sway with the tunes of the live music that's just the perfect ending one wishes for.
A customer spilled out love in the form of review on Zomato –
"I recently visited this place during IPL. I am in love with this place. The ambiance is beautiful. They have different sections. Two open areas and one AC. So there is a place for everyone with a different mood. The closed area is where they play loud music. They have one rooftop with interesting swing sittings set up. One more terrace in the middle with auditorium kind of set up, where they have a projector to show matches. We were sitting here as we loved the setup and enjoyed the match. Their furniture is pretty innovative. We loved the place so much that we went the next day also. Food is very good too. We had lamb ribs and pork ribs with some potato wedges. Lamb was very good. The pork was sweet so we didn't like it that much. It's a must visit place especially during IPL"
Cuisines: Continental, North Indian, Mexican, Italian, Lebanese
Cost for Two: Rs 1600/-
Address: Plot 1335/A, Road 45, Jubilee Hills, Hyderabad
The Fisherman's Wharf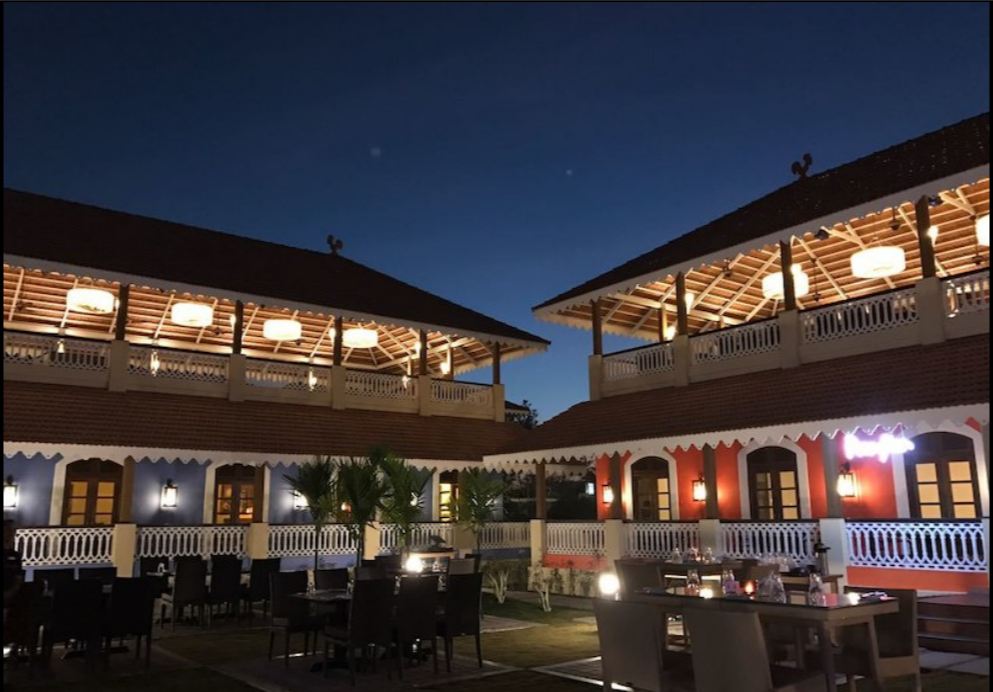 You just got a reason to smile. Your favorite Goan Cafe 'The Fisherman's Wharf' is now serving in Hyderabad and we know you cannot keep calm. It has already entered the list of best rooftop restaurants in Hyderabad.  Apart from those regular dining sessions at TFW, you can definitely consider this seafood paradise if you wish to dine under a sky full of stars. Nestled away from the buzzing crowd of Hyderabad, this place is one of the best-themed cafes in the city offering a great ambiance. The Fisherman's Wharf can give you a major throwback to your Goa memories.
Here's what one of their customers had to say about the place:
"Fisherman's Wharf is always an exciting place to visit whether it's any occasion. It gives you a feeling of being in Goa with the various popular places being segregated as different parts of the restaurant. The food is excellent and has authentic preparations. I highly recommend the Goan prawns curry and rice."
Cuisines: Asian, Continental, Goan, Sea Food, North Indian
Cost for Two: Rs 1500/-
Address: 304, Puppalaguda, Financial District, ISB – Outer Ring Road, Gachibowli, Hyderabad
Da Yellow Cane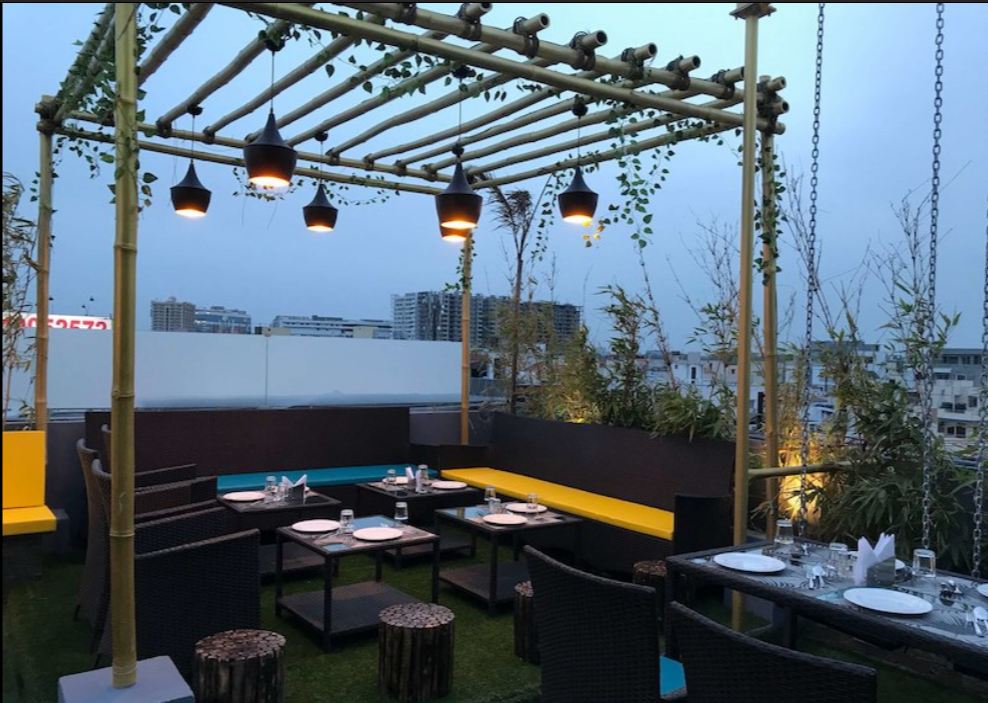 A newbie in town, Da Yellow Cane makes for a perfect open-air dinner destination. This tiny but cute place offers you a chic atmosphere to indulge in quality conversations. The tables are decorated with candles and flowers to makes it all the more charming and that's what makes it one of the best rooftop restaurant in Hyderabad. If it's a special occasion, you can also request the management for decorations and special set-up. This pocket-friendly place serves finger-licking food, trust me.
Here's what one of their customers had to say about them:
"Went to this place a couple of days ago. Its an excellent place with swings to sit on and an excellent mocktail bar.
We were there for dinner and it started off with crisps and Dragon Prawns.
Excellent taste and unusually crispy followed by Grilled Tangdi Kebab which was extremely tasty.
Then we had the Caesar Salad. I personally loved the chicken steak sizzler which was hot and spicy to my delight.
The best thing was the Chicken Lasagna which was a steal at their rates.
Excellent service and on point. The mocktails were presented in a new and different way in light bulb like glasses.
Highly recommend this place to everybody."
Cuisines: North Indian, BBQ, Continental, Chinese
Cost for Two: 700/-
Address: Plot 19, 5th Floor, Above Mandil, Beside Bajaj Electronics, Ravi Colony, Kondapur, Hyderabad
Over The Moon, Daspalla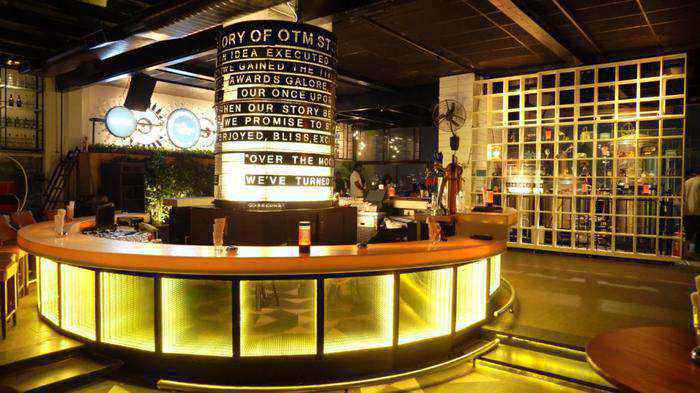 You cannot miss talking about OTM when you're listing out best rooftop lounges in Hyderabad. This micro-brewery will leave you amazed with their craft beer and stunning view. With the cool breeze kissing you while you're sipping a savory glass of Apple Cider Beer, OTM will be an experience to remember. Chill out on a Friday night with your bar buddies at this super amazing place and please your eyes with some really breathtaking city view. Pin your Uber location to Over The Moon Daspalla and spend a nice evening at this lovely place.
Check out this customer review on Zomato:
"Definitely the most beautiful place to be in Hyderabad. Plain simple!
Though the staff members are not so sure of how Zomato Gold can be used, it still is such a great place to visit.
Great crowd, great music, and great great ambiance.
We ordered LIITs, Jack Daniels, couple of beers, and lots of starters.
The chicken tikka were a tad bit spicy, but still delicious.
Surely, one of most memorable nights till now in the last 3 months in Hyderabad."
Cuisines: Asian, Continental, Italian, North Indian
Cost for Two: Rs 2500/-
Address: Hotel Daspalla, Rooftop, Road 37, Jubilee Hills, Hyderabad
Zafran Exotica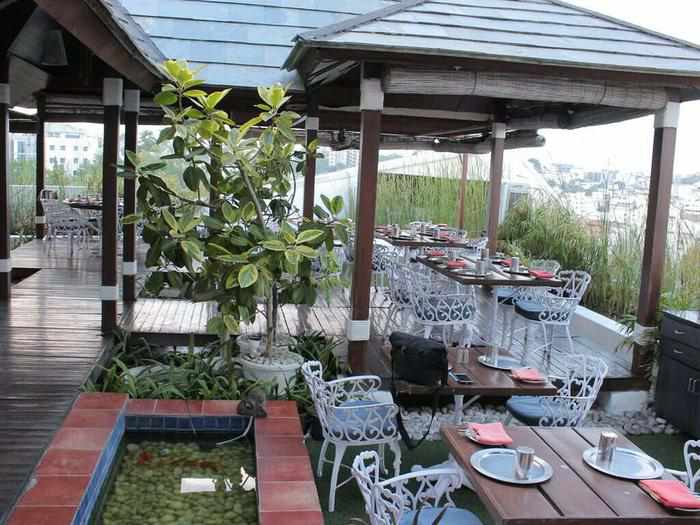 Exotica is another popular diner listed among the best rooftop restaurants in Hyderabad on Zomato. Situated on the fifth floor of the building, the elevator opens right into the rooftop tree-lined restaurant with water elements and tranquil ambiance inviting you with open arms. The ambiance is flanked by dim lighting and the diner also has air-conditioned rooms for those who want to take a break from the occasional heat waves during the afternoon meal treats.
This rooftop lounge offers North Indian, Chinese and Mughlai to name a few. Do try out the mouth-watering kebab platter. The best part is, this for that kind of ambiance and food it serves, the place is extremely budget-friendly.
Here's what Times Food Guide said about Exotica –
"The ambiance at Zafraan Exotica will charm you – the terrace, gurgling water bodies, bamboo thickets, green plants et al make it the best roof garden bar & restaurant Hyderabad, Telangana. There is also an enclosed area seating option. Although it offers Chinese, Thai and Hyderabadi cuisine too, the focus is on North Indian and North-West Frontier food. For vegetarians, Paneer Tikka Peshawri, Crispy Corn Chilli Pepper, Dal Zafran are good options. Popular non-vegetarian options include Murg Kastoori Kebabs, Chilli Chicken and Gosht Seekh Kebabs. Do keep some space for desserts like Angoori Rasmalai (you will love this!) and Pink Rasogullas. Exotica lays out a Lunch Buffet on weekdays for Rs.385 (inclusive of taxes) and an exhaustive Sunday brunch (Rs.600) for a buffet with alcoholic drinks and Rs.400 for a buffet with non-alcoholic drinks too, but evenings are the best time to unwind here."
Cuisines: Mughlai, North Indian, Chinese
Cost for Two: Rs 1500/-
Address: Opposite Audi Showroom, 5th Floor, 12th Square Building, Road 12, Banjara Hills, Hyderabad
Image Courtesy:
dineout.co.in
Zomato