No matter what color or size is required for your child's uniform, they can be pricey these days. With education in India soaring high each passing year, the commodities have equally become expensive.
Save Money on Uniform
Many moons back, school apparels didn't have to be a major investment but today the trend has evolved completely. Apart from schools, some states in Indian have made it mandatory for under graduate students to wear informs to colleges. And with all the criteria involved, like blazers, tie, shirts with school's logo on it, belt, shoes, shocks and not to mention different days have got different colors.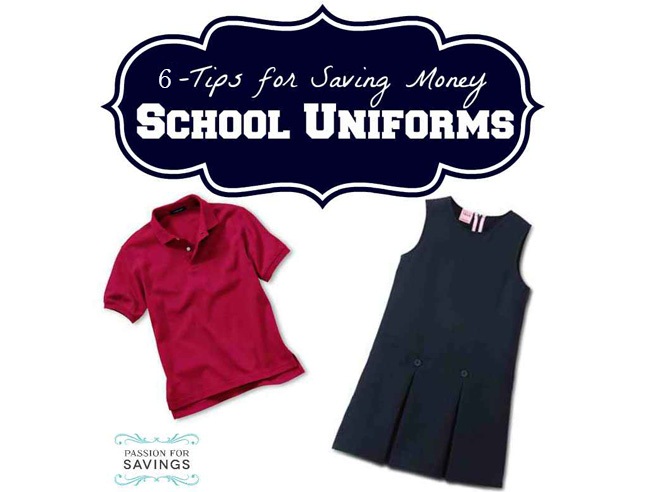 I remember, during my school days, we used to wear white on Saturdays other that a particular uniform for the week days. But now with everything becoming westernized, I find students following different colors on different days, say yellow is for Thursday.
Even though they are expensive in markets, you can use these effective tips to save huge on your school uniform purchase.
1. Avoid uniform store
Make this as a thumb rule. When you're thinking of purchasing uniforms and your kid's school doesn't demand you to buy from a particular store then you can make use of your liberty instead. Just shop around and look for the best deals. The best way to go online. Unlike United States and European countries, almost all Indian schools follow uniform trend, so you can easily get them online these days as well.
And if your kid is going to any school, which has nation wide branches, say DAV School then your task becomes more easier in searching for affordable uniforms.
Here is a list of major retailers online where you can find uniforms at quite cheaper prices:
Mashable
GlobalUniforms
IndiaMART
Sungeaceuniforms
Alibaba
Shopping.rediff
2. Coupons
After you've decided your store, the next thing you can do is to look for deals. Coupon sites will help you greatly in that. If you thoughts coupons are only for fancy purchasing like perfumes and handbags then you're quite wrong. Because there are quite good coupon sites, who offer great discount deals on uniforms too. This means, you'll have to follow up with the coupon sites for daily deals/offers. There are several mobile apps available which you can download in your smartphones to get updates from these websites.
3. Consignment stores
Why don't you just check out any consignment store. It is the best place to buy and sell. This is another great place to score uniforms. If you ignore the peak season i.e. the admission time, you can see a bulk of these at quite thrifty prices.
4. Hit the thrifty outlets
Thrift stores or flea markets are another great source of grabbing appropriate uniforms for your mademoiselles and bairns. Here you'll get an array of solid-colored polos, dress shirts, khakis and even pieces with stitched logos. In order to make sure to have your chance of finding everything on your back-to-school list, juts hit the flea market closest to your children's school. They're bound to have a bigger inventory of school uniforms than most.
5. Shop ahead or late
To avoid high prices on peak season, better to shop ahead if it's urgently required or you can buy late. You'll find a myriad of sales on school uniforms in July, August and September. And before your kid's next semester if you happen to come across a good deal and you've requirements ahead then do not miss it. Instead consider your kids' future needs and grab them. There's nothing like stocking up on wardrobe essentials at clearance prices!
6. Go for a larger size
This is one of the basic yet best tips to save money on uniforms. Whenever you purchase a ready-made piece or stitched version then it's better to always for some extra inches in the leg and sleeves along-with an adjustable waistband in skirts. Kids have a tendency to grow fast following their growth years, you better have to be smart. However, be warned not to put your lad in an over-sized uniform, as I fear he/she won't show up the next day to school to save from comments.
Well, those were some easy tips for saving money on uniforms. How do you save?
Do not forget to share your tips as well!
Ciao!!
Also Read:
5 Ways to Teach Kids How to Save Money
How to plan your Child's Birthday Party on a Budget
Articles You May Like:
6 Golden Rules for Smart Online Shopping
Different Types Of Online Coupons You Did Not Know Existed
Hobbies that pay off: Enjoy & Earn