This has to be a million dollar question in the modern times where the paycheck is spent the moment it gets credited into the account. Whether it be paying off auto-debit EMI's or never-ending succession of bills, the money magically disappears into a whirlpool of loans and bills.
While battling inflation and becoming speechless at the alarmingly high prices of groceries, fuel and gold, you are literally struggling to save every penny from draining away into the torrential pool of expenses and high interest rates.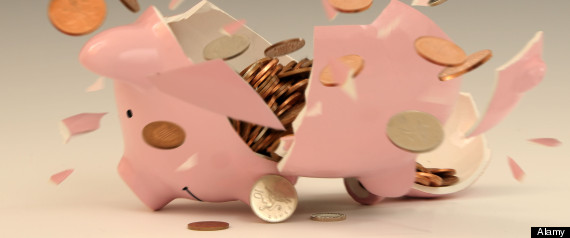 Being unable to save money at times makes you feel guilty, unbridled frustration and annoyance. But, it is not always that you are responsible for being unable to save money for the rainy days and post-retirement plans. Paying off fat EMI installments, big amounts of loans, managing household expenses, paying kid's school fees can take a toll on healthiest of the salaries.
We also live in an age where consumerism is on a sky high, luxuries are endless and maintaining a lifestyle has also become a top priority. Apart from this, the outrageous taxes in the form of VAT, sales tax, entertainment tax, real estate tax give a fatal blow to the paycheck.
There are ways to save money on little things and purchases we make. But it appears that somewhere amidst managing a house, career, kids, promotions, changing governments and rules, we are left exhausted, restless and fatigued. We just don't seem to have the patience for hunting out bargains and and seem to opt for whatever is available at ease.
Perhaps, this is the time to fight against all odds and save a token sum every month to create a healthy bank balance for emergencies, retirement and life savings.
5 Easy Tips To Save Money
Here are few tips to help you get started in the quest of saving money:
Pay Yourself – It is imperative to save 10% of your paycheck every month and safely tuck into the box of savings. Even before you pay bills and clear out debts, the first step would be to keep the 10% aside which would help you define how much to spend and what exactly should be saved.
Taking help – If you find money saving tiresome and annoying, then how about taking the help of friends or family to create a budget for you? How about downloading apps on your fancy mobiles and tabs which get you super cool coupons, offers and discounts?
Automating payments – How about signing up for automated payments to pay off those internet bills, credit card, electricity and phone bills? Try and avoid late payments which unknowingly bite into generous amount of sum from your salary.
Mark an important occasion – On important, happy occasions like birthdays and anniversaries, make small fixed deposits and investment plans in the name of your kids or partner.
Planning Ahead – Do you plan to buy a glorious three bedroom flat in 4 years time? How badly do you want to go to that super cool international vacation? Start saving now by keeping a picture of your end goal in mind.
If you have not been able to save in a month, do not feel bad or guilty. It is alright to spend and not be able to save once in a way. Try and save for the next month and balance out any higher expenditure!
Read More:
Lose Weight, Save Money: Too good to be true?
Eating Healthy on a Budget Without Spending Lots of Money