Bored at home? No big Christmas parties to attend? Yes, most people are going to spend Christmas within the confines of their houses this year. And after about a year of staying at home, there's only so much you can keep yourself busy with. But Christmas is not the time to feel low and lonely, is it? It's time to cheer up and do something festive.
Christmas, 25th December 2022, falls on Saturday. During the festival season, many people spend money buying gifts for family and friends. With so many arrangements to be made, it is easy to forget about cooking something special for your loved ones. However, there are plenty of traditional dishes you can whip up a home-cooked meal that everyone will love.
Well, here are a few easy recipes that should keep you busy in the kitchen this Christmas. So, put on your aprons and oven mitts, and cook up some delicious food for your loved ones. And if these 10 recipes don't suffice, here are 18 more dishes that you can try this Christmas.
Easy Cooking Recipes for Christmas
Christmas calls for a good breakfast, lunch, and dinner. It's time to gather your culinary gear and make the best food. Here are some Christmas food recipes that could help with the same.
1. Sweet Rolls
Nothing gets better than starting your day with these Christmas morning sweet rolls. Here's how you can make them.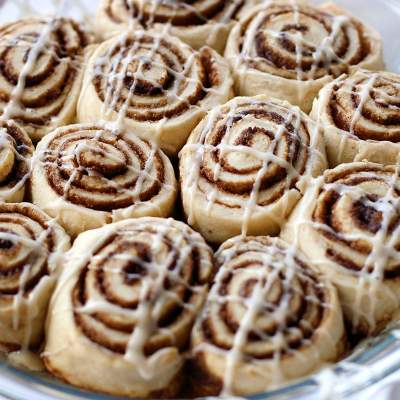 Total Time: Prep time (45 minutes + chilling) and baking time ( 2o minutes).
What you will need and how to make it:
1 package (1/4 ounce) active dry yeast
1 teaspoon salt
1 cup warm water (110° to 115°)
1/4 cup canola oil
1 large egg
1/2 cup sugar
4 to 4-1/2 cups all-purpose flour
Take warm water in a small bowl and dissolve the yeast in it. Take a large bowl, add sugar, oil, salt, flour ( 1 cup), egg, and the yeast mixture. Churn on until mixture is smooth at medium speed. Add remaining flour slowly until you get a soft dough. Don't knead it but put it in a greased bowl. Cover it with a wrap and refrigerate it overnight.
Roll the dough into a rectangle. Spread butter over it and sprinkle some sugar. Roll it up and seal it. Cut it into 12 pieces. Place it in a greased baking pan. Cover with a kitchen towel; let rise in a warm place until doubled, about 45 minutes. Preheat oven to 350°. Bake for 20-25 minutes until golden brown. Take it out and let it cool slightly.
For the filling:
1/4 teaspoon ground nutmeg
1/3 cup sugar
3 tablespoons butter, softened
1-1/2 teaspoons ground cinnamon
Take a small bowl, mix cinnamon, nutmeg, and sugar.
For the frosting:
1/2 teaspoon vanilla extract
2 to 3 tablespoons eggnog
5 tablespoons butter, softened
2-1/2 cups confectioners' sugar
1/2 teaspoon ground cinnamon
Mix the butter, cinnamon, vanilla extract, confectioners' sugar, and eggnog together. Beat it until you get the desired consistency. Spread it over the warm rolls.
2. Stuffed Chicken Cooked in Banana Leaves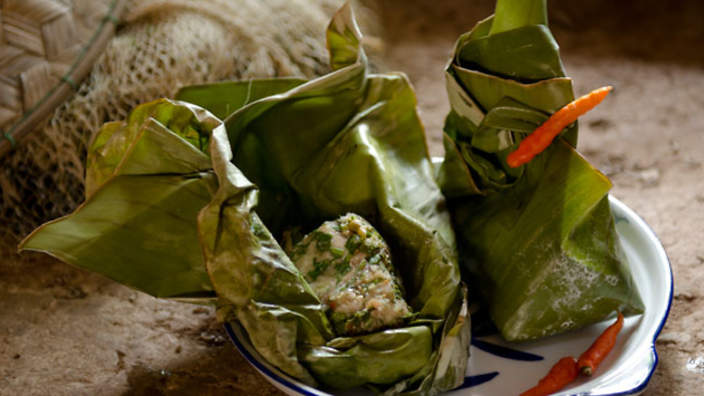 This recipe is a blend of the east and the west. The recipe is originally from the west but it is made with an Indian twist.
What you will need:
Chicken Breast 750 gms
Boiled potatoes 100 gms
Spinach: 50 gms
Spring Onions 2 tablespoon
Any type of boiled vegetables 100 gms
Mayonnaise 2-3 tablespoon
2-3 Banana leaves
Salt & pepper as per taste
How to make it:
Take thin slabs of chicken breast and add salt and pepper to it. In a bowl, mash the boiled potato. Mix all other vegetables along with spinach and spring onions. If you don't like vegetables, then you can just add boiled potatoes and spring onions. Then add the mayonnaise and make a paste out of it. Add salt and pepper as per taste. Now put 1 tablespoon of this mixture on the Chicken and roll it well. Tie it with a string.
In a bowl take warm-hot water and dip the banana leaves for 5 seconds and take it out. Wipe the leaves well and add a few drops of oil on it. By dipping the Banana leaves in warm water you will be able to wrap the chicken in it easily. Now place the stuffed chicken on the Banana Leaves and tie it with a string. In a pan, pour 2-3 tablespoon of water and add few drops of oil. Now place the chicken covered with banana leaves in it. Cover the pan with a lid and let it cook. The mixture of oil and water will help it cook and add the aroma of the banana leaves in the chicken. Turn the chicken once the leaves start changing color. Cook it for 15-20 minutes.
You may add the oil and water mixture if the pan dries out. Open the banana leaves and cut the string that ties the chicken and serve it in the leaf itself. Your guests will love to re-visit your house only for this recipe.
3. Cinnamon Rum Cake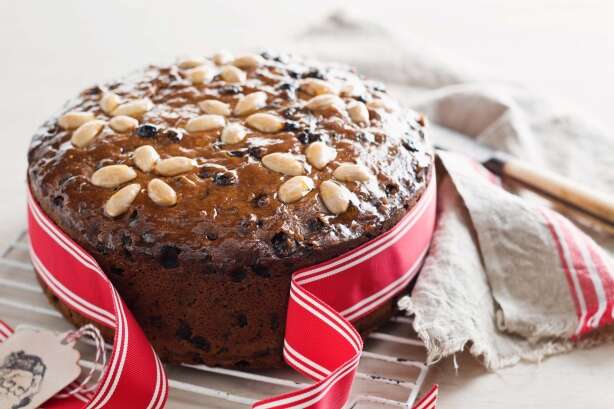 You must have a Christmas Cake on the dinner table on 25th December. And you think baking a cake is messy. Well not after you try this recipe.
Before you start baking your cake, preheat your oven at 180-degree centigrade.
What you will need:
2 Eggs
150 gms Flour
150 gms Brown Sugar
100 gms Butter
2 Tablespoon Vanilla Essence
2 Tablespoon Baking Powder
1 Tablespoon of Cinnamon Powder
2 Tablespoon of Rum
How to bake the cake:
Beat eggs separately. Then add the flour, sugar, and butter. Beat them well along with the egg. Add rum, vanilla essence, baking powder, and cinnamon powder. Beat it again. In the cake, mold apply some oil to grease it. Pour the mixture. Add dry fruits like cashew, raisin, almonds, and walnuts. Bake it for 35-40 minutes. Take it out and serve it.
4. Green Apple Mojito: Don't Mock with a Mocktail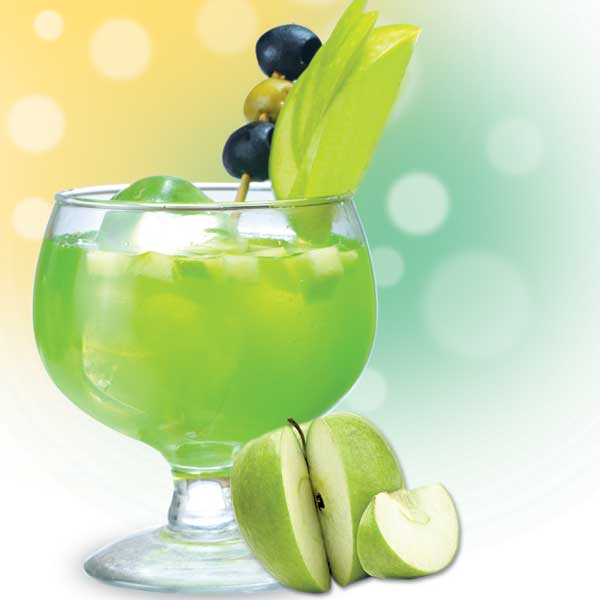 When your family gets together, you must have a welcome drink or you can say a mocktail to serve.
Get Monin Syrup Green Apple flavor and soda. Add 2-3 tablespoon of Monin Syrup and add soda. Mix it with a stirrer and serve. This syrup has high concentrated sugar so make sure that you don't add more than 2-3 tablespoon of it.
5. Garlic Bread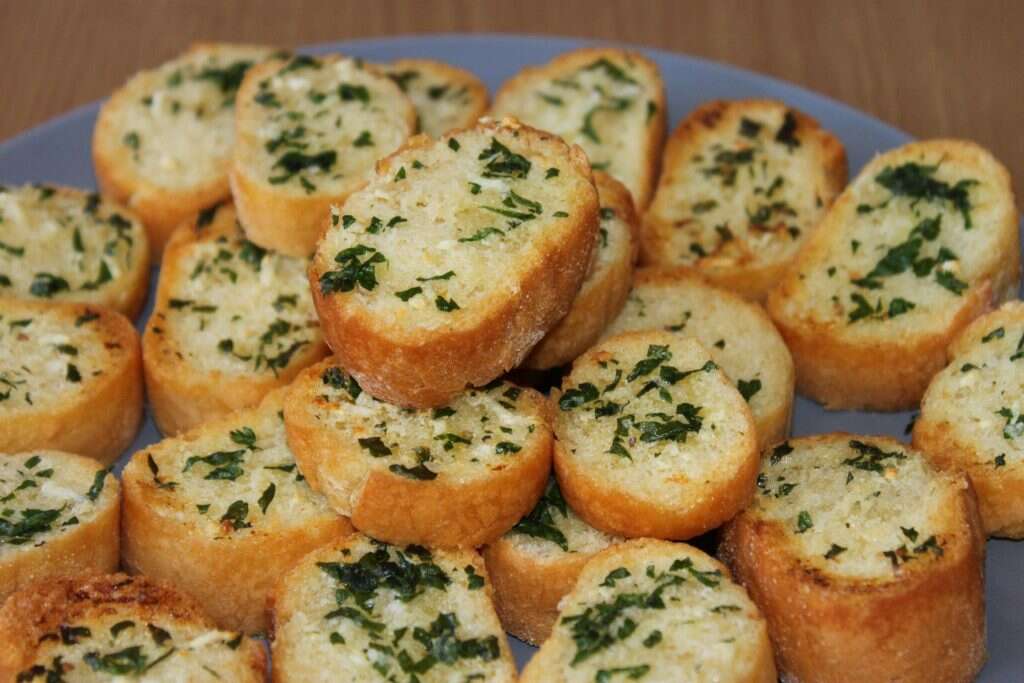 Take bread as per your choice. You may use regular sliced bread too. In a bowl mix 2 tablespoons of cheese spread, add finely chopped capsicum, onions, coriander leaves, and enough garlic. Add a pinch of crushed pepper. Spread the mix on the bread and bake it for 2-4 minutes. For added flavor, you may add shredded cheese on top before baking it. Serve it hot to enjoy the most.
6. Chocolate Dipped Cookies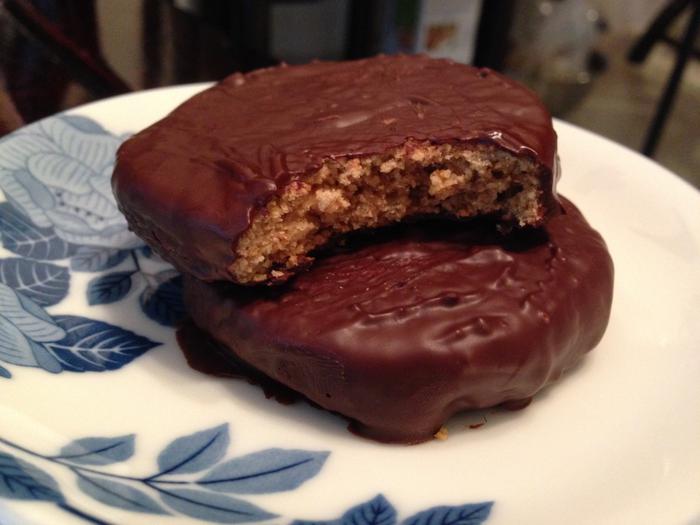 This can be the easiest recipe yet tasty and highly liked by kids. Take some choco chips and melt it. Now take digestive biscuits and dip them in the melted chocolate. Chill it in a freezer and serve.
7. Hot Chocolate With Marshmallow
A hot chocolate is the best thing you can have on a Christmas evening. What's better, it tastes wonderful with marshmallows.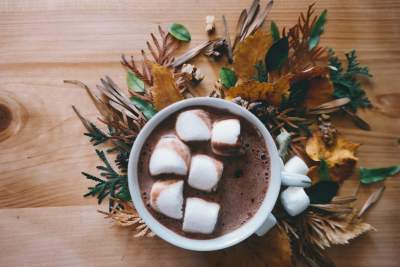 Total time: Prep/ cooking time ( 20 minutes)
What you will need:
Sweetened whipped cream
2 ounces milk chocolate, chopped
1 teaspoon vanilla extract
1/4 teaspoon ground nutmeg
4 cups half-and-half cream
2 bars (3-1/2 ounces each) 70% cocoa dark chocolate, chopped
How to make it:
Take a large saucepan and pour the cream into it. Heat it on medium until mild bubbles form. Remove it from the stove, put the chocolates, vanilla, nutmeg, a bit of salt and whisk away until smooth. Heat it again for a bit. Pour it into the mugs and top it off with whipped cream and marshmallows.
8. Holiday Punch
No one can ever say no to a refreshing drink. This holiday season, prepare a smooth punch with the recipe below and have your guests coming back for more.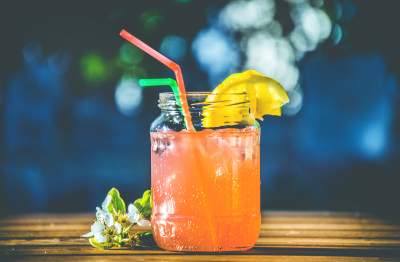 Total time: 5-10 minutes
What you will need:
1 bottle (2 liters) lemon-lime soda, chilled
Fresh raspberries
Ice cubes
1 bottle (64 ounces) cranberry-raspberry juice, chilled
1 can (12 ounces) frozen raspberry lemonade concentrate, thawed
Lime wedges, optional
How to make it:
In a juice jar, mix juice ( cranberry-raspberry), and lemonade concentrate. Pour in the soda, a few raspberries. Drop in ice cubes if need be and garnish the glass with lime wedges.
9. Cranberry Pie
A Christmas without a pie? Naah. For those of you who think baking a pie is difficult, here's a super simple and easy recipe for you.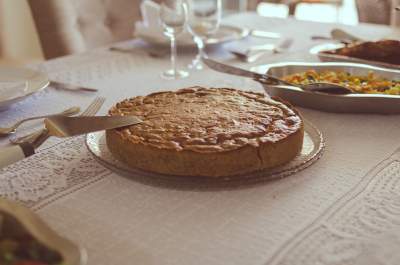 What you will need:
1/2 cup sugar
2 tablespoons rum or 1 teaspoon rum extract
1/2 cup heavy whipping cream, whipped
1/8 teaspoon ground nutmeg
1 tablespoon cornstarch
1 pastry shell (9 inches), baked
1 tablespoon unflavored gelatin
1-3/4 cups eggnog
6 tablespoons cold water, divided
2 cups fresh or frozen cranberries
How to make it:
Take a large saucepan. Mix sugar, cornstarch, and 2 tablespoons of water until smooth. Throw in a bunch of cranberries. Cook until the mixture is thick on a medium flame. Let it cool for about 15 minutes. Slowly pour the mixture into the crust and let it set.
In another small saucepan, take some water and put some gelatin. Set it aside for 5 minutes. Cook over a low flame and stir until the gelatin dissolves completely. Slowly add in the rum and eggnog.
Put it in the fridge. Stir it occasionally for 5 minutes. Pour the whipped cream over the cranberry layer and refrigerate it until set. For the final touch, sprinkle some nutmegs.
10. Double Chocolate Fudge
A quick delicious snack that everyone would love. It isn't that difficult to make.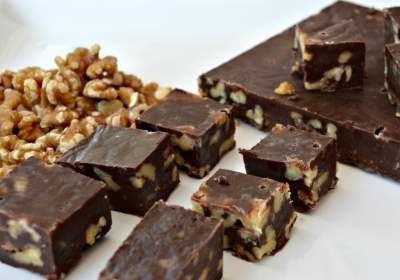 What you will need:
2 teaspoons vanilla extract, divided
1 package (11-1/2 ounces) milk chocolate chips
1 teaspoon butter
1 package (12 ounces) semisweet chocolate chips
1 cup chopped walnuts, divided
1 can (14 ounces) sweetened condensed milk, divided
How to make it:
Grease a square pan with oil.
In a large saucepan, put in chocolate chips and 3/4 cup of milk. Heat it over a low flame. Remove from flame and put in 1/2 cup of walnuts with 1 teaspoon of vanilla extract. Pour into the pan.
Take another saucepan, mix milk and milk chocolate chips. Heat it for a while and remove from flame. Put in more walnuts and vanilla. Pour this over the previously set mixture.
Refrigerate this for 2 hours until set.
Take out the fudge and cut it into pieces.
Weren't they all easy and simple to make?
11. Eggnog Cheesecake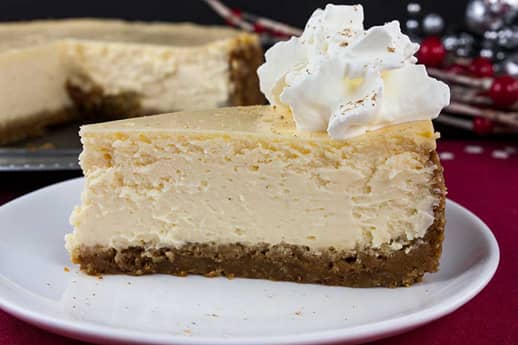 Eggnog Cheesecake with Gingersnap Crust has thick, rich, and creamy flavours. Beat the heavy cream, powdered sugar, and vanilla until stiff peaks form. Pipe the whipped cream on top and garnish with freshly grated nutmeg. Simply slice, serve and enjoy this indulgent delicious recipe.
What you will need:
2 1/2 cups gingersnap cookie crumbs
1/4 cup granulated sugar
5 tablespoons unsalted butter
32 ounces cream cheese
1 1/4 cups granulated sugar
3/4 cup eggnog
1 tablespoon bourbon
4 large eggs
1 cup heavy whipping cream
1/2 cup sugar
1/2 teaspoon vanilla
freshly grated nutmeg
Final Thoughts
On the whole, Christmas is one of the most celebrated festivals in the world. It is a time when people enjoy good food and great company. While you may not be able to get out and spend time with your family during this season, you can still prepare some delicious meals for them.
So, now you have the easy Christmas recipes with you. Go ahead and make yourself a wonderful meal. Happy cooking!
And why not make your Christmas more merrisome with some unbelievable savings on shopping? Here's a list of offers and discounts that you can avail this Christmas.
Image Courtesy
Pinterest
Pexels
Related Blogs:
Best Refreshing Drinks for the Christmas Celebrations
Yummy Christmas Treats to spread the Joy