Christmas is all about sharing the joy we have in our lives. You could host all the lavish parties you want but if you do it as an obligation, then, it won't benefit anyone. The joy you get has to be spread wherever you go. And so, you look for innovative and new ways to celebrate Christmas, to spread the joy of it. What to treat your family and friends with on Christmas? How to have the perfect homemade gift for them, which sweetens their tongues as well as their moods? Just go for these sweet Christmas treats, which are easy to prepare and yummy in taste.
Remember that you don't need to be a skilled chef to prepare these. Minimal experience in the kitchen will be enough to make any of these treats. They are that easy. And delicious too. So gear up your baking skills. Here is our choice for the best treats to spread some Christmas joy.
Spreading the joy in Christmas
Candy Cane Twist Cookies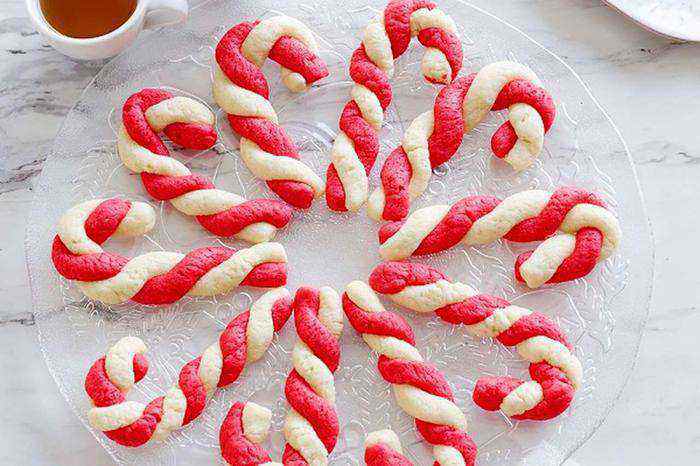 One thing that strikes you when you think about Christmas, the candy cane cookies. The candy canes embody the very spirit of Christmas. Kids find these bright red twisted cookies to be fun. Serve with dry coconut powder sprinkled on it.
Ingredients Required
2 sticks unsalted butter
1 cup sugar
1 1/2 teaspoons peppermint
1 teaspoon vanilla
1 teaspoon baking powder
1/2 teaspoon kosher salt
1 large egg
2 3/4 cup all-purpose flour
1 teaspoon liquid red food colouring
Christmas Tree Cookies with Sprinkles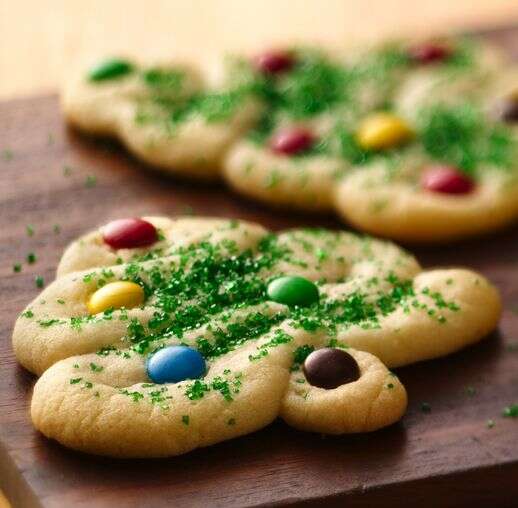 Sugar candies or cookies with colourful sprinkles are all about this dish. You can dip these cookies in chocolate sauce and then sprinkle these with your favourite sprinklers. You can vary with colours as you please- red, blue, green, brown- whatever you want.
Ingredients Required
1 cup unsalted butter softened
1 1/2 cups granulated sugar
1 egg
1 1/2 teaspoons vanilla extract
1/2 teaspoon almond extract
2 3/4 cups all-purpose flour
1 teaspoon salt
Leaf green gel food colour
Dark green food colour
1 cup rainbow nonpareils
Tootsie Rolls
Cinnamon Stars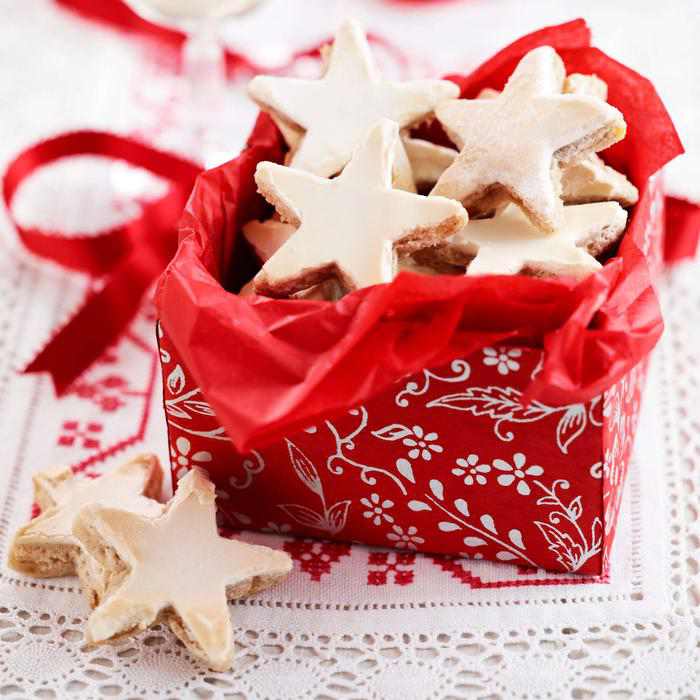 Cinnamon Stars are the most traditional Christmas sweets since ages. These cookies are made of biscuits and sugar dough with cinnamon icing.
Ingredients Required
2 cups almonds
1 tablespoon ground cinnamon
1 teaspoon lemon zest
½ cup egg whites
½ teaspoon salt
2 ½ cups sugar
1 ½ teaspoons lemon juice
Cream Cheese Sugar Cookies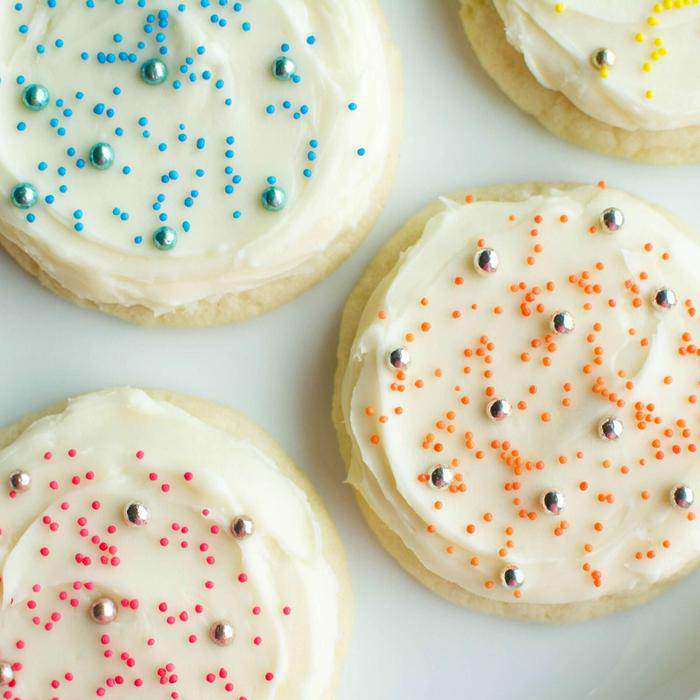 It's customary for cookies to be shared with people you know on Christmas. It's one of the best and most common ways to share Christmas joy. Now, what kind of cookies, is totally upon you. One of the options is cream cheese sugar cookies.
Just enjoy these sugar cookies with your favourite cream cheese topping. The sugariness of the cookies is bound to make your tongue roll while the cheese topping is going to make it so smooth on your mouth.
Ingredients Required
3 cups all-purpose flour
1 and 1/2 teaspoons baking powder
1/2 teaspoon salt
1 cup unsalted butter
2 ounces block cream cheese
1 cup granulated sugar
1 large egg, at room temperature
2 teaspoons pure vanilla
1/2 teaspoon almond
Chocolate Walnut Fudge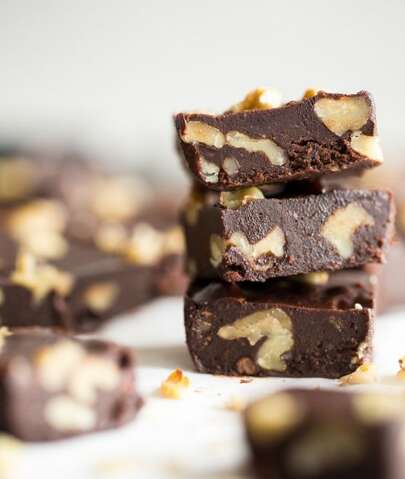 A must on the list of Christmas treats. Who doesn't love chocolates? Everyone does right! You can add any of your favorite dry fruits (be it cashew, walnut or almond) and whipped cream. But walnut is the popular choice among the sweet-teeth of the world.
Ingredients Required
16 ounces semisweet chocolate
2 ounces unsweetened chocolate
½ teaspoon baking soda
⅛ teaspoon salt
2 cups sweetened condensed milk
1 tablespoon vanilla
1 cup chopped walnuts
Cake Pops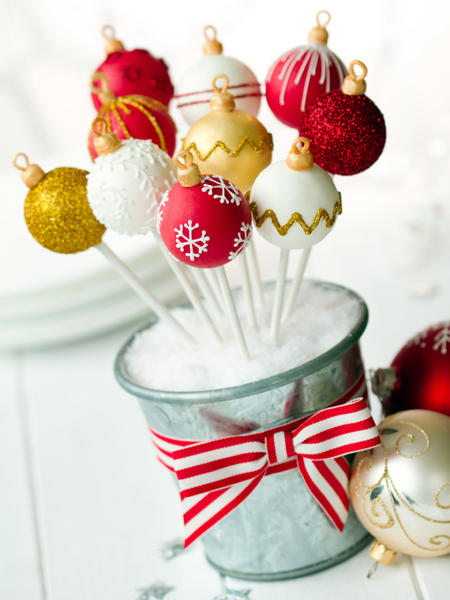 Cake pops look fancy and they are great for parties and treats. These are ideal for every occasion and can be themed accordingly. Kids are bound to have one of these in their mouths on Christmas, sucking their sugary richness.
Ingredients Required
12/3 cups all-purpose flour
1/2 teaspoon baking powder
1/4 teaspoon baking soda
1/2 teaspoon salt
1/2 cup unsalted butter
1 cup granulated sugar
1 large egg
2 teaspoons pure vanilla
1 cup whole milk
Little Snowman Cookies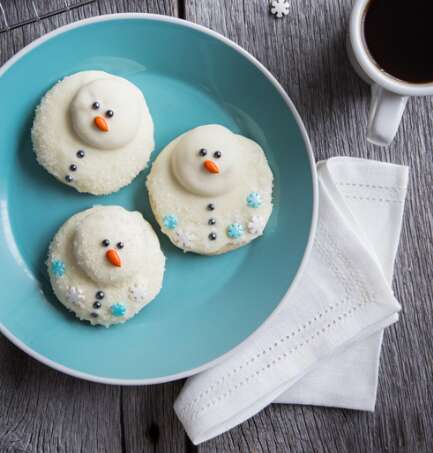 This is where the artist in you comes out. Winters, Snow and Christmas- they all only come in a package. Winters without kids making snowman in the streets is unimaginable.
Those snowmen often find themselves on your cookies as well. All you really need to turn your tiny round cookie into a snowman are icing and finger-small carrots. Just that and you have your own little snowman cookie. Sounds perfect, right?
Ingredients Required
1 cup butter
1 package cream cheese
2 cups sugar
1 large egg
1 teaspoon vanilla
1/4 teaspoon almond
1/4 teaspoon coconut
3 cups all-purpose flour
Pumpkin Pie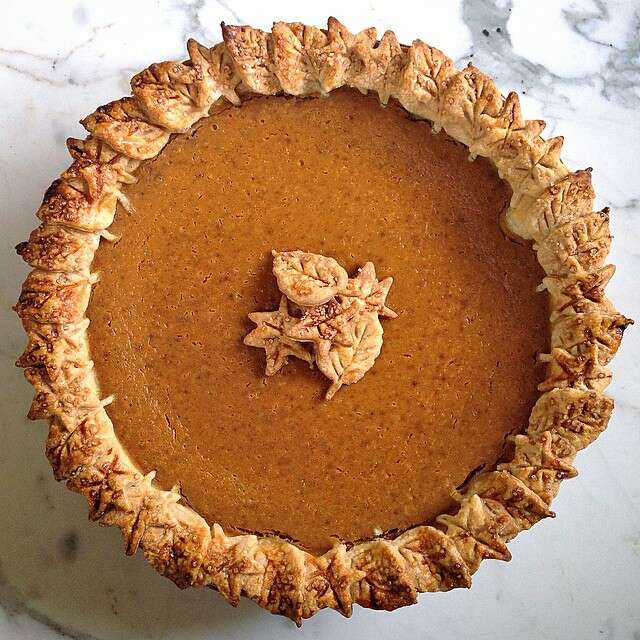 Pumpkin Pie is a must for Christmas.Don't you wonder what happens to all the pumpkins that are hung as decorations on Halloween? Well, this is where they go- into pies and then, your belly.
It is a classic desert recipe with a crispy base and smooth pumpkin filling. Every slice of it is layered with the many joys you felt when preparing that pumpkin pie.
Ingredients Required
1 cup fresh cranberries
15 oz pumpkin puree
3 large eggs
1 1/4 cups dark brown sugar
1 tablespoon cornstarch
1/2 teaspoon salt
11/2 teaspoons cinnamon
1/2 teaspoon ginger
1/4 teaspoon freshly grated nutmeg
1/8 teaspoon cloves
1/8 teaspoon black pepper
1 cup heavy cream
1/4 cup milk
Sugar Cookie Buttons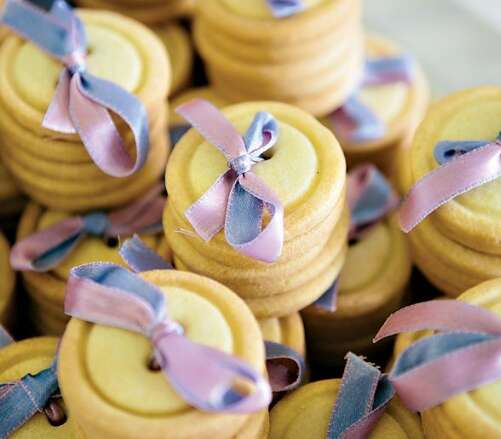 These are the buttery cookies which melt in your mouth. It is a perfect choice as a gift for guests. Now, it's up to you whether you want pin these buttons to their shirts or stuff them in their mouths.
Ingredients Required
1 cup unsalted butter
1 cup sugar
2 eggs
2 tsp. vanilla
3 1/3 cups all-purpose flour
1/2 tsp. kosher salt
Popcorn Balls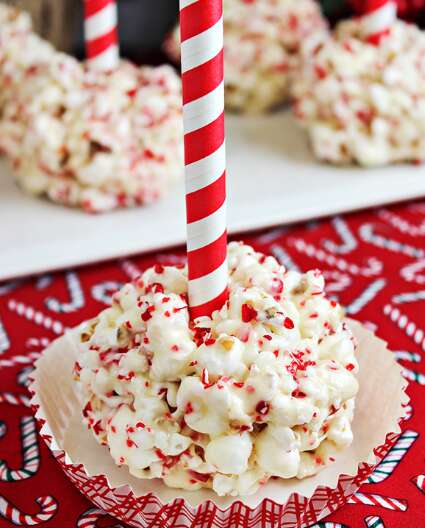 Everyone loves munching popcorn. It's the best snack, which is low in calories and tastes good. Every time you watch a movie, you have a bucket of popcorn by your side, like your own best friend. To put a Christmas twist to popcorn, just add caramel to it and make it into balls.
Ingredients Required
7 quarts popped popcorn
1 cup sugar
1 cup light corn syrup
1/4 cup water
1/4 teaspoon salt
3 tablespoons butter
1 teaspoon vanilla extract
Food colour
Snowflake Cookies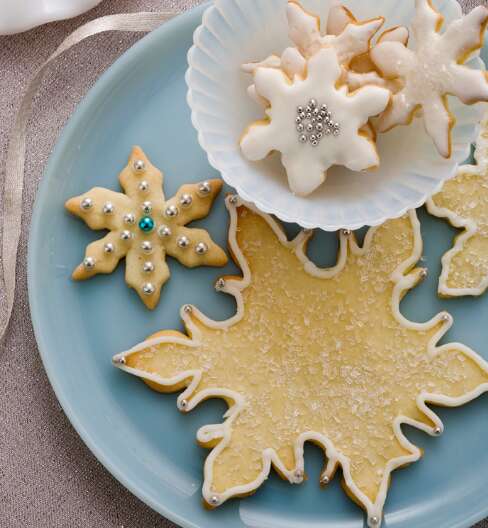 These sugar delicacies make you go ga-ga. It's so smooth and yummy to have. Keep hogging…one is not enough. It is one of the best Christmas treats ever. As an added bonus, they do well as wall hangings and tree decorations too.
Ingredients Required
3 cups all purpose flour
¼ tsp baking soda
½ teaspoon salt
1 cup unsalted butter
1 cup sugar
1 large egg
1 1/2 teaspoons vanilla
Peppermint Meringues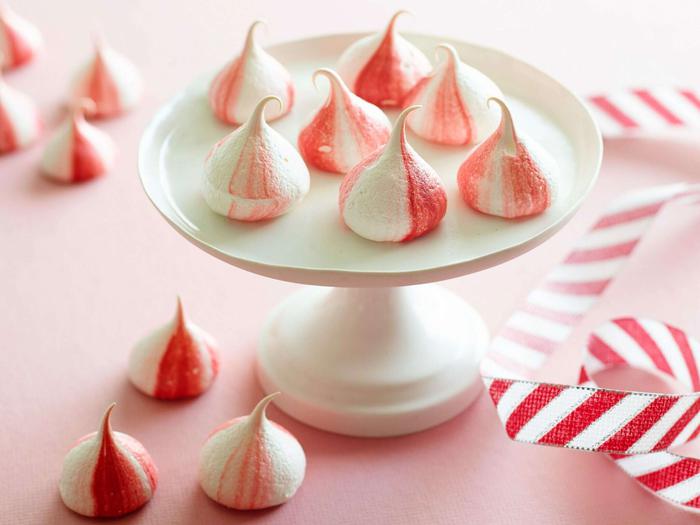 Peppermint Meringues are light and airy. It's unique in taste and to make it yummier, just dip in chocolate sauce. One of these tiny food-bombs is never enough. You want to keep on gorging on these little, cute-looking treats.
Ingredients Required
2 egg whites
⅛ teaspoon salt
⅛ teaspoon cream of tartar
½ cup white sugar
2 peppermint candy canes
Chocolate Brownies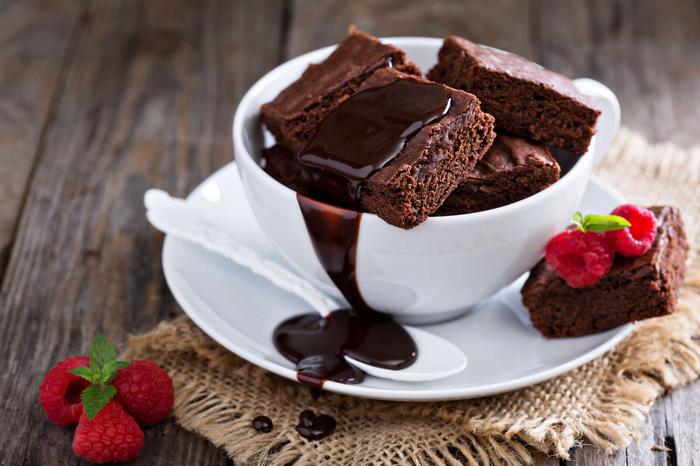 These gooey chocolate brownies are hard to resist. Serve with ice cream or desert and it will make the perfect sweet treat for the Christmas. They are the life of all parties, especially, Christmas parties.
Ingredients Required
185g unsalted butter
185g best dark chocolate
85g plain flour
40g cocoa powder
50g white chocolate
50g milk chocolate
3 large eggs
275g golden caster sugar
Gingerbread Cookies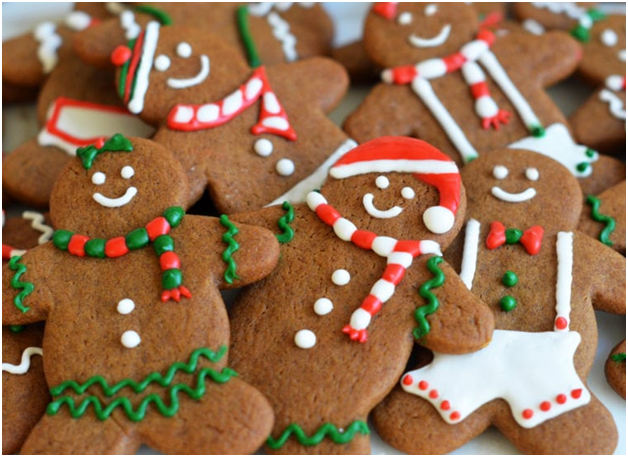 The most Christmassy of all treats, gingerbread cookies are the very symbol of Christmas. The smile on kids' faces when they see these man-shaped delicious cookies is exactly what Christmas is all about. Making these tiny ginger men is as fun as eating them later.
Ingredients Required
10 Tablespoons unsalted butter
3/4 cup dark brown sugar
2/3 cup unsulphured molasses
1 large egg
1 teaspoon pure vanilla extract
3 and 1/2 cups all-purpose flour
1 teaspoon baking soda
1/2 teaspoon salt
1 Tablespoon ginger
1 Tablespoon cinnamon
1/2 teaspoon allspice
1/2 teaspoon cloves
Christmas Blondies
M&Ms, Oreos and chocolate chips- they all make for delicious sweet treats on their own. But then, you dump them all together and you get Christmas Blondies, a treat that will leave you salivating.
Ingredients Required
3/4 cups butter
1 cup granulated sugar
1/2 cup packed brown sugar
2 large eggs
2 tsp. pure vanilla extract
2 cup all-purpose flour
3/4 tsp. baking powder
1/2 tsp. kosher salt
8 Oreos
1/2 cup Christmas M&M's
1/2 cup semisweet chocolate chips
Bottom Line
These are a few sweet treats that you can share or gift to the ones you know. To show them that you care, to show that you don't just share their joys but also their sorrows. After all, Christmas is when you are with others, there for them. And in the present times, there's no better way to spread happiness than do some therapy-cooking in the kitchen and bake these delicious treats.
Found some more Christmas treats? Let us know! We would love to hear from you all. Merry Christmas in advance!!
Image courtesy:
womanandhome
wunderweib
mybakingaddiction
chowstatic
homecookingmemories
foodnetwork
thekitchenmccabe
Pinterest
Onceuponachef
Whisperedinspirations
Related Blogs
Top 5 easy Christmas recipes
Best dishes for Christmas evening